Keto Protein Bars (3g Net Carbs)
These easy Keto Protein Bars are no-bake protein bars ready in less than 20 minutes and packed with 7 grams of protein and only 3 grams of net carbs.
Plus, these are dairy-free and gluten-free protein bars.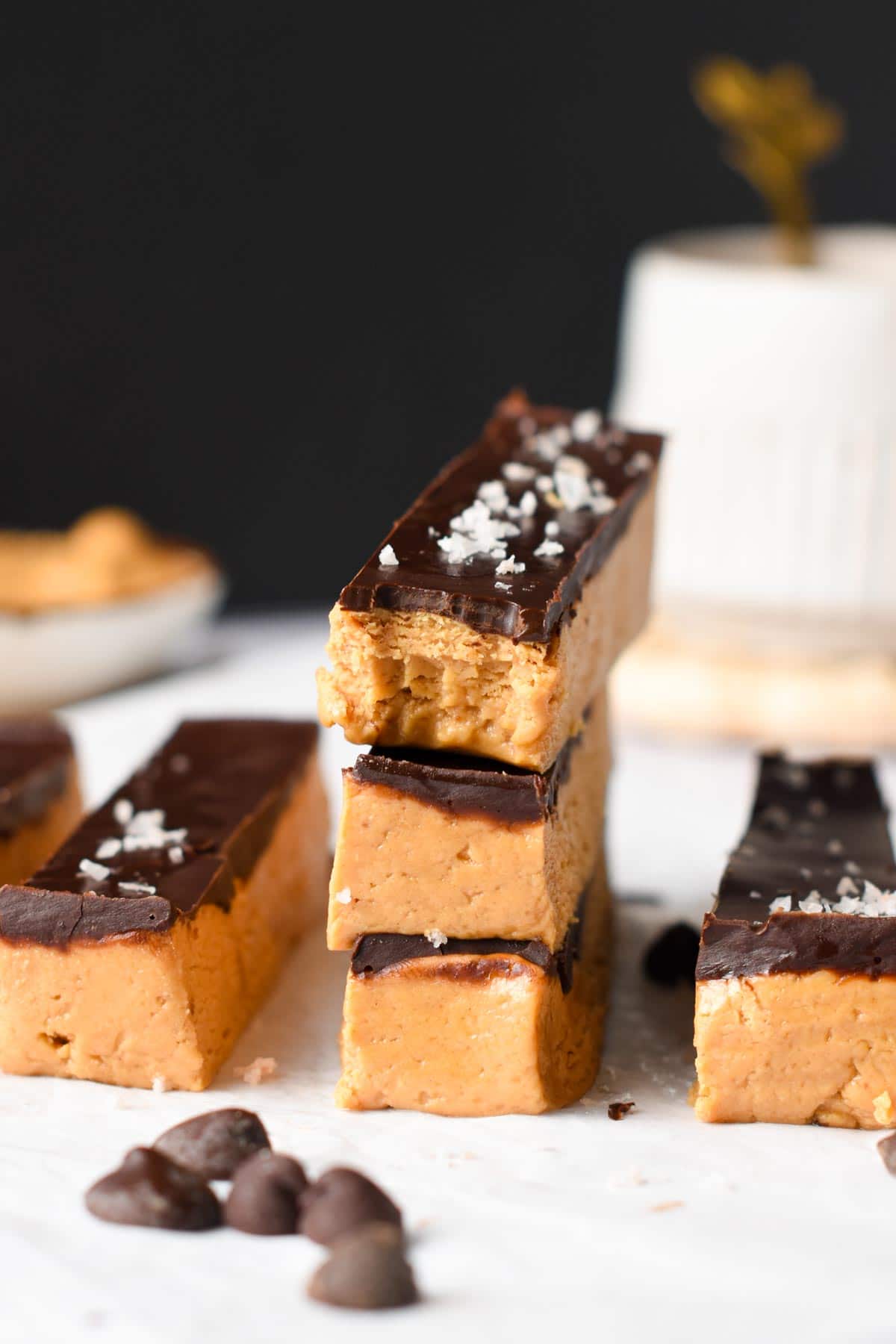 What Are Keto Protein Bars
Keto Protein Bars are simple, high-protein, low-carb bars that are typically used to recharge your protein after a workout.
Commercial Keto Protein Bars are typically made with many additives such as flavors, stabilizers, preservatives, artificial sweeteners, and colors so making yours at home is both cheaper and healthier.
Why You'll Love This Recipe
These are the best keto protein bars are absolutely delicious and they are:
Gluten-Free
Low-Carb
Keto-Friendly
High-Protein
Soy-Free
Dairy-Free
Paleo
Egg-Free
Ready In Under 30 Minutes
5 Ingredients
How To Make Keto Protein Bars
Making these bars is quite easy, it's done in two simple steps: the peanut butter layer and then the chocolate layer.
Ingredients
Almond Butter – Almond butter is a low-carb nut butter that contains many essential amino acids. If you can't stand almond butter, replace it with peanut butter or sunflower seed butter.
Protein Powder – Pick any of your favorite keto protein powders. You can use whey protein powder, collagen powder, or vegan protein powder such as pea powder or peanut powder. Just make sure it's low enough in carbs.
Coconut Flour – Coconut flour is a low-carb flour that is rich in fiber and contains some protein. It's a great keto-friendly flour that can be used to make many coconut flour recipes.
Maple Syrup – Sugar-free maple syrup is the best option for these bars, but you can use any similar keto syrup.
Coconut Oil – Coconut Oil contributes to hardening the peanut butter layer so it doesn't become too soft at room temperature. It's a great keto-friendly ingredient to add fat to your daily macros on your keto diet. You can use MCT Oil instead of regular coconut oil.
Making The Protein Bar Batter
These keto-friendly protein bars require less than 10 minutes of preparation and about 20 minutes of freezing time.
Start the recipe by combining the base ingredients in a mixing bowl: almond butter, sugar-free maple syrup, and coconut oil.
Microwave the almond butter mixture for about 30 seconds in the microwave until it's melted before giving it a stir with a silicone spatula.
Add the coconut flour, vanilla extract, and protein powder to the keto protein bar mixture and use the spatula to combine it fully.
Adjust the texture of the batter with either more melted coconut oil to make it a tad runnier or with more coconut flour to make it slightly dryer.
Forming Bars
Transfer all the almond butter batter to a 9-inch x 5-inch loaf pan lined with lightly oiled parchment paper and pack it with a spatula.
Flatten the top of the bars and transfer the pan to the fridge or freezer.
Meanwhile, melt sugar-free chocolate chips with coconut oil in a mixing bowl.
You can either do so in a microwave or in a bain Marie.
When the chocolate mixture is melted, take the almond flour bars out of the fridge and pour the chocolate on the top.
Place the low-carb protein bars back into the fridge or freezer and let them set for 10 to 20 minutes.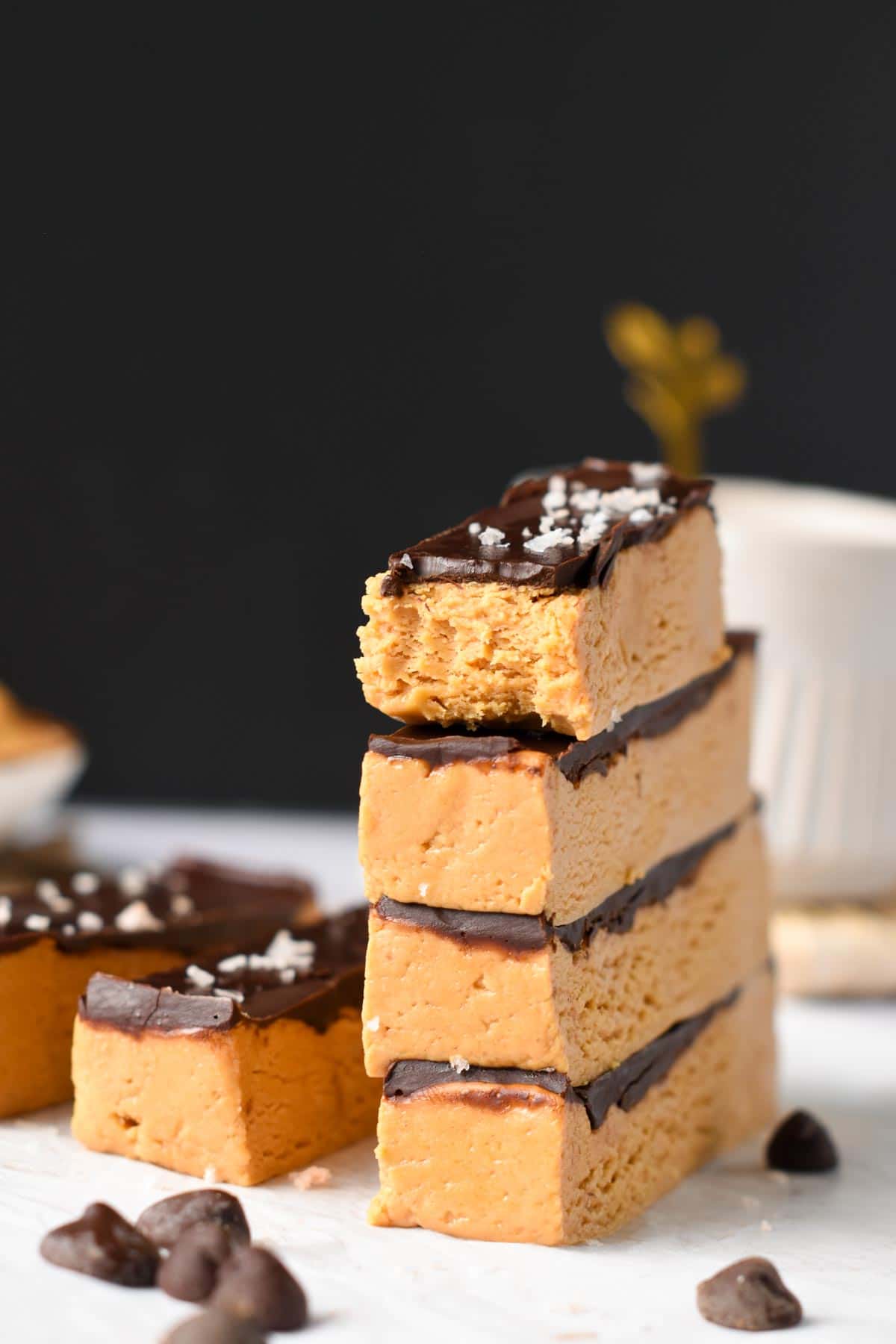 Allergy Swaps
You can replace some of the keto peanut butter bars with some of the following options if you have any allergies.
Almond Butter: You can replace the almond butter with peanut butter or sunflower seed butter. They work just the same.
Coconut Flour: Swap the coconut flour for 4 times more almond flour and 2 tablespoons of protein powder.
Protein Powder: Protein powder is needed in this recipe, but you can pick any protein powder you like, such as grass-fed Whey Protein Powder, Collagen Powder, Pea Powder, or Peanut Powder.
Storage Instructions
These Keto Protein Bars can be eaten fresh from the fridge or frozen.
They can be stored for up to 4 days in an airtight box in the fridge or for up to 3 months in the freezer.
Thaw them in the fridge for a few hours or eat them frozen!
Frequently Asked Questions
Can I Use Powdered Erythritol?
No, the batter won't hold together, you must use a keto syrup made for baking which means a sugar-free syrup mainly made of fiber, not water.
Look at the ingredient listed on the bottle, the first ingredient should not be water or it means the syrup is made for pancakes.
These sugar-free syrups keep no-bake keto recipes too soft.
Sugar alcohols such as erythritol or xylitol, but also other sweeteners like allulose can't be used in this recipe.
Can I Replace Coconut Flour With Something Else?
Yes, you can replace 1 tablespoon of coconut flour with 1/4 cup of almond flour or 2 tablespoons of extra protein powder.
Note that any of these changes will also impact the bars' texture. It can dry out the bar or make the bar more fragile.
Can You Taste The Protein Powder?
Not really, the protein powder taste is masked by the almond butter.
Are Dang Bars Healthy Options?
Dang Bars are relatively good keto-friendly bars, but they have 5 grams of net carbs per serving which is more than these bars!
Why Is Eating Protein Important On A Keto Diet?
Eating proteins is essential, in particular on a keto diet. Proteins contribute to the feeling of fullness and tend to prevent cravings.
Having keto snacks like these bars helps maintain your ketosis without feeling hungry.
Can I Just Eat Keto Protein Bars?
No, these bars are not meal replacements. Any bar sold as meal replacement bars can lead to severe deficiencies if consumed too regularly instead of a well-balanced meal.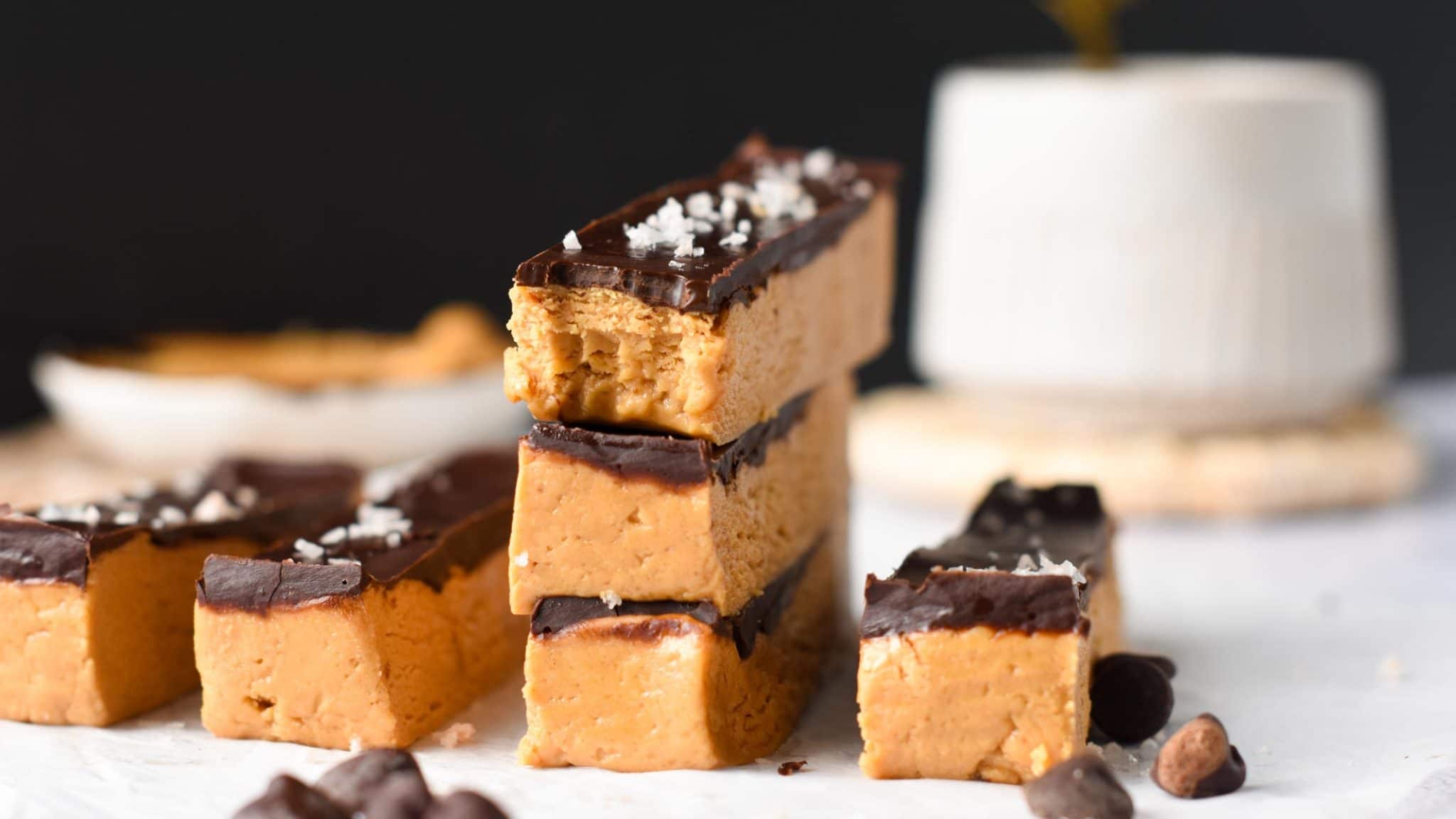 More Keto Protein Recipes
If you like high-protein keto recipes, you'll love these: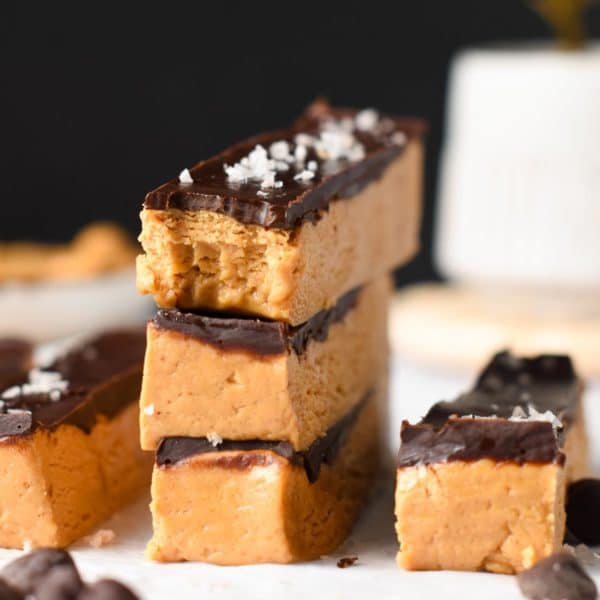 Keto Protein Bars
These easy no-bake Keto Protein Bars are a perfect fulfilling snack or post-workout snack to refuel for the day.
Nutrition Snapshot
Want My Kitchen Equipment?
Instructions
Line a 9-inch x 5-inch loaf pan with lightly oiled parchment paper. Set aside.

In a mixing bowl, add almond butter, keto maple syrup, vanilla extract, and coconut oil. Microwave for 30 seconds to soften, and stir the mixture to combine.

Stir in the protein powder and 3 tablespoons of coconut flour to start. Start stirring with a spoon then as it becomes dry, squeeze by hand to bring the ingredients together. The dough should resemble playdough, be soft, stick together but not to your fingers, and not dry or crumbly.
Adjust
Set aside 10 minutes to let the fiber and protein absorb liquid then check the dough consistency.

Note that each protein powder brand and sugar-free maple syrup have different compositions and you may have to adjust the batter to reach the right consistency.

If the dough is too wet, add the extra tablespoon of coconut flour, and squeeze or knead by hand to incorporate. If too dry, add 1 extra tablespoon of sugar-free syrup.

Transfer the batter to the prepared pan and press it evenly.

In a microwave-safe bowl, melt sugar-free chocolate and coconut oil. Pour melted sugar-free chocolate on top of the bar.

Freeze for 20 minutes or until the chocolate has fully set.

Cut the keto protein bars into 10 slices.
Storage
Cut into 10 bars and store in the fridge in an airtight container for up to 4 days or freeze up to 3 months and thaw in the fridge the day before.
My Recipe Notes
Nutrition
Serving:
1
bar
Calories:
185.9
kcal
(9%)
Carbohydrates:
17.7
g
(6%)
Fiber:
14.5
g
(60%)
Net Carbs:
3.2
g
Protein:
7
g
(14%)
Fat:
13.4
g
(21%)
Saturated Fat:
2
g
(13%)
Polyunsaturated Fat:
2.6
g
Monounsaturated Fat:
6.2
g
Sodium:
56.8
mg
(2%)
Potassium:
218.8
mg
(6%)
Sugar:
0.9
g
(1%)
Vitamin A:
0.2
IU
Calcium:
65.1
mg
(7%)
Iron:
2
mg
(11%)
Magnesium:
52.4
mg
(13%)
Zinc:
0.6
mg
(4%)
Posted In: