Keto Protein Shake (20g Protein)
This easy 5-minute Keto Protein Shake recipe is packed with 20 grams of protein to keep you full in the morning.
Plus, this low-carb protein shake has a dairy-free option.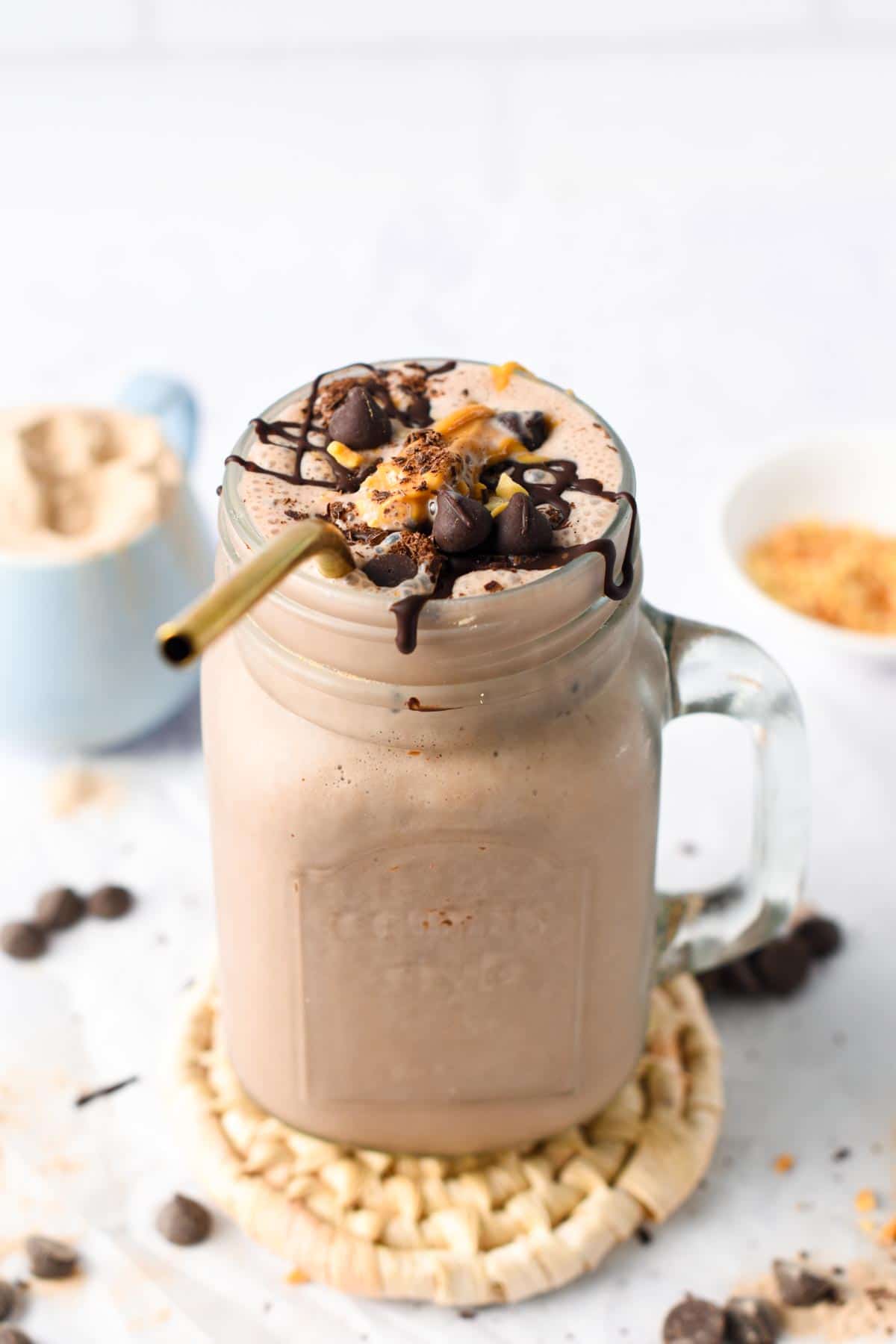 What's A Keto Protein Shake?
A Keto Protein Shake is a frothy drink that combines a high-protein content with low-carbs, perfect for a post-workout snack on a keto diet.
They are typically rich in protein with over 15 grams but with less than 10 grams of sugar.
My Keto Protein Shake comes with 20 grams of protein, and 5.9 grams of net carbs!
Why You'll Love This Recipe
This Keto Protein Shake is absolutely delicious, it's an ideal post-workout drink but it's also:
Gluten-Free
Egg-Free
Keto
Paleo
Dairy-Free Option
Vegan Option
Ready In Under 5 Minutes
Only 5 Ingredients
How To Make Keto Protein Shake
Making this protein shake is super easy, you just need a blender!
Ingredients
Almond Milk – Prefer unsweetened, unflavored almond milk. You can use vanilla almond milk if your protein powder is vanilla flavored to boost the taste.
Greek Yogurt – Pick unsweetened Greek yogurt, it's keto-friendly. For a dairy-free version, choose unsweetened coconut yogurt. You can also use some heavy cream instead.
Protein Powder – You can use any flavor of low-carb protein powder you love. Chocolate protein powder is my suggestion but vanilla or unflavored protein powder works as well.
Almond Butter – Use natural almond butter made with only almonds. Avoid any nut butter with sugar or oil.
Crystal Sweetener – My preference is crystal erythritol. You can also use xylitol, allulose, or tagatose. Learn how to pick your keto sweetener.
Instructions
Combine all the ingredients in a high-speed blender. The order doesn't really matter but if your blender isn't super fast, start with the almond milk.
This will avoid lumps of protein powder stuck to the bottom.
Blend on the high-speed setting until the keto shake mixture is smooth.
Adjust the frothiness to your liking by adding more ice cubes to make it frothier or more almond milk to make it runnier.
Add-Ons
You can boost this low-carb protein shake flavors by adding:
More Erythritol – to boost the sweetness. In fact, protein powder brands vary in sweetness and depending on your brand, you may need to add more or less sweetener to fit your tastebuds.
Unsweetened Cocoa Powder – add 1 to 2 teaspoons to add a chocolate flavor to the shake.
Frozen Fruits – you can boost the creaminess of this sugar-free protein shake by adding low-carb frozen fruits like raspberries, blueberries, or boysenberries. Fruits mary better with vanilla protein powder than chocolate protein powder.
Frozen Vegetables – frozen cauliflower rice or frozen zucchinis are great thickeners in keto smoothies and shakes.
More Protein Powder – it's up to you to add more protein to your shake by increasing the collagen powder. Note that this thickens the drink, so you may need more unsweetened almond milk to achieve a great texture.
More Ice Cubes – To make the shake icy and forthier.
Chia Seeds – you can add a pinch of chia seeds to add antioxidants.
Coconut Oil – you can also add a touch of coconut oil or MCT oil to get all the benefits of medium-chain triglyceride.
Allergy Swaps
If you have allergies or want a vegan version, you can make the following changes.
Dairy-Free Option – Replace the yogurt with dairy-free low-carb yogurt. Unsweetened coconut yogurt is a great keto yogurt option because it's high in fat and made from coconut cream.
Nut-Free: Replace the Almond Milk with an unsweetened nut-free alternative such as coconut milk and the almond butter with a seed butter such as sunflower seed butter.
Vegan: Use the dairy-free option and make sure to pick a low-carb vegan protein powder instead of collagen or whey protein powder.
Storage Instructions
You can store leftover Keto Protein Shake in the fridge, in an airtight container, or in an airtight glass mason jar.
Before serving, you can blend the keto shake again with 2 extra ice cubes to add a frothy texture without adding carbs or serve straight away.
Store it for up to 24 hours in the fridge.
Frequently Asked Questions
Can You Have A Protein Shake On Keto?
Yes, you can have a protein shake on a ketogenic diet, but it has to be made with low-carb milk alternatives and sugar-free sweeteners.
When Should I Take Protein Shakes On Keto?
You can have a keto protein shake in the morning, after a workout, or just as a snack.
Can You Drink Whey Protein On Keto Diet?
Yes, whey protein powder is typically low in carbs. Pure whey contains 5 grams of net carbs per 100 grams. But make sure to check the ingredients and nutrition fact before buying.
Can Too Much Protein Mess Up Ketosis?
No, protein will not kick you out of ketosis. The physiological process of breaking down fat is similar to the process of breaking down protein.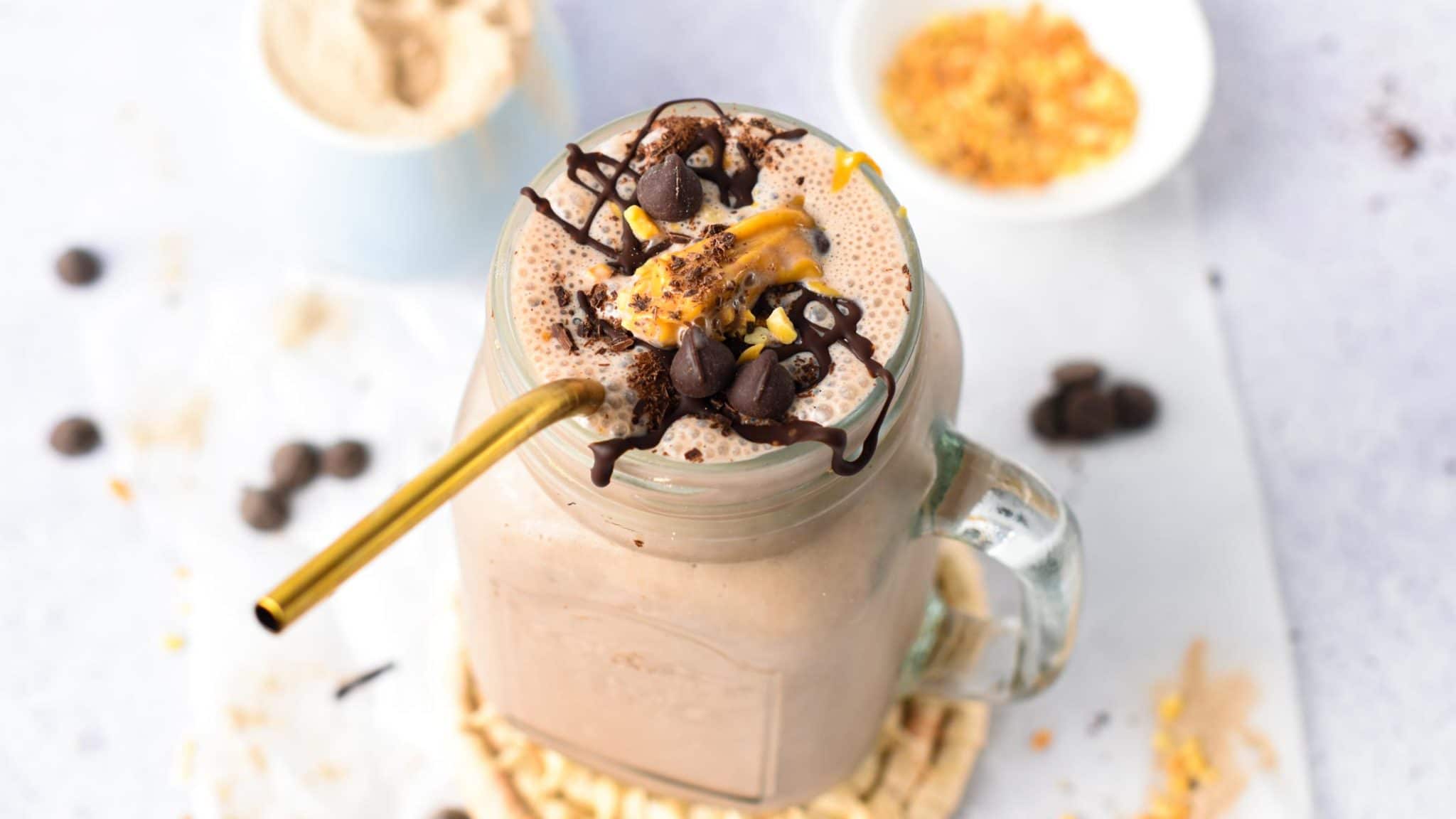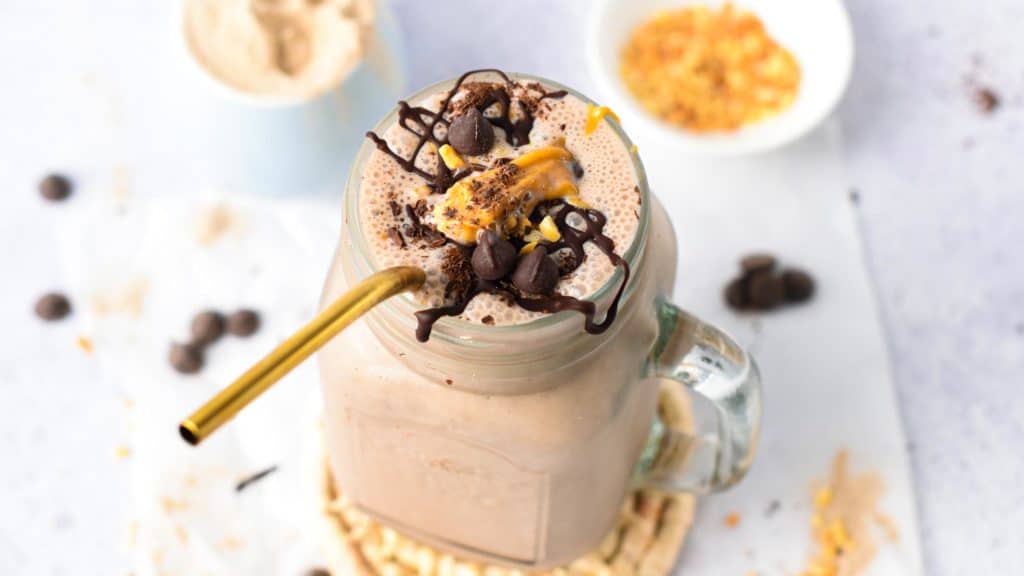 More Keto Shake Recipes
If you like simple, healthy keto shakes, you'll love these: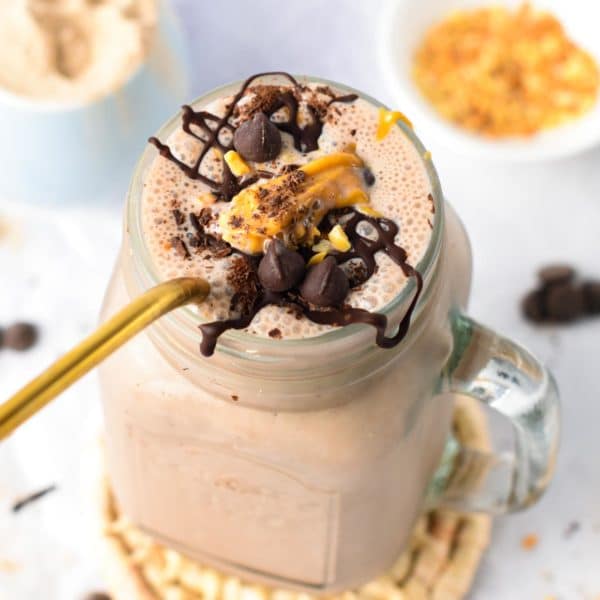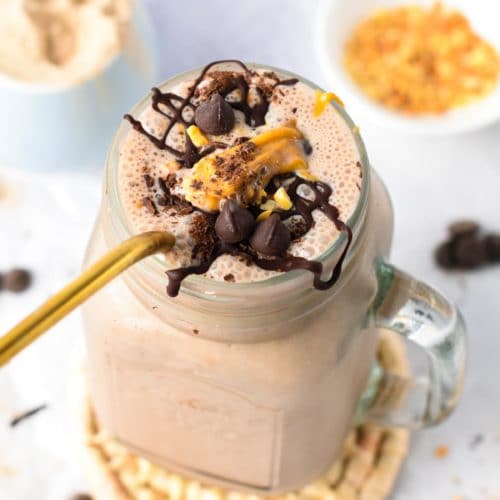 Keto Protein Shake
This Keto Protein Shake is the best high-protein keto breakfast to fuel you up in the morning after a workout.
Ingredients
1

cup

Unsweetened Almond Milk

¼

cup

Greek Yogurt

unsweetened, low-carb or dairy-free unsweetened coconut yogurt

1

scoop

Collagen Chocolate Protein Powder

equivalent to 20g

1

tablespoons

Almond Butter

or peanut butter

1-2

tablespoons

Erythritol

erythritol, xylitol, or monk fruit blend

1

cup

Crushed Ice

or more for a frothy/icee smoothie
This recipe may contain Amazon or other affiliate links. As an Amazon Associate I earn from qualifying purchases.
Instructions
In a blender, add all the ingredients. The order doesn't matter, but start with only 1 tablespoon of erythritol and increase later if needed based on the sweetness desired. Some keto protein powders are already sweetened, and you may not need any sweetener.

Blend on high speed until smooth. If you want a frothier/icy smoothie, add a few more ice cubes, or for a runnier texture, add cold water or more almond milk. Blend again after each addition until smooth.

Serve as one large shake or 2 small shakes. The nutrition panel below is for 1 shake.
Storage
Store leftover in the fridge, in an airtight container, or in an airtight glass mason jar. Before serving, you can blend the shake with 2 extra ice cubes to add a frothy texture without adding carbs or serve straight away. Store for up to 24 hours in the fridge.
Want My Kitchen Equipment?
Serving:
1
shake
Calories:
266.2
kcal
(13%)
Carbohydrates:
9.9
g
(3%)
Fiber:
3.4
g
(14%)
Net Carbs:
6.5
g
Protein:
20.3
g
(41%)
Fat:
18
g
(28%)
Saturated Fat:
1.3
g
(8%)
Polyunsaturated Fat:
3.7
g
Monounsaturated Fat:
6.7
g
Cholesterol:
3.3
mg
(1%)
Sodium:
541.1
mg
(24%)
Potassium:
379.7
mg
(11%)
Sugar:
3.2
g
(4%)
Vitamin A:
32.9
IU
(1%)
Calcium:
428.7
mg
(43%)
Iron:
5
mg
(28%)
Magnesium:
47
mg
(12%)
Zinc:
0.6
mg
(4%)
Posted In: