Cottage Cheese Protein Shake
This Cottage Cheese Protein Shake contains as much as 42 grams of protein per serving and it's guaranteed to keep you full for hours.
Plus, you will love its super creamy strawberry cheesecake flavors that feel like eating a dessert.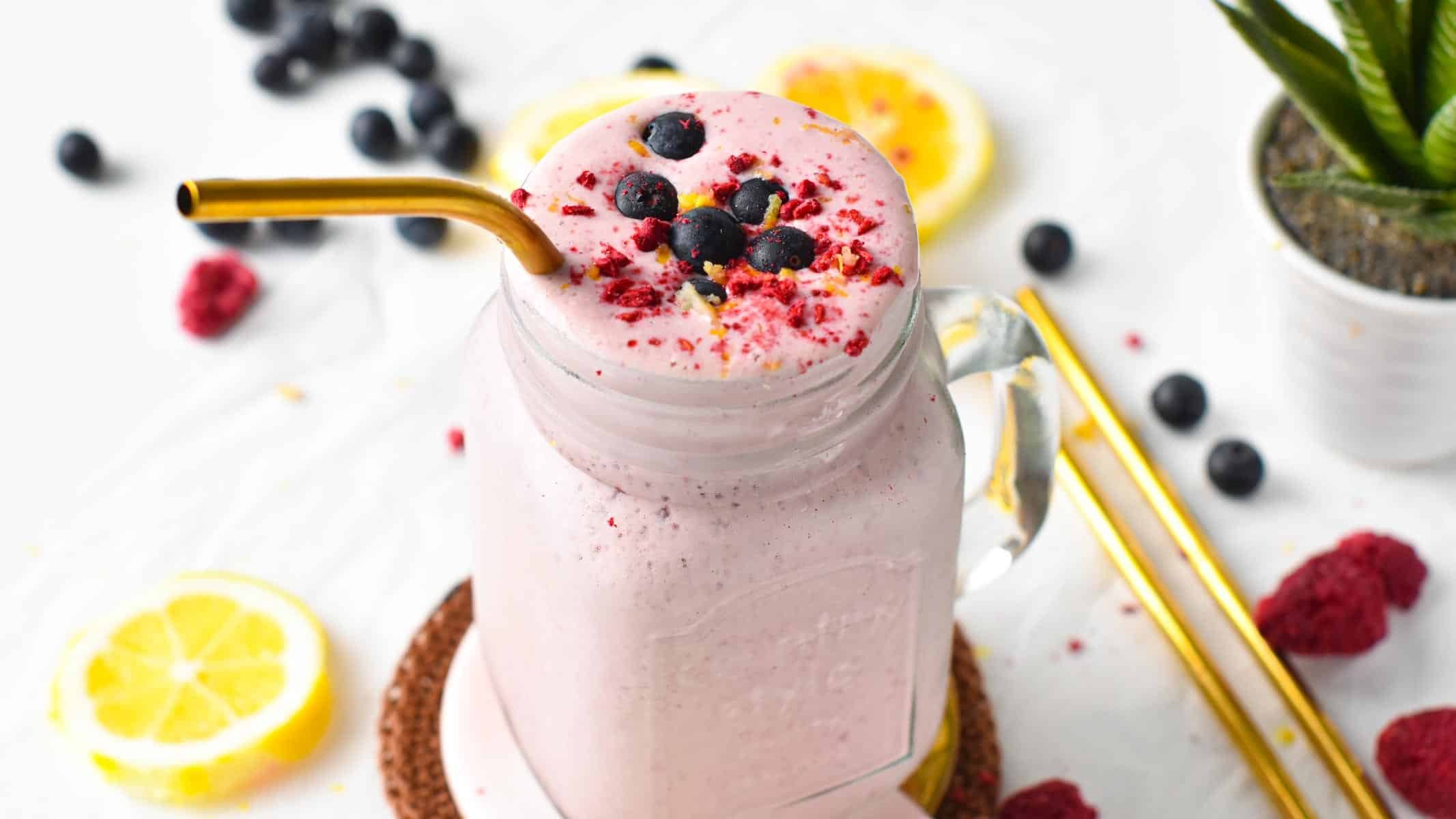 This is another of my high-protein cottage cheese recipes for you. You might have already tried my cottage cheese smoothie that is tasty and creamy.
But that recipe doesn't bring more than 14 grams of protein per serving, which is still a high-protein smoothie and perfect for a snack or post-workout drink, but not as a breakfast-replacement shake.
It's because I did use the combo of cottage cheese with protein powder! While cottage cheese with fruits alone is impressive, adding protein powder is a great way to up your proteins in the morning.
The texture of the three ingredients make this shake taste like a strawberry cheesecake!
Why You'll Love This Recipe
In this new recipe, you will get all the filling proteins you need to start the day, plus the benefits of treats. This is the tastiest protein shake you will make for a breakfast meal replacement.
It tastes like cheesecake, and it's only 300 kcal and 42 grams of protein, so basically a breakfast on the go that is filling and boosts your muscle recovery post-workout or perfect for helping you lose weight and not fill hungry.
How To Make Cottage Cheese Protein Shake
This cottage cheese shake tastes amazing and it's ready in under 5 minutes in your blender.
If you are after more proteins in your diet without loading on fat and calories, you need this shake in your life.
Ingredients
All you need to make this high protein strawberry smoothie with cottage cheese.
Cottage Cheese – I use fat-free cottage cheese to cut down on calories.
Vanilla Protein Powder – I use a clean protein powder made from three ingredients, pea protein, natural sweetener, and natural vanilla flavor. Your protein powder shouldn't get more than five ingredients to be healthy and good for you.
Ice Cubes
Frozen Fruits – I like frozen berries, mainly frozen strawberries or frozen raspberries, or sometimes frozen blueberries. But feel free to use frozen bananas or mango to create different protein shake flavors.
Milk of Choice – I like high-protein milk like skim milk, soy milk, or protein-fortified almond milk.
Preparation
Like any protein shake, add all the ingredients in a high-speed blender and blend on high speed until creamy and thick.
Taste and add more sweetener if not sweet enough or more frozen fruits.
To thicken the smoothie, without adding sweetness add ice cubes. Ice cubes Add a creamy texture without impacting flavors or calories.
Alternatives
Cottage Cheese Milkshake – Add 1/4 cup of frozen plain Greek yogurt. Freeze it in an ice cube tray. It contains less protein per 100 grams but still adds protein and is healthier than ice cream.
Chocolate Cottage Cheese Shake – Use chocolate protein powder, frozen banana, or frozen strawberries, and add two teaspoons of unsweetened cocoa powder.
Peanut Butter Cottage Cheese Shake – Use frozen banana, peanut milk, and peanut butter protein powder and add one tablespoon of peanut butter to the shake. Feel free to use defatted peanut butter to decrease calories.
Cottage Cheese Smoothie Bowl – To make this recipe ultra-thick, decrease the milk to 1/3 cup, blend, and add more milk gradually if it's too thin. You will need the tamper attachment of the blender to move ingredients around the blade, as smoothie bowls are so thick.
Tropical Cottage Cheese Shake – Use frozen pineapple or mango.
Green Cottage Cheese Shake – Add a handful of spinach and frozen white food like frozen banana or frozen cauliflower.
Substitutions
Below are some ingredients swap ideas if you need:
Strawberries – Swap for any other frozen fruit you like including mixed berries – raspberries, blueberries, blackberries, or even frozen banana or frozen mango.
Milk – Use dairy-free milk if preferred like almond milk, coconut milk, or soy milk.
Protein Powder – You can use any flavor and type, from whey protein powder to pea protein powder. If your protein powder is unflavored, add one teaspoon of vanilla extract to flavor the shake.
Toppings
I always add some toppings to my protein shakes or smoothie, I think it looks lovely but it also tastes delicious eaten by the spoon.
My favorite toppings with this strawberry shake are:
Shredded Coconut
Few Berries
Drizzle of nut butter like almond butter or peanut butter
Hemp Seeds for a boost of proteins
Homemade granola like my keto cereals
A drizzle of honey
Sliced almonds
Freeze-dried raspberries
Lemon zest
Frequently Asked Questions
Here my answers to your common questions about this recipe.
Is Cottage Cheese Good For Protein Shakes?
Yes, cottage cheese not only adds proteins to protein shake but also has a creamy texture and a cheesecake-like flavor that taste amazing.
How Do You Eat Cottage Cheese For Protein?
A cup of cottage cheese contains grams of proteins but eating a cup of plain cottage cheese is not fun or flavorsome.
The best way to eat cottage cheese is to use it as a swap to yogurt or cream cheese in smoothies, cheesecakes, dips or salads.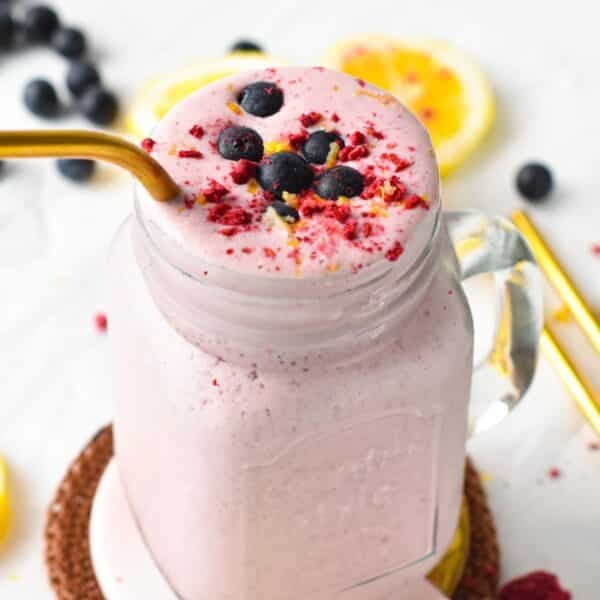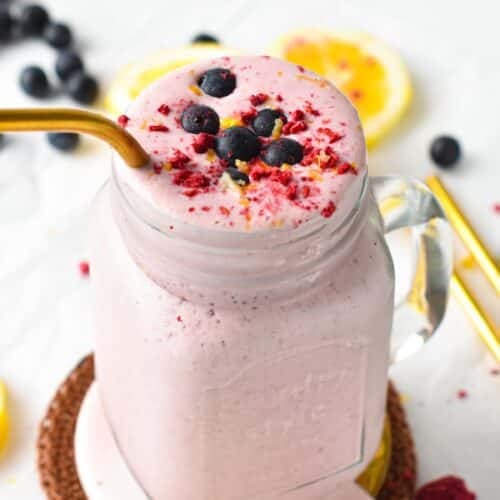 Cottage Cheese Protein Shake
This Cottage Cheese Protein Shake contains as much as 42 grams of protein per serving, and it's guaranteed to keep you full for hours.
Nutrition Snapshot
Want My Kitchen Equipment?
Instructions
Add all the ingredients to the jug of a high-speed blender and blend the protein shake until smooth, thick, and creamy.

Taste, add more ice cubes for a thicker texture or more milk to thin out. Add more sweetener to taste.

Serve immediately with coconut. Add extra berries on top if you like.
My Recipe Notes
Nutrition
Serving:
1
shake
Calories:
303.1
kcal
(15%)
Carbohydrates:
26.7
g
(9%)
Fiber:
1.4
g
(6%)
Net Carbs:
25.3
g
Protein:
42.1
g
(84%)
Fat:
3.5
g
(5%)
Saturated Fat:
1.6
g
(10%)
Polyunsaturated Fat:
0.2
g
Monounsaturated Fat:
0.4
g
Cholesterol:
73.4
mg
(24%)
Sodium:
642.8
mg
(28%)
Potassium:
739.6
mg
(21%)
Sugar:
20.5
g
(23%)
Vitamin A:
554.8
IU
(11%)
Vitamin B12:
2.1
µg
(35%)
Vitamin C:
42.3
mg
(51%)
Vitamin D:
2.7
µg
(18%)
Calcium:
561.2
mg
(56%)
Iron:
0.5
mg
(3%)
Magnesium:
57.9
mg
(14%)
Zinc:
1.6
mg
(11%)
Posted In: