This keto pizza crust is an easy thin, crispy Keto Pizza Recipe ready in 10 minutes with only 7 ingredients.
Bonus, there's an egg-free version as well for all vegan keto pizza lovers!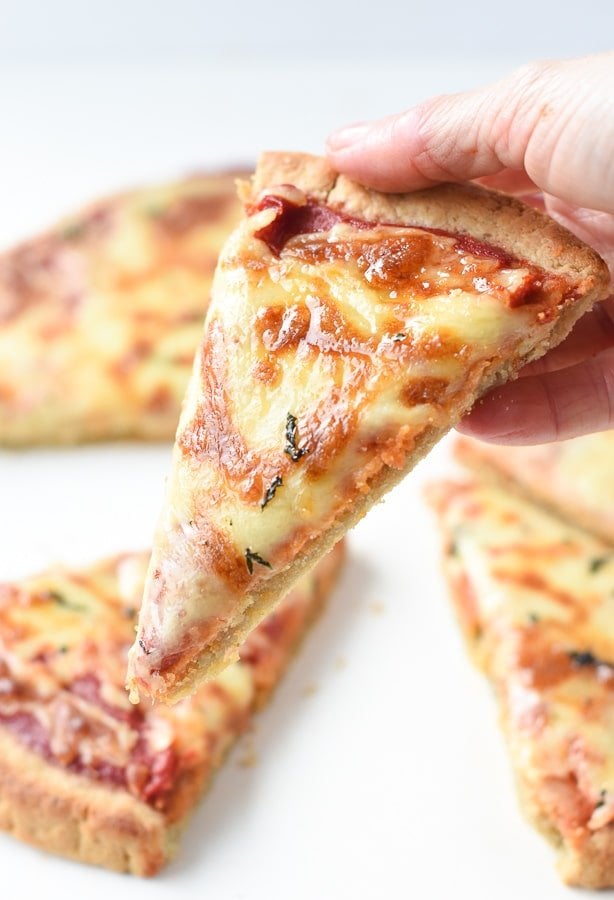 A few years ago, I started to be obsessed with making homemade keto pizza crusts. This first led me to the coconut flour pizza crust and later to this low-carb pizza recipe.
What's Almond Flour Pizza Crust?
Almond Flour Pizza Crust is a keto pizza dough made with low-carb flour with a classic pizza base taste and texture.
It contains far fewer carbs than a classic pizza slice with 3 grams per slice while a typical takeaway pizza slice contains more than 20 grams.
Why You'll Love This Keto Pizza Dough
Although I still love these recipes and I serve them on repeat over the weekends, I wanted to test a 100%-almond-flour pizza crust.
It results in the most wonderful, crispy crust that reminds me of New York-style pizza.
The crust is also:
Gluten-Free
Paleo
Dairy-Free
Egg-Free
Vegan
Ready In Under 30 Minutes
How To Make Keto Pizza Crust With Almond Flour
Homemade low-carb pizza recipes are one of the most popular weekend dinners at my house. This is now my go-to recipe for a thin, crispy New York-style keto pizza.
It yields enough dough to make a large 12-inch ultra-thin pizza. The leftover baked low-carb pizza crust slices freeze perfectly for later lazy dinner nights.
With only 7 simple pantry ingredients, you will be able to serve a tasty pizza for dinner. The whole family will love it!
Ingredients
All you need to make this gluten-free pizza crust with almond flour are:
Almond flour – I recommend using fine blanched almond flour to avoid a gritty texture. Read how to choose Keto flours.
Eggs or flax egg – replace the egg with a combination of flaxseed meal and lukewarm water for a vegan keto pizza crust. See recipe notes for the exact measures and techniques.
Extra virgin olive oil – or avocado oil or melted coconut oil. I don't recommend butter. Its flavor and texture would be closer to a quiche crust than to a keto pizza base.
Baking soda
Salt
Garlic powder
Onion powder
Instant dried yeast – only for a boost of flavor and totally optional. While almond flour won't raise in contact with yeast, even if you activate it, this mimics the real pizza dough flavor.
Making The Base
It's very easy to make almond flour pizza dough. All you have to do is to combine the dry ingredients with the wet ingredients as you would do for regular pizza dough.
However, as this is gluten-free pizza dough, the dough is much stickier than wheat-based pizza recipes.
That's why you must either press the dough into a skillet or roll the dough between two baking sheets.
If you use the second option, my favorite, then bake the crust onto a pizza tray or baking tray.
Keep the pizza on the bottom piece of parchment paper. In fact, almond flour pizza crusts are more fragile.
You can't transfer the rolled dough onto a tray without using this bottom piece of parchment paper.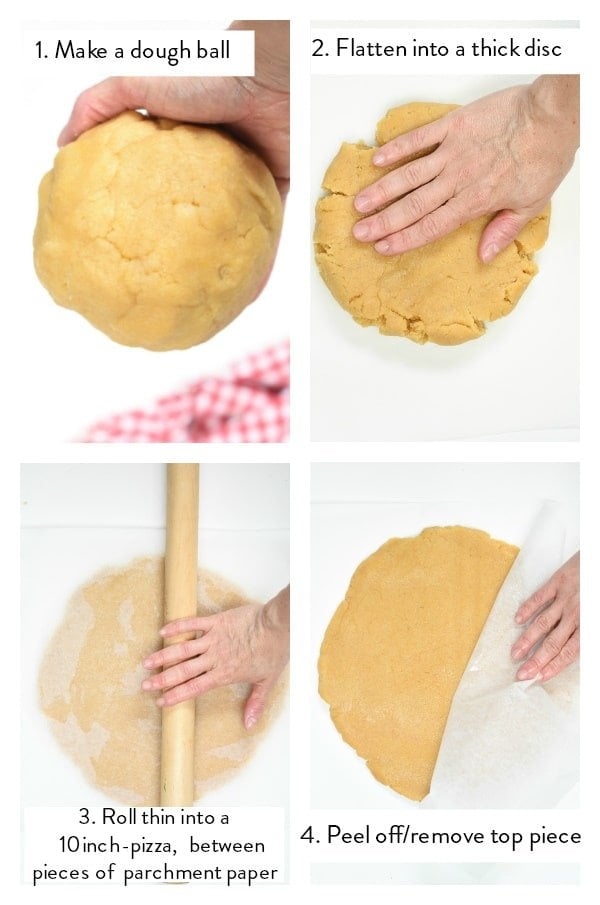 Pre-baking the low-carb pizza crust
It's very important that you pre-bake this almond flour pizza crust to get a crispy pizza base. Also, make sure that you just add a thin layer of tomato sauce.
Avoid vegetables that release too much water, like mushrooms, fresh tomato slices, or zucchini.
If you want to use these keto-friendly vegetables, roast them before. This will prevent vegetable juice that could make the center of the pizza soft and wet.
The best keto vegetables to use on a pizza are red pepper, asparagus, and olives.
Frequently Asked Questions
How Many Carbs Are In This Almond Flour Pizza Crust?
Almond flour is one of the lowest-carb flour. Therefore pizza doughs with almond flour are very low in carbs and perfect for a keto diet.
For a 10-inch keto pizza with almond flour, one slice contains only 3 grams of net carbs without toppings.
As a reminder, a regular pizza contains at least 10 times more carbs north of 30 grams of net carbs per slice.
To learn more, read my comparison of carbs in pizza slices from takeaways, frozen, and homemade recipes.
Can I Freeze This Keto Pizza Crust?
I recommend freezing the baked pizza slices or pre-baked pizza base rather than freezing the raw almond flour pizza dough.
Also, make sure you freeze the slices or the pizza bases individually to prevent them from sticking together.
For pizza slices, bake frozen for 5-8 minutes at 350°F (180°C) or until hot and crispy.
For the frozen pizza bases, I recommend you defrost them on the counter for 1 hour on a rack.
Then, prebake the base for 5 minutes to get the crisp bake. Finally, add your toppings and return to the oven until the cheese has melted.
More Keto Pizza Recipes
There are many ways to make delicious low-carb pizza crusts. You can use either almond flour, coconut flour, or a combination of flour.
I recommend trying one of the following recipes on your next keto pizza night!
Made this low-carb pizza crust recipe with almond flour? Share a picture with me on Instagram!
Almond Flour Pizza Crust
A crispy, thin keto pizza crust with almond flour and an egg-free option.
Nutrition Snapshot
Want My Kitchen Equipment?
Instructions
Preheat oven to 400°F (200°C).

In a large mixing bowl, combine all the dry ingredients. Make a well in the center and add beaten eggs and olive oil.

Combine with a spatula at first, then use your hands to form a ball of pizza dough.

Place the dough ball between two parchment paper pieces and roughly press the ball with your hands to flatten it into a thick disc.

Start rolling with a rolling pin until it forms a 12-inch (30 cm) diameter pizza crust (for an ultra-thin crust), or roll into a 10-inch (25 cm) pizza crust for a slightly thicker crust.

Peel off the top piece of parchment paper, smoothen the sides of the pizza crust to make it pretty, then slide the bottom parchment paper piece (with the rolled pizza dough on it) onto a baking tray.

Prebake the crust for

10-12 minutes

or until golden and crispy. The thicker you roll it, the longer it takes to crisp.

Remove from the oven, spread a thin layer of keto pizza base or unsweetened tomato passata, and toppings of your choice. Note that any vegetable that releases a large amount of water would soften the center of the dough. This includes mushrooms, tomato slices, eggplant, or zucchini. If you want to use those vegetables, I recommend pre-roasting them

8 minutes

in the oven to prevent them from releasing water on your pizza base.

Return pizza into the oven and bake in the center rack of the oven until cheese is melted. You can broil the cheese on the top rack for

2-3 minutes

, but it will significantly darken the sides of the pizza. To avoid this, you can protect the pizza sides with pieces of foil.

Serve immediately into 8 slices.

Freeze the leftover baked pizza slices individually, in silicone bags or airtight containers. Defrost 2 hours before on the counter then bake at 160°C (320°F) for

5-8 minutes

or until warm.
Notes
Vegan option: note that the result will be very different. The almond flour pizza crust will be less crispy and slightly more fragile to roll. For a two-egg replacer in the recipe, combine 2 tablespoons of flaxseed meal (or ground chia seeds) with 6 tablespoons of lukewarm water. Stir well, set aside 10 minutes until it looks like eggs in texture. Use in the recipe as an egg replacer.
My Recipe Notes
Nutrition
Serving:
1
slice
Calories:
229
kcal
(11%)
Carbohydrates:
6
g
(2%)
Fiber:
3
g
(13%)
Net Carbs:
3
g
Protein:
7
g
(14%)
Fat:
21
g
(32%)
Saturated Fat:
2
g
(13%)
Cholesterol:
23
mg
(8%)
Sodium:
223
mg
(10%)
Potassium:
15
mg
Sugar:
1
g
(1%)
Vitamin A:
42
IU
(1%)
Calcium:
70
mg
(7%)
Iron:
1
mg
(6%)
More Keto Almond Flour Recipes
Posted In: