Looking for an healthy low carb spinach pizza ? You will be amazed by this spinach pizza crust, a guilt-free pizza with only 1 g net carb per slice, lots of protein and full of flavors!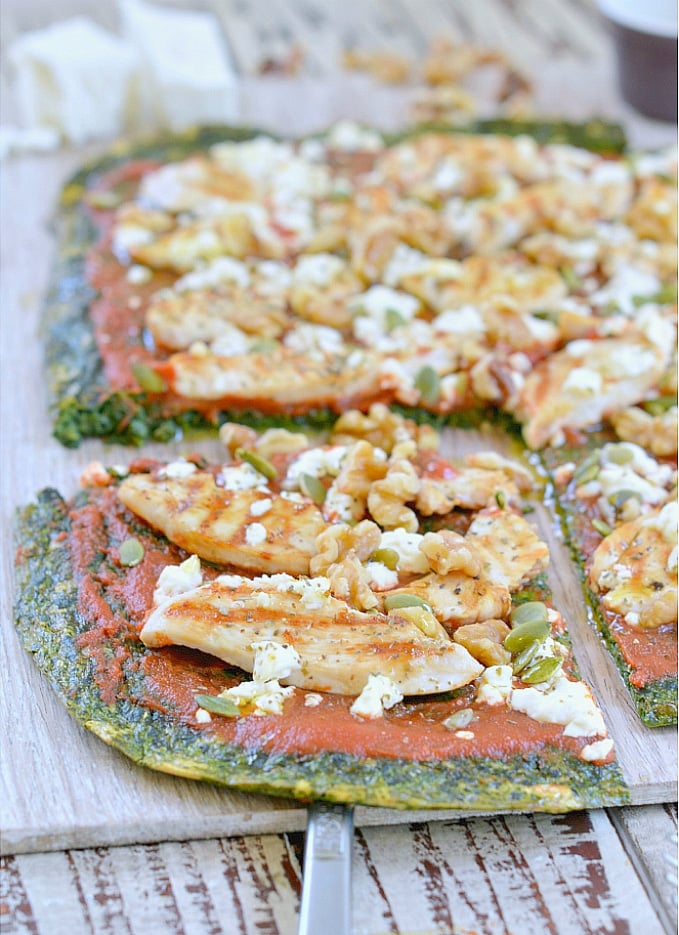 With the summer coming in New Zealand I am very enjoying finger food with a small glass of red wine during the week end. Tonight I did what I called a low carb spinach pizza crust which is mainly made of fresh baby spinach, eggs and a bit of cheese. Spinach is a very low carb vegetable and because this recipe do not contain any flour it is a very low carb pizza crust recipe perfect for my diabetic diet. It is an easy recipe to prepare. All you need to do is to blend all the base ingredients in a blender or food processor and the crust will be ready in a sec!
Spinach pizza crust – low carb 3 ingredients recipe
You know I am French right? And French love goat cheese and walnuts. It is a combo that French recipe use a lot. That is why I choose to top my pizza with grilled chicken breast, feta goat cheese, walnuts and extra pumpkin seeds. This flavor reminds my childhood in France. But well, any toppings will do ! Just ue what you have got in your fridge as soon as it i low carb it will make a delicious low carb dinner.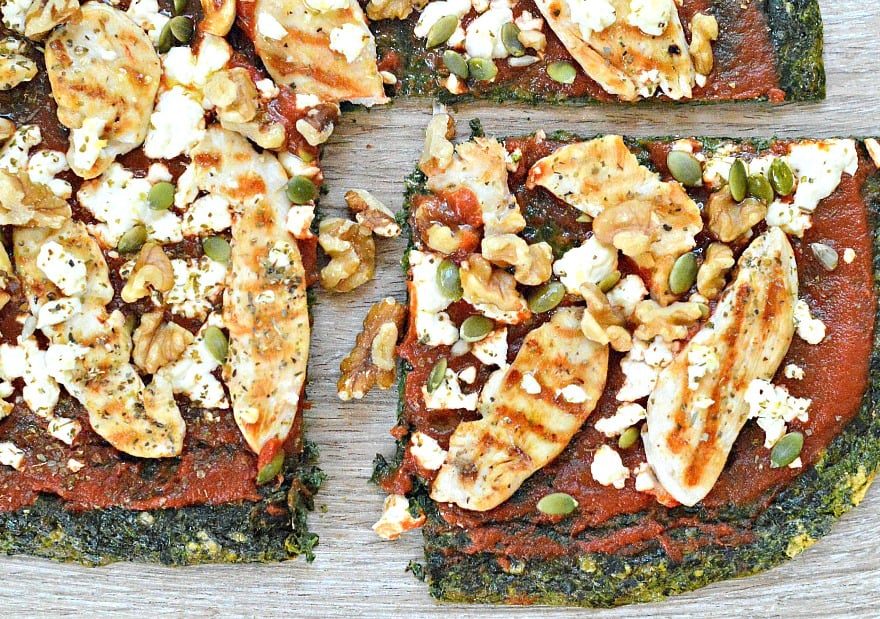 This crust is super easy to make. I made it many times in my blender or food processor. Both works very well. I recommend to use pre wash baby spinach or if you are going to wash your spinach leaves make sure you drain them well. I love to pat dry mine between pieces of absorbent paper. You don't want to add water into the recipe or the mixture will be too runny and it won't form a crispy pizza crust when baked. At first sight it looks like a baked omelette but it really makes a great pizza. Plus it contains only 2 eggs and lots of spinach which makes this recipe good for your kids too. An easy way to boost their veggie and protein intake.
This is how it looks like after baking.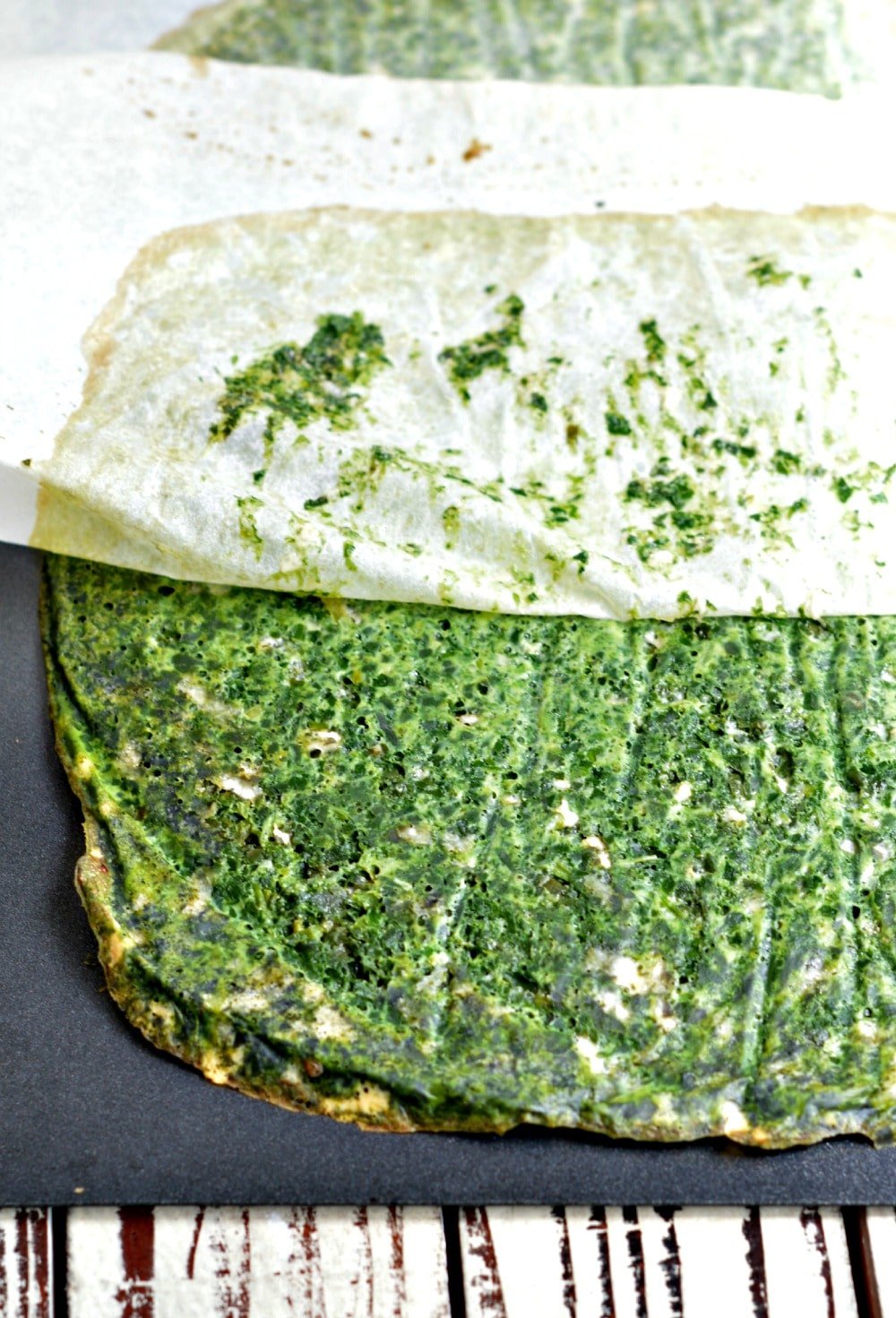 I garnished the pizza with home made tomato sauce, grilled chicken breast cooked on the BBQ. The BBQ is never too far away from the kitchen when you live in New Zealand! And I love the taste of BBQ grilled chicken. If you are looking for other low carb spinach recipes you will love my blog! I am such a spinach lover. Another favorite recipe at home are my spinach tacos shells.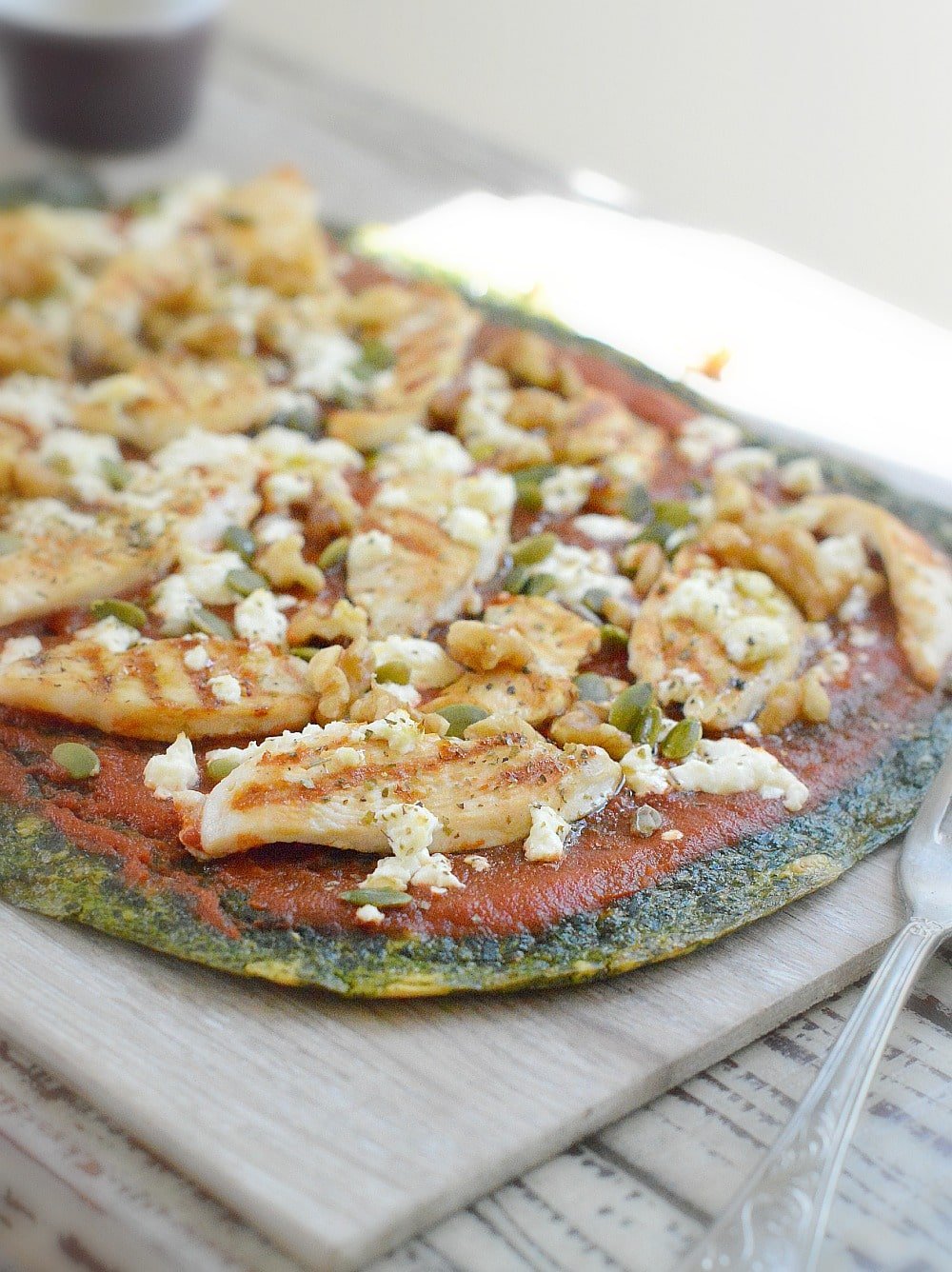 Oh and yes Emma -my little girl very enjoyed this pizza. I found this recipe easy to eat by kids as the crust stay light and soft. I was very happy to look at her eating the spinach hidden in the crust!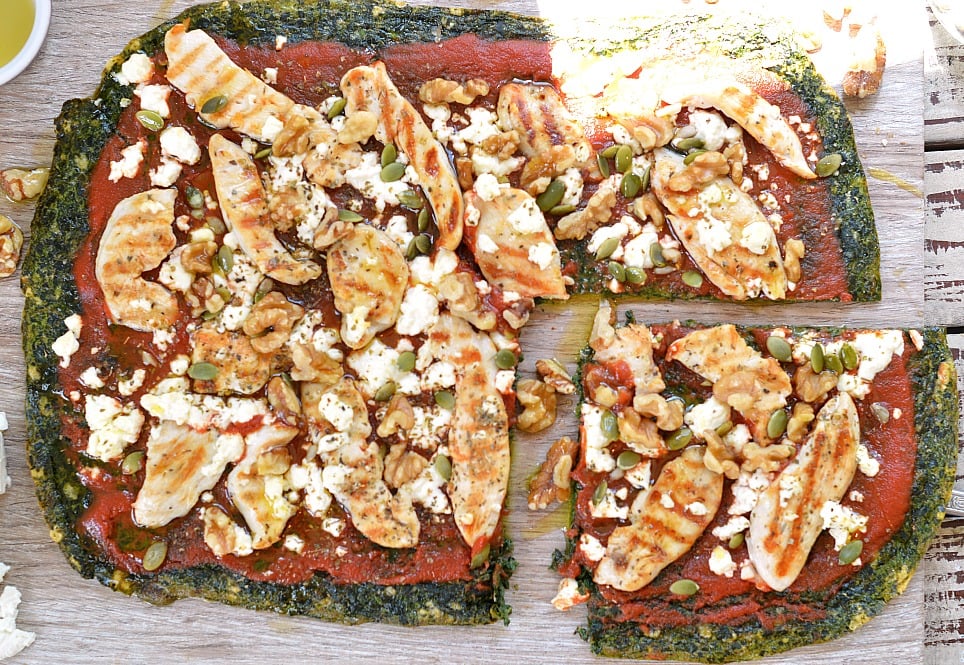 Spinach Pizza Crust
Low Carb Spinach Pizza Crust and easy 3 ingredients recipes made of eggs, spinach, cheese and spices - optional. Keto, vegetarian, gluten free.
Prep Time: 10 mins
Cook Time: 15 mins
Total Time: 16 mins
2 pizza crust (10 inches round, 8 slices in total)
Print The Recipe
4 cup baby spinach leaves washed, drained, see note note for frozen spinach
1 cup grated cheese , edam, mozarella, emmental or cheeddar
2 eggs
1/4 teaspoon salt - optional
1/4 teaspoon garlic powder - optional
1 tablespoon dried oregano - optional
Preheat oven to 200C (400F).

Line a baking sheet with a piece of parchment paper. Spray some olive oil to avoid the crust to stick to the paper. Set aside.

Wash, drain the baby spinach leaves. Make sure you the spinach leaves very well. You can pat dry between piece of absorbent paper or use pre washed baby spinach leaves to avoid this step.

In a blender or food processor, add the baby spinach leaves, cheese, eggs salt and herbs.

Blend for 30 seconds or until smooth.

Pour the spinach crust batter onto the prepared baking sheet. Using a spatula spread the batter into a rectangle that cover the whole baking sheet or use two baking sheet and create two round pizza base of 10 inches.

Bake the spinach pizza crust for 15-20 minutes or until the sides are darker and crispy.

Remove from the oven and add your favorite low carb toppings like tomato pizza base (use 100% natural tomato passata), diced red capsicum, mushroom slices, extra grated mozzarrella and olives.
Serving size: this recipe makes 2 rounds pizza of 10 inches or 1 large rectanlgle pizza. Nutrition panel is for 1 slice of a 10 inch round pizza based on 4 slices per pizza. Freeze: cool down the cooked pizza crust and freeze wrapped in plastic wrap. Bake frozen with your favorite toppings on the day. Frozen spinach: defrost spinach, squeeze out all the water then measure to match 1 cup + 1/2 cup defrosted spinach.
Nutrition Facts
Spinach Pizza Crust
Amount Per Serving (1 slice)
Calories 59 Calories from Fat 34
% Daily Value*
Fat 3.8g6%
Carbohydrates 2.4g1%
Fiber 1.3g5%
Sugar 0.9g1%
Protein 4.6g9%
Vitamin A 950IU19%
Vitamin C 19mg23%
Net Carbs 1.1g
* Percent Daily Values are based on a 2000 calorie diet.