Coconut Flour Pizza Crust (Vegan, Keto)
This Coconut Flour Pizza Crust is an easy 4-ingredient crispy pizza base recipe made with coconut flour and psyllium husk.
It's a low-carb vegan pizza crust made with no cheese, and 100% dairy-free.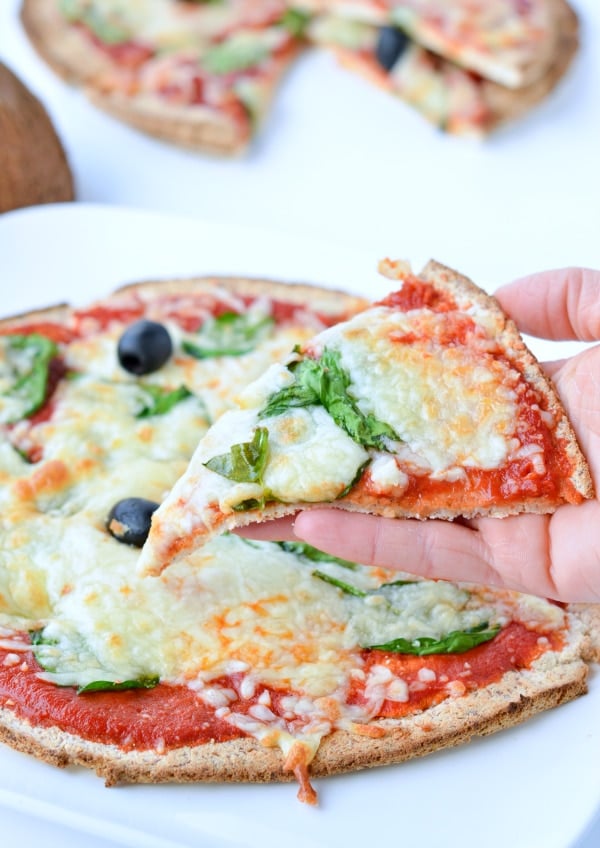 What's A Coconut Flour Pizza Base?
A coconut flour pizza crust is a low-carb pizza base primarily made with coconut flour for a keto-friendly dinner.
This recipe is inspired by my coconut flour flatbread recipe.
I used to buy flatbread to make a pizza base, so I thought it would be a good idea to twist my flatbread recipe to make a healthy crispy pizza crust that all my family can enjoy.
Pizza nights are essential family times for everyone, and it matters to me that we can all enjoy the same food on that day.
If you happen to be on a keto diet and eating plant-based, you might find it hard to eat a good pizza.
Most Keto-friendly Pizza bases are made with cheese, like my fathead pizza crust, or sometimes with a combination of keto flour, like my Keto Pizza Crust.
But this recipe is Gluten-free, Vegan, and Keto-friendly. No cheese and a dairy-free crust.
How To Make Coconut Flour Pizza Crust
This is not a difficult recipe, it only takes 4 ingredients and 10 minutes of preparation.
Ingredients
It is actually a super easy 4-ingredient coconut flour pizza crust recipe made with:
Coconut flour – Don't swap this for any other flour, or the recipe would not work. Learn how to choose keto-friendly flours.
Psyllium husk – I use whole psyllium husks. It is mostly made of fiber. This means it's good for your gut health, and it gives an elastic bread texture to this crust without using eggs. Don't use Metamucil fiber supplements in this recipe. That is not quite the same product as whole psyllium husk fiber. Metamucil is a husk powder that is not suitable for baking keto bread. In fact, it will turn food dry, purple, or blue.
Water – I recommend lukewarm water. Tap hot water is perfect.
Salt – it is optional, but I love salt in my pizza crust.
Making The Dough
Knead the dough for at least one minute by combining the coconut flour, psyllium husk, salt, olive oil, and water. Stir it with a spatula before using your hands.
At first, the mixture will be moist and soft. You will feel like you're kneading mashed potatoes.
After one minute, it dries out slightly, and you will be able to gather the pieces of dough into a ball easily.
It is crucial that you set it aside 10 minutes before rolling the dough. Psyllium husk contains a lot of fiber, and coconut flour also contains about 40% of fiber.
Fibers are highly water absorbent, but they need time to absorb all the water.
During these 10 minutes, the dough becomes elastic, holds together, and becomes easy to roll.
Rolling Keto Pizza Crust
Working with low-carb flours is different. It is not difficult at all. It just requires some adjustments compared to regular flours.
You must roll your dough between two sheets of parchment paper, or the dough would stick to the rolling pin and make a big mess!
Also, grease that bottom sheet of parchment paper. Each brand is different, and you don't want the pizza crust to stick to the paper during baking.
Pre-Baking The Coconut Flour Pizza Crust
This coconut flour crust needs to be pre-baked, or it will get too soft and soggy.
So don't skip this simple step that makes the best coconut flour crust on earth!
Note that this recipe makes one 10-inch (26 cm) pizza crust.
Topping Ideas
First, start by spreading my Keto Pizza Sauce on top of the pre-baked crust. It's a very low-carb tomato sauce.
Vegan ideas: my husband loves to add sun-dried tomatoes, red onion, refried black beans, mushrooms, roasted chickpeas, toasted walnuts, red bell peppers, spinach, and vegan mozzarella 'cheese'.
Low carb ideas: I love vegetarian pizza and use lots of keto vegetables as keto pizza toppings like spinach, black olives, and a lot of shredded mozzarella cheese or parmesan cheese.
Sometimes I sprinkle some dried oregano and rosemary on top as well, plus spicy chili oil to serve. Of course, any grilled meat or white base will be delicious as well.
Enjoy the coconut flour pizza crust recipe, and drop a comment if you have any questions or want to share your creation!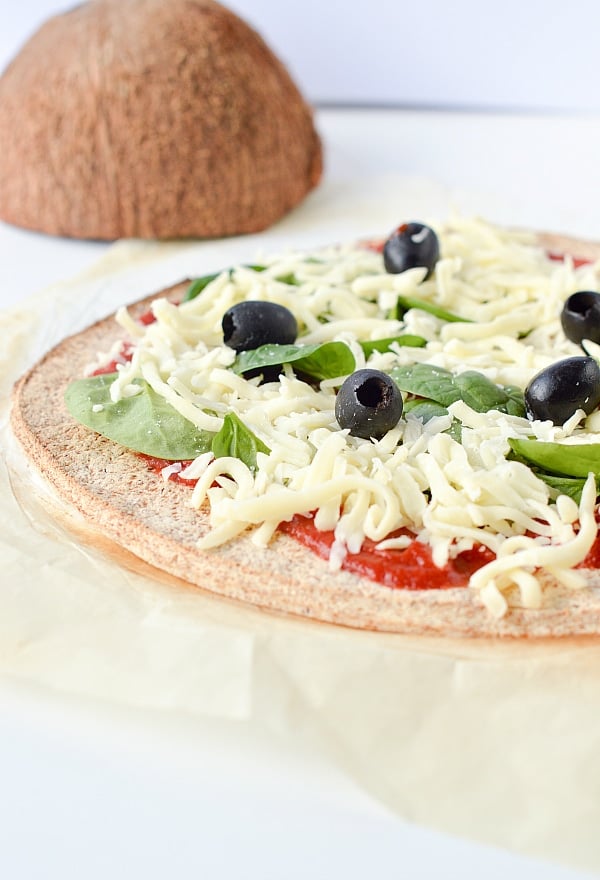 Storage Instructions
You can safely store the raw coconut flour pizza dough in the fridge for up to 24 hours, wrapped in plastic wrap or an airtight container.
It's also possible to freeze a pre-baked coconut flour crust. I recommend freezing the crust wrapped into plastic wrapping and then into aluminum foil to avoid any moisture.
Don't freeze raw pizza dough.
Frequently Asked Questions
I've listed below the answers to the most common questions about this recipe.
Can I Use Powdered Psyllium Husk?
Yes, you can! But you'd have to use half of the quantity I use. You also have to make sure you use pure psyllium husk powder, not a dietary supplement. Supplements often contain less than 50% psyllium husk and will make your recipe fail.
Can I Use Yeast Instead Of Psyllium Husk?
No, yeast is not a suitable replacement for psyllium husk.
Can I Use Xanthan Gum instead Of Psyllium Husk?
No, xanthan gum wouldn't work here.
Can I Change The Taste Of The Coconut Flour Pizza?
Yes, you can add garlic powder or onion powder for a perfect taste.
Is Coconut Flour Better Than Almond Flour?
Coconut flour and almond flour have very different tastes, hence why I have two very different recipes for each. In terms of health benefits, both are low in carbs and high in fiber.
More Keto Pizza Crust Recipes
If you enjoy this coconut flour pizza crust, you'll love these other keto pizza bases:
Coconut Flour Pizza Crust (Vegan, Keto)
This Coconut Flour Pizza Crust is an easy 4-ingredient crispy pizza crust, allergy-friendly, 100% low-carb, vegan, paleo, and keto since it's made with no cheese and no eggs!
Serving Size:
1
slice, no toppings
Ingredients
½

cup + 2 tablespoons

Coconut Flour

2

tablespoons

Whole Psyllium Husk

¼

teaspoon

Salt

1

tablespoon

Extra Virgin Olive Oil

1

cup

Lukewarm Water

not boiling, think bath temperature
This recipe may contain Amazon or other affiliate links. As an Amazon Associate I earn from qualifying purchases.
Instructions
Preheat the oven to 430°F (220°C).
Making the coconut flour pizza dough
In a large mixing bowl, add the coconut flour, psyllium husk, salt, olive oil, and lukewarm water.

Combine with a spatula or wooden spoon first, then use your hand and knead the dough for 1 minute. The batter will be very moist at first and dry out as you go, and that is what you want. Gather the pieces of dough and form a ball. If it is too dry, add a bit more water, 1 tablespoon at a time, until the dough holds well together.

Set aside in the mixing bowl at room temperature for 10 minutes. It will give time to the fiber in the flour and psyllium husk to absorb the extra moisture.
Rolling the dough
The dough ball is now firm, elastic, and ready to roll.

Lightly oil a sheet of parchment paper with olive oil (this will prevent the pizza base from sticking to the paper while baking).

Place the dough ball in the center of this sheet. Place another piece of parchment paper on top of the ball, press with your hand to flatten the ball, and start rolling with your rolling pin until it reaches the thickness you like. The thinner, the crispier the pizza will be!

Remember, it is crucial to roll the dough between parchment paper sheets, or the dough will stick to your rolling pin.

Peel off the top parchment paper sheet. Use a knife to cut out a nice pizza circle, or keep the shape as you like. If you cut yours into a circle, reuse the dough from the border to roll another pizza base.
Prebake the coconut flour pizza crust
Your pizza base is now ready to be pre-bake (keep your pizza crust on the parchment paper to bake!). Pull the parchment paper sheet with the pizza base onto a baking sheet, and pre-bake the crust for 12-15 minutes.
Garnish your pizza base
Remove from the oven, spread some keto pizza sauce, baby spinach leaves, and grated mozzarella and olives, or feel free to use any toppings you like.

Return to the oven for 5-8 minutes or until your cheese is melted and grilled. You can also switch the oven to grill mode for 1-2 minutes at the end of the baking process to grill the cheese even better.
Notes
Freezing: you can pre-bake your crust and freeze them for next time. I recommend freezing them wrapped into plastic wrapping and then into foil to avoid any moisture. Don't freeze the raw dough. Storage: you can store the raw pizza dough in the fridge for up to 24 hours, wrapped in plastic wrap or an airtight container. Toppings: any toppings work well with this pizza base. Feel free to use any white base or sugar-free BBQ sauce if preferred. Serving size: the nutrition panel below is for one slice of coconut flour pizza crust without toppings. This pizza crust makes 6 slices of 10-inch pizza crust. Psyllium husk: don't use Metamucil fiber supplements in this recipe. This is not the same product as whole psyllium husk fiber. Metamucil is a husk powder that is not suitable for baking keto bread. It will turn food dry, purple, or blue.
Want My Kitchen Equipment?
Serving Size:
1
slice, no toppings
Serving:
1
slice, no toppings
Calories:
86
kcal
(4%)
Carbohydrates:
10.3
g
(3%)
Fiber:
6.3
g
(26%)
Net Carbs:
4
g
Protein:
3
g
(6%)
Fat:
3.8
g
(6%)
Sugar:
3
g
(3%)
Posted In: