Coconut Flour Pizza Crust or low-carb vegan pizza crust is an easy 4-ingredient crispy pizza base recipe made with coconut flour and psyllium husk, no cheese, and 100% dairy-free.
Coconut Flour Pizza Crust Vegan + Keto
This recipe is inspired by my coconut flour flatbread recipe.
I used to buy flatbread to make a pizza base, so I thought it would be a good idea to twist my flatbread recipe to make a healthy crispy pizza crust that all my family can enjoy.
Pizza nights are essential family times for everybody, and it matters to me that we can all enjoy the same food on that day.
If you happen to be on a keto diet and eating plant-based, you might find it hard to eat a good pizza.
Most Keto-friendly Pizza bases are made with cheese, like my fathead pizza crust.
But this recipe is Vegan and Keto-friendly. No cheese and a dairy-free crust.
ⓧ
Are you new to Keto?
Receive my Keto Quick Start email series to learn all about the Keto diet and kick start your keto journey!
Ingredients for this 4-ingredient keto pizza crust
Don't worry. This is not a difficult recipe. It is actually a super easy 4-ingredient coconut flour pizza crust recipe made with:
Coconut flour – Don't swap this for any other flour, or the recipe would not work. Learn how to choose keto-friendly flours.
Psyllium husk – I use whole psyllium husk. It is mostly made of fiber. This means it's good for your gut health, and it gives an elastic bread texture to this crust without using eggs. Don't use Metamucil fiber supplements in this recipe. That is is not quite the same product as whole psyllium husk fiber. Metamucil is a husk powder that is not suitable for baking keto bread. In fact, it will turn food dry, purple, or blue.
Water – I recommend lukewarm water. Tap hot water is perfect.
Salt – optional, but I love salt in my pizza crust.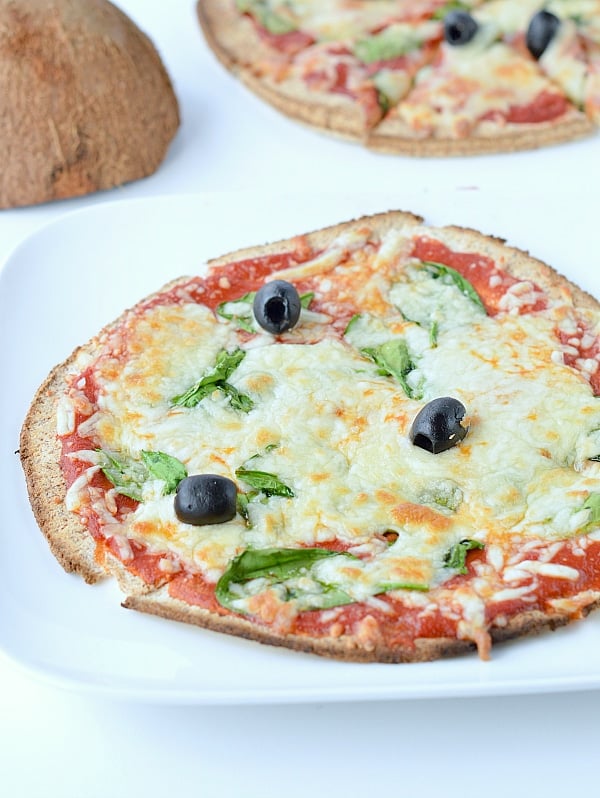 How to make a low-carb vegan pizza crust dough?
Knead the dough for at least one minute.
At first, it will be moist and soft. You will feel like you knead mashed potatoes.
After one minute, it dries out slightly, and you will be able to gather the pieces of dough into a ball easily.
It is crucial that you set it aside 10 minutes before rolling the dough. Psyllium husk contains a lot of fiber, and coconut flour also contains about 40% of fiber.
Fibers are highly water absorbent, but they need time to absorb all the water.
During these 10 minutes, the dough becomes elastic, holds together, and becomes easy to roll.
How to roll a keto pizza crust?
Working with low-carb flours is different. It is not difficult at all. It just requires some adjustments compared to regular flours.
You must roll your dough between two sheets of parchment paper, or the dough would stick to the rolling pin – big mess!
Also, grease that bottom sheet of parchment paper. Each brand is different, and you don't want the pizza crust to stick to the paper during baking.
Pre-baking your coconut flour pizza crust
This coconut flour crust needs to be pre-baked, or it will get too soft and soggy. So don't skip this simple step that makes the best coconut flour crust on earth!
Note that this recipe makes one 10-inch (26 cm) pizza crust.
Topping ideas
Vegan ideas: my husband loves to add sun-dried tomatoes, refried black beans or roasted chickpeas, toasted walnuts, capsicum, spinach, and vegan mozzarella 'cheese'.
Low carb ideas: I love vegetarian pizza and use lots of keto vegetables as keto pizza toppings like spinach, black olives, and a lot of mozzarella cheese.
Sometimes I sprinkle some dried oregano and rosemary on top as well, plus spicy chili oil to serve. Of course, any grilled meat or white base will be delicious as well.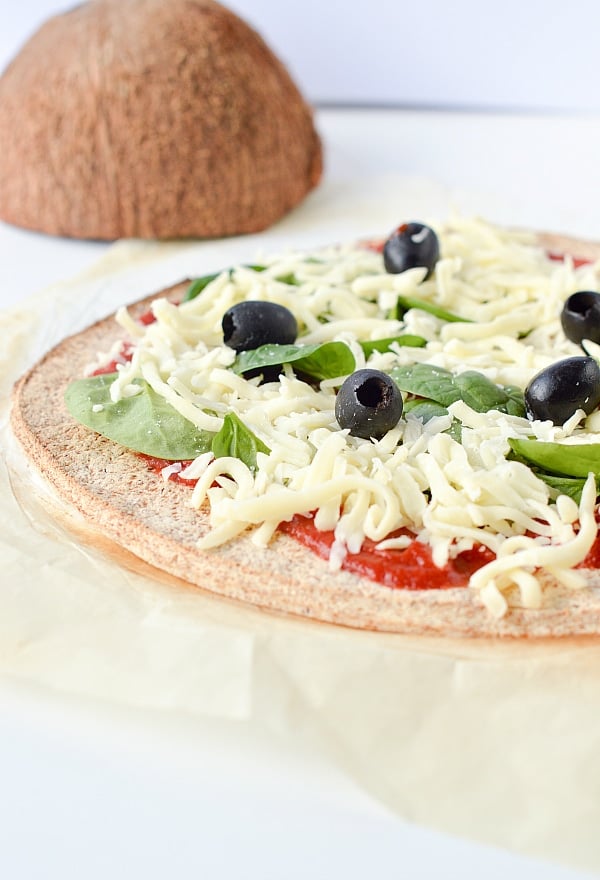 Enjoy the coconut flour pizza crust recipe, and drop a comment if you have any questions or want to share your creation!
More keto pizza crust recipes
Made this keto pizza crust recipe? Share a comment or review below! I love to hear back from you on my recipes,
XOXO Carine
Recipe Card
Coconut Flour Pizza Crust Vegan + Keto
Coconut Flour Pizza Crust Easy 4-ingredient crispy pizza crust, allergy-friendly, 100% Low-carb, Vegan, Paleo, and Keto. NO cheese, NO eggs! 
Instructions
Preheat oven to 220°C (430°F).
Making the coconut flour pizza dough
In a large mixing bowl, add the coconut flour, psyllium husk, salt, olive oil, and lukewarm water.

Combine with a spatula or wooden spoon first, then use your hand and knead the dough for 1 minute. The batter will be very moist at first and dry out as you go, and that is what you want. Gather the pieces of dough and form a ball. If it is too dry, add a bit more water, 1 tablespoon at a time, until the dough holds well together.

Set aside in the mixing bowl, at room temperature, for 10 minutes. It will give time to the fiber in the flour and psyllium husk to absorb the extra moisture.
Rolling the dough
The dough ball is now firm, elastic, and ready to roll. 

Lightly oil a sheet of parchment paper with olive oil (this will prevent the pizza base from sticking to the paper while baking).

Place the dough ball in the center of this sheet. Place another piece of parchment paper on top of the ball, press with your hand to flatten the ball, and start rolling with your rolling pin until it reaches the thickness you like. The thinner, the crispier the pizza will be!

Remember, it is crucial to roll the dough between parchment paper sheets, or the dough will stick to your rolling pin. 

Peel off the top parchment paper sheet. Use a knife to cut out a nice pizza circle, or keep the shape as you like. If you cut yours into a circle, reuse the dough from the border to roll another pizza base.
Prebake the coconut flour pizza crust
Your pizza base is now ready to be pre-bake (keep your pizza crust on the parchment paper to bake!). Pull the parchment paper sheet with the pizza base onto a baking sheet, and pre-bake the crust for 12-15 minutes. 
Garnish your pizza base
Remove from the oven, spread some keto pizza sauce, baby spinach leaves, and grated mozzarella and olives, or feel free to use any toppings you like.

Return to the oven for 5-8 minutes or until your cheese is melted and grilled. You can also switch the oven to grill mode for 1-2 minutes at the end of the baking process to grill the cheese even better.
Freezing: you can pre-bake your crust and freeze them for next time. I recommend freezing them wrapped into plastic wrapping and then into foil to avoid any moisture. Don't freeze the raw dough. Storage: you can store the raw pizza dough in the fridge for up to 24 hours, wrapped in plastic wrap or an airtight container.  Toppings: any toppings work well with this pizza base. Feel free to use any white base or sugar-free BBQ sauce if preferred.  Serving size: the nutrition panel below is for one slice of coconut flour pizza crust without toppings. This pizza crust makes 6 slices of 10-inch pizza crust. Psyllium husk: don't use Metamucil fiber supplements in this recipe. This is not the same product as whole psyllium husk fiber. Metamucil is a husk powder that is not suitable for baking keto bread. It will turn food dry, purple, or blue.
My Recipe Notes
Tools
Starting Keto
What Is Keto Diet?
Macro Calculator
Sweetener Converter
Keto Meal Plans
Keto Recipe Ebooks
Intermittent Fasting
Keto Fruits
Keto Vegetables
Keto FLours
Fighting Keto Flu
Keto Sweeteners
Nutrition Facts
Coconut Flour Pizza Crust Vegan + Keto
Amount Per Serving (1 slice, no toppings)
Calories 86
Calories from Fat 34
% Daily Value*
Fat 3.8g6%
Carbohydrates 10.3g3%
Protein 3g6%
Net Carbs 4g
* Percent Daily Values are based on a 2000 calorie diet.