What Is The Keto Diet?
THIS POST MAY CONTAIN AFFILIATE LINKS, WHICH MEANS THAT I MAKE A SMALL COMMISSION OFF ITEMS YOU PURCHASE AT NO ADDITIONAL COST TO YOU. PLEASE SEE MY
FULL DISCLOSURE POLICY
FOR DETAILS
The keto diet, also known as the low-carb high-fat diet (LCHF), consists of reducing the number of carbs while increasing the fat.
What Is The Keto Diet?
In a regular diet, about 55% of the energy comes from carbs, 35% from protein, and 10% from fat intake.
In Keto, it is quite different. Most of the energy intake comes from fat while carbs only make up about 10%.
This vast reduction of carbs consumed is putting the body in a state called Ketosis.
Ketosis and other Keto jargon
Ketosis is this metabolic state in which the body gets its energy from stored fats instead of the sugar you eat.
In your normal state, digestion breaks down sugars into glucose that can then be consumed by your muscles, organs, and brain.
In ketosis, there is not enough glucose available in the bloodstream, so your body turns to another mode of energy production.
The liver transforms the fat stored all over the body into ketones that your muscles can then use for fuel.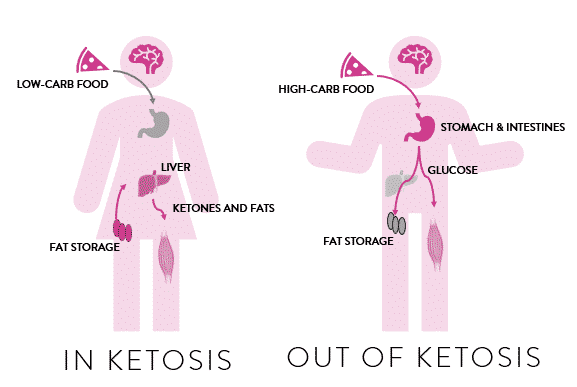 What are ketones?
Ketones are molecules that are produced by your liver when you are in ketosis.
They are essentially a different form of fuel for your muscles.
Your muscles and organ will always favor glucose, if it is available, over ketone. Because glucose is more efficient.
However, if the supply of glucose is low, most muscles and organs can consume ketones instead.
Ketones are what people measure to know if they are in ketosis or not.
How long does it take to go into ketosis?
After you have reduced your carbs intake, it will take your body two to four days to get into ketosis. That's how long it takes for the body to consume most of its blood glucose, glycogen, and other glucose storage!
Once you are in ketosis, the body actively turns fat into energy which means that if you can maintain this state for long enough, you lose weight!
But I thought that eating fat makes you gain weight?
This is a common misconception. The body can store both fat and glucose (from carbs) as fat. But your body will only be in fat-storage mode if the concentration of glucose in your blood is high.
When you are in ketosis, your blood sugar level is too low for the body to consider storing fat. Therefore, all the fat you are eating is either consumed or evacuated.
Should I follow the keto diet?
Before wondering how to begin a low-carb diet, it is important to check whether it's appropriate for you.
I am not the one that can answer this question! What is certain is that the ketogenic diet is not for everyone. There are limited risks – as with any diet, really. But it is a diet that can be challenging, in particular in the first week.
So, I will always recommend that you talk to your doctor or dietician before starting your keto journey. They would be able to assess any particular risk factor you might have.
For example, if you take insulin or other diabetes treatments, the keto diet is not recommended. It is the same for people taking medication for high blood pressure or breastfeeding women.
It is also not recommended if there is a history of colon cancer in your family as the keto diet limits the intake of fiber.
What are net carbs?
Net carbs are the number of carbohydrates (carbs) minus the fiber and any other non-metabolized sweeteners such as sugar alcohols (erythritol for example).
The reason why on Keto people only care about Net Carbs and not the total amount of Carbs is that fiber and some sugar alcohols don't contribute to your energy supply.
These macro ingredients just pass through!
Calculating the Net Carbs you need is quite difficult. There's actually a mathematical formula for that!
To make it simple, you can just use the Macro Calculator in my Members area. It's 100% free, and as a bonus, it shows your macro in all my recipes!
What are the benefits of the keto diet?
The ketogenic diet is widely known as one of the most reliable ways of losing weight. But there are some other benefits as well.
Weight loss
There are many factors that contribute to how much weight you can lose on Keto and how fast it will happen, including:
How much you currently weigh.
How fast you are ready to lose weight.
What your metabolism is. Also known as how much energy your body consumes when resting.
But whatever the parameters, the Keto diet is a very efficient way to lose weight. The study linked below shows an average weight loss of 15kg after 9 weeks in women and 20kg for men.
One of the reasons it works so well is because most people doing Keto don't feel hungry.
Therefore, there your mind is not telling you to stop. So is a diet that is one of the easiest to follow.
Keto as a treatment for specific conditions
The Keto diet has also proven to be an efficient diet for some other conditions.
What is intermittent fasting?
Intermittent Fasting – also called Time-Restricted Fasting – is a popular method of eating on the keto diet that consists of restricting your eating window over a shorter period.
It's linked with increased weight loss, several positive health effects, but also some potential side effects.
What are the possible side effects of the Keto diet?
While the keto diet has many positive effects, it does have a few not-so-joyous side effects. Let me tell you how to mitigate them!
Keto Flu
The Keto Flu is a combination of symptoms that generally happen in the first week after cutting carbs. These symptoms are similar to what you get with the flu, hence its name.
They include nausea, constipation, headache, weakness, cramps, dizziness, etc. All of it is due to your body adapting to the lack of carbs. But don't worry, there are plenty of things you can do to reduce their effect and duration.
Drink a lot: staying hydrated is important because your body will have a tendency to reduce its volume of water in Keto. Besides, if you also have diarrhea, it is necessary to replace all the lost water.
Get enough electrolytes: magnesium, potassium, and sodium, in particular, are important when you are on a keto diet. Make sure to eat plenty of low-carb fruits or drink electrolyte-loaded water like Everly (my favorite).
Reduce your exercise: when your body adapts to its new normal, intense exercise depletes your electrolytes and water even faster. Try to avoid it during your first week!
Don't feel hungry: the keto diet, unlike many others, is not supposed to make you feel hungry. If you do feel hungry, it might be because you didn't consume enough fat. Remember that your macros are not just a percentage but also a number of grams of carbs, fat, and protein you need to eat daily.
Rest: your body is still adapting, you need plenty of rest to let it process the change in nutrients.
Constipation
As your digestive system adapts to processing a lot more fat and a lot less carb, you might feel constipated.
To fight this, make sure to drink plenty of liquids and that you make recipes that are high in fiber. Yes, more fiber means more carbs, but remember that what matters is the net carbs (carb – fiber).
Palpitations
Heart palpitations are one of the potential side effects of the keto diet. In the vast majority of cases, you don't have to worry, it is most likely that you are slightly dehydrated and that your electrolytes are low. Drink plenty and replace your electrolytes!
Hair loss
The change in macro-nutrients that you consume because of your new diet might lead to some hair loss. This might be due to the body trying to save energy for other functions.
How can I start a keto diet?
Starting the keto diet doesn't have to be complicated!
In fact, I have everything in place to make it as simple as possible for you.
Conclusion
I hope that you've learned the most important facts about the keto diet!
I can't wait to see you try my recipes!