This easy Keto Fudge recipe is the best keto fudge you will ever make. It's fudgy, creamy, with a dairy-free option, and stores very well at room temperature to share on your Christmas dessert platter.
Bonus, one square of this gluten-free keto fudge contains only 1.7 grams of net carbs!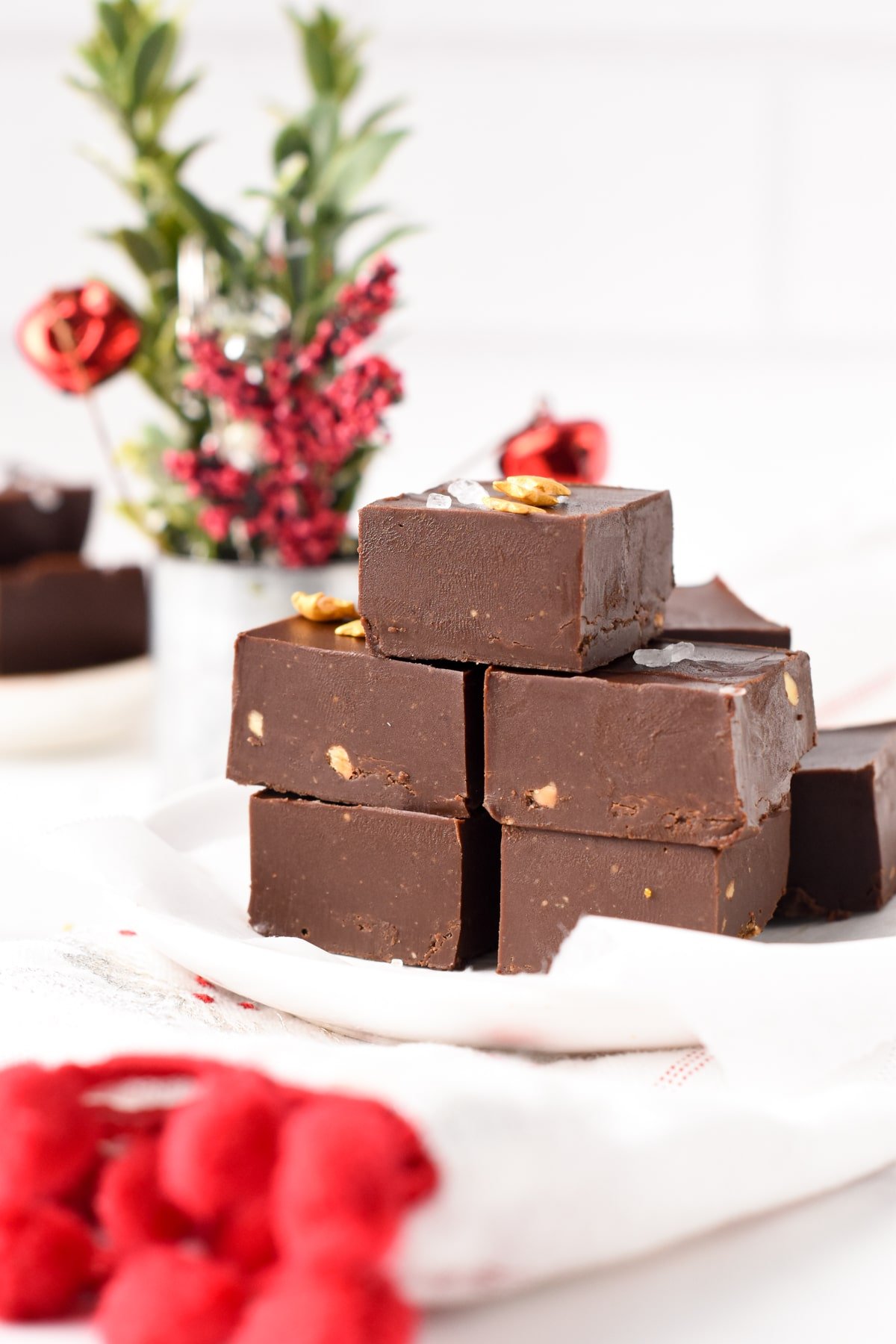 I shared a lovely freezer-fudge recipe last month, and since then, I wanted an even better low-carb fudge recipe.
This keto chocolate fudge is better because if you are looking for a fudge that:
Lasts well at room temperature and won't melt easily on your dessert platter.
Keeps well in the fridge, no need to pop in the freezer.
Has a fudgier chewy texture closer to regular fudge.
So let me tell you my secrets for making this low-carb chocolate fudge for your holiday dessert platter.
How To Make Keto Fudge
I have been working on this recipe for a while, and I have two options, one is dairy-free, and one has dairy.
The dairy-free version has a slightly harder texture, while the dairy version is much chewier. Pick the one you like or make a combination of both. It's great to use coconut oil and cream cheese, for example.
Ingredients
Sugar-free Dark Chocolate Chips or sugar-free milk chocolate chips for a sweeter fudge.
Unsweetened Cocoa Powder – this adds the strong chocolate flavor you expect from a chocolate fudge without condensed milk.
Butter or Coconut Oil – both options work well. Coconut oil hardens in the fridge, so if you use this option, the fudge needs a few more minutes at room temperature to get the perfect texture compared to the butter option. And butter is a perfectly keto-friendly ingredient.
Almond Butter or cream cheese – I personally love the almond butter fudge option because it adds bites of almonds into the fudge. The creaminess of the chocolate fudge plus the almonds are so delicious. On the other side, if you tolerate dairy or want to cut carbs a bit more, try cream cheese instead. It makes the fudge a bit chewier.
Salt
Stevia Drops or powdered erythritol – avoid any granulated keto sweetener that adds a grainy crunchy texture to fudge.
Preparing The Pan
First, line a 9-inch x 5-inch loaf pan with parchment paper and lightly oil the paper with coconut oil.
Make sure the paper is large enough to overhang on both sides of the pan. This makes it easier to unmold the fudge bar later in the recipe.
Don't use a larger pan, or the fudge pieces will be too thin.
Melting The Ingredients
Option: Microwave
First, add the sugar-free chocolate chips, butter or coconut oil, and almond butter to a microwave-safe bowl.
Microwave in 30-second bursts and stir each time to make sure the ingredients come together into a creamy, smooth melted chocolate mixture.
Option 2: Stove
You can also add the ingredients to a non-stick saucepan and melt over medium heat, often stirring to prevent the chocolate chips from burning.
Stirring The Remaining Ingredients
Now, remove the saucepan from the heat and stir in the unsweetened cocoa powder, a pinch of salt, and taste.
If not sweet enough for you, add the stevia drips or 2-3 tablespoons of powdered erythritol or allulose.
Pour the chocolate almond butter fudge batter into the prepared loaf pan.
Refrigerating Until The Fudge Is Set
Place the loaf pan in the fridge for at least 2 hours or until the keto low-carb fudge bars are set hard.
Cut Into Squares
Using the hanging pieces of parchment paper that hang on the side of the loaf pan, pull out the keto fudge bar from the pan.
Release the fudge bar onto a chopping board and cut the bar into 18 squares using a sharp knife.
Serve on a platter with some decoration if you like
Fudge Decoration Ideas
There are so many decorations you can add on top of fudge:
Keto Sprinkles – or a few Christmas sprinkles, even if not keto. This won't raise the carb by much, and you can share a holiday treat that looks impressive.
A Pinch Of Sea Salt
Desiccated Coconut
Chopped Peanut
Frequently Asked Questions
Below I listed some answers to the most common questions.
Can I Use Peanut Butter?
Yes, peanut butter is keto-friendly, and you can swap the almond butter for any nut butter or sun butter for a nut-free option.
Can I Set The Fudge In The Freezer?
Yes, you can set fudge in the freezer in less than 2 minutes, which is a great trick to preparing a last-minute Christmas dessert.
I Don't Have Sugar-free Chocolate Chips, what Can I Use?
You can use some 85% cocoa baking chocolate. It's low-sugar and keto-friendly.
If you want to cut the carbs even more, choose a 90% cocoa chocolate bar and adjust the sweetness with a good amount of powdered sweetener.
Remember that using these two options makes the fudge extremely strong in cocoa flavor and not as sweet as sugar-free chocolate chips.
More Keto No-bake Dessert Recipes
Below I listed some more keto recipes for your Christmas dessert table:
Did you try this sugar-free fudge recipe? Share a comment or review below to tell me how much you love it.
XOXO Carine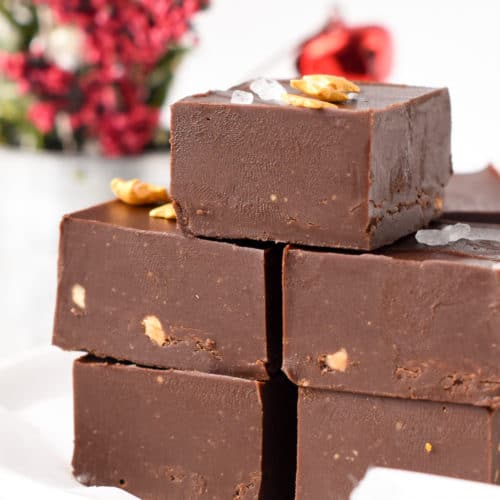 Keto Fudge
An easy Keto Fudge recipe for a delicious sugar-free chocolate fudge to share with family and friends for Christmas.
Ingredients
1 ¼

cup

Sugar-Free Dark Chocolate Chips

¼

cup

Butter

or coconut oil

½

cup

Almond Butter

3

tablespoons

Unsweetened Cocoa Powder

¼

teaspoon

Stevia Drops

½

teaspoon

Vanilla Extract
This recipe may contain Amazon or other affiliate links. As an Amazon Associate I earn from qualifying purchases.
Instructions
Cover a 9-inch x 5-inch loaf pan with parchment paper. Lightly oil paper with coconut oil and make sure the paper is long enough to overhang on both sides of the pan – this makes it easier to unmold the fudge later in the recipe. Set aside.

In a microwave-safe bowl, add sugar-free chocolate chips, almond butter, and butter. Microwave in 30-second bursts, stirring between each until all the ingredients are melted and well combined.

Stir in the vanilla extract and unsweetened cocoa powder. Taste the sweetness before adjusting with stevia drops.

Transfer into the prepared loaf pan and place the pan in the fridge for 2 hours or until the fudge is hard.

Remove the pan from the fridge, use the hanging pieces of parchment paper to pull out the fudge bar from the pan, and place it on a chopping board. Keep the piece of paper under the bars.

Cut into 18 squares with a sharp kitchen knife.
Serving and storage
You can store all the fudge in the fridge for up to a month in an airtight container.

Alternatively, keep the fudge in an airtight box in the freezer and thaw for 5-15 minutes at room temperature before eating. It lasts up to 3 months in the freezer.
Want My Kitchen Equipment?
Serving:
1
square
Calories:
116.4
kcal
(6%)
Carbohydrates:
8.8
g
(3%)
Fiber:
7.1
g
(30%)
Net Carbs:
1.7
g
Protein:
1.6
g
(3%)
Fat:
10.9
g
(17%)
Saturated Fat:
4.6
g
(29%)
Polyunsaturated Fat:
1
g
Monounsaturated Fat:
3
g
Trans Fat:
0.1
g
Cholesterol:
6.8
mg
(2%)
Sodium:
23.2
mg
(1%)
Potassium:
65.6
mg
(2%)
Sugar:
0.3
g
Vitamin A:
78.9
IU
(2%)
Vitamin B12:
0.1
µg
(2%)
Vitamin D:
0.1
µg
(1%)
Calcium:
25.9
mg
(3%)
Iron:
0.4
mg
(2%)
Magnesium:
23.6
mg
(6%)
Zinc:
0.3
mg
(2%)
Posted In: