Is Peanut Butter Keto? Can I eat any Peanut Butter?
This recipe may contain Amazon or other affiliate links. As an Amazon Associate I earn from qualifying purchases.
Peanut butter is one of the most commonly used spreads in the world. According to researchers, the global Peanut Butter market was $3 billion in 2014.
In the U.S. alone, 297 million people eat peanut butter regularly!
Given how popular peanut butter is, I wanted to get all the facts and answer the question, is peanut butter keto?
What is Peanut Butter?
We first need to have a look at the history of Peanut Butter. Peanuts originated from South America, where the Incan population regularly consumed it.
It was brought to Europe by explorers, and it went to Northern America from Africa in the 1700s. At that point, peanuts were just consumed roasted, not as butter.
It is believed that the first commercial Peanut Butter was created at the end of the 19th century in St. Louis as a protein substitute. From there, it grew to become what it is today, a cheap spread loved by many.
However, with tastes changing over the years, peanut butter evolved from being strictly made of peanuts to more complex (and questionable) recipes.
True and Natural Peanut Butter
The real, healthy peanut butter is made from only one ingredient. Peanuts. You might sometimes find a pinch of salt added to your PB, but that is all.
True peanut butter is sugar-free and high in oil, and when left alone for a while, some separation happens. It leaves a layer of oil on the top of the jar. It's perfectly natural, and all you need is a quick stir for it to come back to normal.
This version of Peanut Butter is perfectly Keto-friendly – more on that below.
Peanut Spreads
While true peanut butter should only be made of peanuts, many commercial brands include additives as well as large quantities of sugar. They do so to make the butter more spreadable, taste sweeter, or last longer.
It is quite obvious that if you see Added Sugar, Honey, Molasses, or Cane Sugar, it is NOT keto-friendly.
Refined peanut spreads often contain the following ingredients.
Sugar (Honey, Molasses or Cane Sugar)
Vegetable Oil (palm oil, sunflower oil, or rapeseed oil)
Flavors (vanilla, chocolate, etc.)
If you see any of these on your food label, stay clear!
How much carbohydrate does Peanut Butter contain?
True peanut butter is generally relatively low in carbs. A typical peanut butter (made only from peanuts) would contain only 1.4 grams of net carbs:
| Calories: 117kcal | % DAILY VALUE |
| --- | --- |
| FAT: 9.6g | 15% |
| SATURATED FAT:1.3g | 8% |
| CARBOHYDRATES: 2.9g | 1% |
| FIBER: 1.5g | 6% |
| SUGAR: 1.2g | 1% |
| NET CARBS: 1.4g | |
| PROTEIN: 5.3g | 11% |
Natural peanut butter contains a good amount of healthy fat. It is perfect for reaching your macro on a keto diet.
As a result, peanut butter is not only a quite good Keto-friendly ingredient, but it also serves as a good source of proteins.
In fact, some protein powder manufacturers use peanuts as their base ingredients!
What are the good micronutrients in Peanut Butter?
Peanut butter is a source of many good micronutrients that promote better health.
| Calories: 117kcal | % DAILY VALUE |
| --- | --- |
| SODIUM: 36mg | 2% |
| POTASSIUM: 131.6mg | 4% |
| IRON: 1.2mg | 7% |
| CALCIUM: 10.8mg | 1% |
| MAGNESIUM: 54mg | 17% |
| NIACIN: 4.2mg | 28% |
| PHOSPHOROUS: 110mg | 16% |
| RIBOFLAVIN (B2): 0.06mg | 5% |
| THIAMIN (B1): 0.05mg | 5% |
| VITAMIN B6: 0.16mg | 12% |
| VITAMIN E: 2.9mg | 36% |
| ZINC: 0.8mg | 10% |
It contains among others:
Iron: Essential for a good transport of oxygen in your body. 1.2mg per serving – 18mg (women) or 8mg (men) recommended daily.
Magnesium: Essential for your body. It contributes to regulating muscles and nerve functions as well as blood sugar levels and blood pressure. 54mg per serving – 310mg (women) or 400mg (men) recommended daily.
Niacin: Helps cells produce energy and facilitate digestion. 4.2mg per serving – 15mg recommended daily.
Phosphorous: Helps cells produce energy and facilitates digestion. 110mg per serving – 700mg recommended daily.
Riboflavin (B2): Vitamin B2 helps break down macro-nutrients and therefore is critical for your body to produce energy. 0.06mg per serving – 1.2mg recommended daily.
Thiamin (B1): Vitamin B1 supports healthy growth. 0.05mg per serving – 1.1mg recommended daily.
Vitamin B6: B6 is essential for your digestion, supporting enzyme creation. 0.16mg per serving – 1.3mg recommended daily.
Vitamin E: Vitamin E is a defense against free radicals and may reduce heart disease. 2.9mg per serving – 8mg recommended daily.
Zinc: Zinc is used by the immune system but is also an essential element for DNA formation. 0.8mg per serving – 8mg recommended daily.
What are the health benefits of peanut butter?
As a result of all these macro- and micro-nutrients, peanut butter can help support, according to current research:
Weight-loss: because of its low level of sugar and healthy fats
Heart health: with its healthy fats and vitamins like Vitamin E.
Immune system: through various vitamins and minerals like Zinc.
Muscle growth: with its high levels of protein and vitamins like B1 or Zinc.
Blood sugar level control: because of minerals like Magnesium.
But once again, be mindful of the kind of peanut butter you purchase. A highly processed peanut butter would have far fewer micro-nutrients.
Natural peanut butter is also 100% gluten-free!
Other Nut Butter To Consider
Peanut butter is not the only keto-friendly nut butter.
Almond butter is a good keto compatible nut butter, high in fat, with a good amount of vitamins.
Hazelnut butter is an excellent keto-friendly nut butter high in healthy fat.
Cashew butter
Sunflower Seed Butter
Frequently Asked Questions
Can I make my own Peanut Butter?
Yes, you can! In fact, homemade peanut butter is straightforward to make.
Think about it. It is a recipe that requires only one cheap ingredient!
Peanuts.
There are a few tips and tricks to know to make the best smooth peanut butter, so make sure you follow my Peanut Butter Recipe to make your own!
Can Peanut butter be dangerous?
Peanut butter is widely considered a healthy ingredient. However, there are two potential issues to be aware of.
Peanut allergies. It is self-evident, but anyone with peanut allergies must avoid peanut butter. Nothing in the manufacture of peanut butter reduces its allergen levels.
Aflatoxins. Aflatoxins are toxic compounds produced by some types of mold present in the soil. These chemicals might be linked to some form of cancer. However, the process of manufacturing peanut butter might reduce the amount of aflatoxin to levels that have no long-term effects.
My Favorite Peanut Butter Recipes
Check out below my favorite recipes made with peanut butter: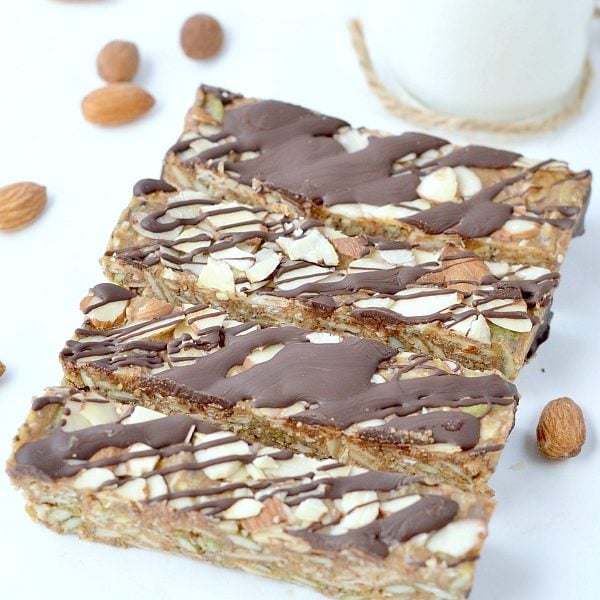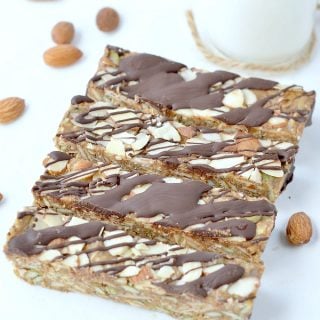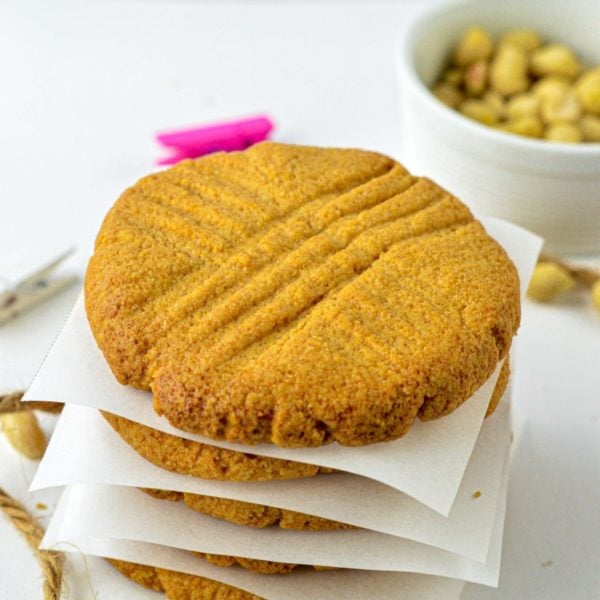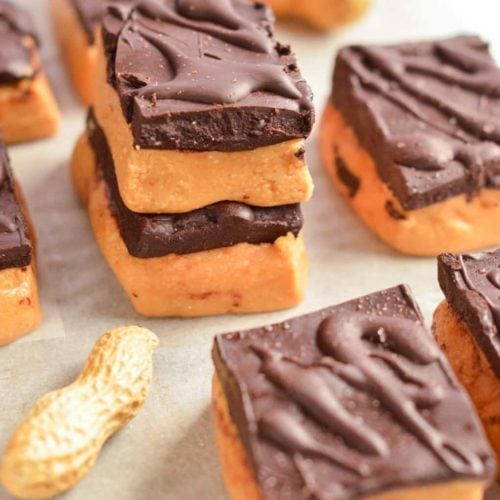 4
No-bake Peanut Butter Bars
These No-bake Peanut Butter Bars are a healthy dessert with 5 simple ingredients. It's 100% sugar-free, gluten-free and vegan. A delicious easy low-carb recipe to fix your sweet cravings with no sugar in less than 20 minutes.
Make This Recipe
Save
Saved