These almond flour low carb peanut butter cookies are crunchy eggless peanut butter cookies perfect for a keto vegan diet.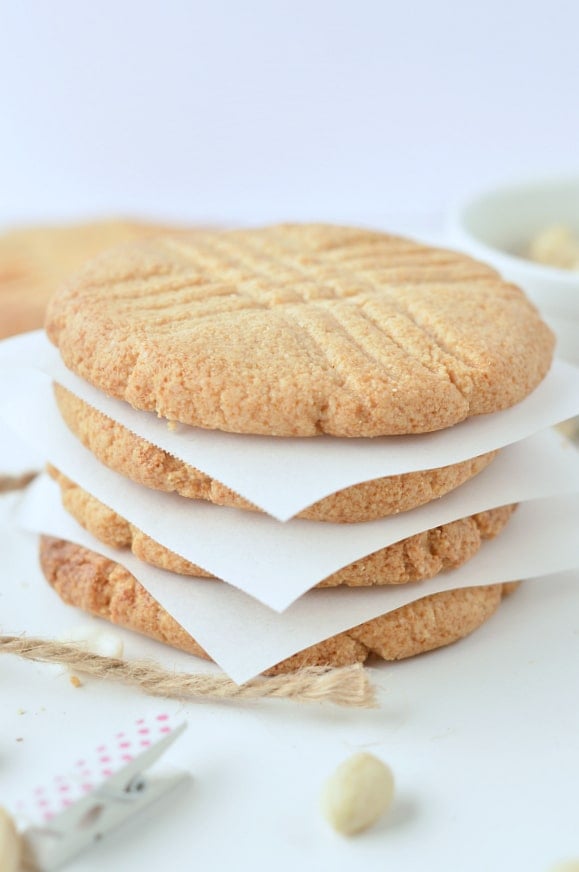 Bonus, these sugar-free peanut butter cookies contain only 7 ingredients and they are the easiest peanut butter cookies to fix a sweet craving in no time.
Low-carb peanut butter cookies Almond flour
You know how much I am passionate about cookies right? I am not having a single week without eating a cookie. I also have an obsession with nut butter cookies especially peanut butter cookies! Gosh, they are the BEST cookies. My fudgy chocolate avocado cookies with peanut butter are definitely one of my favorites. But today I am sharing something different. No chocolate, no avocado. A keto vegan cookies, yes there are no eggs or dairy in this recipe.
How to make these keto peanut butter cookies?
These low-carb peanut butter cookies are very easy to make. All you need are 7 simple ingredients for the most delicious crunchy vanilla peanut butter cookies.
Almond flour is preferred to use blanched almond flour instead of almond meal. It has a thinner texture and it works better in this recipe.
Natural Peanut butter – Yes, peanut butter is keto-friendly! Always make sure you use unsweetened fresh peanut butter. Old peanut butter jar tends to dry and won't make as delicious cookies. You can either used salted peanut butter or unsalted peanut butter. If you use salted peanut butter don't add the extra salt in this recipe.
Coconut oil – I use unrefined coconut oil, feel free to use refined coconut oil if you don't like coconut flavor.
Baking soda
Salt – optional, only if your peanut butter is unsalted
Sugar-free crystal sweetener – I used erythritol in this recipe, feel free to replace by monk fruit sugar if preferred, both options are 100% sugar-free and no carbs. If you are paleo, coconut sugar will works too – careful the recipe won't be low carb anymore!
Xantham gum – optional but recommended to make sure the cookies hold any time!
Easy eggless peanut butter cookies
I know you have been used to add eggs into your peanut butter cookies, and I won't disagree with that technique to make tasty peanut butter cookies. But, my husband is vegan and I love to share my food with him. What is the point to bake if you can't share right? So those are eggless peanut butter cookies. It fit both of our diets: Vegan + Low Carb because sharing food with people I love makes me happy!
Magic sugar-free peanut butter cookies
So now you wonder why are those sugar-free peanut butter cookies are MAGIC? Well, compared to regular cookies they will be super SOFT when out of the oven. Like really soft, look undercooked and you will think there is NO way this recipe will harden and works! But it does. Those peanut butter cookies are simply egg-free and needs more cooling time than baking time to get crunchy and delicious.
Tip: Let them cool down!
Following are my tips to make the most delicious sugar-free peanut butter cookies:
Follow the baking time, it is 10 minutes, not more. The cookies will be very soft and look undercooked and that is what you want!
Cooldown 10 minutes on the cooking tray. Don't touch then, start your timer and wait 10 full minutes. Now they are half hard.
Cooldown 10 minutes on the cooling rack. Transfer gently each cookie on a cooling rack by sliding a spatula under the cookie. Wait 10 minutes and let the magic happens!
Tada! Your cookies are now crunchy, buttery, and delicious!
So now, let me know what you think of those easy low carb peanut butter cookies?
xoxo Carine
low-carb peanut butter cookies almond flour
Low-carb peanut butter cookies almond flour, coconut oil, sugar-free. 100% easy keto gluten-free cookies with NO eggs (VEGAN).
8 large cookies
Print The Recipe
NEW
My no-fail Keto Baking Recipe ebooks are now available
for a limited time, 50% OFF if you enter the code
INPLNCHOFFER
Preheat oven to fan-bake 350°F (180°C).

Line a cookie sheet with a piece of parchment paper. Set aside.
Make the cookie dough
In a large mixing bowl, add all the ingredients: peanut butter, melted coconut oil, erythritol, almond meal, baking soda, salt, xanthan gum, and vanilla essence.

Combine with a spatula until it forms a consistent cookie dough.

Divide dough into 8 large cookies (or 12 smaller cookies).
Bake the cookies
Place each cookie ball on the prepared cookie sheet. Flatten slightly with your hand palm, then use a fork to flatten more and create a lovely fork print on top of your peanut butter cookies. Those cookies won't expand while baking so no need to leave more than half thumb space between each cookie.

Bake 10 minutes or until sides are golden. The cookies look uncooked, they are VERY soft after baking and that is what you want !!!
Cooldown 10 minutes on the cookie tray
Remove the tray from the oven and let COOL DOWN for at least 10 minutes on the tray, at room temperature. I know this is difficult to believe they will harden but they will! Don't touch, let the magic happens.
Cooldown 10 minutes on the cookie rack
Now, the cookies are a bit harder, still soft so carefully slide a spatula under each cookie and transfer them one by one, onto a cookie rack to COOL DOWN 10 more minutes. Trust me, it worth waiting! I know it smells good, but wait for the magic to happen.

After 20 minutes, the cookies are ready to eat but if you love them crunchy wait until they reach room temperature - should not take more than 20 more minutes. They will end up very crunchy, hard, and buttery.

Store in a cookie jar - glass or metal - for up to 2 weeks.
Cooldown: Those cookies are mainly made of healthy fat, they don't contain eggs and they need the 2 steps of cool down to get hard and crunchy. Don't skip those steps! Sugar-free sweetener: you can use erythritol or monk fruit sugar in this recipe Paleo sweetener: coconut sugar will be a great alternative (not sugar-free), use the same amount as erythritol.
Nutrition Facts
low-carb peanut butter cookies almond flour
Amount Per Serving (1 cookie)
Calories 187 Calories from Fat 140
% Daily Value*
Fat 15.5g24%
Carbohydrates 6.7g2%
Fiber 2.3g10%
Sugar 2.2g2%
Protein 6.6g13%
Net Carbs 4.4g
* Percent Daily Values are based on a 2000 calorie diet.