Do you want to know how to make healthy peanut butter at home?
So keep reading, and I will tell you how to turn only ONE ingredient into a creamy smooth homemade spread in just a few minutes.
Are you a peanut butter fan? Undoubtedly we are all in love with this popular breakfast spread that can be used in so many ways. Not only can you eat it by itself or on toasts but also make delicious homemade peanut butter cookies.
Is store-bought peanut butter healthy?
Unfortunately, most store-bought versions have many additives, starting with sugar, oil, or preservatives, and therefore they are not particularly healthy, and they are not low-carb.
Manufacturers add sugar for two reasons. First, because sugar makes you want to come for more, and therefore sugar-loaded peanut butter is consumed in greater amounts.
Second, because sugar is much cheaper and therefore adding sugar reduces the cost of a peanut butter jar, increasing profit or reducing the price that customers pay.
You can find some natural peanut butter in stores, but it's so easy to make yourself that you have to wonder why you would buy it!
How to make Peanut Butter at home
So let me show you my tips to make delicious peanut butter at home with only one ingredient: peanuts.
Are you new to Keto?
Receive my Keto Quick Start email series to learn all about the Keto diet and kick start your keto journey!
3 tips to making perfect peanut butter
While all you need to make peanut butter is peanuts, there are a few tips and tricks to turn the precious nuts into a creamy, smooth spread.
First, the choice of peanuts matters.
Choosing the right peanuts
Use roasted peanuts rather than raw. Roasted nuts release their oil better. Therefore your spread will be smoother, easier to spread on toast, and it will have a deeper flavor.
Roast them yourself. This gives you control over time and temperature. It should be noted that peanuts keep more nutrients if roasted below 180C/355F. So, buy raw peanuts, skin-on, and roast them at low temperatures (160C-180 C/350F) for a maximum of 10 minutes. They will release their oil and keep most of their nutrients.
Keep some peanuts with their skins! The skin adds an even deeper nut flavor and a lovely light brown color to your spread. However, if you keep all the skin from your batch of roasted peanuts, it will get very difficult to process. So remove the skin of roughly half the nuts.
Below you can see the huge color difference between homemade peanut butter made with roasted peanuts with no skin (left) and roasted peanuts with their skin on (right).
Picking the right equipment
Next, make sure you have the right equipment to turn your nuts into nut butter. There are two options.
1 . Blender. Clearly, not all blenders can crush peanuts into butter. You must have a professional blender with a square base and a stick that helps to move the nuts in the jug. Luckily, my blender creates smooth peanut butter in less than 2 minutes.
2. Food processor. The good news is that most food processors can create smooth nut butter! However, there is one main rule to stick to. You must add enough peanuts to fully cover the blade or it won't blend properly.
Usually, you need 4 cups of nuts for a large food processor bowl. Note that 4 cups of peanuts give about 2 cups of peanut butter. As you can see below, the longer you process the nuts, the smoother it gets.
Adding some flavors
You don't need to add flavor to your peanut spread. A pinch of salt might be all that's needed for a perfect taste.
However, if you really fancy some flavors, you can add a liquid sweetener or cocoa powder, but you must know that this will dry out the spread.
Therefore, you will need to balance the texture with the addition of oil or you will lose the smooth texture.
Which flavored peanut butter are tasty?
So if you love a boost of flavor into your spread, I recommend adding chocolate or cinnamon.
Healthy Peanut butter recipes
Here are some of my best recipes to use with your homemade spread.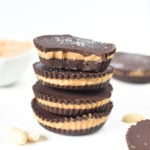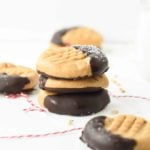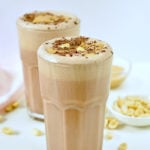 For all my Peanut Butter Recipes, browse my Peanut Butter Recipes.
xoxo Carine
Recipe Card
Homemade Peanut Butter
How to make peanut butter in your food processor in only 5 minutes with only natural ingredients. A step-by-step video tutorial and 2 flavors of peanut butter: dark chocolate peanut butter and cinnamon peanut butter.
Natural Unsalted Peanut Butter
Roast the Raw Peanuts (skin on)
Preheat the oven to 180°C (350°F). Spread the raw peanuts onto a baking sheet and roast them for 8-10 minutes or until lightly golden and glossy- you will spot some oil coming out of the peanuts.

Transfer the roasted peanuts onto a towel, rub until the skin of half the peanuts has been removed. The more skin you keep, the deeper the nutty flavor will be. I recommend rubbing off the skin of at least 2 cups of roasted peanuts to make sure it blends easily. The more skin you keep, the more difficult it is to blend into butter.
Process 1 minute - Total: 1 minute
Process at high speed until the peanuts form a ground texture - about 1 minute. If the nuts are still warm it will go even faster. Stop and scrape down the sides of the bowl. Now the nuts look like thick dry ground.
Process 1 extra minute - Total: 2 minutes
Process for 1 more minute at high speed. Stop and scrape the sides of the bowl.  Now, your peanut butter starts to come together, forming a sort of butter but still dry and thick, almost there! 
Process 1 minute again - Total: 3 minutes
Process for 1 more minute at high speed. Stop and scrape the sides of the bowl as before. Now, the butter is shiny/glossy, soft but still thick. 
Process 1 last minute (or so) - Total: 5 minutes
Process for a few more minutes - usually less than 2 minutes. Now the peanut butter is forming! It is super smooth, lukewarm, glossy, and ready to spread on toast or to use in the next flavored peanut butter recipes. You should obtain 2 cups of natural unsalted peanut butter with this recipe.
Peanuts choice: For a faster recipe, you can buy roasted peanuts without skin. I love to use raw peanuts with skin on and roast them myself. I only remove half the skin from my roasted peanuts to keep extra fiber, and it also adds an extra nutty flavor to the spread.
Quantity: Note that 4 cups of peanuts create 2 cups of peanut butter. 
Storage: Store it in a glass-sealed jar in the pantry for up to 3 months.
The nutrition panel is for one serving of homemade peanut butter. This recipe makes 2 cups of smooth peanut butter, 60 servings. One serving is 10g (about 1 tablespoon).
Nutrition Facts
Homemade Peanut Butter
Amount Per Serving (1 serving)
Calories 103
Calories from Fat 79
% Daily Value*
Fat 8.8g14%
Carbohydrates 3.8g1%
Protein 3.8g8%
Net Carbs 2.9g
* Percent Daily Values are based on a 2000 calorie diet.