This zucchini omelette is the most delicious high-protein breakfast recipe to use your garden zucchinis.
Plus, it's full of feta and Parmesan for a cheesy omelette packed with 22 grams of proteins per serving.
I have a passion for egg breakfast recipes. They are filling, easy to make, and low carb as well to fill you up with no guilt.
How To Make Zucchini Omelette
Zucchini are eggs are made to be together, and when I don't make a crustless zucchini pie, I love a quick zucchini omelet recipe.
Ingredients
To make this omelette with zucchinis you need.
Grated Zucchinis – Keep the skin on for an extra boost of fiber. Grate with a hand grater and squeeze in your hand to discard any zucchini water that tends to soften the omelet. Discard the juice.
Large Eggs
Egg White – Optional, but adding an egg white to the omelette boosts the protein content.
Feta Cheese – Feel free to use goat feta, sheep feta, or cow feta cheese. Note that low-fat cheese is working well if you want less fat and fewer calories.
Shredded Parmesan, Mozzarella, or cheddar. Any hard shredded cheese melts and tastes great with zucchini.
Garlic Powder – optional
Salt
Black Pepper
Paprika – to serve, optional
Garlic
Chili Flakes
Olive Oil
Butter or ghee or more olive oil
Preparation
Cutting Zucchini: Cut the end of the zucchini with a sharp kitchen knife. You don't need to peel them as it keeps all the vitamins.
Grating Zucchini: I like to use a large grater to grate the unpeeled zucchini because it adds more texture to the omelette filling. However, you can dice the zucchini into tiny cubes if you don't have a grater.
Squeeze the Zucchini
Measure the Veggies
Heating Zucchini: In a large nonstick skillet, add olive oil, and when hot, add crushed garlic and grated zucchinis. Cook, stir for 1 or 2 minutes until the zucchini soften. Set aside on a plate, cover with foil to keep the omelette filling warm.
Beating Egg Mixture: In a large bowl, whisk the eggs, egg whites, chili flakes, garlic powder, salt, and pepper. Set aside.
Preparing The Pan: Meanwhile, rub the skillet with absorbent paper to remove any oil left from the zucchini.
Cooking The Omelette: Return to medium heat, add olive oil and butter, and melt over medium-high heat. Add the beaten egg mixture and tilt the pan to spread the eggs all over the skillet's surface.
Cook until the sides are dry and the center of the omelette starts to dry out.
On one half of the omelette, add the cooked grated zucchini. Top up with crumbled feta cheese and shredded Parmesan.
Close the omelette in half and cook it until the cheese has melted.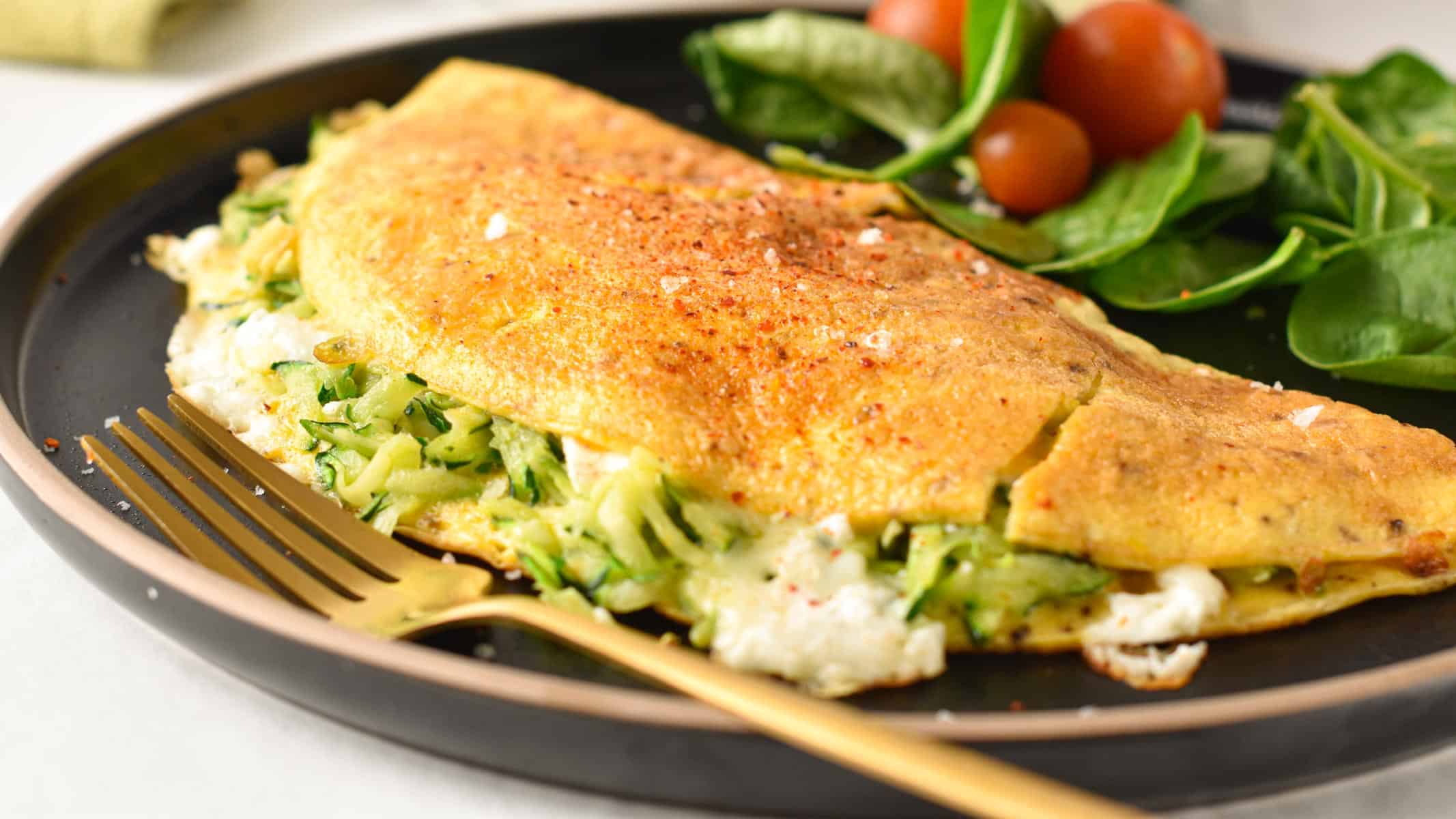 Serving
Serve the omelette with a dust of paprika, fresh herbs, and a spinach tomato salad on the side. Other great side dishes to an omelette with zucchini are:
Allergy Swaps
Below are some ingredient swap ideas if you need.
Dairy-Free – You can use dairy-free feta and dairy-free hard cheese in this recipe. You can also make the recipe cheese-free and add a pinch of nutritional yeast to the beaten egg to add a dairy-free cheesy flavor to the recipe. Swap butter for more olive oil.
Gluten-Free – This omelette is naturally free from gluten.
Garlic – You can skip the garlic, or use two tablespoons of finely chopped onion or shallot instead.
Frequently Asked Questions
Below are my answers to your common questions about this zucchini omelette recipe.
What is the best add-on for an omelette?
The best add-ons in omelette are ham, cheese, bacon, or stir-fried vegetables like spinach, mushrooms, zucchini, or tomatoes.
Do you add water ro milk to omelettes?
You don't have to add water or milk to an omelette. Adding milk makes omelettes very fluffy, loose, and less firm, so skip that option if you like a firm omelette. Instead, try adding an egg white to boost protein.
More Zucchini Recipes
Here are some more zucchini recipe inspiration for you to try.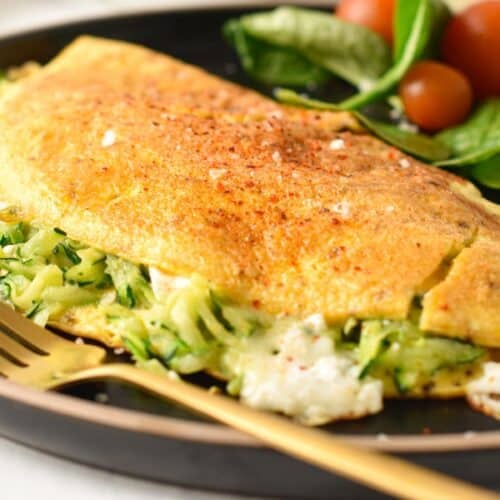 Zucchini Omelette
This zucchini omelette is the most delicious high-protein breakfast recipe to use your garden zucchini. Plus, it's packed with feta and Parmesan for a cheesy omelette packed with 22 grams of proteins per serving.
Nutrition Snapshot
Want My Kitchen Equipment?
Instructions
Crack and beat the eggs and egg white, if used, in a small bowl. If desired, season with salt, pepper, garlic powder, and chili flakes. Set aside in the fridge while cooking any vegetables to fill in.
Cook Zucchini
Grate the zucchini with their skin on and squeeze them in your hand to discard the zucchini water.

Heat a non-stick skillet over medium heat and warm some olive oil. When hot, add the grated zucchini, crushed garlic, a pinch of salt and pepper.

Keep cooking until the zucchini softens. Take off the skillet and set it aside on a plate. Cover with a piece of foil to keep warm.
Cook eggs
Add olive oil, warm, and spread it evenly into the pan, tilting the pan in a rotating motion.

Reduce to medium-low heat, add beaten eggs and tilt the pan again to spread the egg mixture all over the pan.

When the sides of the omelette are set and start to dry out, lift them with a spatula to let the uncooked eggs from the middle run under and cook.

Once the middle of the omelette starts to set, add the cooked grated zucchini on one half of the omelette and top with feta and Parmesan.

Fold the omelette in half, reduce to low heat, and keep cooking until the cheese is melted.

Gently slide on a plate and adjust seasoning, adding more salt, pepper, fresh parsley, or a pinch of chili flakes to taste.
My Recipe Notes
Nutrition
Serving:
1
omelette
Calories:
396.9
kcal
(20%)
Carbohydrates:
7.8
g
(3%)
Fiber:
1.4
g
(6%)
Net Carbs:
6.4
g
Protein:
22
g
(44%)
Fat:
31.1
g
(48%)
Saturated Fat:
10.5
g
(66%)
Polyunsaturated Fat:
3.6
g
Monounsaturated Fat:
14.6
g
Trans Fat:
0.2
g
Cholesterol:
402.2
mg
(134%)
Sodium:
1393.4
mg
(61%)
Potassium:
561
mg
(16%)
Sugar:
3.8
g
(4%)
Vitamin A:
1029.6
IU
(21%)
Vitamin B12:
1.3
µg
(22%)
Vitamin C:
23.1
mg
(28%)
Vitamin D:
2.1
µg
(14%)
Calcium:
215.2
mg
(22%)
Iron:
2.5
mg
(14%)
Magnesium:
44.8
mg
(11%)
Zinc:
2.5
mg
(17%)
Posted In: