This Roasted Rutabaga Recipe is an easy low-carb side dish that tastes like real potatoes minus the carbs.
These crispy rutabaga cubes are also gluten-free and vegan.
Rutabaga is an amazing low-carb vegetable perfect for making keto fries or low-carb potato-like cubes in the oven or air fryer.
Unfortunately, rutabaga, or the similar turnip, are forgotten vegetables, and there are not many rutabaga recipes.
However, it's a vegetable that you can cook as potatoes to make any delicious side dish to Broiled Pork Chops.
Today, I am going to show you how to make roasted rutabaga cubes that are actually crispy and good.
How To Make Oven-Roasted Rutabaga
If you've never cooked a rutabaga before, roasting rutabagas is as easy as roasted potatoes.
Ingredients
All you need to roast rutabaga are:
Fresh Rutabaga – The vegetables should be firm, not soft, with vibrant purple colors at their feet.
Avocado Oil or olive oil
Sea Salt
Garlic Powder
Dried Oregano
Onion Powder
You don't have to use all the spices listed above, but rutabaga tends to be a little sweet, and spices enhance the savory flavor of the dish.
Cutting Rutabaga
There are a few ways to cut rutabaga, depending on which recipe you are making.
For rutabaga fries, cut them into large rectangles or cut the rutabaga in cubes to roast, air fry, or boil them.
First, cut off the top hard part of the vegetable with a long sharp knife.
Then, use a vegetable peeler to peel off the skin of the vegetable.
Finally, place the rutabaga on its flat side and cut it into 3 thick slices. Feel free to cut into more slices if you are using large rutabagas.
Place each layer flat on a cutting board and slice them into 0.7-inch cubes (1.5 cm).
Roasting
Preheat oven to 425°F (220°C). Line a large baking sheet with parchment paper. Set it aside.
In a large mixing bowl, add the rutabaga cubes and drizzle oil and spices on top. Then, use a spatula or your hands to toss the rutabagas cubes and cover them evenly with oil and spices.
Spread the cubes in a single layer on the prepared baking sheet.
Bake in the center rack of the oven for 30 minutes, shaking the cubes halfway through to evenly roast all sides.
Stop baking when they are golden brown, crispy on the edges, and fork-tender.
Serving Roasted Rutabaga
It's best to serve rutabaga straight out of the oven, or they soften quickly. Adjust them with salt and pepper and serve them with chopped parsley or herbs you love.
Serve as a side dish to meat, fish, or some of the following dish suggestions.
How To Cook Rutabaga
There are many ways you can cook rutabagas. You can:
Bake rutabaga like in this recipe
Air fry rutabaga
Boil rutabaga to make rutabaga mash
For the oven method, people make three common mistakes when they roast rutabaga and end up with soft mushy vegetables.
So let me share three tips to make rutabaga crispy and delicious every time.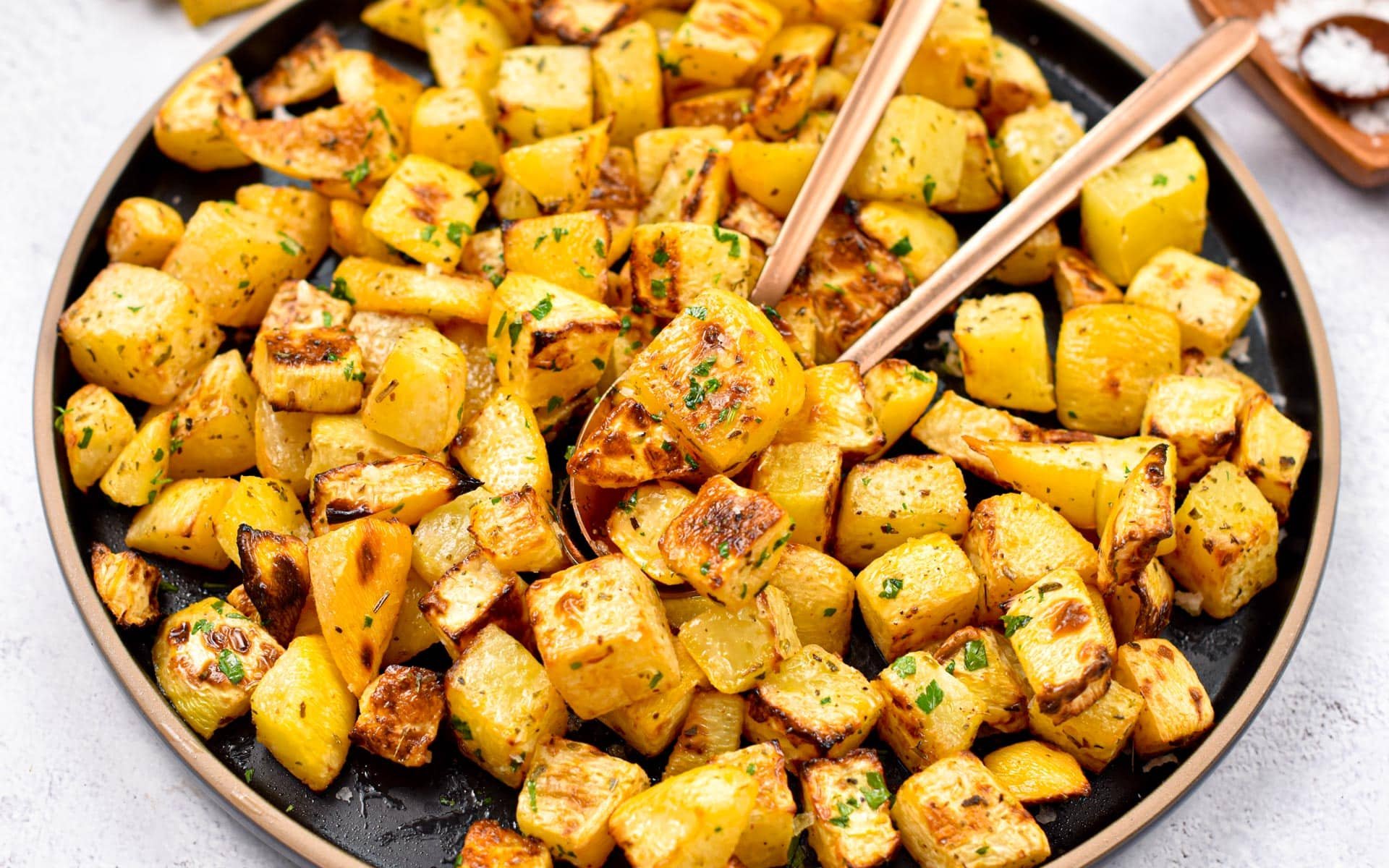 Rule 1: Roast At 425°F (220°C)
The most common mistake people make when roasting rutabaga is to set the oven to less than 425°F (220°C).
As a result, the vegetables get mushy and stay soft.
Rule 2: Cut In Large Cubes
Rutabaga must be cut in larger cubes than potatoes or they won't crisp very well.
I recommend 0.7-inch cubes.
Rule 3: Use High-Smoke Point Oil
High smoke point oils resist to high temperature better. They won't smoke in the oven and will create the best golden roasted color to vegetable.
The best high-smoke point oil option is avocado oil.
Frequently Asked Questions
Here are my answers to your most frequent questions about rutabaga.
How Do Rutabaga Taste?
Rutabaga has a similar texture to potatoes, but it's less starchy, with sweet notes like carrots.
What Does A Rutabaga Look Like?
A rutabaga is a round tough root vegetable with a size between an orange and a pomelo.
It has a brownish gradient color that turns light purple on the top.
Can I Swap Rutabaga For Turnip?
Yes, both vegetables are low-carb and cook in a similar way.
In terms of taste, the turnip is less sweet. It tastes more like cabbage or radish.
What's The Difference Between Rutabagas And Turnips?
Rutabaga, also called swede in New Zealand and in the United Kingdom, is very similar to turnips.
Both root vegetables are easily interchangeable in recipes.
But turnips are generally white with a purple color on top, while rutabagas are yellowish with a brown-purple top.
In terms of flavors, rutabaga is sweeter and closer to carrots, while turnips taste more like radish.
Can I Air Fry Rutabaga?
Yes, you can use this recipe to air fry rutabaga cubes.
Reduce the oil to two tablespoons and air fry for 20 to 25 minutes at 350°F (180°C).
Have you tried this roasted rutabaga recipe? Share a comment or review below.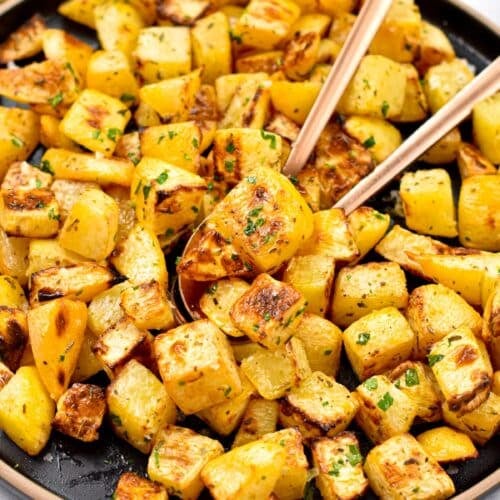 Roasted Rutabaga Recipe
This Roasted Rutabaga Recipe is an easy low-carb side dish that tastes like real potatoes minus the carbs. Plus, these crispy rutabaga cubes are also gluten-free and vegan.
Yield:
people (4 ounces,120g)
Serving Size:
1
serving (4 ounces,120g)
Ingredients
1.5

pounds

Rutabaga

peeled, cubed into 0.7 inches/1.5cm cubes

2 ½

tablespoons

Avocado Oil

1

teaspoon

Salt

½

teaspoon

Garlic Powder

¼

teaspoon

Onion Powder

1

teaspoon

Oregano
This recipe may contain Amazon or other affiliate links. As an Amazon Associate I earn from qualifying purchases.
Instructions
Preheat the oven to 425°F (220°C). Line a baking sheet with parchment paper. Set aside.

Peel and cut rutabaga into 0.7-inch cubes. Watch the step-by-step pictures above in this post for visual help.

Place the cubes in a large mixing bowl and drizzle some oil and spices on top. Use a spatula or your hands to toss the cubes with the oil and spices until evenly covered with the mixture.

Spread the rutabaga cubes in a single layer on the tray.

Bake for 30-40 minutes, shaking halfway until golden, roasted on the sides, and fork-tender in the center. If the center is soft, it's cooked through. Remove from the oven and serve hot immediately.
Want My Kitchen Equipment?
Serving Size:
1
serving (4 ounces,120g)
Yield:
people (4 ounces,120g)
Serving:
1
serving (4 ounces,120g)
Calories:
95.5
kcal
(5%)
Carbohydrates:
10.3
g
(3%)
Fiber:
2.8
g
(12%)
Net Carbs:
7.5
g
Protein:
1.3
g
(3%)
Fat:
6
g
(9%)
Saturated Fat:
0.7
g
(4%)
Polyunsaturated Fat:
0.9
g
Monounsaturated Fat:
4.1
g
Sodium:
401.5
mg
(17%)
Potassium:
353.9
mg
(10%)
Sugar:
5.1
g
(6%)
Vitamin A:
7.9
IU
Vitamin C:
28.4
mg
(34%)
Calcium:
54.8
mg
(5%)
Iron:
0.6
mg
(3%)
Magnesium:
23.9
mg
(6%)
Zinc:
0.3
mg
(2%)
Posted In: