Creamy Mashed Cauliflower
This luscious, smooth, ultra-creamy mashed Cauliflower recipe with cream cheese, butter, garlic, and Parmesan is the best holiday side dish ever! Bonus: this side dish is keto-approved, and it has a dairy-free option.
Don't be fooled by its name; this low-carb keto mashed cauliflower recipe is not only for the low-carb or healthy eaters. It's actually a rich, creamy mash that tastes as good as mashed potatoes. Like many of my cauliflower recipes, this cauliflower mash with cream cheese and Parmesan is the best creamy side dish for baked pork chops or cast iron chicken. Like my keto cauliflower casserole, cauliflower humsulmus, or cauliflower waffles, this mash adds veggies to your plates without compromising on taste.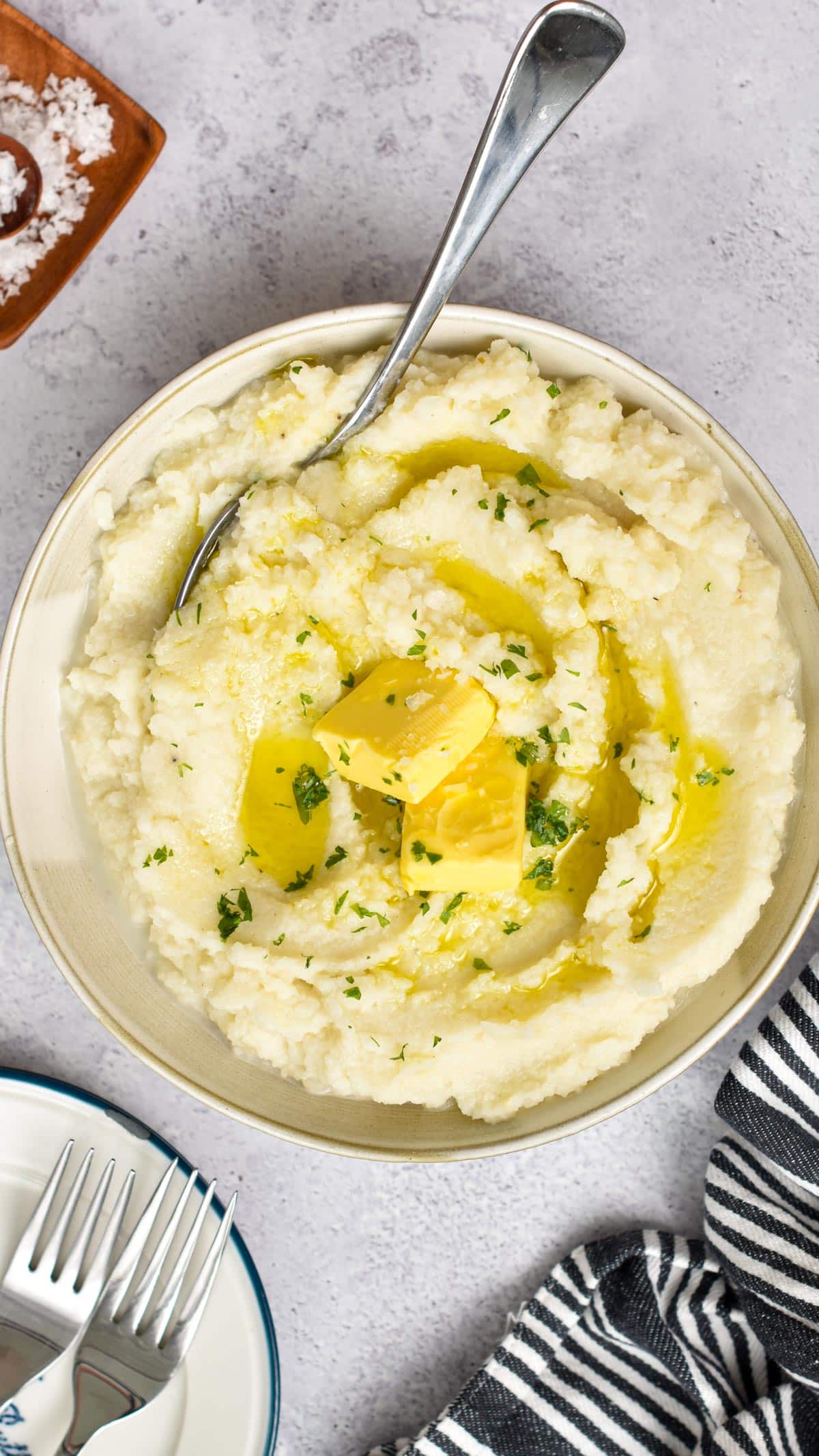 If there is one healthy side dish you can make for every occasion, it's this cauliflower mash.
Potato lovers will love this creamy, buttery mash full of roasted garlic flavor.
Expert Tip To Make Mashed Cauliflower Creamy And Taste Like Mashed Potatoes
I have been using cauliflower as a hack to replace potatoes for ages, and after years, I learned how to make cauliflower taste like potatoes. If you remember my cauliflower potato salad, there are no potatoes in the recipe, but I can guarantee that everyone agrees that it tastes like potato salad.
Steaming Cauliflower
Steaming cauliflower removes all its sulfur flavors. You end up with a bland vegetable that only brings a creamy, smooth texture to the cauliflower mash but no cauliflower aftertaste. If you decide to go for a roasted cauliflower version, the mash will definitely not taste like potato mash.
The Creamiest Cauliflower Mash Ingredients
Now that you have steamed the cauliflower florets in a steamer basket or microwave, it's time to add creaminess to the mash using the ingredients below.
Roasted Garlic – Roasting a whole head of garlic is the secret number one to make creamy smooth cauliflower mash and add amazing flavors. Preheat the oven to 400°F (200°C). Cut off the top part of the garlic head so you can see the bulb. Next, wrap the bottom of the garlic bulb with foil, place the bulb in an oven-safe ramekin or baking sheet, and drizzle one tablespoon of olive oil onto the top. Place the garlic on the center rack of the oven and bake it until the bulbs are soft and fork-tender. It takes about 30 to 40 minutes. Remove from the oven and cool down enough to be able to touch and press by hand.
Butter or ghee is the second ingredients that make the best mashed cauliflower recipe, ultra silky, velvety, smooth and of course, dairy-free butter, or olive oil works too for a dairy-free cauliflower mash option.
Cream Cheese – The ultimate ingredient, better than sour cream, that turns the mashed cauliflower recipe into a dreamy side dish packed with buttery flavors.
Milk – The higher in fat, the creamiest mashed cauliflower you will get. That's why heavy cream is the best option, but for a less rich mash, use unsweetened almond milk.
Parmesan Cheese – The addition of Parmesan adds flavors but also links the ingredients together into an ultra-creamy mash.
Blending The Cauliflower Mash In A Food Processor
You can make cauliflower mash in a food processor or immersion blender. I've tested both methods and my favorite is by far the food processor version. It's easier and faster.
Place the cooked, steamed cauliflower florets into the bowl of a food processor.
Fold in the butter, cream cheese, one tablespoon of milk.
Add roasted garlic puree, salt, and pepper.
Process on the high-speed setting until it turns into a smooth mash. Add more milk gradually if needed to make ultra-smooth cauliflower mash.
To make cauliflower mash with an immersion blender, simply return the steamed cauliflower florets to the saucepan. Add the remaining ingredients: roasted garlic, butter, cream cheese, and milk, and season with salt and pepper.
Press the immersion blender onto the soft cauliflower florets to pulse them into a mash, adding more milk if the mash is grainy.
Serving Mashed Cauliflower
Serve this mashed cauliflower recipe warm, as a side dish, or to replace mashed potatoes in recipes like Sheperd pies. Season with extra salt and black pepper.
If served as a side dish, top the cauliflower mash with some of the below:
Fresh butter
Chopped parsley or dill
Chili flakes
Drizzle of garlic-infused olive oil
Sea salt flakes
Side Dish Pairings
Serve the mash warm as a healthy side dish to meat like a good piece of beef cooked to perfection or along other side dishes like:
Best meat for cauliflower mash:
Frequently Asked Questions
Below are my answers to your most frequent questions about this mashed cauliflower recipe.
Can I Make Dairy-Free Cauliflower Mash?
Absolutely! Use your favorite dairy-free product to swap milk, and cream cheese like almond milk and dairy-free cream cheese. Replace butter with olive oil and use nutritional yeast for a cheesy flavor instead of Parmesan cheese.
Can I Use A Potato Masher?
If you don't have a food processor or immersion blender, this recipe turns into a lovely mash using forks or a potato masher. The texture will be more grainy, and less smooth but still delicious.
Mashed Cauliflower Recipe
This luscious, smooth, ultra-creamy mashed Cauliflower recipe with cream cheese, butter, garlic, and Parmesan is the best side dish.
Yield:
servings (1/2 cup)
Serving Size:
1
serving (1/2 cup)
Ingredients
1

head of

Garlic

equivalent 1 full garlic bulb (note 1)

1

medium

Cauliflower Head

cut into florets, trimmed (6 cups, 2 pounds of florets)

2

tablespoons

Unsalted Butter

or dairy-free butter or olive oil (note 2)

1-3

tablespoons

Almond Milk

(note 3)

¼

teaspoon

Salt

⅛

teaspoon

Black Pepper

⅓

cup

Parmesan Cheese

freshly grated

2

tablespoons

Cream Cheese
This recipe may contain Amazon or other affiliate links. As an Amazon Associate I earn from qualifying purchases.
Instructions
Roast Garlic Bulb (Can be made ahead)
Using a sharp knife, cut off the top half inches of the bulb.

To roast the garlic head, peel off the outer layer of the garlic head bulb – it means only the pieces that look like thin paper and fall off easily.

Wrap the bulb with foil, leaving the top free, and place the bulb in a small oven-proof ramekin. Drizzle some olive oil on top of the bulb, wrap the top with hanging pieces of foil, and bake for 30-40 minutes or until garlic is soft and fork tender.

Remove from oven and cool for later in the recipe.
Cooking Cauliflower
Bring a large pot of water to boil over medium-high heat with a pinch of salt.

Trim the cauliflower into small florets of the same size. You should have about 6 cups or 2 pounds of florets.

Add the cauliflower florets to the boiling water or steam in a steamer basket. Reduce to a simmer, cover the saucepan, and cook for 10 minutes or until the cauliflower florets are soft and tender. Test cooking with a knife. If it goes through easily, it's ready.

Drain in a sieve over the kitchen sink and let the cauliflower steam out for 10 minutes.

Add the cooked cauliflower florets to a food processor along with butter, cream cheese, Parmesan, salt, and 1 tablespoon of almond milk, and squeeze all the roasted garlic bulbs into the food processor.

Blend until smooth, adding more almond milk to thin it.

Taste and adjust the salt and pepper to taste.

Transfer to a serving bowl, and top with extra butter and freshly chopped parsley.
Notes
Note 1: You can also sautee 3-4 garlic cloves in a non-stick skillet until fragrant.
Note 2: Butter can be swapped for ghee, dairy-free butter, or olive oil.
Note 3: You can also use heavy cream or regular milk for a creamier texture.
Dairy-free cauliflower mash: replace butter with olive oil, and use dairy-free cream cheese, almond milk, and dairy-free Parmesan or nutritional yeast.
How to store mashed cauliflower?
Store in the fridge for up to 4 days in an airtight container, or freeze the cauliflower mash in a sealed container for up to 3 months.
Want My Kitchen Equipment?
Serving Size:
1
serving (1/2 cup)
Yield:
servings (1/2 cup)
Serving:
1
serving (1/2 cup)
Calories:
38.4
kcal
(2%)
Carbohydrates:
2.8
g
(1%)
Fiber:
1
g
(4%)
Net Carbs:
1.8
g
Protein:
1.6
g
(3%)
Fat:
2.6
g
(4%)
Saturated Fat:
1.6
g
(10%)
Polyunsaturated Fat:
0.1
g
Monounsaturated Fat:
0.6
g
Trans Fat:
0.1
g
Cholesterol:
6.8
mg
(2%)
Sodium:
116
mg
(5%)
Potassium:
149.7
mg
(4%)
Sugar:
0.9
g
(1%)
Vitamin A:
76.4
IU
(2%)
Vitamin B12:
0.03
µg
(1%)
Vitamin C:
23.3
mg
(28%)
Vitamin D:
0.01
µg
Calcium:
32
mg
(3%)
Iron:
0.2
mg
(1%)
Magnesium:
8.1
mg
(2%)
Zinc:
0.2
mg
(1%)
Posted In: