Mashed Cauliflower Recipe
This Mashed Cauliflower Recipe is an easy, healthy low-carb side dish perfect for potato lovers looking for a low-carb alternative.
Plus, this garlic cauliflower mash recipe is gluten-free, with a vegan dairy-free option provided.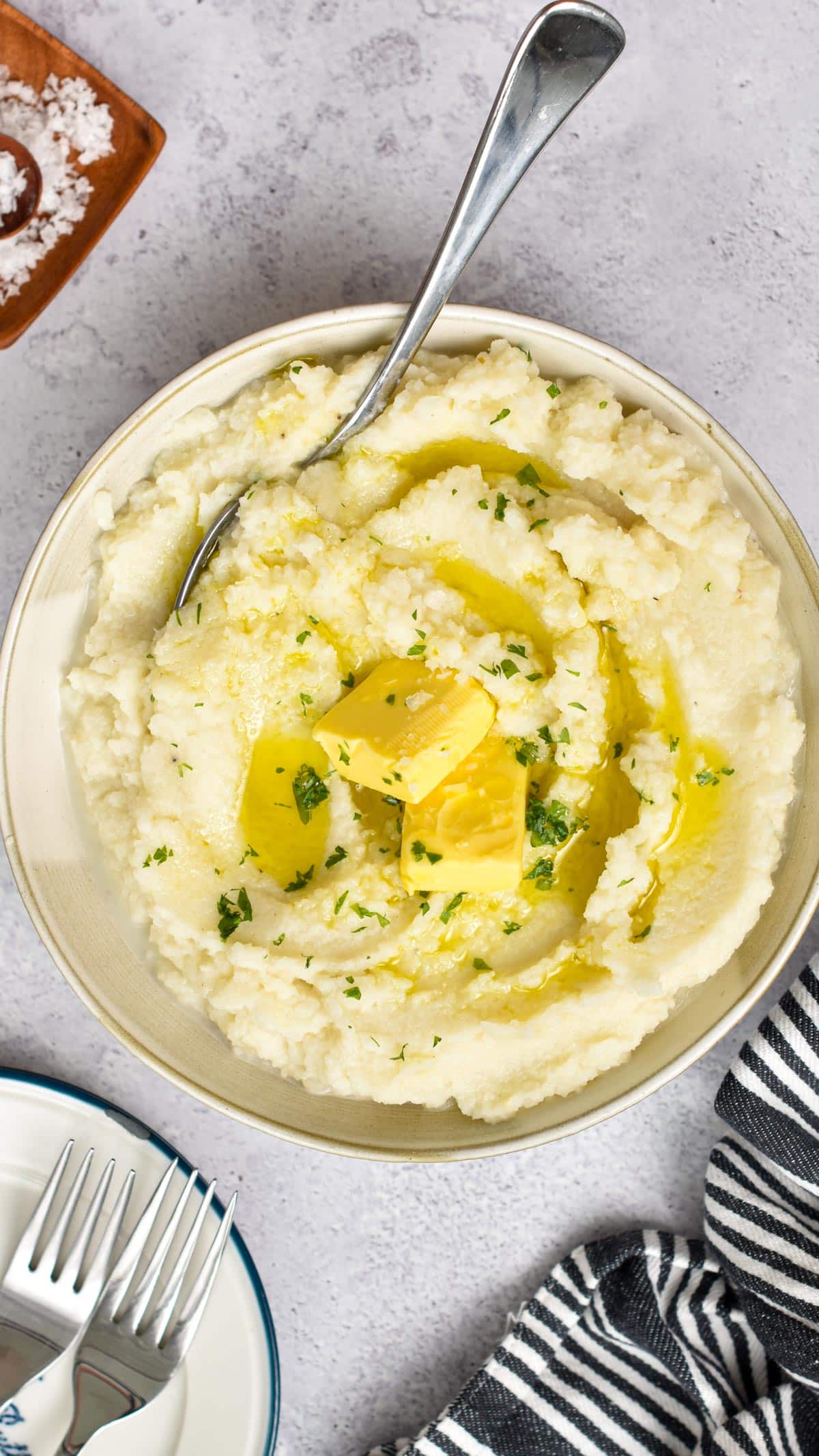 If there is one healthy side dish you can make for every occasion, it's this cauliflower mash.
Potato lovers will love this creamy, buttery mash full of roasted garlic flavor.
Let me share with you how to turn your cauliflower head into a delicious creamy smooth mash.
What's Cauliflower Mash?
Mashed cauliflower is an alternative to regular mashed potatoes. It's a healthy side dish where cooked cauliflower is turned into a creamy cauliflower puree.
It tastes like mashed potatoes but with fewer calories.
How To Make Mashed Cauliflower Recipe
Here I am sharing a roasted garlic cauliflower mash. It's an ultra-flavorsome version of the classic mashed cauliflower, where a whole garlic bulk is roasted and added into the mash.
Roasted garlic is less potent than fresh or stir fried garlic, but it add a delicious creamy texture and flavor to this mash cauliflower recipe.
Ingredients
Garlic Head – You need to roast a whole garlic bulb and add it entirely to the recipe. You will be surprised by all the flavors this adds to the mash and a perfect creamy texture.
Cauliflower Florets – You need a medium-sized cauliflower cut into small florets. See the tutorial below on how to cut cauliflower into florets.
Butter, ghee, dairy-free butter, or even olive oil.
Salt and Pepper
Fresh Herbs like dill, parsley to serve.
Roast Garlic Head
First, preheat the oven to 400°F (200°C). Cut off the top part of the garlic head so you can see the bulb.
Next, wrap the bottom of the garlic bulb with foil, place the bulb in an oven-safe ramekin or baking sheet and drizzle one tablespoon of olive oil onto the top of the bulb.
Place the garlic on the center rack of the oven and bake it until the bulbs are soft and fork-tender. It takes about 30 to 40 minutes.
Remove from the oven and cool down enough to be able to touch and press by hand.
Cutting Cauliflower
Cutting cauliflower is easy, you can either follow my full guide on how to cut cauliflower or follow the steps below.
First, on a chopping board and using a long sharp knife, remove the cauliflower feet and all the green leaves around them. Compost these parts or discard them.
Next, cut all around the feet to release the small cauliflower florets.
Finally, cut each floret into smaller pieces of similar size, so they cook at the same speed.
Boiling Cauliflower
You can steam the cauliflower or boil it for this recipe. Both options work very well, and if you don't have a steamer basket, boiling cauliflower is easy.
Bring a large saucepan filled with water over medium-high heat. Cover the saucepan adding the water to boil. Add a pinch of salt to the water.
Remove lid, add cauliflower florets and boil for 12 to 15 minutes or until fork-tender.
Drain the boiled cauliflower florets in a sieve over the sink and set aside for 10 to 20 minutes until it steams out.
Making The Cauliflower Mash
You can make cauliflower mash in a food processor or with an immersion blender.
I've tested both methods and my favorite is by far the food processor version. It's easier and faster.
Food Processor
Place the cooked, steamed cauliflower florets into the bowl of a food processor.
Fold in the butter, one tablespoon of milk, salt, pepper, and press the roasted garlic bulb to release all the garlic into the bowl.
Process on the high-speed setting until it turns into a smooth mash.
Add more milk gradually if needed to thin out the mash.
You may need to stop the food processor a few times and scrape the sides of the bowl with a silicone spatula to bring the unblended ingredients next to the blade.
Repeat until all the ingredients are well blended and smooth.
Immersion Blender
Return the cooked cauliflower to the saucepan. Add the remaining mashed ingredients: butter and milk, season with salt and pepper, and press in the roasted garlic bulb.
Press the immersion blender onto the soft cauliflower florets to pulse them into a mash, adding more milk if needed.
Serving
Serve this mash warm with extra salt and black pepper.
Then, top the dish with some of the below:
Fresh butter
Chopped parsley or dill
Chili flakes
Drizzle of garlic infused olive oil
Sea salt flakes
Side Dish Pairings
Serve the mash warm as a healthy side dish to meat like a good piece of beef cooked to perfection or along other side dishes like:
Best meat for cauliflower mash:
Storage Instructions
This cauliflower mash recipe can be stored in the fridge for up to 4 days in a sealed container.
You can freeze this mashed cauliflower for up to 3 months in an airtight container or freezer bag and thaw it in the fridge the day before.
Making Mash Cauliflower Ahead
This is the easiest make-ahead Thanksgiving side dish ever!
First, prepare the mash up to 2-3 days before, and store it in the fridge in an airtight box.
Finally, rewarm the mash in a non-stick saucepan until hot and serve with fresh butter, fresh herbs, and a drizzle of olive oil.
Allergy Swaps
Below are some ingredients swaps if you are allergic to some of the ingredients used in this recipe.
Dairy-Free – You can replace butter with dairy-free vegan butter or olive oil. For the milk, use any plant-based milk you love, including almond milk, coconut milk, and soy milk.
Frequently Asked Questions
Below are my answers to your most frequent questions about this mashed cauliflower recipe.
Can I Add Cheese To Cauliflower Mash?
Absolutely! Stir 1/3 cup of freshly grated Parmesan cheese or Emmental for a cheesy mash.
Can I Make Creamy Mashed Cauliflower?
You can increase the creamy texture of this recipe by adding ultra-creamy dairy, such as 2 to 3 tablespoons of sour cream or softened cream cheese.
Can I Use A Potato Masher?
If you don't have a food processor or immersion blender, this recipe turns into a lovely mash using forks or a potato masher.
The texture will be more grainy, and less smooth but still delicious.
Have you tried cauliflower mash? Share a comment or review below to tell me how much your guest love it!
Mashed Cauliflower Recipe
This Mashed Cauliflower Recipe is perfect than mashed potatoes, it's truly creamy and a perfect healthy side dish.
Yield:
servings (1/2 cup)
Serving Size:
1
serving (1/2 cup)
Nutrition Snapshot
Want My Kitchen Equipment?
Ingredients
Optional – for a cheesy mash
Instructions
Roast Garlic Bulb – can be made ahead
Using a sharp knife, cut off the top half inches of the bulb.

To roast the garlic head, peel off the outer layer of the garlic head bulb – it means only the pieces that look like thin paper and fall off easily.

Wrap the bulb with foil, leaving the top free, and place the bulb in a small oven-proof ramekin. Drizzle some olive oil on top of the bulb, wrap the top with hanging pieces of foil and bake for 30-40 minutes or until garlic is soft and fork tender.

Remove from oven and cool for later in the recipe.
Cook cauliflower
Bring a large pot of water to boil over medium-high heat with a pinch of salt.

Trim the cauliflower into small florets of the same size. You should have about 6 cups or 2 pounds of florets.

Add the cauliflower florets to the boiling water, reduce to a simmer, cover the saucepan and cook for 10 minutes or until the cauliflower florets are soft and tender. Test cooking with a knife. If it goes through easily, it's ready.

Drain in a sieve over the kitchen sink and let the cauliflower steam out for 10 minutes.

Add the cooked cauliflower florets to a food processor along with butter, salt, and 1 tablespoon of almond milk. Squeeze all the roasted garlic bulbs in the food processor – see my pictures above in the post for visual help.

Blend until smooth, adding more almond milk to thin or the cheesy add-on to make the mash creamier or smoother.

Taste and adjust the salt and pepper to taste.

Transfer to a serving bowl, and top with extra butter and freshly chopped parsley.
Storage
Store in the fridge for up to 4 days or freeze in a sealed container for up to 3 months.
Notes
Note 1: You can also boil four garlic cloves in the boiling water along with the cauliflower to avoid roasting the garlic. Note 2: Butter can be swapped for ghee, dairy-free butter, or olive oil. Note 3: You can also use heavy cream for a creamier texture.
My Recipe Notes
Nutrition
Serving Size:
1
serving (1/2 cup)
Yield:
servings (1/2 cup)
Serving:
1
serving (1/2 cup)
Calories:
38.4
kcal
(2%)
Carbohydrates:
2.8
g
(1%)
Fiber:
1
g
(4%)
Net Carbs:
1.8
g
Protein:
1.6
g
(3%)
Fat:
2.6
g
(4%)
Saturated Fat:
1.6
g
(10%)
Polyunsaturated Fat:
0.1
g
Monounsaturated Fat:
0.6
g
Trans Fat:
0.1
g
Cholesterol:
6.8
mg
(2%)
Sodium:
116
mg
(5%)
Potassium:
149.7
mg
(4%)
Sugar:
0.9
g
(1%)
Vitamin A:
76.4
IU
(2%)
Vitamin B12:
0.03
µg
(1%)
Vitamin C:
23.3
mg
(28%)
Vitamin D:
0.01
µg
Calcium:
32
mg
(3%)
Iron:
0.2
mg
(1%)
Magnesium:
8.1
mg
(2%)
Zinc:
0.2
mg
(1%)
Posted In: