Cauliflower Potato Salad (Keto)
This Keto Potato Salad is made with steamed cauliflower instead of potatoes and homemade garlic yogurt sauce for a light side dish to your summer BBQ.
This is simply the best keto potato salad ever. Once you have tried this version, you will not miss potato salad anymore!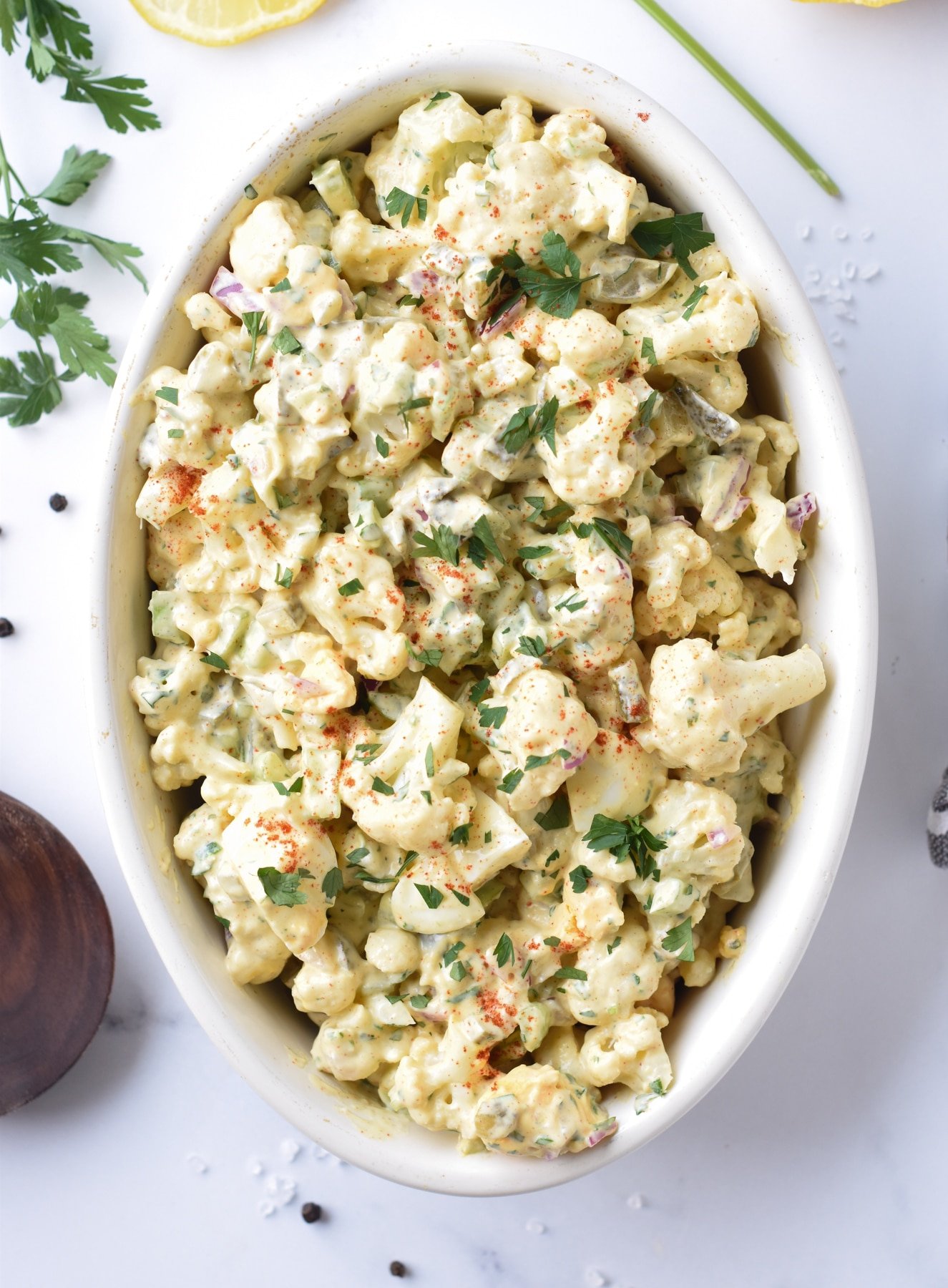 You don't have to love cauliflower to fall in love with this cauliflower potato salad!
It doesn't taste like cauliflower at all, but it makes your potato salad healthier, low in carbs, calories, and so refreshing for summer!
What Is Cauliflower Potato Salad?
A cauliflower potato salad, also known as cauliflower mock potato salad, is a low-carb version of the traditional potato salad using steamed cauliflower instead of potatoes.
It's the perfect keto salad to serve as a side dish to summer BBQ or light lunch.
How Many Carbs In Potato Salad?
A classic potato salad is made with potatoes, a very high-carb vegetable.
Each serving of classic potato salad would bring at least 30 grams of net carbs.
So the only way to make a keto-friendly potato salad is to actually remove the potatoes while keeping the same taste and texture.
How To Make Keto Cauliflower Potato Salad
It's very easy to make a cauliflower salad that tastes like your favorite potato salad with steamed cauliflower instead of potatoes.
All you need to make this salad are a few ingredients:
Ingredients
Head of Cauliflower – Cauliflower is one of the lowest carb vegetables. Learn how to cut it into small florets.
Hard-boiled eggs – You can follow my Air Fryer Hard Boiled Eggs Recipe for perfectly hard-boiled eggs every single time. For a vegan version, don't add eggs. Learn why eggs are keto-friendly.
Red onion
Celery
Dill pickles
Greek Yogurt or sour cream or dairy-free coconut yogurt. Learn why Greek yogurt is keto-friendly.
Mayonnaise – avocado oil mayonnaise is my favorite choice. It contains healthy fat and tastes delicious, adding a rich texture to the sauce. You can also use olive oil mayonnaise.
Apple cider vinegar or white vinegar.
Yellow mustard
Fresh parsley
Garlic powder
Paprika
Salt and pepper
Trimming The Cauliflower
First, trim the cauliflower leaves and remove the cauliflower stems. You can use this for a soup recipe later or discard them.
Then, using a sharp knife, cut the cauliflower into bite-sized florets. Follow my cauliflower-cutting tutorial for more details.
Steaming The Cauliflower
The best way to cook cauliflower for cauliflower salad is to steam the cauliflower florets. I don't recommend boiling the cauliflower florets for a salad.
The vegetables soak up a lot of water in the boiling process, and it makes the salad watery.
There are two options for steaming cauliflower florets for a salad. I used a steamer, but if you don't have one, your microwave is also a great option.
For full details on how to steam a cauliflower, read my Steamed Cauliflower Recipe.
Using a Steamer
Place the cauliflower florets into a steamer basket and steam for about 8 minutes until fork-tender.
Using a Microwave
Another option is to bring all the florets into a large microwave-safe bowl. Microwave on high-power (900-1,000W) for 5-6 minutes or until fork-tender.
Cool completely before assembling the salad. It takes about 10 minutes at room temperature to cool the cooked cauliflower.
Making The Salad Dressing
Meanwhile, in a small mixing bowl, combine all the potato salad dressing ingredients: yogurt, mayonnaise, paprika, yellow mustard, garlic powder, apple cider vinegar, salt, and pepper.
Taste and adjust the sauce, adding more vinegar for a tangy sauce or more salt and pepper if needed.
Assembling The Salad
In a large bowl, add steamed cauliflower florets, finely chopped hard-boiled eggs, parsley, dill pickle cubes, chopped celery, and chopped red onion.
Pour the salad dressing into the bowl and stir to combine.
Refrigerating
Of course, you can serve the salad immediately, but to enjoy all the flavors, refrigerate for at least one hour. This gives the sauce time to flavor the cauliflower, and it makes the salad even more delicious.
I recommend cooking the frozen cauliflower florets for only 3-4 minutes for a potato salad. Then, cool down in a colander and wait until all the water steam out.
However, frozen cauliflower tends to be tender, more watery, and less flavorsome than fresh cauliflower.
So it will work well in a potato mock salad but won't deliver as much flavor and be a bit softer, slightly mushy as well.
Nutrition Facts
You are probably wondering why is a regular potato salad not keto-friendly.
Or, if you are not on a keto diet, why you should swap potatoes for cauliflower to make a healthy potato salad.
Potatoes are very high in carbs and calories. Compared to potatoes, cauliflower contains:
Fewer carbs
Fewer calories
Is diabetes-friendly
Potatoes nutrition per 100 grams:
15 grams of net carbs
77 kcal
However, cauliflower contains only:
3 grams of net carbs
25 kcal
That's the main reason why recipes often swap potatoes for cauliflower, and also because the texture of steamed cauliflower is very similar to potatoes!
Serving Ideas
This cauliflower salad is delicious when served on its own as a main meal with a squeeze of lemon juice and extra fresh herbs on top.
You can also add some fresh jammy eggs on the top for an even more eggy taste.
You can also make this cauliflower salad ahead and bring it to pot-luck, picnics, and barbecues as a side dish to perfectly cooked grilled meat or seafood.
It pairs very well with my 3-Ingredient Steak Marinade to make a simple summer dinner.
Storage
This cauliflower salad can be stored for up to 4 days in the fridge in a sealed container.
If you used frozen cauliflower, you can't freeze the salad again, or it would become watery.
Frequently Asked Questions
I've listed below the answers to the most common questions about this recipe.
Can Frozen Cauliflower Be Used In The Cauliflower Potato Salad?
You can use frozen cauliflower to make this salad. In fact, frozen cauliflower is already blanched, which means it has been quickly cooked in boiling water before being frozen.
So you don't need to cook it very long to make your salad.
Is Cauliflower Salad Healthy?
As mentioned above, cauliflower mock potato salad is a healthier version of the traditional potato salad for many reasons.
First, since cauliflower is a keto low-carb vegetable with 5 times fewer carbs than potatoes, it won't raise your blood sugar levels fast.
It means it won't trigger the same cravings for carbs after eating this salad.
Also, because cauliflower is high in fiber and water vegetable, it keeps you full for a very long time.
Finally, if you are looking at the calories you eat daily, cauliflower is a winner as well with 3 times fewer calories than potatoes per 100 grams!
Have you made this cauliflower potato salad recipe? Comment or review below to connect with me and let me know if you love this recipe!
Cauliflower Potato Salad
A Healthy Cauliflower Mock Potato Salad using steamed cauliflower as a low-carb swap to potatoes and a creamy yogurt sauce perfect as a keto dinner.
Ingredients
1

large

Cauliflower Head

trimmed, cut into small florets, about 2 pounds

2

Hard-boiled Eggs

cooled, peeled, and chopped

¼

cup

Red Onion

finely chopped

½

cup

Celery Stalks

chopped, about 3 stalks

⅓

cup

Dill Pickle

finely cubed
Salad dressing
1

tablespoon

Apple Cider Vinegar

½

cup

Plain Greek Yogurt

or Sour Cream

¼

cup

Mayonnaise

I used avocado oil mayonnaise

1

tablespoon

Yellow Mustard

¼

cup

Fresh Parsley

or chives, finely chopped

¼

teaspoon

Garlic Powder

¼

teaspoon

Paprika

¼

teaspoon

Salt
This recipe may contain Amazon or other affiliate links. As an Amazon Associate I earn from qualifying purchases.
Instructions
Cut the cauliflower head into bite-size florets, remove the stems. You should have about 1.8 lb/800g of small florets.

Place the cauliflower florets into a steamer basket and place the basket into a large pot with 2-inch water at the bottom. Steam the cauliflower for 8 minutes until fork tender. Drain cooked cauliflower florets and set aside 10 minutes to steam out. Meanwhile, prepare the salad dressing.

In a small bowl, combine all the salad dressing ingredients: apple cider vinegar, yogurt, mayonnaise, yellow mustard, salt, paprika, garlic powder. Set aside in the fridge.

To assemble the salad, place the cooled cauliflower florets in a salad bowl along with chopped celery, red onion, dill pickle, chopped hard-boiled eggs, and fresh chopped herbs.

Pour the salad dressing on top and stir to combine evenly.

Refrigerate the salad one hour before serving to enjoy its best flavors.
Storage
Store up to 3 days in the fridge in a sealed airtight container.
Want My Kitchen Equipment?
Serving:
1
Serving
Calories:
142.7
kcal
(7%)
Carbohydrates:
9.3
g
(3%)
Fiber:
3.3
g
(14%)
Net Carbs:
6
g
Protein:
7
g
(14%)
Fat:
9.4
g
(14%)
Saturated Fat:
1.8
g
(11%)
Polyunsaturated Fat:
4.5
g
Monounsaturated Fat:
2.4
g
Trans Fat:
0.1
g
Cholesterol:
66.9
mg
(22%)
Sodium:
331.3
mg
(14%)
Potassium:
525
mg
(15%)
Sugar:
4.2
g
(5%)
Vitamin A:
364.7
IU
(7%)
Vitamin B12:
0.3
µg
(5%)
Vitamin C:
71.9
mg
(87%)
Vitamin D:
0.4
µg
(3%)
Calcium:
71.7
mg
(7%)
Iron:
1.1
mg
(6%)
Magnesium:
29.5
mg
(7%)
Zinc:
0.7
mg
(5%)
Posted In: