Air Fryer Hard Boiled Eggs (3 Ways)
This Air Fryer Hard Boiled Eggs method is the easiest and fastest way to prepare boiled eggs every morning without boiling water.
Plus, your air fryer can reach any boiled egg texture from Jammy eggs to hard-boiled eggs.
I am a big fan of eggs in general, and when I don't have a spinach omelette or spinach quiche for breakfast, I will have boiled eggs.
However, boiling eggs in boiling water can be overwhelming, sometimes, they crack, or the timing goes wrong, and the texture of your boiled egg is off.
When it comes to making the best boiled eggs, your air fryer is actually your best friend.
Why You'll Love This Recipe
Making fried eggs in an air fryer is amazing because it's:
Crazy Easy
Just 3 Minutes Of Prep
Works 100% Of The Time
Keto-Friendly
One of the easiest air fryer recipes
How To Make Air Fryer Hard Boiled Eggs
Technically they are not boiled but air fried, cooked with the warm air circulating in the air fryer.
But since it results in the same texture as boiled eggs, let's call them boiled eggs in the air fryer for precision.
Ingredients
All you need to make this air fryer hard boiled egg recipe are:
Fresh Eggs – I am using large eggs, so if your eggs are smaller, your timing may vary.
Ice Cubes – To dip the cooked eggs in.
Water – For the ice bath.
And, of course, you need an air fryer. Mine is an air fryer with a basket which is pretty convenient to put eggs and stabilize them in.
Preparing The Air Fryer
I like to preheat the air fryer before adding my eggs to the basket. Preheat to 300°F (150°C) for 5 minutes.
Open the air fryer and place the eggs in the basket leaving space between each so the air can circulate nicely.
I have an XXL basket, so I can easily fit 6 to 8 eggs at once.
Cooking Time
So now you probably wonder how long you should set the timer for the perfect boiled eggs in your air fryer.
It really depends on what your aim is.
Air Fryer Deviled Eggs
For Deviled Eggs, the best is to make hard-boiled eggs because you want the egg yolk perfectly cooked and the egg whites firm so they can be filled.
But if you prefer a smooth, silky egg yolk, you may want to decrease the air frying time.
So below, I listed the three main options to make the eggs right based on your recipe.
Air Fryer Soft Boiled Eggs
A soft-boiled egg is an egg with a soft, smooth, and silky center but perfectly cooked egg white. They are great for breakfast sandwiches or cobb salad.
Air fry the eggs for 10 to 11 minutes at 300°F (150°) for soft-boiled eggs.
Air Fryer Jammy Eggs
A jammy egg is a half-boiled egg or medium-boiled egg. It's not super runny in the center but not fully set either. As its name suggests, the egg yolk looks like a jam texture.
Use the same temperature as above, but leave the egg in the air fryer for 12 to 13 minutes.
You can also use my Jammy Egg recipe to make perfect medium-boiled eggs.
Hard-Boiled Eggs In Air Fryer
Hard-boiled eggs have firm egg yolk and firm egg white, and they are easy to chop to make egg salad or deviled eggs.
The time to hard boil eggs in the air fryer is between 14 and 16 minutes.
Ice Water Bath
Before you start boiling eggs or air frying eggs, in order to make hard-boiled eggs, you must prepare an ice bath.
An ice bath is a bowl filled with cold water and ice cubes.
As soon as you remove your eggs from the air fryer basket, plunge the eggs into the water bath and slightly shake the bowl to move the eggs around in the bath.
This stops the eggs from cooking and sets their texture.
Leave the eggs in the icy water bath for about 10 to 15 minutes or until the ice cubes melt, and you have fresh, cold eggs.
Peeling The Eggs
Knock the egg onto a hard surface, then peel the eggs under cold, running water.
This helps peel hard-boiled eggs nicely without breaking the egg white.
Storing Hard-Boiled Eggs
You can use the eggs immediately or store them in the fridge in an airtight container.
Peeled hard-boiled eggs must be placed in an airtight container with a damp paper towel at the bottom and one on top of the eggs to keep them moist.
They can then be stored for up to 2 days and they make perfect low-carb snacks.
Unpeeled boiled eggs store longer, you can keep them fresh in an airtight container for up to 5 days.
The Best Dressings For Boiled Eggs
There's way more than mayonnaise to eat your boiled eggs with! Below are some amazing dressings and sauces to combine with boiled eggs in salad or sandwiches
Frequently Asked Questions
Can You Freeze Hard-Boiled Eggs?
Don't freeze whole boiled eggs because frozen egg white becomes, rubbery, watery and doesn't taste good at all.
However, you can freeze the cooked, boiled egg yolks.
Separate from egg white and freeze the egg yolks only in zip-lock bags.
How Do You Know Hard-Boiled Eggs Are Done?
You won't be able to tell unless you cool and peel the egg.
That's why for hard-boiled eggs, it's better to cook or air fry the eggs to their highest cooking time to ensure a set, dry, and crumbly yellow center.
Does The Size Of The Eggs Change The Cooking Time?
Absolutely, yes. The smaller the eggs are, the faster they cook.
Always adjust the cooking time based on the egg size
How Long Does It Take To Hard Boil An Egg In The Air Fryer?
To make a perfect hard-boiled egg in the air fryer, cook them for 14 minutes to 16 minutes.
More Egg Recipes
I love cooking dishes with eggs and below are more egg recipes for you to try:
Recipes To Use Boiled Eggs
You can make these hard-boiled eggs and eat them on their own, or put them in any of the following salads.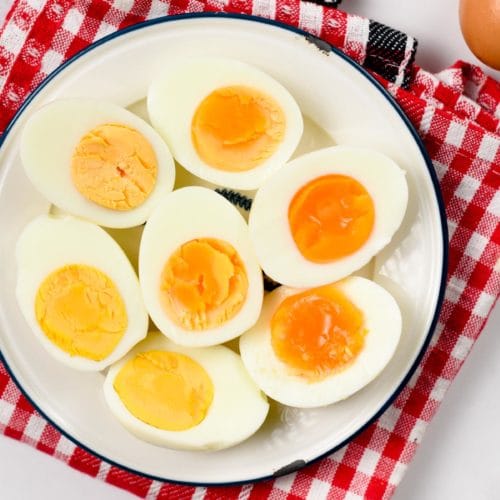 Air Fryer Boiled Eggs
This Air Fryer Hard Boiled Eggs method is the easiest and fastest way to prepare boiled eggs every morning without boiling water. Plus, your air fryer can reach any boiled egg texture from Jammy eggs to hard-boiled eggs.
Nutrition Snapshot
Want My Kitchen Equipment?
Ingredients
6

large

Eggs

fresh

2

cups

Cold Water

1

cup

Ice Cubes
Instructions
Preheat the air fryer to 300°F (150°C) for 5 minutes.

I recommend dipping the eggs in cold water before adding them to the air fryer. It prevents the egg white to change color and turn brownish.

Place the eggs in the air fryer basket. You can use a spoon or slotted spoon to avoid burning yourself. Make sure the eggs don't touch each other. I manage to fit 6 eggs in an XXL air fryer basket, depending on your air fryer it can fit less or more.

For smaller eggs use the minimal time range and for larger eggs use the maximum time range.

For soft-boiled eggs with smooth silky egg yolk, air fry the eggs for 10 minutes to 11 minutes.

For a jammy egg, with a jam-like egg yolk texture, air fry from 12 minutes to 13 minutes.

For hard-boiled eggs, with firm egg yolk, firm egg white, air fry from 14 minutes to 16 minutes.

Meanwhile, place 2 cups of cold water in a glass bowl along with ice cubes.

When the air fryer stop, use a slotted spoon to carefully remove the eggs from the basket and immediately cool eggs in the ice bath. Keep them in the ice bath until the ice cubes melt and the eggs are cold.

Peel cold eggs under running tap cold water and serve immediately.
Storage
Store the unpeeled eggs for up to 5 days in an airtight container in the fridge.
My Recipe Notes
Nutrition
Serving:
1
egg
Calories:
71.5
kcal
(4%)
Carbohydrates:
0.4
g
Net Carbs:
0.4
g
Protein:
6.3
g
(13%)
Fat:
4.8
g
(7%)
Saturated Fat:
1.6
g
(10%)
Polyunsaturated Fat:
1
g
Monounsaturated Fat:
1.8
g
Trans Fat:
0.02
g
Cholesterol:
186
mg
(62%)
Sodium:
73
mg
(3%)
Potassium:
69
mg
(2%)
Sugar:
0.2
g
Vitamin A:
270
IU
(5%)
Vitamin B12:
0.4
µg
(7%)
Vitamin D:
1
µg
(7%)
Calcium:
29.2
mg
(3%)
Iron:
0.9
mg
(5%)
Magnesium:
6.4
mg
(2%)
Zinc:
0.6
mg
(4%)
Posted In: