4-Ingredient Guacamole Recipe
This 4-Ingredient Guacamole Recipe is a healthy easy avocado dip 100% dairy-free, gluten-free ready in less than 10 minutes for an easy last-minute appetizer or snack.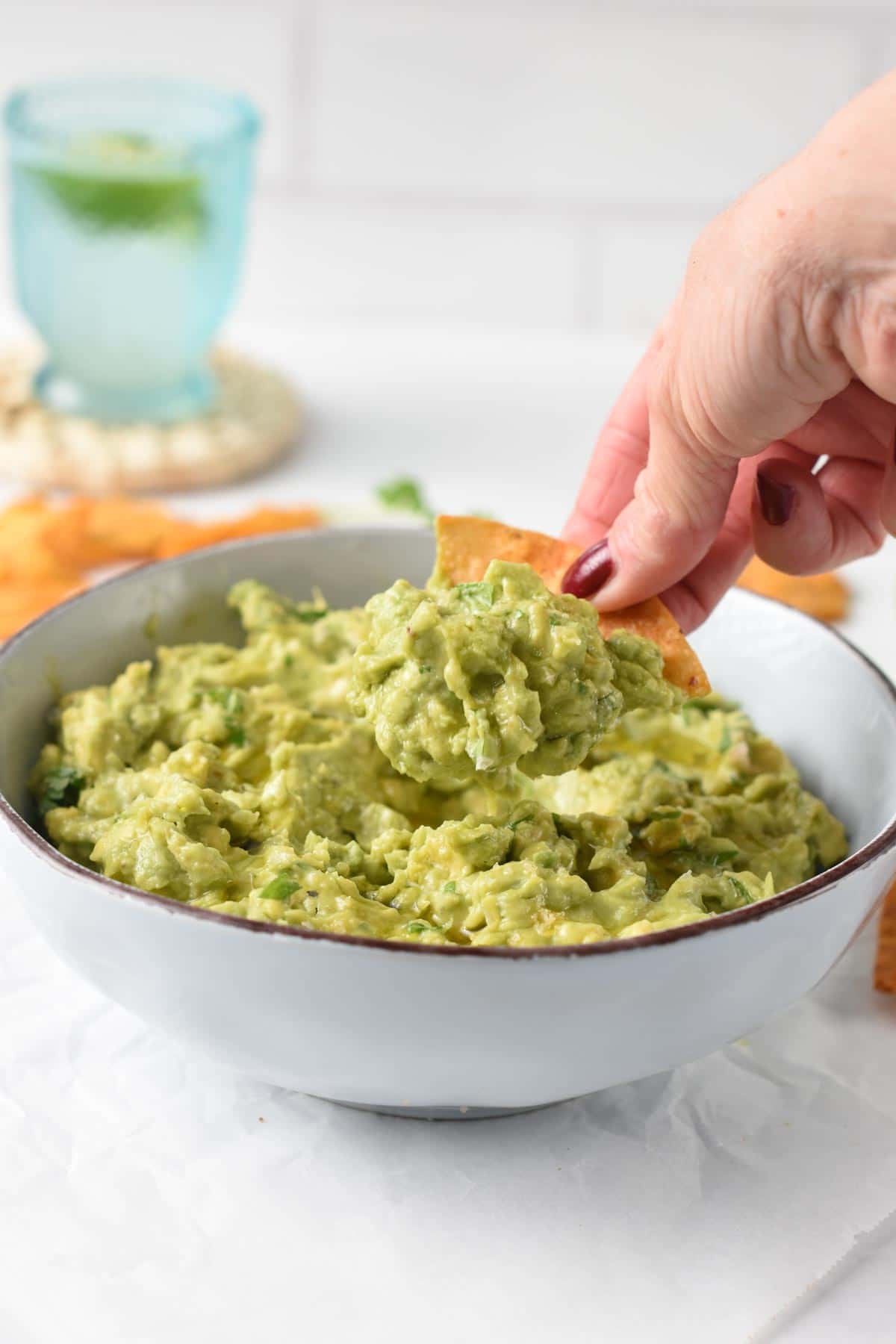 A super simple healthy gluten-free dip perfect for a quick healthy snack or appetizer to gather friends and family.
Choosing The Best Avocados
There are many avocado varieties and the best one for guacamole is Hass avocado.
Their flesh is flavorsome and so creamy when simply mashed by fork.
If you are unsure of your avocado variety, keep in mind that Hass is the most common avocado variety and you can also make guacamole with other varieties!
How To Make This 4-Ingredient Guacamole Recipe
It's super easy to make quick guacamole with only 4 ingredients.
Ingredients
All you need are:
Ripe Avocado – it means that if you remove the top stem of your avocado the flesh under it is green and the avocado is soft when pressed. If your avocado is too soft or the color under the top stem is dark brown, then it means that the avocado is overripe and not good for this easy guacamole recipe
Garlic cloves
Salt
Freshly squeezed Lime juice – read my post here if you are having trouble getting juice from a lime
Mashing
First, cut the avocado in half and remove the pit.
Then, remove any dark or brown spot in the avocado flesh and discard.
Brown spots add a bitter taste to guacamole so it's better to discard this part of your fruit.
Finally, use a fork or a potato masher to mash the avocado on a chopping.
Making Smooth Guacamole
The best way to make creamy guacamole with no pieces of avocado is to blend all the ingredients in a food processor.
First. process avocado flesh. lime juice, garlic, and salt until smooth.
Then, increase creaminess by adding some of the below:
Extra virgin olive oil
Tahini
Yogurt
Sour cream
Guacamole Add-Ons
Of course, you can feel creative and add some spices and ingredients to make your guacamole much more flavorsome.
The most authentic and delicious add-ons to your guacamole are:
Diced onion – white onions or red onions taste amazing.
Finely diced tomatoes
Cilantro
Pinch of spices like Paprika, Cumin, and Onion powder.
Storage Instructions
The tricky part with guacamole is to keep it green. In fact, avocados oxidize when in contact with air and the top of your guacamole turns brown with time.
It can usually be stored for up to 2 days in the fridge if you follow the rules below:
Brush the top of the guacamole with lemon juice or lime juice or add a few tablespoons of olive oil to the top.
Store it in an airtight container.
Some recipe will recommend keeping it longer, up to 3-4 days but again the surface of the guacamole get darker and if your avocados were quite ripe, then the flavor of the guacamole turns bad.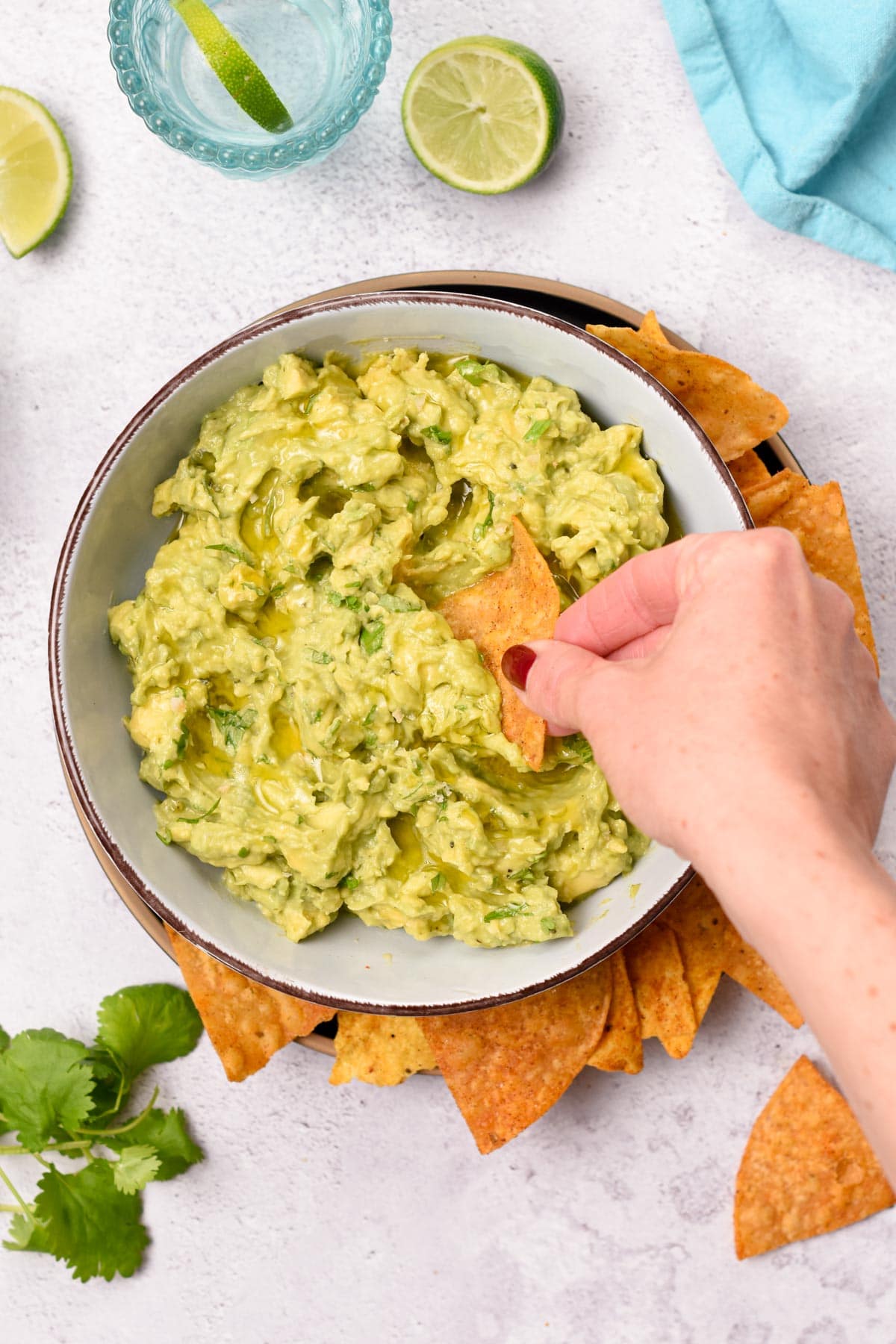 Frequently Asked Questions
Can you freeze guacamole?
Yes, absolutely! You can freeze leftover homemade guacamole in plastic wrap or airtight containers and thaw it in the fridge the day before.
What to add to guacamole to make it taste better?
Make sure to use avocados at the perfect state of ripeness. Too ripe and the guacamole will taste earthy and moldy. Too young and the guacamole will be bitter.
Then you add any of the following toppings to make it even better:
– Diced onion – white onion or red onion
– Finely diced tomatoes
– Cilantro
– A pinch of spices like Paprika, Cumin, Onion powder
What is the main ingredient of guacamole?
The most important ingredient of guacamole is fresh, ripe avocados. Their green flesh brings the color, taste, and texture to the guacamole. All the other ingredients are just to make it even better.
What ingredient keeps guacamole from turning brown?
Lemon juice increases the acidity of the guacamole, making it last longer. To keep the top of your guac green, you can also add a thin layer of olive oil or even water as it forms a protective shield that improves its shelf life.
Why does my guacamole taste bland?
The taste of guacamole depends mostly on the ripeness of the avocado. A perfect avocado makes delicious guacamole. But the tanginess and spiciness of the guac also depend on the lemon or lime juice you add and the spices.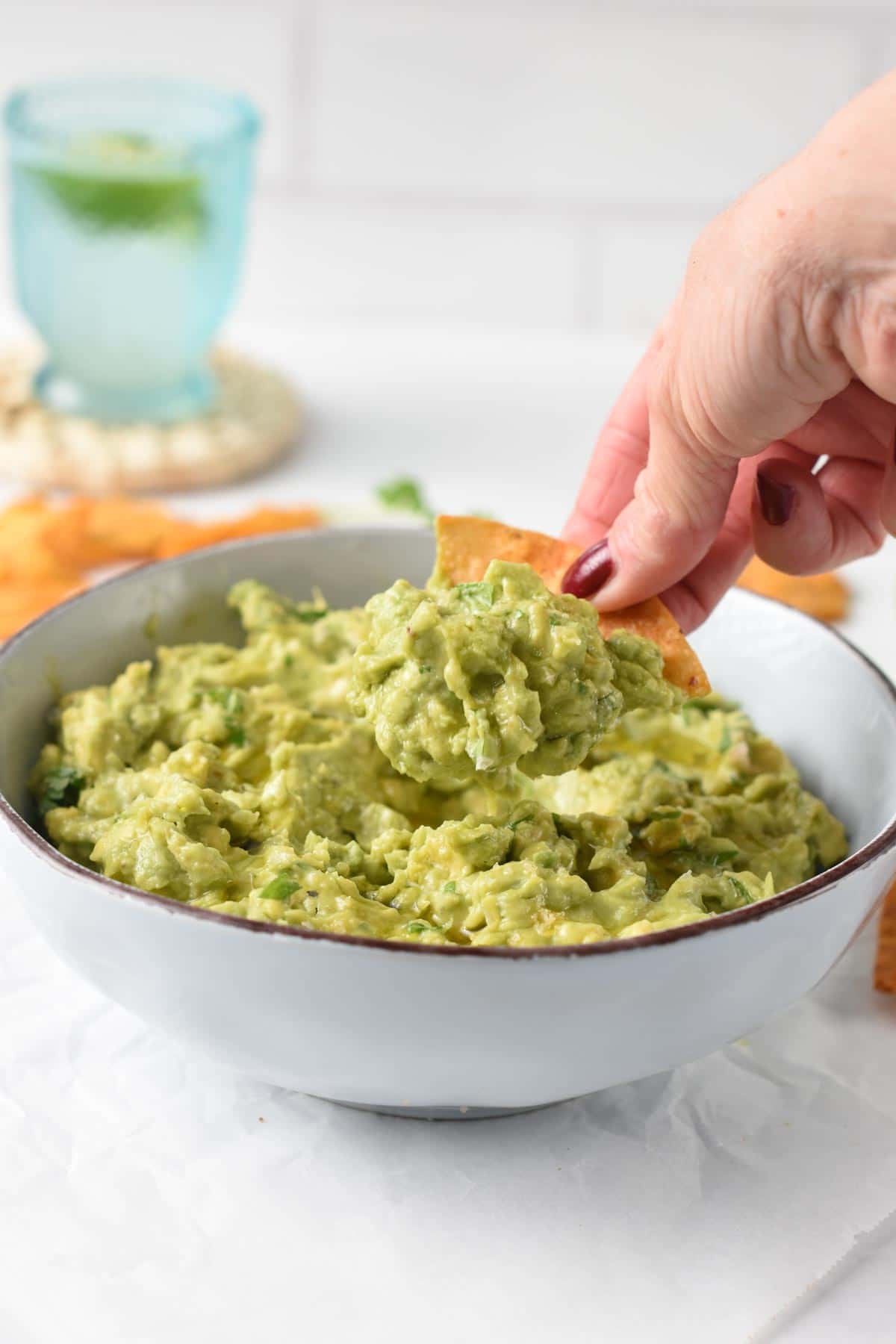 Have you made this easy guacamole recipe? Share a comment or review below.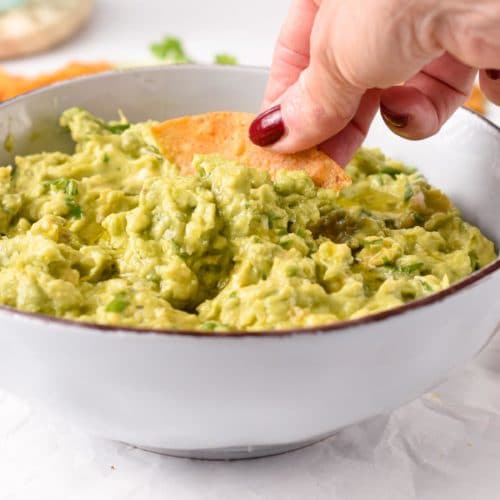 4-Ingredient Guacamole Recipe
This 4-Ingredient Guacamole Recipe is a simple avocado dip with only four ingredients. A creamy guacamole, perfect for dipping tortilla chips.
Serving Size:
2
tablespoons
Ingredients
3

Avocados

ripe, no dark spot on the flesh

2

Garlic

pureed

½

teaspoon

Salt

2

tablespoons

Lime Juice
Optional adds-on for flavors
1

tablespoon

Olive Oil

2

tablespoons

Tahini Paste

2

tablespoons

Fresh Cilantro

finely chopped

¼

cup

Tomatoes

finely chopped
Keto tortillas chips to serve
This recipe may contain Amazon or other affiliate links. As an Amazon Associate I earn from qualifying purchases.
Instructions
Cut the avocado lengthwise and discard the pit. Remove any black/brown spot on the flesh and discard.

Mash the avocado flesh on a chopping board with a fork or potato masher.

Stir in lime juice, pureed garlic, salt, and any additional ingredients listed above.

Store in a sealed container in the fridge for up to 2 days.
Want My Kitchen Equipment?
Serving Size:
2
tablespoons
Serving:
2
tablespoons
Calories:
81.8
kcal
(4%)
Carbohydrates:
4.7
g
(2%)
Fiber:
3.4
g
(14%)
Net Carbs:
1.3
g
Protein:
1
g
(2%)
Fat:
7.4
g
(11%)
Saturated Fat:
1.1
g
(7%)
Polyunsaturated Fat:
0.9
g
Monounsaturated Fat:
4.9
g
Sodium:
100.5
mg
(4%)
Potassium:
248.7
mg
(7%)
Sugar:
0.4
g
Vitamin A:
74.7
IU
(1%)
Vitamin C:
5.9
mg
(7%)
Calcium:
7.3
mg
(1%)
Iron:
0.3
mg
(2%)
Magnesium:
14.9
mg
(4%)
Zinc:
0.3
mg
(2%)
Posted In: