This easy Cheese Quesadilla is a crispy flour tortilla filled with stringy melted cheese and jalapeno slices.
This is the perfect 10-minute lunch for cheese lovers, and it's easy to adapt by throwing in any extra vegetables or proteins you have on hand.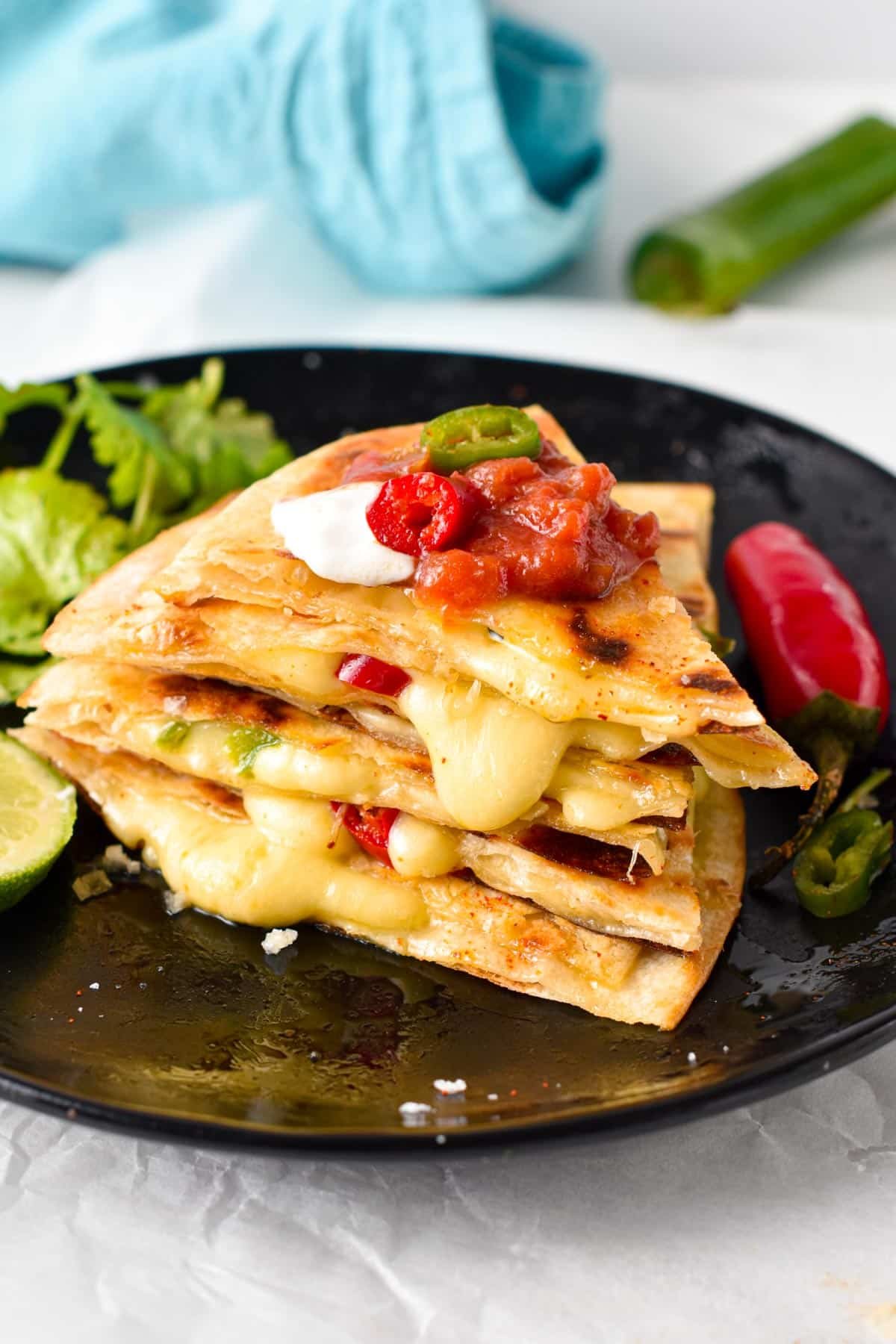 What's a Quesadilla?
Quesadillas are originally an easy Mexican street food made from corn tortillas and generally filled with freshly grated Mexican cheese.
The term quesadilla itself might be coming either from the word Cascadilla, which is a wheat pastry from the Asturias region of Spain, or from by adding the diminutive -illa, meaning small, to the word Quesada, which is a type of cheesecake.
While today's quesadillas normally contain cheese, in some regions of Mexico, cheese is not normally added to quesadillas.
Cheese Quesadillas are cooked on both sides in a skillet until the tortilla is crispy and the cheese is melted.
It used to be eaten by hand as a taco, folded, but now quesadillas are more commonly served cut into wedges.
Nowadays, it has become an easy classic meal in most American households, and the fillings contain meat or eggs to make chicken quesadillas, steak quesadillas, or scrambled eggs breakfast quesadillas.
Why You'll Love This Recipe
This simple cheese quesadilla is amazing because:
Ready in under 10 minutes
Made with as little as 3 ingredients
Tastes delicious and better than what you can get from Taco Bell or any fast food place
Easy to make in large batches
Can be made in a pan, oven, or air fryer
How To Make A Cheese Quesadilla
It takes under 10 minutes to make a queso quesadilla.
Ingredients
All you need are only a few simple ingredients
Flour Tortillas or corn tortillas. The most common recipes use flour tortillas, and you can choose from wholewheat tortillas to gluten-free tortillas or cassava flour tortillas. Any variety makes excellent quesadillas.
Freshly Grated Cheese – A combination of cheese is the best to add flavor. See my recommendations below to pick the best flavorsome cheese for quesadillas. I like to use three kinds of cheese, cheddar, Monterey Jack cheese, and Oaxaca.
Olive Oil – To cook the quesadillas, I like to use a touch of extra-virgin olive oil. You can replace it with avocado oil, or even butter.
Optional Ingredients
On top of the above necessary ingredients, I recommend adding the following:
Red Onion – chopped and pan fried.
Red Bell Pepper – sliced in thin stripped. You can add them fresh or lightly fried.
Jalapeno Slices – fresh.
Corn Kernels – the best is to broil a whole corn cob and cut strips of toasted corn.
Preparation
There are two ways to make a quesadilla, depending on:
Serving size
The way you want to cook your quesadilla
Pick the best option below based on your need.
Single-Serving Quesadilla
Use just one tortilla (read below to pick the right tortilla), and add the filling on half of the tortillas, leaving the sides empty.
Then, fold the tortilla into a half-moon shape (images 5 and 6 below).
Large-Batch Quesadillas
For more than one person, use two tortillas. On a large plate, add one tortilla, and sprinkle half the cheese all over it, leaving one inch without cheese on the sides.
Then, sprinkle jalapeno slices for a spicy, cheesy quesadilla and add finely chopped red onion.
Finally, sprinkle the remaining cheese on the added ingredients (images 1 to 4 below).
It's really up to you to add vegetables between the cheese layers. Feel free to make the recipe with cheese only if preferred.
Cooking Options
You can cook quesadillas in many ways: in a skillet, in the air fryer, or oven.
Skillet Cooking
The traditional way to cook quesadilla is over the stove. To do so, warm a large non-stick saucepan over medium heat with olive oil.
Tilt the pan to spread the oil all over the surface.
Now, add the filled tortilla to the pan and place another tortilla on top.
Cook for 4 to 5 minutes flipping the quesadilla halfway.
Keep cooking until the cheese is completely melted and the tortillas are crispy and golden with brown spots on their surface.
Air-Fryer Quesadilla
Your air fryer is an excellent way of cooking quesadillas, and you don't even need to flip it.
Spray some cooking oil on the sides of the tortillas that are not touching the filling. Fill them in as per the recipe below.
Then, place the tortillas in the air fryer basket. Air fry at 350°F (180°C) for 3 to 4 minutes, or until crispy and golden brown.
Oven-Baked Quesadilla
This method is perfect if you plan to serve many quesadillas at once for a party.
Line one or two baking sheets with parchment paper. Place the filled tortillas onto the baking sheet and spray oil on top of the tortilla.
Bake at 350°F (180°C) for 5 to 6 minutes, flipping them halfway until the edges are crispy and the top golden brown.
Keep baking until the cheese is fully melted, so the cooking time might vary depending on how well calibrated your oven is.
Picking The Tortillas
Choosing the right tortilla is crucial for this recipe. You can either buy tortillas from the store or make your own with one of my many tortilla recipes.
These are my favorite options:
Choosing The Best Cheese
Freshly grated cheese melts much better than ready-made shredded cheese. The best cheese varieties for this cheese quesadilla recipe are:
Monterey Jack Cheese or Pepper Jack Cheese
Cheddar Cheese
Asadero
Oaxaca
Panela
Adobera
Mozzarella Cheese
I like to make a combination of the first three to boost the cheese flavors.
Quesadilla Fillings
This recipe has endless possibilities. You can add any of your favorite meat, vegetables, or eggs with the cheese.
For vegetables, you don't have to cook them before adding them between the tortillas.
However, for meat, you must cook the chicken or beef in a hot skillet and then add it on the cheese. Try my Low Sodium Taco Seasoning, my Carne Asada Seasoning, or my Chicken Taco Seasoning to boost their flavor.
Even if you are using cured meat or already cooked rotisserie chicken, it's preferable to rewarm it before adding in the center.
This ensures that all the ingredients are at the same temperature and the quesadillas will taste way better.
To increase the protein content without adding meat, you can also add black beans cooked for a couple of minutes in the pan, refried beans, or cannellini beans.
Serving
Cut the quesadillas into wedges with a pizza cutter and serve them with some of your favorite Mexican toppings like:
Storage Instructions
Quesadilla leftovers can be stored well in the refrigerator in a sealed container.
Rewarm the dish on a hot skillet to re-melt cheese and get their crisp back.
You can even freeze them in airtight containers and rewarm them in the air fryer or on a skillet.
Allergy Swaps
Everyone can enjoy a quesadilla, there are many options to adapt this easy recipe to common allergies. Pick yours below.
Gluten-Free – Feel free to use any gluten-free tortilla, like corn, quinoa, or rice tortilla.
Low-Carb– Pick a low-carb tortilla or try my keto tortilla recipe.
Dairy-Free – Choose a dairy-free cheese that melts easily and use it as a filling.
Frequently Asked Questions
Below are my answers to your most common questions about how to cook quesadillas.
Are Quesadillas Healthy?
A quesadilla is a balanced lunch that contains all the macronutrients you need in a meal: carbs from tortillas, fat and protein from the cheese, and vitamins from the filling.
To make genuinely healthy quesadillas, pick wholegrain tortillas to boost the fiber and add vegetables and lean meat to the filling, like chicken.
Also, pick a low-saturated fat cheese, and don't overdo it. To boost the healthy fat, serve with guacamole or fresh avocado slices.
How Can I Reheat Quesadillas?
The best is to place the quesadillas in a warm non-stick saucepan or the air fryer basket at 325°F (160°C).
Cook or air fry, flipping halfway until crispy and the cheese has melted again.
What Do You Put Inside A Quesadilla?
You can put many fillings inside a quesadilla, but the most common ones are shredded cheese, jalapeno slices, and red bell pepper.
What Kind Of Cheese Do Mexican Restaurants Use In Quesadillas?
Asadero and Oaxaca are the most common cheese varieties used in Mexican restaurants.
Have you tried this easy recipe? Share a comment or review below.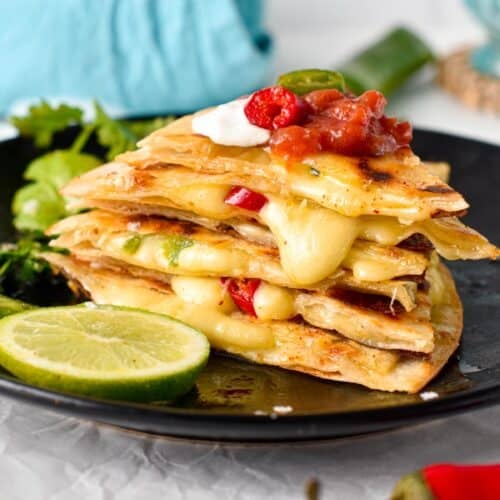 Cheese Quesadilla
This easy Cheese Quesadilla is a crispy flour tortilla filled with stringy melted cheese and pieces of jalapeno.
Yield:
quesadillas (triangles)
This recipe may contain Amazon or other affiliate links. As an Amazon Associate I earn from qualifying purchases.
Instructions
Place one flour tortilla on a plate and sprinkle the freshly grated cheese all over the tortilla – but not on the edges – leave about half inches without the cheese.

Sprinkle slices of fresh sliced jalapeno or any raw vegetable you like, like 1-2 tablespoons of green or red bell pepper and red onion slices.

Place another flour tortilla on top of the previous one.

Warm a non-stick skillet over medium-high heat with olive oil or spray cooking oil on the pan if preferred.

Rub the surface evenly with oil, then place the tortilla in the pan and cook for 2-3 minutes until the cheese is melted and the bottom tortillas start to crisp and turns golden brown.

Flip and cook an extra minute on the other sides until both tortillas have golden brown spots and are crispy.

Cut into 6 wedges or triangles with a pizza cutter and serve with your favorite toppings like sour cream, salsa, cilantro, or guacamole.
Storage
Store leftovers wrapped in a piece of foil in the fridge for up to 4 days. Rewarm in a warm skillet until the cheese melts.
Notes
Note 1: Use any tortilla you love, like corn tortillas if gluten-free or whole meal tortillas, for a healthier option. Note 2: Freshly grated cheese melts better. Try cheddar, Monterey Jack, Panela, Adobera, or Oaxaca cheese. Note 3: Jalapeno adds a spicy flavor. Swap it for red bell pepper or red onion, or skip it entirely. To add meat like shredded chicken, rewarm the meat before adding it to the quesadilla.
Want My Kitchen Equipment?
Yield:
quesadillas (triangles)
Serving:
1
triangle
Calories:
96.7
kcal
(5%)
Carbohydrates:
10
g
(3%)
Fiber:
2.4
g
(10%)
Net Carbs:
7.6
g
Protein:
3.7
g
(7%)
Fat:
4.9
g
(8%)
Saturated Fat:
2.3
g
(14%)
Polyunsaturated Fat:
0.5
g
Monounsaturated Fat:
1.4
g
Cholesterol:
9.4
mg
(3%)
Sodium:
137.4
mg
(6%)
Potassium:
205.8
mg
(6%)
Sugar:
3.5
g
(4%)
Vitamin A:
902.9
IU
(18%)
Vitamin B12:
0.1
µg
(2%)
Vitamin C:
89
mg
(108%)
Vitamin D:
0.1
µg
(1%)
Calcium:
90.2
mg
(9%)
Iron:
0.6
mg
(3%)
Magnesium:
16
mg
(4%)
Zinc:
0.5
mg
(3%)
Posted In: