These Keto Tortillas with chia seeds are the best low-carb tortillas, with only 3.6 grams of net carbs and 5 simple vegan ingredients!
Plus, they are also paleo-friendly and gluten-free!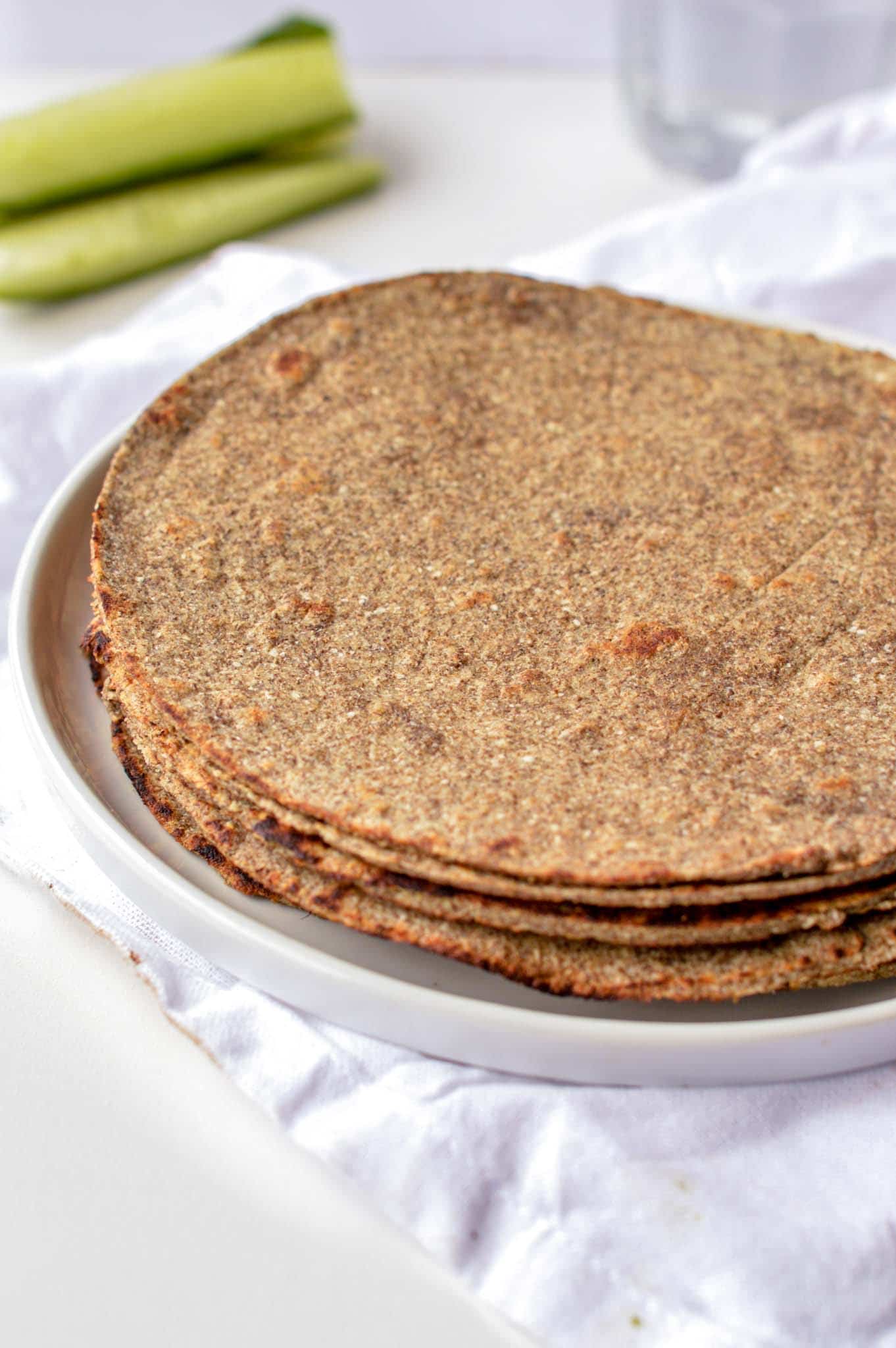 What Are Keto Tortillas?
Keto Tortillas are made with low-carb flours like flaxseed, coconut flour, almond flour, or chia seeds.
Low-carb, gluten-free tortillas typically contain a very low amount of net carbs, usually less than 5 grams per serving which is 10 times less than regular tortillas.
They are also a high source of fiber and protein.
How To Make Keto Tortillas
These tortillas are seriously easy to make. 3 ingredients and 15 minutes are all it takes.
Let me take you through my tips for picking the ingredients and my chef's advice for making them.
Ingredients
You don't need more than 3 ingredients (plus water and salt) to create these beautiful keto tortillas. They taste like real whole-wheat tortillas using only low-carb keto ingredients!
Ground Chia Seeds – you can ground your own chia seed or buy chia seed flour from the store. If you ground your chia seeds, make sure you ground them finely at high speed in a blender. Always fully cover the blender knife with seeds to ensure an easy blend.
Almond Flour – I love to use blanched almond flour rather than almond meal. It makes the tortillas softer and less dry. However, both should work. Learn how to pick the best keto flour.
Coconut Flour – fresh with no lumps.
Water – you must use lukewarm water to quickly activate ground chia seed. Think bath temperature.
Salt
Instructions
It's very easy to make your own keto tortillas.
First, you need to prepare all your ingredients precisely.
I recommend working in grams or oz rather than cups for full precision. Measuring in cups leads to inaccuracy because the volume you get depends on the density of your flour.
Low-carb flours are loaded with fiber. It means they are highly water-absorbent. If you add a little bit too much, the dough ends up dry.
On the other hand, if you miss some flour, the dough is sticky and wet.
Making The Chia Seed Flour
To make this recipe, you need to turn your chia seed into flour.
Doing this is ridiculously easy.
Place your chia seed (black or white, it doesn't matter) in a high-speed blender.
You have to make sure the blade of the blender is covered in seeds. Otherwise, it won't blend well enough, so you might have to make a larger batch than you need for this recipe.
Blend the chia seeds on the high-speed setting for one minute initially. You might have to use a spatula to scrape the walls of the jug, as seeds might bounce around.
Making The Dough
Combine the chia seed flour, almond flour, coconut flour, and salt in a mixing bowl until they are well blended and all lumps are broken down.
Pour lukewarm water on top of the chia seeds and knead the dough with your hands.
It takes time for the fiber in the coconut flour and chia seed flour to absorb all the water, so it is wet at first.
Combine it into a large, consistent dough ball when it starts to dry out.
Rolling The Dough
Next, always roll the dough between 2 pieces of parchment paper, preferably oiled!
This ensures that the dough won't stick to the rolling pin or the paper.
Finally, cut out in a round shape for a lovely tortilla.
Cooking The Tortillas
Peel off the top parchment paper piece and place one of the tortillas in a pan.
Crepe and Pancake Pans are ideal for cooking tortillas as they are shallow. It makes it easier to flip flatbread and crepes.
Once the tortilla is in the pan, remove the other parchment paper piece and cook the keto tortilla over medium heat for 1 to 2 minutes until it dries out on the edges.
Slide a flat spatula under the tortilla to flip it. Then, cook it for another minute on that side.
For a perfect finish on the tortillas, place them for 5 seconds on a naked flame!
Serving The Tortillas
In summer, they are good cold with any cold meat, raw vegetables, and sauce.
My favorite combo is mayonnaise, cold turkey, lettuce, and avocado.
Otherwise, they are amazing as a quesadilla filled with chicken fajita and cheese or as a Cheese Quesadilla or Steak Quesadilla. I recommend bringing them to a sandwich press when filled with cheese.
The melted cheese and crispy tortilla are a divine combo!
Storage Instructions
You can keep these keto tortillas for up to 4 days in the fridge, wrapped under plastic wrap.
You can also freeze them in individual zip-lock bags. Defrost them for one hour at room temperature and reheat them in a frying pan for a minute.
Frequently Asked Questions
I've listed below the answers to the most common questions about this recipe.
Can I Use Black Chia Seed?
You can use any chia seed color to make the chia seed flour.
Can I Substitute The Almond Flour?
If you are allergic to almonds, you can use Sesame Seed Flour or Sunflower Seed Flour in the same amount.
Can I Use Just Coconut Flour?
No, you can't replace almond flour with coconut flour. They have vastly different water absorption rates. This would lead to very dry and gritty tortillas.
Can I Make Tortilla Chips With This Recipe?
Yes, you can! Make sure to roll the dough as thin as possible to make very small chips. Cut the cooked tortillas into slices and put them in the oven for a few minutes to crisp.
Can I Skip The Coconut Flour?
No, you have to use some coconut flour in the recipe, or the batter will be too wet.
Can I Skip The Salt?
Absolutely! Salt is not a necessary ingredient in the recipe. It's only there for taste.
More Tortilla Recipes
Below is a list of the best tortillas to try. They are all delicious bases to wrap raw food or hot Mexican fajita fillings.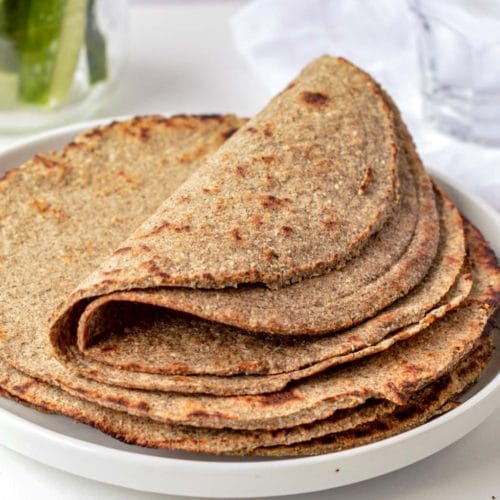 Keto Tortillas
This Keto Tortillas recipe with Chia Seeds is an easy 3-ingredient low-carb tortillas recipe with 3.8 grams of net carbs per tortilla.
This recipe may contain Amazon or other affiliate links. As an Amazon Associate I earn from qualifying purchases.
Instructions
Making the Chia Seed Flour
Place chia seeds into a blender. Make sure it fully covers the blade of the blender to create a very fine flour.

Blend on high speed for 1 minute or until a thin chia seed ground form.

Measure the amount needed for this recipe. I highly recommend using grams/oz for precision. Store the leftover in a glass mason jar or airtight container in the pantry for up to 1 month.
Tortilla Dough Recipe
In a small mixing bowl, add the ground chia seeds, almond flour, coconut flour, salt, and garlic powder.

Whisk the flours vigorously. It should take 30 seconds. You want all the flour to be blend evenly. Avoid lumps or press them with fingers if some exist. You should have a consistent blend of flour for a perfect absorption of the water in the next step.

Pour the lukewarm water onto the chia seed ground and knead with your hand.

The dough will be very wet at first. Squish the dough with your fingers and knead energetically. It will dry out as you go and form a dough ball after only 1-2 minutes. The dough should not be sticky. If so, this means your chia flour wasn't, or you didn't measure with precision some of the flour. A way to fix that is to sprinkle extra coconut flour onto the ball (1 teaspoon at a time, don't overdo it!). This will make the dough less sticky and easier to roll.

Transfer the tortilla dough onto your benchtop and cut the dough into 8 even pieces

Prepare two 10×10-inch pieces of parchment paper. Slightly rub or spray some oil on both pieces, only one side, the one that will be in contact with the dough to prevent the dough from sticking to the paper.

Place one of the dough balls onto a piece of oiled parchment paper. Place another piece of parchment paper on top. Press the ball with your hand palm to flatten and stick it to the top parchment paper piece.

Roll with a rolling pin until flat but not too thin, or it won't get soft when cooked. You aim for a 2-3 mm thickness. Peel off the top piece of parchment paper. It should not stick if you oiled the paper as recommended.

Use a round shape – like a saucepan lid to shape round tortillas. This is optional. You can also cut out the rectangle. Place the lid on top of the dough and cut around the edges to make a circle. Remove the outside dough, form a ball and reuse later for another wrap if you like. Remove lid.

Warm a crepe pan, pancake griddle, or non-stick frying pan under high heat for 1 minute. If you are not using a non-stick pan, spray some oil before adding the wrap into the pan.

Flip over the rolled tortilla onto the hot pan and peel off the last piece of parchment paper.

Reduce to medium heat and cook for 1-2 minutes or until the border gets dry, the center will stay soft.

Slide a spatula under the tortilla to flip over. Cook for about 1 extra minute on the other side. Don't overcook, or the wrap will get very crispy, and they won't roll without breaking. The tortilla must be dry but stay soft to roll your food inside.

Place the cooked tortilla on a plate and repeat those rolling/shaping steps with the rest of the batter until you form eight 6-inch tortillas. I recommend reusing the same piece of parchment paper every time to save money.

Fill your tortillas with either cold or hot food. They are good with Fajita filling or any cold meat, crunchy vegetables, and salad.

If you add cheese to the tortilla, bring it back to a sandwich press to melt the cheese and add some extra crispy texture to the tortilla.
Storage
You can store the tortillas in the fridge for up to 4 days. Place them on a plate wrapped with plastic film wrap to prevent them from drying.

Freeze in an airtight bag. Defrost 1 hour before. Rewarm in a frying pan or sandwich press.
Notes
Carbs
On a keto diet, you don't count fiber! They are assimilated by your body and therefore you count net carbs, total carbs takeaway fiber. The amount of net carbs per tortilla is 3.6 grams.
Seeds
Follow my flaxseed wrap recipe if you don't have chia seeds.
Want My Kitchen Equipment?
Serving:
1
tortilla
Calories:
172.7
kcal
(9%)
Carbohydrates:
11.9
g
(4%)
Fiber:
8.3
g
(35%)
Net Carbs:
3.6
g
Protein:
6.1
g
(12%)
Fat:
12.4
g
(19%)
Saturated Fat:
1.6
g
(10%)
Polyunsaturated Fat:
3.8
g
Monounsaturated Fat:
0.4
g
Trans Fat:
0.1
g
Sodium:
155.9
mg
(7%)
Potassium:
66
mg
(2%)
Sugar:
0.8
g
(1%)
Vitamin A:
8.6
IU
Vitamin C:
0.3
mg
Calcium:
130.1
mg
(13%)
Iron:
1.9
mg
(11%)
Magnesium:
53.5
mg
(13%)
Zinc:
0.7
mg
(5%)
Posted In: