This Steak Quesadilla is a delicious cheesy beef quesadillas recipe filled with juicy grilled taco-marinated beef strips and stir fry fajita vegetables.
It's the easiest Mexican dinner recipe for steak lovers, with gluten-free and keto-friendly options.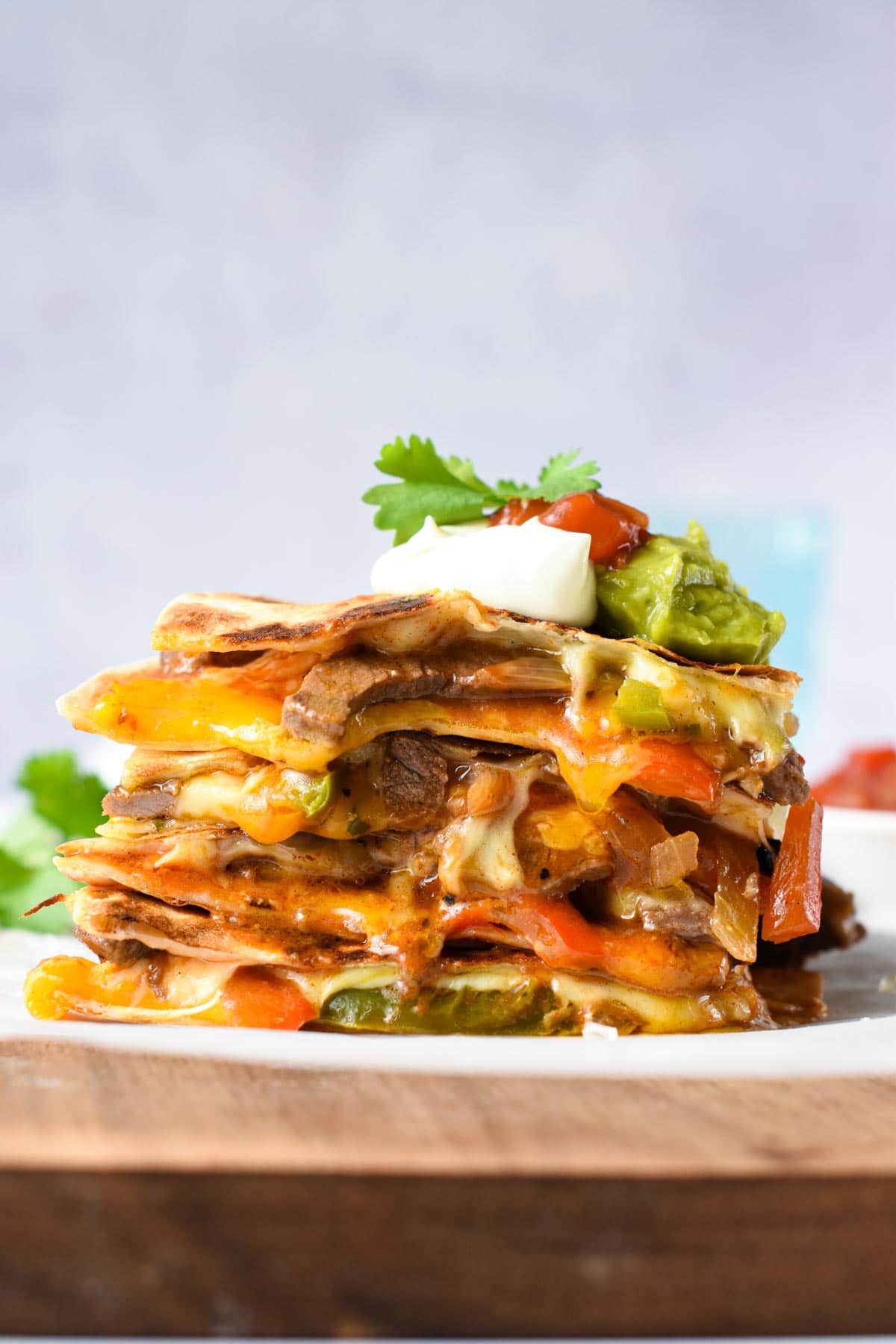 What Is A Steak Quesadilla?
A steak quesadilla is the intersection of classic Mexican cuisine with the all-American Philly Cheesesteak sandwich.
Quesadillas are a traditional street food dish made with two corn tortillas filled with various cheese and spices.
Try my Cheese Quesadilla recipe to eat the classic version.
This steak quesadilla is similar to the classic quesadilla recipe but it takes it a notch further with steak strips and a healthier twist.
Why You'll Love This Recipe
This Steak Quesadilla is a perfect quick lunch recipe:
Ready in Under 30 minutes
Healthy
Rich In Iron, Zinc, Vitamin C, Vitamin B12, and Vitamin A
Gluten-Free
Egg-Free
Low-Carb
Keto-Friendly (4.8 grams of net carbs)
How To Make This Steak Quesadilla Recipe
This steak and cheese quesadilla recipe is quite easy to make. It only takes a few basic ingredients and about 15 minutes of preparation.
Ingredients
Skirt Steak – Skirt is the best piece of meat for this recipe, but you can also use flank, eye fillet, or sirloin. You can also use this recipe to reuse any uncooked leftover steak in your fridge. Cut the meat into 1-inch strips.
Homemade Taco Seasoning – Make my taco seasoning recipe, Carne Asada Seasoning, or Carne Asada Seasoning, or my Low Sodium Taco Seasoning, or buy a pre-made mix.
Cilantro – use fresh cilantro and chop it finely. If you don't like the taste of cilantro, you can use another fresh herb like parsley.
Olive Oil – prefer extra-virgin olive oil.
Garlic Clove – chopped finely or crushed.
Onion – yellow or red onion, both are fine in this recipe. Cut it into thin slices.
Red Bell Pepper – or any other color. Slice it into thin strips.
Green Bell Pepper
Tortillas – you can either buy ready-made flour tortillas or make one of my recipes. I recommend my low-carb corn tortilla or coconut flour flatbread for a keto-friendly option.
Cheddar Cheese – or Queso Fresco, Queso Anejo, Queso Panela, or Monterey Jack cheese.
Sour Cream – sour cream is a low-carb cream.
Cooking The Steak
Start the recipe by preparing the marinade for the steak quesadilla.
Mix all the marinade ingredients in a shallow mixing bowl. Place the skirt or flank steak strips into the marinade and massage the meat with a spatula.
Set the marinade aside for 10 minutes at room temperature to let the meat absorb all the flavors.
Warm some olive oil in a frying pan over medium heat and cook the garlic for 10 to 20 seconds.
Add the onion and cook it for 1 minute until it turns golden brown.
Transfer the beef strips without the marinade to the frying pan and cook it for about 2 minutes over medium-low heat until the meat is just brown on the outside.
Don't overcook or it will be too chewy. Learn more about cooking steaks to perfection.
Add the sliced bell pepper, cook for about one to two minutes and take the skillet away from the heat and add a touch of salt and a splash of lime juice.
Cooking The Steak Quesadilla
In another non-stick flat-bottom pan add one tortilla. Cover it with Monterey Jack shredded cheese and add half of the stir-fried beef.
Cover the cooked steak with slices of mature cheddar cheese or queso Anejo and place another tortilla on the top over medium-high heat.
Cook the steak quesadilla for two minutes until the bottom flatbread becomes crispy and the cheese has started to melt.
Place a plate or chopping board on top of the pan to flip the quesadilla before sliding it back into the crepe pan and cooking it again with the other side down.
Keep cooking the steak quesadilla until the cheese is melted and the tortillas are crispy.
Repeat for another steak quesadilla.
Flavor Variations
You can turn this simple recipe into many different flavors by changing a few ingredients.
Chicken Quesadilla: Replace the sirloin steak with chicken strips.
Black Bean Quesadilla: Replace the meat with black beans cooked in tomato paste and spices such as ground cumin, onion powder, and garlic powder. Add some veggies on top.
Cheese Quesadilla: Use my Cheese Quesadilla recipe or replace the steak mixture with more cheese such as Monterey Jack, Mexiacan blend, or shredded mozzarella.
Serving Steak And Cheese Quesadilla
Slice the quesadillas into four quarters or six triangles to make them easier to hold. Half of a tortilla should be fulfilling enough for one person.
To serve the best steak quesadillas, add some cream cheese, homemade guacamole, homemade salsa, taco dip, or pico de gallo, a couple of slices of baby tomatoes, and a sprinkle of cilantro on top.
Storage Instructions
Leftover steak quesadilla slices can be stored in the fridge for a couple of days. Reheat them in the same pan for about two minutes.
You can also store the cooked meat in an airtight container and assemble more quesadillas later.
Frequently Asked Questions
How Many Carbs Are In This Steak Quesadilla Recipe?
This recipe contains 4.8 grams of net carbs per serving when using my low-carb corn tortillas.
Can I Make My Steak Quesadilla Spicier?
Yes, you can add some jalapeno pepper to the marinade or a fresh jalapeño pepper to the frying pan and some dashes of hot sauce on top of the quesadilla triangles.
What kind of steak do you use for steak quesadillas?
I prefer to use a flank or skirt, but most cuts of beef will do. In fact, it's a recipe that you can make to use your steak leftovers.
What cheese is best on steak quesadillas?
Cheddar is fine in steak quesadillas, but the best option is to use Mexican cheeses such as Queso Anejo, Queso Fresco, and Queso Panela.
More Dinner Recipes
If you like simple, healthy recipes, you'll also love: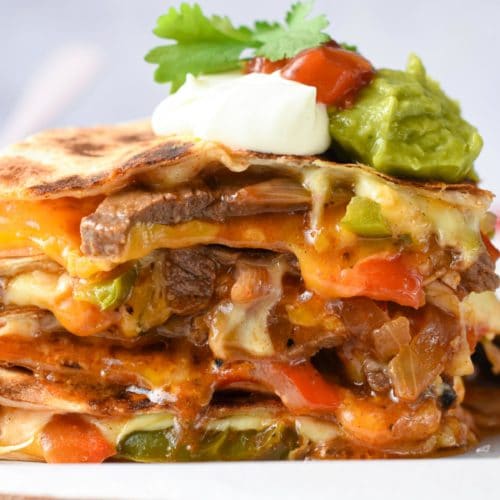 Steak Quesadilla
This Steak Quesadilla is a delicious cheesy beef quesadilla recipe filled with juicy grilled taco-marinated beef strips and stir-fried fajita vegetables for a Mexican Philly Steak Sandwich meal.
Yield:
servings (½ quesadilla per serving)
Serving Size:
1
half quesadilla
Nutrition Snapshot
Want My Kitchen Equipment?
Ingredients
Instructions
In a shallow bowl, mix the marinade ingredients, place the steak in the bowl, and massage with the marinade. Set aside 10 minutes.

Warm some olive oil in a stir fry pan, and cook the garlic for 10 seconds.

Add the onion and keep cooking for 1 minute.

Add the beef strips, stir, and cook for 2 minutes until the meat is just brown on the outside but still uncooked in the middle.

Add pepper slices and keep cooking for 1-2 minutes.

In another non-stick pan, with no oil, add one quesadilla, cover the tortillas with grated Monterey Jack cheese, then add half the meat stir fry, 2 slices of cheddar cheese, and the remaining tortilla on top.

Cook for 2 minutes or until the bottom tortilla is crispy and the cheese starts to melt.

Place a plate on top of the quesadillas and flip the pan over the plate to flip the quesadilla.

Slide back the quesadilla on the pan with the uncooked side down and keep cooking until the cheese is fully melted and the tortillas are crispy.

Transfer to a chopping board and cut into triangle shapes.

Repeat the step above to make the second quesadilla.

Serve with sour cream, cilantro, salsa, and guacamole.
My Recipe Notes
Nutrition
Serving Size:
1
half quesadilla
Yield:
servings (½ quesadilla per serving)
Serving:
1
half quesadilla
Calories:
344.5
kcal
(17%)
Carbohydrates:
6.8
g
(2%)
Fiber:
2
g
(8%)
Net Carbs:
4.8
g
Protein:
29.7
g
(59%)
Fat:
22.8
g
(35%)
Saturated Fat:
8.1
g
(51%)
Polyunsaturated Fat:
1.6
g
Monounsaturated Fat:
10.3
g
Trans Fat:
0.4
g
Cholesterol:
92
mg
(31%)
Sodium:
198.4
mg
(9%)
Potassium:
496.3
mg
(14%)
Sugar:
2.6
g
(3%)
Vitamin A:
1613.7
IU
(32%)
Vitamin B12:
2.6
µg
(43%)
Vitamin C:
33.6
mg
(41%)
Vitamin D:
0.2
µg
(1%)
Calcium:
150.3
mg
(15%)
Iron:
2.7
mg
(15%)
Magnesium:
39.7
mg
(10%)
Zinc:
8.1
mg
(54%)
Posted In: