This Keto Jambalaya recipe is an easy one-pan Spanish, French-inspired dinner combining boneless chicken breast pieces, sausage, and shrimps cooked in a rich Cajun Spices tomato sauce.
The best keto Jambalaya recipe to feed the whole family on cold days.
What Is Jambalaya?
A traditional Jambalaya recipe is a popular New Orleans dish also inspired by French, and Spanish culture like Paella.
It's a large dinner, made in one big pan that can feed a crowd. It's very fragrant and full of taste and spices.
The traditional Jambalaya recipe is not keto-friendly because the meat and seafood are cooked with rice, a high-carb grain not suitable for a keto diet.
Why You'll Love The Recipe
This low-carb jambalaya is surprisingly easy to make. They are a few ingredients to gather but the steps to make it are straightforward.
One Pan Recipe
Gluten-Free
Low In Carbs
Feeds 8
Dairy-Free
Egg-Free
How To Make Keto Jambalaya
This Keto Cauliflower Jambalaya recipe is a tasty, healthy Jambalaya alternative recipe to decrease carbs and enjoy a comforting one-pan keto dinner.
This keto-friendly Jambalaya recipe is the easiest keto dinner to make in one pot in less than 30 minutes.
It contains quite a few ingredients, but don't worry about that, it still is the easiest recipe ever!
Ingredients
All you need to make this keto chicken and sausage Jambalaya are:
Olive Oil – pick an extra-virgin olive oil for the best taste.
Red Bell Pepper
Green Red Pepper – the combination of red and green bell pepper brings beautiful colors to the Jambalaya, but they also have slightly different tastes.
Jalapeno – adjust to how spicy you love your dish.
Celery
Garlic
Boneless Chicken Breast – chopped into pieces.
Shrimp – fresh or frozen, I used frozen shrimp.
Sausage – the New Orleans-style Jambalaya generally features Andouille sausage but as a French person, I suggest trying chorizo sausage. This Spanish-inspired option boosts the spicy flavor of the dish.
Diced Tomatoes – I like to use canned tomatoes, it's both easier and faster. Make sure the can doesn't contain added sugar.
Dried Spices – basil, oregano, salt.
Cajun Seasoning– read below how to make your own.
Chicken Broth – You can use vegetable broth if you don't have chicken broth.
Cauliflower Rice – this replaces the classic rice used in the traditional Jambalaya recipe and it keeps the dish to be on the low-carb side.
Step 1: Cooking The Vegetables
First, heat olive oil over medium-high heat and cook the onion.
Then, add the rest of the vegetables: diced celery, green bell pepper, red bell pepper, jalapeno, and garlic, and cook until tender.
Step 2: Cooking The Meat
Now, add the chicken and chorizo pieces (or andouille sausage) and cook until the meat is not pink.
Then, add the cauliflower rice, chicken broth, diced canned tomatoes, and all the dried spices.
Cover and let it simmer for a few minutes.
Step 3: Cooking The Shrimps
Meanwhile, cook the shrimp in a pan or on the barbecue until pink.
Add the cooked shrimp to the pot, stir and serve!
Overall this chicken and shrimp Low-Carb Jambalaya recipe takes just about 30 minutes to make.
Cajun Seasoning
This is a low-carb Cajun Jambalaya recipe which means that the main spices used in this recipe are Cajun Spices.
If you can't find keto-friendly store-bought Cajun spices – sometimes they contain added starch or sugar – let me show you how easy you can prepare a batch of keto Cajun spices at home.
In a glass mason jar, combine all the dry ingredients below.
You can store your homemade Cajun Spices in the pantry for up to 6 months, in a sealed jar, and use it as a Cajun spices mix for any recipe.
Cajun Spices ingredients
1 tablespoon black pepper
1 tablespoon white pepper
2 tablespoons garlic powder
1 tablespoon onion powder
1 tablespoon dried oregano
2 tablespoons salt
1 tablespoon cayenne
1/2 tablespoon dried thyme
3 tablespoons paprika
1/2 tablespoon fennel seeds
Frequently Asked Questions
Which Pan Or Pot Should Use?
This Jambalaya recipe is a large one-pot recipe. Therefore, you must use a large pot or pan to cook all the ingredients together.
The best option is to use a Dutch oven pot as you see in the picture above.
Otherwise, a large non-stick pan with high borders can work too. The last option is to use a crockpot.
Serving
The recipe already contains all that you need for a fulfilling keto dinner.
It is delicious topped with chopped parsley and a drizzle of hot sauce for spicy lovers.
If you don't mind some extra carbs you can serve this Jambalaya with cauliflower rice on the side.
The recipe already contains a small amount of cauliflower rice to keep the recipe keto-friendly.
For a slightly higher carb version – still a low-carb version! – serve with 1/2 cup fried cauliflower rice.
Simply fry some extra cauliflower rice in olive oil with garlic, and salt, and serve on the side.
Storage Instructions
You can make this recipe the day before and store it in the fridge.
I recommend storing the recipe in the pot you used to cook the recipe – I am using a Dutch oven pot for this recipe.
Cool completely in the pot then place the lid on top of the pot and store in the fridge.
Rewarm the next day over the stove, bring the pot over medium-high heat and rewarm until bubbles form on side of the pan.
More Easy Keto Dinner Recipes
I love easy keto dinners that whole the family can enjoy in less than 30 minutes.
Below are some other delicious keto comforting dinner recipes for you to try.
If you have made this keto Jambalaya recipe make sure you leave me a comment or review below! You can also join me on Instagram to share a picture of your creation!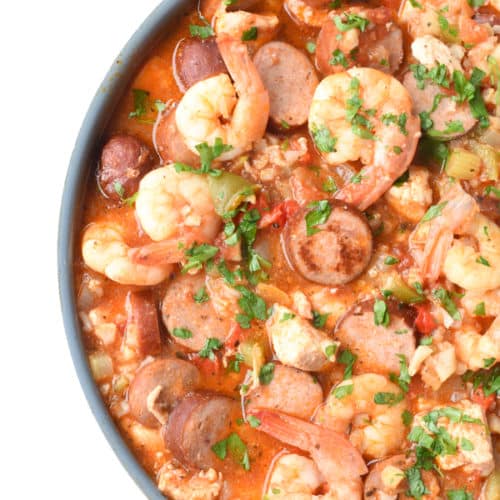 Keto Jambalaya recipe
This keto Jambalaya recipe is an easy one-pan Spanish, French-Inspired dinner combining boneless chicken breast pieces, sausage, and shrimps cooked in a rich Cajun Spices tomato sauce.
Yield:
servings (1 cup each)
Nutrition Snapshot
Want My Kitchen Equipment?
Instructions
Heat olive over medium heat in a large pan.

Cook onions, peppers, garlic, and celery until softened and fragrant, about 4-5 minutes.

Stir in diced chicken and sausage. Cook stirring constantly until chicken is cooked, not pink.

Add canned diced tomatoes, basil, oregano, and Cajun seasoning and hot sauce if you like your dish very spicy

Cover, cook, and simmer for 3 minutes.

Stir in cauliflower rice, chicken stock, bring a light boil then reduce to low heat, and simmer for 15-20 minutes. stirring often

In another non-stick pan, warm olive oil over medium heat, add shrimp and sauté on each side until cooked. Season with salt, pepper, and Cajun seasoning.

Stir the cooked shrimps into the Jambalaya pan.

Serve hot with chopped parsley and extra hot sauce if you like it spicy!
My Recipe Notes
Nutrition
Yield:
servings (1 cup each)
Serving:
1
serving
Calories:
254.3
kcal
(13%)
Carbohydrates:
7.3
g
(2%)
Fiber:
2.3
g
(10%)
Net Carbs:
5
g
Protein:
25
g
(50%)
Fat:
13.8
g
(21%)
Saturated Fat:
3.5
g
(22%)
Cholesterol:
131.5
mg
(44%)
Sodium:
908.6
mg
(40%)
Potassium:
616.5
mg
(18%)
Sugar:
3.2
g
(4%)
Vitamin A:
847.9
IU
(17%)
Vitamin C:
45.5
mg
(55%)
Calcium:
89
mg
(9%)
Iron:
2.3
mg
(13%)
Posted In: