This Zucchini Pizza Casserole with ground beef is an easy pizza bake ready in 30 minutes for a quick dinner or breakfast.
If you crave pizza but don't want the carbs from the crust, this low-carb pizza casserole with zucchinis is the best option!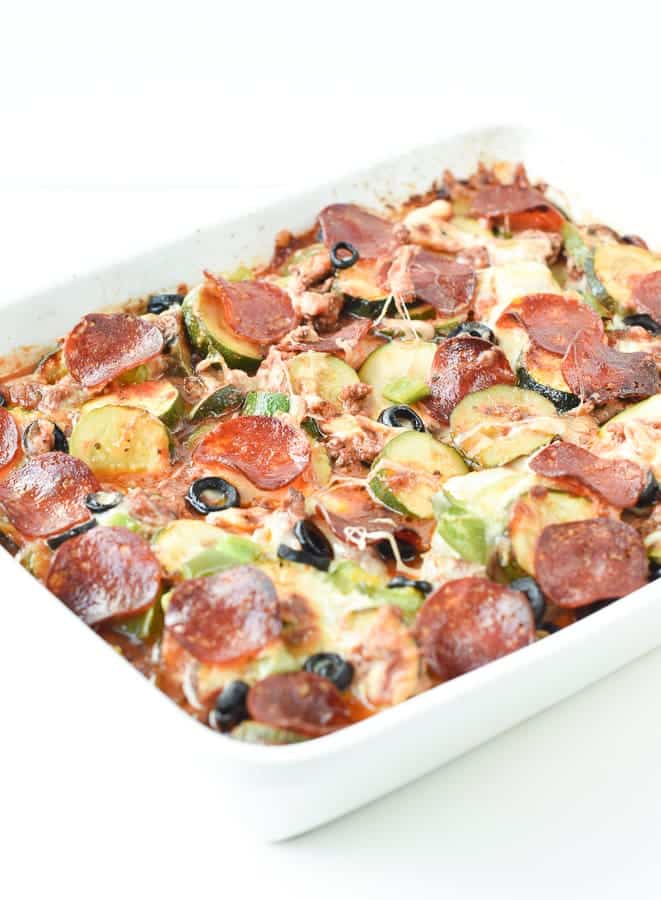 What Is A Zucchini Pizza Casserole?
A zucchini pizza casserole is a large dish baked in the oven that has all the ingredients of a classic pizza without the crust.
It contains a layer of delicious zucchini, pepperoni, tomato base, and a lot of cheese.
Zucchini is a great keto-friendly vegetable to make healthy casserole recipes or zucchini noodles with just a few carbs. It adds texture to the dish, nutrients, and vitamins.
Why You'll Love This Recipe
We all love a good pizza, but it doesn't mean you have to bake a pizza crust. Don't get me wrong, I love my pizza crust recipe, but some days you want a quick healthy dinner and don't feel like baking.
So, this zucchini pizza casserole has all the flavors of your favorite pizza, cheesy, fatty, loaded with meat and pepperoni with a healthy twist! It is:
Keto-Friendly
Gluten-Free
Made in 30 Minutes
Grain-Free
Nut-Free
Meal-Prep Ready
How To Make Zucchini Pizza Casserole
A zucchini pizza casserole is an easy-baked casserole made of sliced zucchini as a base ingredient married with tomato passata and your favorite pizza toppings.
Ingredients
You need the following ingredient:
Zucchini – zucchinis are a low-carb, keto-friendly vegetable. It's super versatile as it can be used to make anything from a No-Noodle Lasagna, an Apple Crisp, or a Keto Zucchini Cookies.
Ground Beef or Italian Sausage. Pick your favorite pizza meat.
Onion – yellow or red onions work, but yellow brings the best taste.
Extra Virgin Olive Oil
Garlic Powder
Italian Seasoning or Italian herbs. Make sure it doesn't bring added sugar.
Tomato Pizza Base – make my Pizza Sauce or find unsweetened tomato passata.
Shredded Mozzarella or a combo of Parmesan cheese and mozzarella cheese.
Pepperoni Slices
Black Olives
Green Bell Pepper – or red bell pepper.
Salt and Pepper
It is so easy to make a zucchini casserole as long as you follow the simple steps below.
Step 1: Kitchen Equipment
Before starting this low-carb casserole recipe, it is important that you collect the right equipment.
It may sound obvious, but the success of a casserole is very much linked to the size of your baking dish and to the preparation of the ingredients.
So, to make this zucchini pizza casserole, you need:
A large saucepan or cast iron pan, or a slow cooker with a 6-liter volume (24 cups) is the best. It must be large enough to stir fry 2 pounds of zucchini slices and 12 oz ground beef.
A large baking dish, glass or ceramic, the best size is 13 inches x 9 inches (33 cm x 22 cm).
Step 2: Preparing The Zucchinis
Option 1: Zucchini slices
First, make sure you wash and trim the ends of the zucchinis.
You can peel the zucchini, but unpeeled zucchinis add fibers and nutrients, so I recommend leaving the skin on.
Next, you want your zucchini pizza casserole to cook evenly, so you must cut the slices with precision.
The best is to cut the zucchini into regular 0.1-inch (5mm) thick slices.
In fact, cutting the zucchini too thin will result in a mushy casserole. On the other hand, cutting the slices too thick will take ages to bake or result in a crunchy uncooked zucchini casserole.
Option 2: Shredded zucchini
Some people prefer shredded zucchini in their pizza casserole.
In fact, grated zucchini cooks faster, and if you are not a big fan of zucchini, this will hide this keto-friendly vegetable really well in the casserole.
I chose the first option for this dish. However, I love using grated zucchini to make a zucchini crust.
Step 3: Precooking Ingredients
It is a quick 10-minute step where you cook the beef with the zucchinis and the pizza sauce.
The healthy pizza sauce is made of tomato sauce, homemade Italian seasoning, and garlic powder to avoid added sugar or carbs.
This pre-cooking step is crucial to remove the moisture from the zucchini, cook the beef, and blend the Italian seasoning flavors.
Note that you can swap the lean ground beef for Italian sausage or ground turkey.
However, Italian sausage is often seasoned with Italian seasoning, so you may want to decrease the spices in the recipe to avoid overpowering flavors.
Step 4: Layering The Dish
The last step of this recipe for pizza casserole is easy.
All you are left to do is alternate layers of the cooked zucchini mixture with grated cheese and repeat until the baking dish is full, keeping some mozzarella cheese for the top.
Step 5: Adding Pizza Toppings
That is the best part of any pizza casserole, the toppings. First, add the remaining cheese or grated mozzarella to cover the top of the casserole.
Next, add the flat ingredients. It can be pepperoni slices, mushroom slices, olive slices, or ham. Finally, add the extra toppings you love, like diced green peppers.
Step 6: Baking Until Bubbly
The secret of a perfectly baked zucchini casserole is the fork-tender zucchini and melted-broiled cheese on top.
Depending on the size of the baking dish you are using, the baking time of the casserole will change.
For example, this healthy pizza bake casserole was baked in a 13-inch x 9-inch (33 cm x 22 cm) pan and was ready after 25 minutes in a hot oven at 400°F (200°C) on a regular mode.
However, if your baking dish is larger, you will end up with fewer layers of zucchini, and your casserole will bake faster.
As a rule of thumb, your zucchini pizza casserole is cooked when the tomato passata forms bubbles on the side of the dish, cheese is melted on top, and the zucchinis pass the fork-tender-test.
If the zucchinis are too hard, keep baking but stop before they get too soft or mushy.
Serving Zucchini Pizza Casserole
This is a great breakfast pizza casserole to start the day. If you are looking for healthy breakfast recipes without eggs, then this casserole is a nice alternative.
Plus, it is loaded with all you need for your morning macros: fat, protein, and vitamins.
Another option is to serve your pizza casserole as a healthy dinner. All your family will enjoy this dish, even the non-keto eaters.
After all, a zucchini pizza casserole is a healthy casserole for all pizza lovers!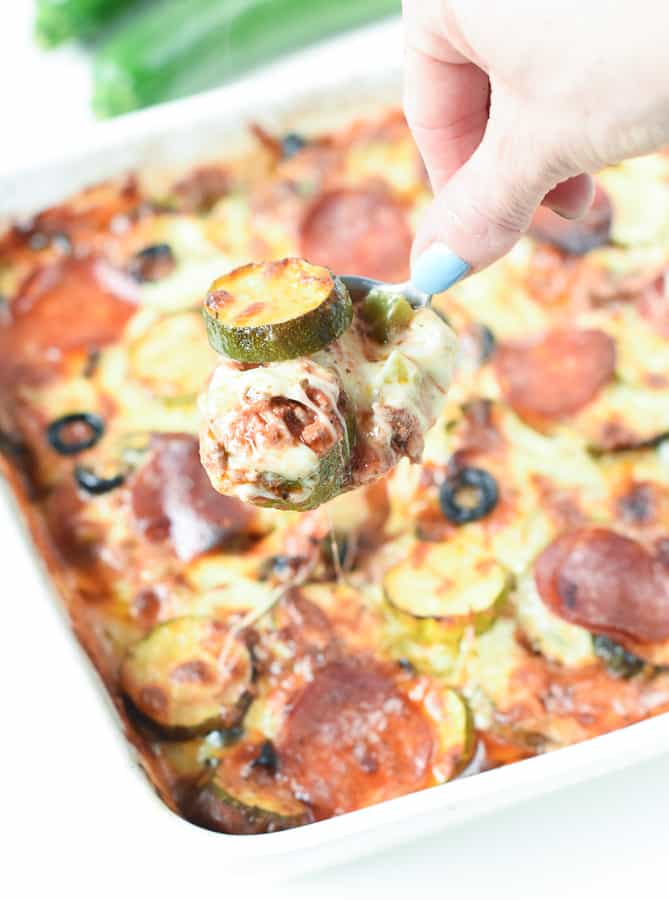 More Pizza Casserole Toppings
There are plenty of healthy pizza toppings you can add to your casserole. The most popular toppings are:
Pepperoni slices
Meat – add any extra meat like rotisserie chicken, sausage, etc.
Herbs – basil, oregano, marjoram, etc.
More veggies – like bell pepper – red pepper or green pepper, asparagus, olives, minced onion
More cheese – while mozzarella cheese is a classic for pizza there are other delicious cheeses you can use too. For example, I recommend Parmesan cheese or cheddar cheese as a top-layer cheese.
Mushrooms and Sundried Tomatoes
Storage Instruction
This zucchini pizza casserole is a dish perfect for your meal prep.
You can store the whole dish in the fridge for up to a week as long as it's wrapped in plastic wrapping or in an airtight container.
Make sure the casserole has fully cooled down before storing it in the fridge.
You can also freeze individual portions in the freezer.
Defrost them in the fridge the day before and rewarm them over medium heat or in the microwave.
Have you made this easy casserole recipe? Share a picture of your dish with me on Instagram. I love to connect with you and see your creations. See you there!
Zucchini Pizza Casserole
This delicious Zucchini Pizza Casserole with no crust, ground beef, and zucchini slices is a simple pizza bake that can feed the whole family in under 30 minutes.
Ingredients
1

tablespoon

Extra Virgin Olive Oil

¼

cup

Onion

minced

12

oz

Ground Beef

or Italian sausage

2

pounds

Zucchini

trimmed, unpeeled, sliced into 0.1-inch (5mm)

½

teaspoon

Garlic Powder

1

teaspoon

Italian Seasoning

or italian herbs no sugar added

1 ½

cup

Pizza Sauce

or tomato passata, no sugar added
To assemble the pizza casserole
2

cups

Shredded Mozzarella

or half parmesan cheese, mozzarella cheese

2

oz

Pepperoni Slices

⅓

cup

Black Olive

sliced

¼

cup

Green Bell Pepper

chopped
This recipe may contain Amazon or other affiliate links. As an Amazon Associate I earn from qualifying purchases.
Instructions
Preheat oven to 400°F (200°C). Grease a 13-inch (33 cm) x 9-inch (22cm) baking dish with oil spray or butter. Set aside.

Heat oil in a large skillet or slow cooker (choose a big enough pan that fits all the zucchinis and meat, about 6 liters/24 cups).

Add minced onion and cook until fragrant and translucent.

Add ground beef – crumbling the beef is the best to create small pieces of meat, garlic powder, and Italian seasoning. Cook beef for 2 minutes until cooked through.

Stir in zucchini slices (or grated zucchini) and pizza sauce. Cover the saucepan and simmer for 3-4 minutes until the sauce forms bubbles on the side of the pan.
Assembling the casserole
Remove from heat and transfer one layer of zucchini beef mixture into the prepared baking dish.

Add shredded mozzarella and continue layers until the pan is full.

Cover the top of the dish with remaining mozzarella cheese, add pepperoni slices, sliced olives, and green bell pepper. Be creative and add more variety of cheese or meat like ham, chicken, cheddar cheese.

Bake uncovered for

25 minutes

until cheese is melted.

Cool the baked casserole for

5 minutes

before serving and avoid burning yourself.

Divide the whole dish into 6 even portions and serve one portion per meal as a breakfast or dinner.
Storage
Make sure the casserole has fully cooled down before storing it in the fridge in an airtight container or freezing it in individual portions.

Defrost in the fridge the day before and rewarm in a sauce and under medium heat or in the microwave.
Want My Kitchen Equipment?
Serving:
1
serving
Calories:
267.9
kcal
(13%)
Carbohydrates:
9.5
g
(3%)
Fiber:
3
g
(13%)
Net Carbs:
6.5
g
Protein:
14.8
g
(30%)
Fat:
19.6
g
(30%)
Saturated Fat:
6.4
g
(40%)
Cholesterol:
50.2
mg
(17%)
Sodium:
654.8
mg
(28%)
Potassium:
797.4
mg
(23%)
Sugar:
6.9
g
(8%)
Vitamin A:
620.1
IU
(12%)
Vitamin C:
36.8
mg
(45%)
Calcium:
53.7
mg
(5%)
Iron:
2.6
mg
(14%)
Posted In: