Keto Chicken Bacon Ranch Casserole
This Keto Chicken Bacon Ranch Casserole with broccoli is the easiest comforting keto dinner for chicken lovers with only 2.8 grams of net carbs per serving!
Nobody can resist juicy diced chicken breast with bacon and broccoli baked in a cheesy ranch dressing sauce.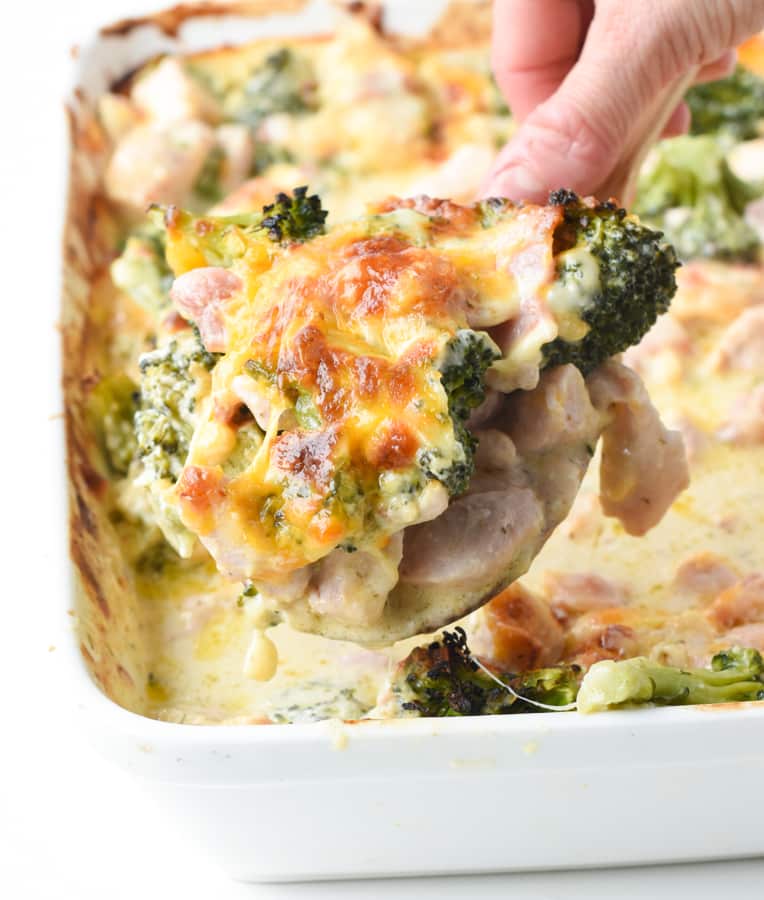 What's A Ranch Casserole?
The classic chicken bacon ranch casserole is a large dish made with Penne pasta as the main ingredient.
It's a rich dinner with a creamy and cheesy sauce that unfortunately isn't keto-friendly with its 70 grams of net carbs per serving.
So if you want your chicken bacon ranch casserole keto, you need my recipe!
Why You'll Love This Recipe
I love casserole recipes they are perfect to feed a crowd and this recipe is also:
Keto-friendly (2.8g net carbs)
Gluten-Free
Egg-Free
Diabetes-Friendly
Ready In 30 Minutes
Inexpensive
Makes 8 large portions
How To Make Keto Chicken Bacon Ranch Casserole
This easy keto chicken bacon ranch casserole recipe is made with only a few ingredients.
Let's see the few simple steps you need to follow to make the most delicious keto chicken casserole.
Casserole Ingredients
Before you start, gather all the ingredients needed in the recipe on your work surface. This is my favorite way to work to cook faster and make sure I don't miss any ingredients.
For this bacon ranch chicken keto casserole, you need:
Chicken breast: Diced in small pieces. You can also use cooked rotisserie chicken and shred the breast with a fork. It is a time-saving technique to make a quick keto casserole. If you like chicken and follow a keto diet, try my other keto chicken recipes.
Bacon pieces: I love to use streaky bacon strips and chop them into large bites. They release a good amount of fat and you can cook the diced chicken breast for extra flavor. Of course, you can also use crumbled bacon from the store if preferred.
Cheddar cheese: I am using two varieties of cheddar in this Cheddar Bacon Ranch Chicken Casserole. Red and white cheddar. They both have different flavors, and the combination is perfect for this dish.
Steamed broccoli: I recommend cooking the broccoli halfway until fork-tender, not too soft. This means 6 minutes of steaming or 4-5 minutes of boiling is enough to get the broccoli cooked for this casserole.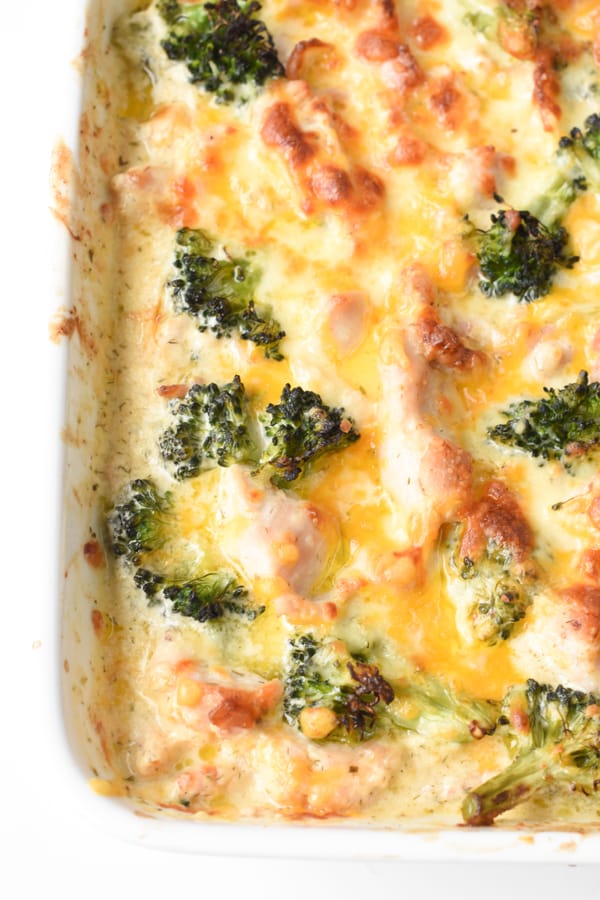 Ranch Dressing Ingredients
To recreate the flavor of a ranch dressing sauce, you need the ingredients below.
This will mimic your favorite ranch dressing, but it's a keto-friendly version with no sugar or additives, so even better for your health!
For the ranch dressing, you need the extra ingredients below:
Sour cream: A classic ranch dressing sauce uses a combination of sour cream and mayonnaise. That's the reason why I am not suggesting cream cheese in this chicken bacon ranch low-carb casserole.
Mayonnaise: Make sure you are using avocado oil mayonnaise. Vegetable oils are not keto-approved and won't be suitable for this recipe.
Unsweetened almond milk
Dried dill
Dried parsley
Onion powder
Garlic or garlic powder
Salt
Pepper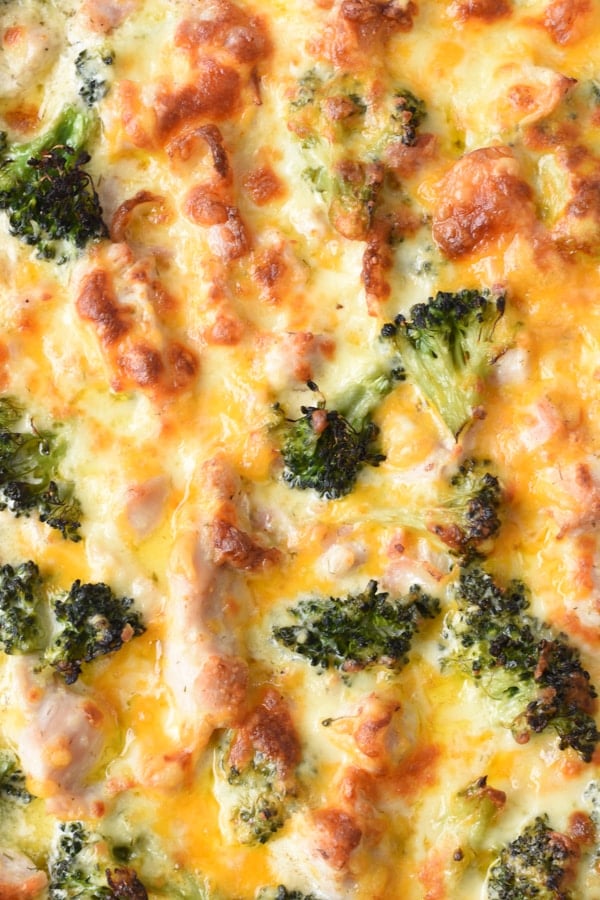 Cooking The Broccoli
I should probably call this a Keto Chicken Bacon Ranch Broccoli Casserole since it's using steamed broccoli.
First, remove the broccoli feet and cut them into small broccoli florets.
Then, place the small broccoli florets into a vegetable steamer or into boiling water.
Steam or boil the broccoli for 4-6 minutes maximum to keep them fork tender.
Since the broccoli will be baked in the casserole dish later, you don't want to overcook the broccoli or it will get mushy in the casserole.
Finally, drain and place the broccoli florets into the casserole dish in a single layer. Set aside for 10 minutes to give some time for the broccoli to steam out.
Meanwhile, preheat the oven to 400°F (200°C).
Cooking The Chicken And Bacon
Bring the pieces of bacon into a frying pan or skillet and cook for 3-4 minutes until they release some fat.
Next, stir in the diced chicken breast and fry into the bacon fat to give it flavor.
Keep cooking until the meat is not pink, about 5 minutes and then, add all the ranch dressing ingredients, including half or each cheddar cheese.
Stir until the sauce simmers and forms bubbles on the side of the pan.
Assembling The Keto Casserole
For this final step, pour the cheese and bacon sauce over the broccoli florets.
Stir to combine the florets evenly with the sauce. Add the remaining grated cheese on top of the baking dish and bake for 15 minutes or until the cheese is broiled.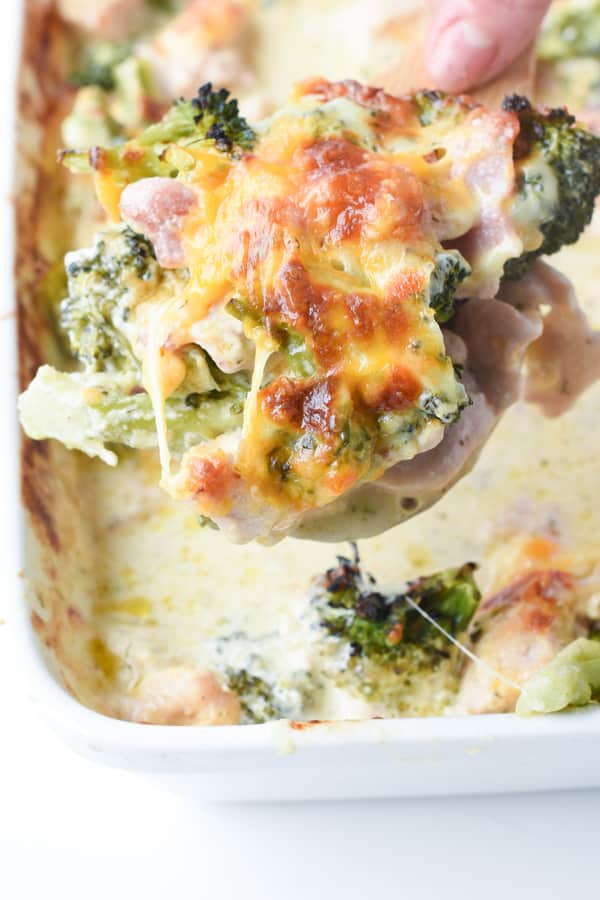 Storage Instructions
You can store this casserole in the fridge, directly in its casserole dish covered with plastic wrap. It stores for up to 4 days in the fridge.
You can also freeze this casserole recipe in single-serve portions, each stored in a sealed container. Always thaw the frozen meal in the fridge 24 hours before eating.
You can rewarm this recipe in the microwave or in a saucepan over medium heat until hot.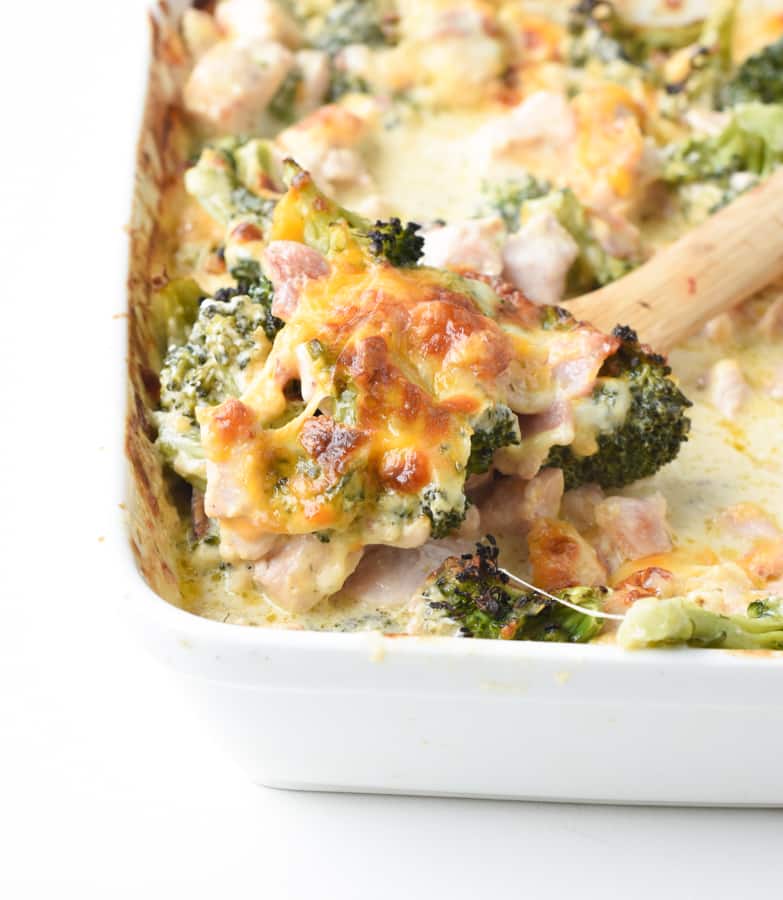 Frequently Asked Questions
Which Other Keto Vegetables Can I Use?
If you don't like broccoli, there are plenty of other keto vegetables you can use in this recipe, like cooked cauliflower, cooked spaghetti squash strands, or cooked green beans.
Check out my list of keto-friendly vegetables to choose the one that matches your taste.
Can I Make This Recipe Dairy-Free?
Yes, you can make this bacon chicken ranch casserole using dairy-free ingredients.
Simply replace sour cream with coconut cream and omit the cheese in the casserole.
To add a cheesy flavor, you can add a few tablespoons of nutritional yeast to the sauce.
Of course, nutritional yeast and coconut cream will raise the net carbs, but it will still be a very low-chicken bacon ranch casserole if you can't have dairy!
Can I Decrease The Fat In This Recipe?
On keto, we focus on eating fat for fuel to fit our keto macros- check my keto macro calculator if you need help to calculate yours.
So this means we don't worry much about the type of fat and usually saturated fat is not a concern.
This said, if you are looking for a low-saturated fat low carb casserole recipe, these are my tips:
Replace the bacon with chicken bacon! It is low-carb keto meat too with 20 times less saturated fat than pork.
Use low-fat cheese: low-fat cheese is still keto but contains up to 30% less saturated fat.
Use sour cream: as mentioned in the recipe – don't swap for cream cheese it contains more saturated fat.
Make sure you use avocado oil mayonnaise: this is the lowest saturated fat mayonnaise and the best keto option for you.
How Many Calories Are In Keto Chicken Bacon Ranch Casserole?
This keto bacon ranch chicken casserole serves 8 people. Each portion is about 1 cup of the entire dish and it's the perfect size needed for a fulfilling keto dinner.
One serving of this easy chicken bacon ranch casserole contains:
400 kcal
2.8 grams of net carbs
28 grams of fat – including 9.7 grams of saturated fat
32 grams of protein
Is Chicken Bacon Ranch Casserole Keto?
The classic chicken bacon ranch casserole recipe is far from keto as it's made with pasta.
It typically contains more than 70 grams of carbs per serving.
But my recipe is very much keto-friendly with only 2.8 grams of net carbs!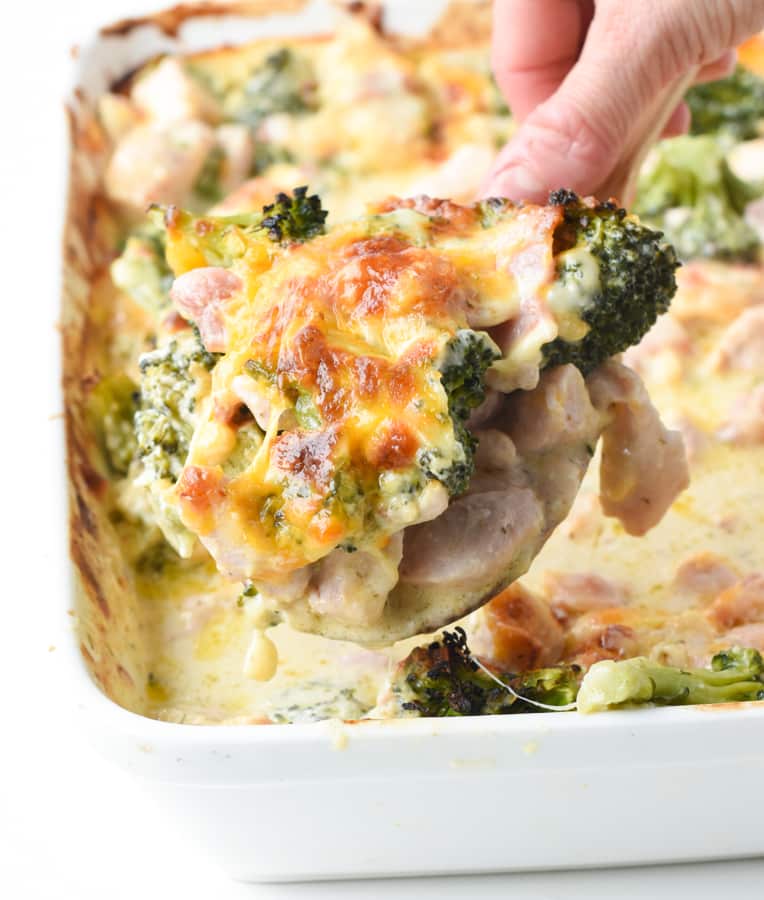 More Casserole Recipes
I love making keto casserole as a quick and easy keto dinner for my family.
Below are my favorite keto low-carb recipes for family-friendly casserole. They all contain a very low net carb per serving to keep your macros on track!
Made this keto chicken bacon ranch casserole? Make sure you leave me a review below or share a picture with me on Instagram.
Keto Chicken Bacon Ranch Casserole
This Keto Chicken Bacon Ranch Casserole with broccoli is the easiest comforting family keto dinner for chicken lovers with only 2.8 grams of net carbs.
This recipe may contain Amazon or other affiliate links. As an Amazon Associate I earn from qualifying purchases.
Instructions
Before you start the recipe, steam your broccoli florets or boil in water for 3-4 minutes, they should be fork-tender but not mushy or soft. Drain and set aside.

Preheat oven to 400°F (200°C).

Grease a 1.5-liter square glass or ceramic baking dish with butter or a rectangle 13-inch (33 cm) x 9-inch (22 cm) baking dish. Set aside.

Lay the steamed broccoli florets evenly all over the baking dish. Set aside.

In a large skillet, over medium heat, stir fry the bacon pieces halfway, about 3 minutes, or until fat release into the skillet.

Stir in diced chicken and cook into the bacon fat until the meat is not pink.

Stir in unsweetened almond milk, sour cream, mayonnaise, 1/2 cup grated mozzarella, crushed garlic, dried dill, dried parsley, onion powder, salt, and pepper.

Stir to melt the cheese and then simmer for 1-2 minutes or until bubbles form on the side of the skillet.

Pour the ranch sauce over the steamed broccoli florets.

Cover the baking dish with the remaining 1/2 cup shredded mozzarella and 1 cup shredded cheddar.

Bake in the center of the oven for 15 minutes or until cheese is broiled.

Serve with chopped parsley if desired.
Want My Kitchen Equipment?
Serving:
1
serving
Calories:
407.1
kcal
(20%)
Carbohydrates:
3.7
g
(1%)
Fiber:
0.9
g
(4%)
Net Carbs:
2.8
g
Protein:
32.3
g
(65%)
Fat:
28.9
g
(44%)
Saturated Fat:
9.7
g
(61%)
Cholesterol:
114.7
mg
(38%)
Sodium:
760.7
mg
(33%)
Potassium:
565.1
mg
(16%)
Sugar:
1.6
g
(2%)
Vitamin A:
577.9
IU
(12%)
Vitamin C:
30.2
mg
(37%)
Calcium:
232.8
mg
(23%)
Iron:
0.9
mg
(5%)
Posted In: