This Keto Spaghetti Squash Casserole with creamy Alfredo sauce is calling all pasta lovers!
Crunchy vegetable spaghetti smothered with a gluten-free creamy garlic sauce topped with broiled cheese and only 6 grams of net carbs. A delicious, comforting keto recipe that the whole family will love.
Are you ready for fall recipes welcoming spaghetti squash as the new keto vegetable into your plate? But first, let's talk about spaghetti squash.
What's spaghetti squash?
Spaghetti squash is a winter vegetable also known as vegetable spaghetti or noodle squash. Its name came from its yellow-orange flesh that forms spaghetti-like strands when the cooked flesh is pulled apart with a fork.
Spaghetti squash recipes are one of these comforting meals, perfect for replacing a lasagna!
Is spaghetti squash keto-friendly?
Yes, you can eat spaghetti squash on a keto diet. It is a very low-carb and low-calorie vegetable, with only 5.5 grams of net carbs and 31 kcal per cup.
ⓧ
Are you new to Keto?
Receive my Keto Quick Start email series to learn all about the Keto diet and kick start your keto journey!
It means it has a similar amount of carbs as its keto vegetable friends: cooked eggplants or Brussels sprouts.
Spaghetti squash is an amazing vegetable to create tasty keto recipes for pasta lovers. In fact, the spaghetti strands from this squash are firm, long, tasteless, and truly mimic the texture of real spaghetti pasta.
How to cook a spaghetti squash casserole?
It is pretty easy to make a baked spaghetti squash casserole. First, you need to bake your squash to release the vegetable spaghetti. Let's see how to cook spaghetti squash!
If you want to see this recipe a different way, have a look at my story: making the spaghetti squash casserole!
There are a few different ways to cook spaghetti squash depending on:
How you cut the squash: halved lengthwise, crosswise, or sliced in rings.
The cooking methods: oven-baked, steamed in a crock-pot, microwaved.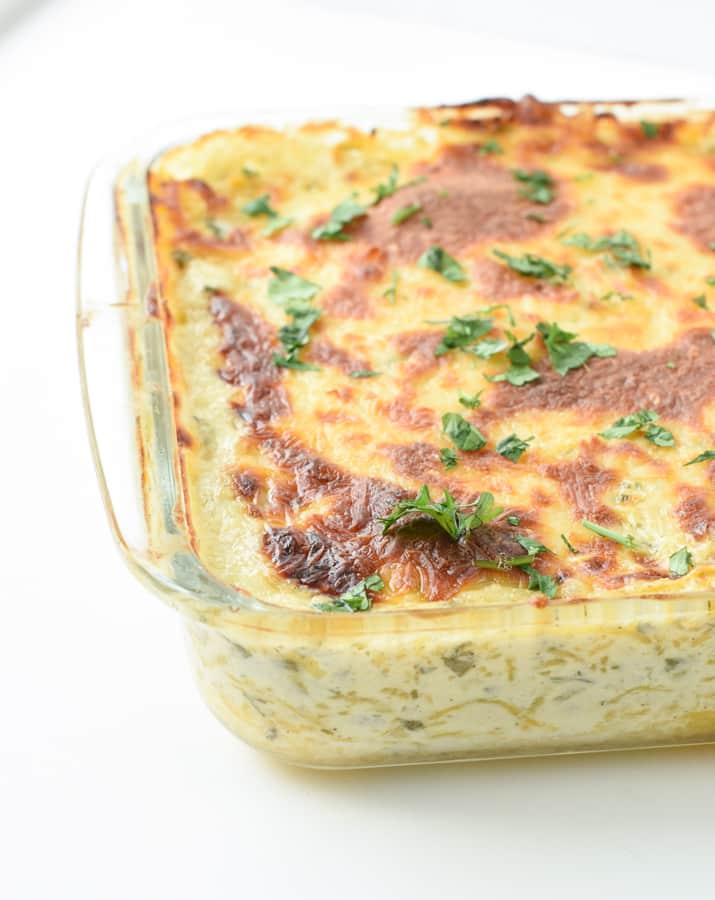 Here I am sharing the best method to bake spaghetti squash for the best spaghetti squash casserole. It means that the flesh will be crunchy, firm, slightly caramelized, but not watery or mushy!
First, preheat the oven to 400F (200C), the fan-forced mode works faster, and it is preferable. Then, line a large baking tray with parchment paper and lightly oil the paper.
Cutting the squash
The best way to cut a spaghetti squash to bake it evenly is to cut it lengthwise. First, trim the ends. Then, stand the squash up on one steam and cut to obtain two spaghetti squash boats.
Next, scoop out all the seeds and discard them.
Finally, place each spaghetti part with the flesh side down onto a baking sheet covered with a piece of parchment paper.
Make sure you brush the paper or the squash in contact with the paper with olive oil. Finally, bake for 30-40 minutes.
Baking time
The baking time is the key. If you bake your squash too much, the spaghetti squash will not form firm noodles. It will be mushy and soft. So always check the baking process by:
Checking the color of its skin – when it starts to darken or brown, it is cooked!
Inserting a knife into the squash shell after 30 minutes. If the shell is soft and the knife goes through even a little bit, remove the tray from the oven, flip one squash boat and start grating the flesh with a fork.
If the strands are yellow/golden, slightly caramelized on the sides, and come out easily, it means it is cooked through.
How to make the vegetable spaghetti?
Flip over the two baked spaghetti squash boats and let the steam come out.
When the steam is out, wear a mitten and hold the squash with one hand, and with the other hand, pull apart the flesh using a fork.
It will form long, crunchy vegetable noodles, about 5 cups per spaghetti squash. Set aside on a baking dish and discard the squash shells.
Keto Alfredo sauce
This is a cheesy spaghetti squash casserole recipe using a creamy Alfredo garlic sauce.
To make the sauce, first, melt butter into a saucepan, then add heavy cream and shredded cheese – Parmesan is the best!
Stir constantly until the sauce is thick and forms strings of cheese.
Now add chopped parsley, salt, and garlic, and an extra 1/2 cup of unsweetened almond milk to make a cheesy sauce, easy to pour over the baking dish.
Pour the sauce over the baking dish containing the baked squash spaghetti.
Use a spoon to combine the sauce into the vegetable noodles to cover all spaghetti evenly and create a creamy garlic spaghetti squash casserole.
Meat sauce: chicken Alfredo casserole
For the chicken Alfredo casserole lovers, you can adapt the recipe by adding 2 shredded chicken breasts into the casserole.
First, combine the cooked shredded chicken into the creamy sauce and pour it onto the baking dish containing the baked squash spaghetti.
Finally, stir to evenly cover the spaghetti with the sauce and top the casserole with shredded mozzarella. Bake on medium-high heat (180C/350F) for 15 minutes to broil the cheese on top.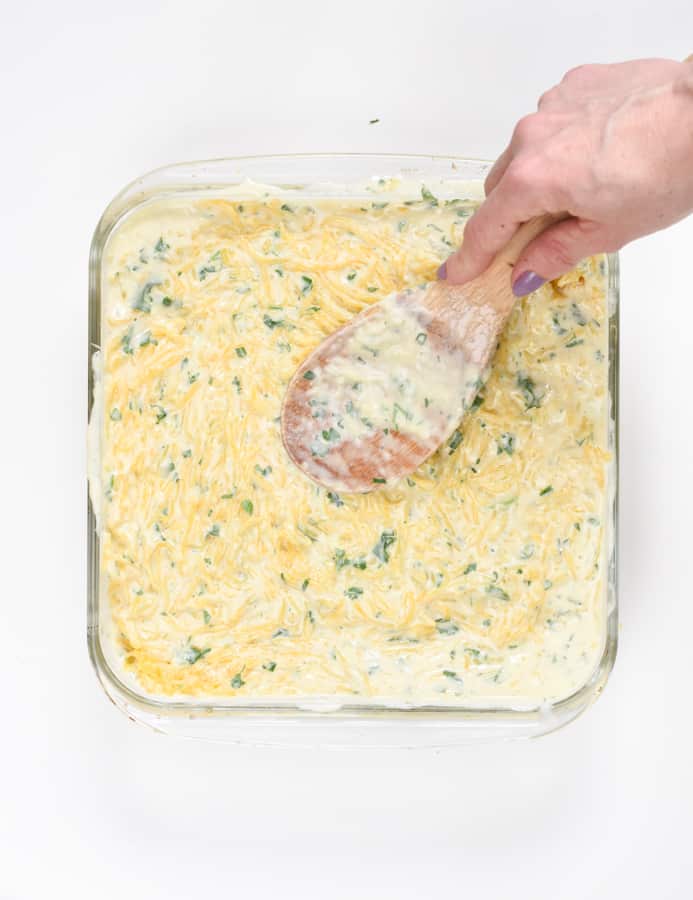 Can I make this casserole ahead?
Yes, you can make ahead your spaghetti squash casserole. There are two options to make this keto casserole recipe 24 hours to 48 hours before serving, depending on how you want to serve the dish.
Meal preparation for single serves – follow the entire recipe, store the whole casserole in the fridge, wrap the baking dish with plastic wrap. Then, rewarm by single-serves in the microwave, saucepan, or oven until piping hot.
Family gatherings – if you want to serve this vegetarian spaghetti squash casserole beautifully, I recommend assembling the casserole just before serving. It means that the day before, you pre-bake the squash spaghetti and Alfredo sauce and store them separately in the fridge, in 2 airtight containers. Then, assemble the casserole just before serving, bake following the recipe and serve.

An egg-free breakfast casserole
We all sometimes love an egg-free keto breakfast, and this spaghetti squash breakfast casserole is perfect for it.
Your casserole will store for up to 3 days in the fridge or freeze in single-serve airtight containers.
Then, rewarm your portion in the microwave or saucepan, or hot oven just before serving.
More keto low carb casserole recipes
If you love this low-carb spaghetti squash casserole recipe, you may also want to try my other low-carb casserole recipes below!
Leave me a comment below if you want to see more spaghetti squash recipes on the blog! And if you made this simple spaghetti squash casserole, don't forget to share a comment or review below.
XOXO Carine
Recipe Card
Keto Spaghetti Squash Alfredo style!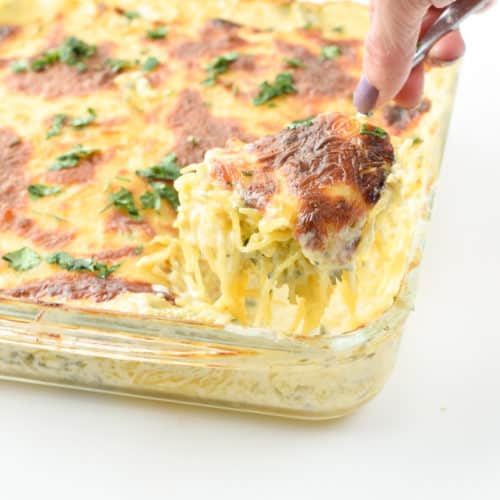 A cheesy spaghetti squash casserole using spaghetti squash as a low-carb pasta with a creamy Garlic Alfredo sauce.
Ingredients
1

whole

Spaghetti Squash

baked, pulled apart into spaghetti - about 5 cups spaghetti
Keto alfredo sauce
¼

cup

Unsalted Butter

1

cup

Heavy Cream

½

cup

Unsweetened Almond Milk

3

Garlic Cloves

crushed or 1/2 teaspoon garlic powder

¼

cup

Fresh parsley

finely chopped

1

teaspoon

Salt

½

teaspoon

Pepper

1 ½

cup

Shredded Parmesan
Topping
1

cup

Mozzarella Cheese

shredded
For the chicken Alfredo option add
14

oz

Rotisserie Chicken Breast

cooked and shredded
Instructions
Preheat oven to 400°F (200°C).

 Grease a 1.5-liter square glass or ceramic baking dish with butter or a rectangle 13-inch (33 cm) x 9-inch (22 cm) baking dish. Set aside.

Line a large baking tray with parchment paper. Set aside.
Preparing the spaghetti squash
Using a sharp knife, cut off the extremities of the spaghetti squash.

Stand the squash upright on the benchtop, placing a chopping board under it, and cut the squash lengthwise to divide it in half.

Use a tablespoon to scrape out all the spaghetti squash seeds and discard them.

Brush the cut-side of each squash with olive oil or spray oil all over.

Place each half squash, cut-side down, onto the prepared baking tray. Bake the squash for 30-40 minutes or until a knife inserted into the squash shell goes in and the inside of the squash is golden, and you can pull apart vegetable spaghetti from it. The smaller the squash is, the faster it is cooked. So I recommend checking the squash after 30 minutes. Open your oven, flip the squash on the other side, and using a fork, try to pull apart/fluff the spaghetti out of the squash. If it comes out easily, it is cooked. If not, flip back the squash on the tray, cut-side down, and keep baking for 10 minutes.

Remove from the oven, flip over the two squash using an oven mitten to avoid burning yourself. Let the steam evaporate for 10 minutes.

Then, keeping the oven mitten on, hold the squash with one hand and pull apart the spaghetti with a fork, scraping the flesh.

Place all the spaghetti noodles into the prepared baking dish. Spread evenly to cover the dish. Set aside while making the sauce.
Make the Alfredo Sauce
In a small saucepan, melt butter over low heat.

Stir in heavy cream, crushed garlic, salt, pepper, and shredded Parmesan cheese.

Stir and cook on low heat, simmering the sauce for 1-3 minutes until cheese is melted and the sauce thickens and strings of cheese form.

Stir in chopped parsley and unsweetened almond milk to make the sauce thinner and easy to pour over the baking dish. If you are using shredded chicken, add the shredded cooked chicken breast into the sauce now. Remove from heat.
Assemble the casserole
Pour the sauce all over the baking dish containing the baked spaghetti squash noodles and use a spoon to combine the sauce with the vegetable spaghetti. Stir well to make sure all the noodles are covered with the sauce.

Add shredded mozzarella all over the baking dish and bake at 350°F (180°C) for 15 minutes. Then, if cheese is not broiled yet, switch the oven to broil mode for 1-2 minutes to broil cheese on top.
My Recipe Notes
Tools
Starting Keto
What Is Keto Diet?
Macro Calculator
Sweetener Converter
Keto Meal Plans
Keto Recipe Ebooks
Intermittent Fasting
Keto Fruits
Keto Vegetables
Keto FLours
Fighting Keto Flu
Keto Sweeteners
Nutrition Facts
Keto Spaghetti Squash Alfredo style!
Amount Per Serving (1 serving)
Calories 326
Calories from Fat 219
% Daily Value*
Fat 24.3g37%
Cholesterol 102.5mg34%
Sodium 730.8mg32%
Potassium 316.5mg9%
Carbohydrates 8.1g3%
Protein 19.8g40%
Vitamin A 928.2IU19%
Vitamin C 3.2mg4%
Calcium 289.4mg29%
Iron 0.5mg3%
Net Carbs 6.7g
* Percent Daily Values are based on a 2000 calorie diet.