Cauliflower Alfredo Sauce
This Cauliflower Alfredo Sauce is a healthy, dairy-free Alfredo Sauce recipe made from cauliflowers florets.
It's a delicious low-carb vegan sauce for pasta or steamed vegetables.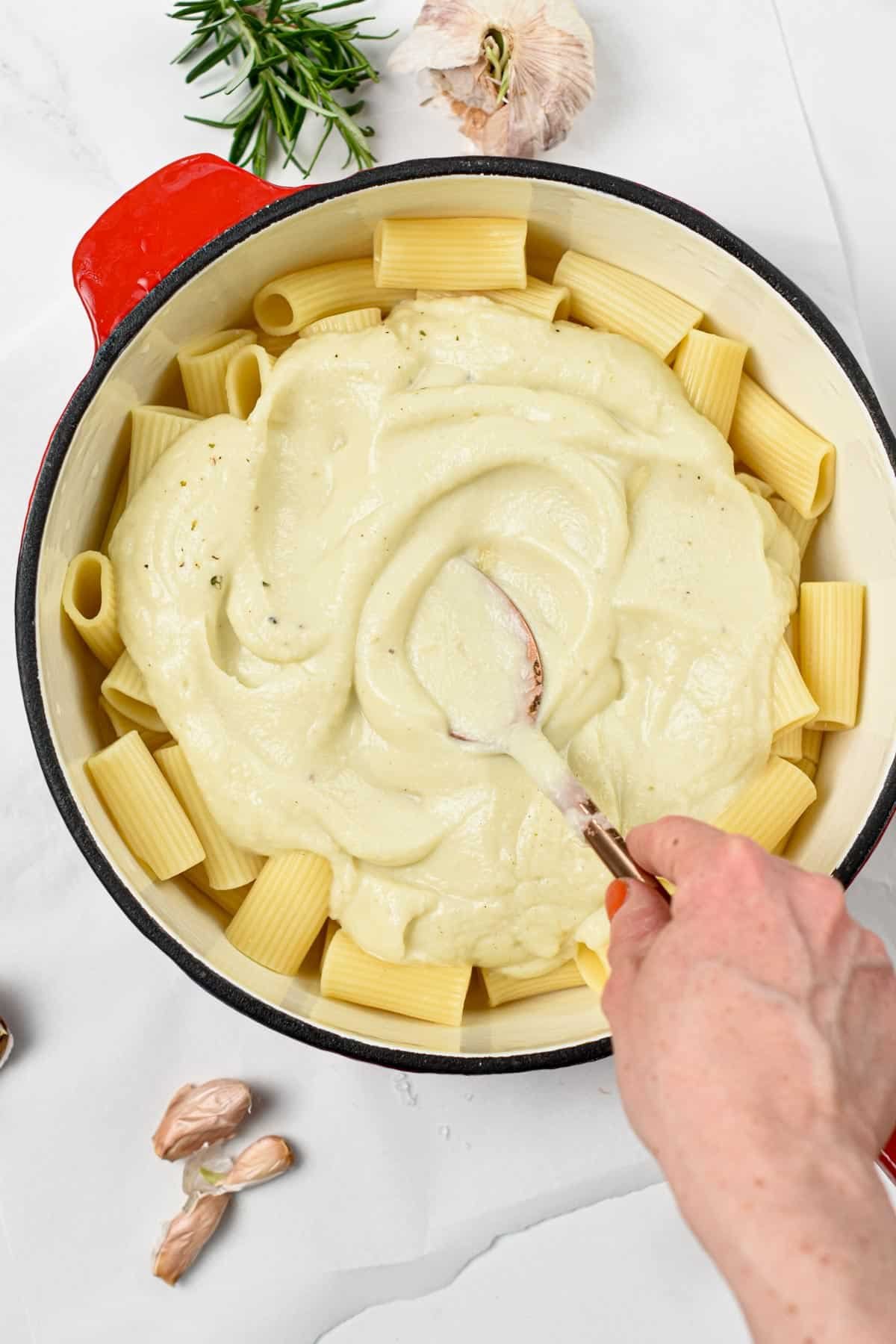 Cauliflower is such a versatile vegetable. You can make anything from cauliflower, starting with a simple cauliflower casserole or cauliflower soup.
But did you know you could also turn cauliflower into a creamy pasta sauce?
This creamy alfredo sauce is entirely made from cauliflower, with no cheese and no dairy needed, and is ready in less than 30 minutes for a healthy pasta sauce recipe.
Is Alfredo Sauce Healthy?
A classic alfredo sauce is usually made of dairy ingredients like heavy cream, butter, Parmesan, and garlic.
As a result, alfredo sauce recipes are often high in saturated fat, which is classic for a keto diet but not the healthiest sauce if you are after a healthy pasta sauce alternative.
So to make alfredo sauce healthier, you can try cauliflower alfredo sauce that simply uses blended cooked cauliflower to create a rich, creamy sauce without any dairy.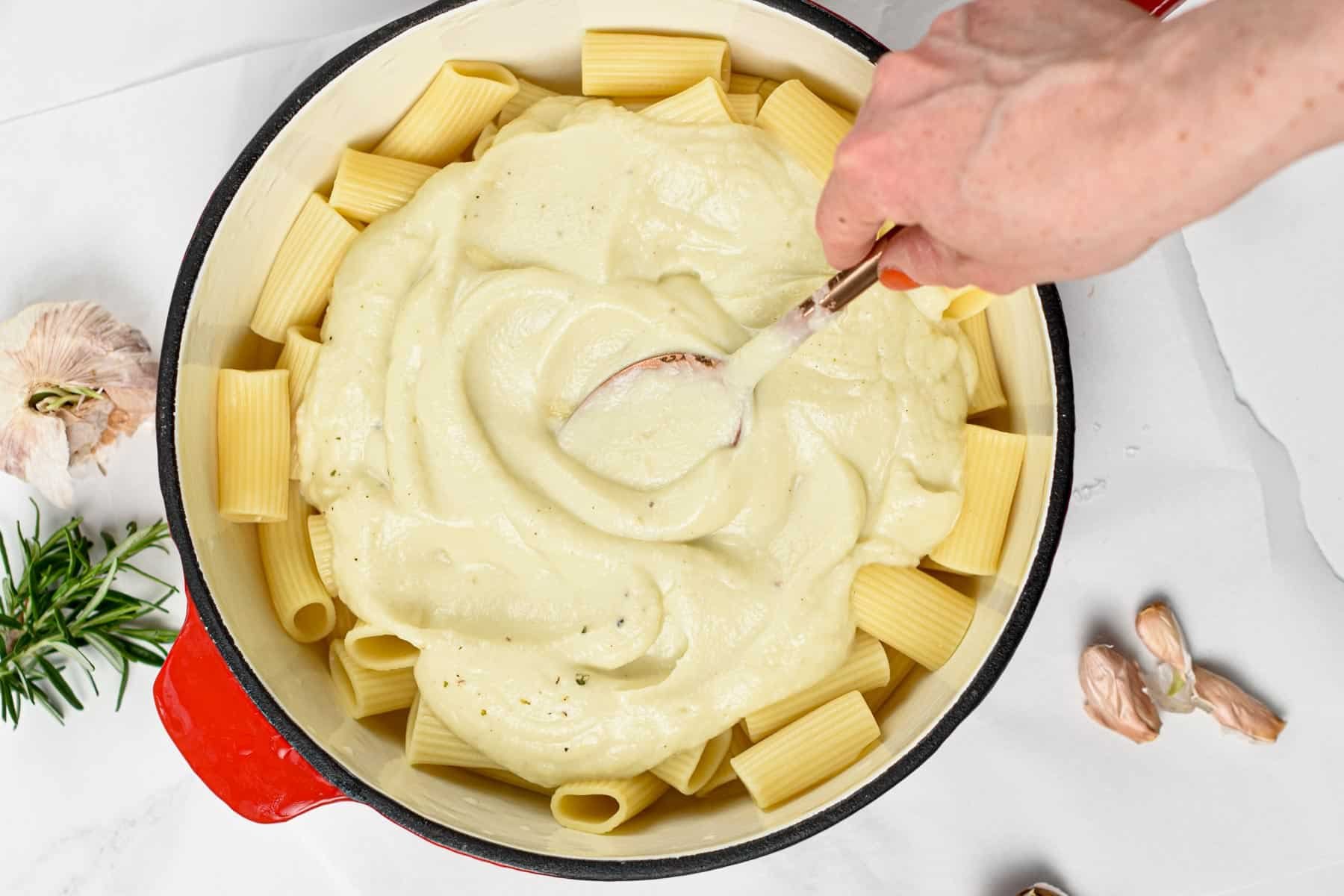 How To Make Cauliflower Alfredo Sauce
It's super easy to make a one-bowl pasta sauce from cauliflower florets.
Ingredients
All you need are:
Coconut Oil or olive oil for less saturated fat.
Fresh Cauliflower Florets – Cauliflower is a great low-carb vegetable that I love to use in many cauliflower recipes.
Vegetable Broth or chicken broth if not vegetarian.
Italian Seasoning
Minced Garlic
Onion – Either yellow onion, white onion, or shallots.
Salt and Black Pepper
Almond Milk – Or any other plant-based milk like oat milk, cashew milk, or coconut milk.
Nutritional Yeast – Optional, but this adds a lovely cheese flavor minus the dairy. If you prefer to use cheese, add Parmesan cheese instead.
Cooking The Vegetable
First, trim the cauliflower head, remove the green parts, and chop the florets into tiny pieces.
Measure 4 cups of florets using measuring cups. It's difficult to be precise with this recipe but don't worry. It's a no-fail pasta sauce, and I will tell you later how you can always adjust the sauce to make it perfect.
Cooking Cauliflower
In a large, non-stick pot or skillet over medium-high heat, melt coconut oil.
Stir in the onion and garlic and cook until fragrant.
Now, add the cauliflower florets and cook on medium-low heat for 2 to 3 more minutes.
Add in the vegetable broth, Italian seasoning, salt, and pepper. Cover and bring the liquid to a boil.
Then reduce and cook, simmer until the cauliflower florets are fork tender.
Remove the pot from the heat, remove the lid, and let the steam out for about 10 minutes.
In a heat-safe blender jug like Vitamix, add the cooked mixture – cauliflower, garlic, and stock.
Then add nutritional yeast and blend on high speed until it forms a rich and creamy white sauce.
Adjusting The Texture
If the sauce is too thick, which is probably the case as I prefer to write the base recipe with less stock so you can adjust with the milk later, add almond milk by 1/4 cup addition at a time.
Blend on high speed after each addition, and stop adding when the sauce is creamy, smooth, and reaches your favorite texture.
Serving Cauliflower Alfredo Sauce
This sauce is like a bechamel sauce without the carbs and the dairy.
You can essentially use this alfredo cauliflower sauce recipe in any recipe calling for bechamel.
It means you can use this to make:
Storage Instructions
You can store this sauce in an airtight container in the fridge for up to 3 days. Or freeze the cauliflower sauce and thaw it in the fridge the day before using.
Rewarm in a saucepan or in a microwave-safe bowl.
Allergy Swaps
If you have some food allergies, I listed some options for you below:
Coconut-Free – replace the coconut oil with butter, vegan butter, or ghee.
Nutritional-Yeast-Free – swap for real cheese like Parmesan or simply skip it. The sauce texture won't be impacted. You will only miss the cheese flavor.
Nut-Free – you can use any non-dairy milk you love in this recipe, including soy milk, hemp milk, or oat milk.
Frequently Asked Questions
Below are some of the most popular questions you asked about this recipe.
Can I Use Frozen Cauliflower?
Yes, you can use frozen cauliflower rice or frozen cauliflower florets in the recipe.
I recommend thawing the vegetables before measuring and cooking to avoid too much water being released into the sauce.
Keep in mind that cauliflower sauce made with frozen cauliflower is always less creamy and runnier.
Can I Make The Sauce Thicker?
Yes, you can thicken the sauce by adding heavy cream or 1 cup of grated cheese.
Another option is to steam more cauliflower florets and blend them in the sauce to thicken up the sauce.
Can I Roast The Cauliflower Instead?
Yes, you can roast the cauliflower instead of steaming it for even more flavors!
More Cauliflower Recipes
I love cauliflower recipes, and I have so many other delicious recipes with cauliflower that you can try:
Have you made this cauliflower alfredo sauce? Let me know what you serve with it and how much you love the recipe by leaving a comment below.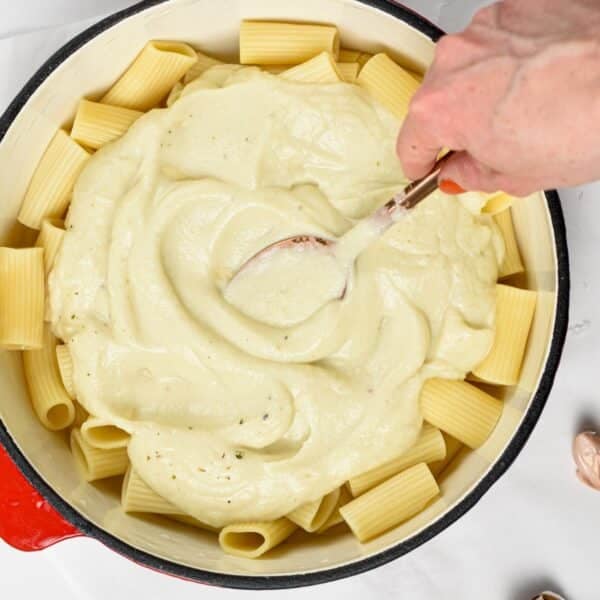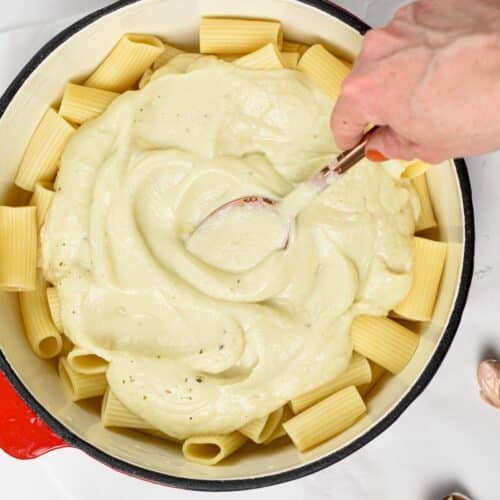 Cauliflower Alfredo Sauce
This Cauliflower Alfredo Sauce is a healthy, dairy-free Alfredo Sauce recipe made from cauliflowers florets. It's a delicious low-carb vegan sauce for pasta or steamed vegetables.
Serving Size:
1
serving (1/2 cup)
Nutrition Snapshot
Want My Kitchen Equipment?
Instructions
In a non-stick pot, over medium heat, melt the coconut oil, then add cauliflower florets and minced garlic.

Stir and cook for about 2 minutes, until fragrant.

Add in vegetable stock, Italian seasoning, salt, and pepper. Cover, bring to a light boil then reduce to low-medium heat and simmer until cauliflower is fork tender about 6-7 minutes.

Remove from the heat, remove the lid, and steam out for 10 minutes.

In a heat-safe blender jug – like Vitamix – add all the cooked ingredients, Nutritional yeast or Parmesan, if used and blend on speed 6-7 until smooth. If too thick and doesn't blend, simply add the optional almond milk by 1/4 cup at a time, until it reach your favorite texture. You may have to add more or less depending on how you measure the cauliflower at the beginning.

Use immediately as a pasta sauce or on top of steamed vegetables.
Storage
Store in the fridge in a sealed container for up to 3 days or freeze for up to 3 months. Thaw in the fridge the day before using.
My Recipe Notes
Nutrition
Serving Size:
1
serving (1/2 cup)
Serving:
1
serving (1/2 cup)
Calories:
106.5
kcal
(5%)
Carbohydrates:
8.8
g
(3%)
Fiber:
3.6
g
(15%)
Net Carbs:
5.2
g
Protein:
5.1
g
(10%)
Fat:
6.6
g
(10%)
Saturated Fat:
3.7
g
(23%)
Polyunsaturated Fat:
0.4
g
Monounsaturated Fat:
1.7
g
Trans Fat:
0.2
g
Cholesterol:
15.1
mg
(5%)
Sodium:
641.6
mg
(28%)
Potassium:
422.6
mg
(12%)
Sugar:
2.5
g
(3%)
Vitamin A:
301.6
IU
(6%)
Vitamin B12:
0.01
µg
Vitamin C:
48.7
mg
(59%)
Calcium:
65.2
mg
(7%)
Iron:
0.8
mg
(4%)
Magnesium:
16
mg
(4%)
Zinc:
0.3
mg
(2%)
Posted In: