These crispy Cauliflower Waffles are an easy breakfast recipe to add some vegetables to your day.
Plus, they are gluten-free and keto-friendly with only 5 grams of net carbs per serving.
I love cauliflower recipes, I have made so much low-carb goodness using cauliflower, starting with my popular cauliflower casserole or cauliflower tots.
So now, time to make crispy waffles that have fewer carbs than classic waffles but are super crispy using cauliflower rice.
How To Make These Cauliflower Waffles
To make crispy low-carb waffles with cauliflower, you need:
Ingredients
Cauliflower Rice – You can make your own or use thawed frozen cauliflower rice.
Large Eggs – I prefer large free-range eggs.
Unsweetened Almond Milk or heavy cream, or any milk you like.
Almond Flour – Don't swap the flour for coconut flour, or the waffles will be very dry.
Baking Powder
Garlic Powder
Paprika
Salt and Pepper
Italian Seasoning
Grated Mozzarella – Hard mozzarella, not the fresh kind. However, you can use other hard-grated cheese types like cheddar cheese or Emmental cheese.
Preparing The Cauliflower
First, choose from fresh or frozen cauliflower. To make rice from fresh cauliflower, you need to:
Trim the outside green leaves.
Cut the cauliflower into small florets.
Place the florets in a food processor and, using the S blade attachment, blend on medium-high speed until it forms a rice-like texture.
Set aside 2 cups for this recipe.
If you are using frozen cauliflower rice, thaw at room temperature for 1 hour and discard any water released before measuring in a measuring cup.
Making The Batter
Now prepare the waffle batter. In a mixing bowl, whisk eggs, milk, salt, black pepper, paprika, garlic powder, and Italian seasoning.
Stir in the riced cauliflower, grated mozzarella cheese, and almond flour.
Cooking The Waffles
Preheat a waffle iron on medium heat until the green light of your waffle maker turns green.
Now, grease the iron plates with olive oil or coconut oil. I like to use cooking spray.
Add 1/4 cup of batter to each waffle iron and cook for 4-5 minutes or until crispy and golden brown.
Release and cool down on a wire rack for a few minutes. The waffles get crispier as they cool down.
Now repeat with the remaining batter until you make 6 waffles.
Serving
Serve the waffles topped with sour cream, dill, or a fried egg on top for extra protein.
Season with salt and pepper if needed.
Storage Instructions
Store the waffle batter in the fridge up to 24 hours in a sealed jar. Or store the cooked waffles in an airtight container up to 2 days in a sealed, airtight container.
Rewarm the waffles in the waffle maker or air fryer until warm and crispy.
Of course, you can also freeze the cooked waffles in sealed bags and thaw them in the fridge the day before.
Frequently Asked Questions
Below are the answers to your most frequent questions about these cauliflower waffles.
Can I Make Them Egg-Free?
No, this recipe won't work without eggs or using an egg replacer.
Can I Use Fresh Mozzarella?
No, fresh mozzarella contains a lot of water, and it won't make the waffle crispy at all.
Can I Make My Waffle Batter Ahead?
Absolutely! You can make this waffle batter the day before and store it in the fridge. Cook the next day for breakfast or lunch.
Would A Mini Dash Waffle Iron Work For These Waffles?
You can use a Dash mini iron, but you will need to use less waffle batter since the waffle iron is smaller than regular iron waffle makers.
About 2 tablespoons of batter are enough for one mini waffle.
More Cauliflower Recipes
Below are more low-carb cauliflower recipes for you to try.
More Waffles Recipes
Below are some more waffles recipes for you to try.
Did you try these keto waffles with cauliflower? Share a comment or review below to let me know how it goes.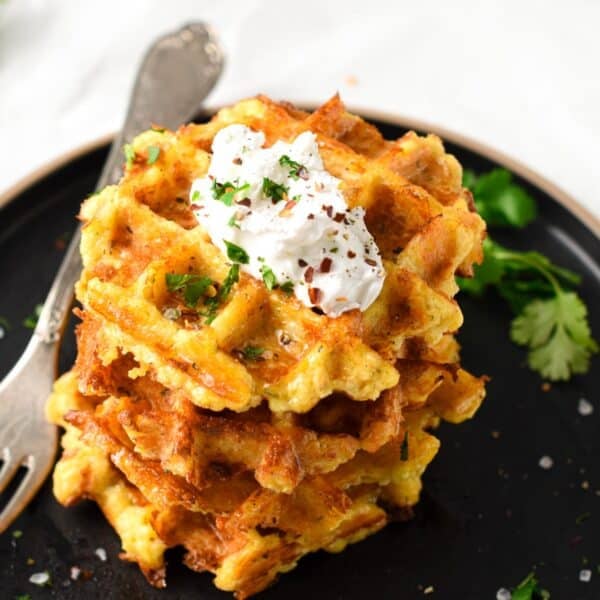 Cauliflower Waffles
These crispy Cauliflower waffles are an easy breakfast recipe to add some vegetables to your day.
Yield:
waffles ( 3 tbsp of batter each)
Nutrition Snapshot
Want My Kitchen Equipment?
Instructions
If using fresh cauliflower, cut into florets, place half the head of cauliflower florets in a food processor and blend until it forms a rice-like texture. Measure 2 cups. Set aside.

In a large mixing bowl, whisk the eggs, and almond milk.

Whisk in almond flour, baking powder, garlic powder, paprika, salt, and Italian seasoning until the batter is smooth.

Stir in grated mozzarella and uncooked cauliflower rice. Let the batter rest for 10 minutes to thicken.

Preheat a waffle maker for at least 5 minutes or until the green light of your waffle iron tells you it is ready to be used.

Slightly oil the surface of the irons with a pastry brush and coconut oil or avocado oil. Don't overoil the iron!

Pour 2½ to 3 tablespoons of batter per waffle – not more, or they get difficult to cook.

Bake for about 3-4 minutes in the waffle iron. Play with time from 2 minutes 30 to 4 minutes to reach your favorite texture. The longer you bake them, the dryer they will be.

Release the waffle from the waffle maker using a fork, transfer on a cooling rack and cool down for 2-3 minutes before serving. They get crispy in after 1 minute on the cooling rack.

Serve with sour cream, avocado slices, or a fried egg.
Storage
Store in the fridge for up to 3 days in an airtight container. Rewarm in an iron waffle maker or bread toaster.

You can freeze the cooked waffles in zip-lock bags and defrost them the day before. Rewarm either in an iron waffle maker or bread toaster.
My Recipe Notes
Nutrition
Yield:
waffles ( 3 tbsp of batter each)
Serving:
1
waffle
Calories:
168.8
kcal
(8%)
Carbohydrates:
5
g
(2%)
Fiber:
1.9
g
(8%)
Net Carbs:
3.1
g
Protein:
10.5
g
(21%)
Fat:
12.6
g
(19%)
Saturated Fat:
4
g
(25%)
Polyunsaturated Fat:
0.6
g
Monounsaturated Fat:
2.2
g
Trans Fat:
0.01
g
Cholesterol:
92.1
mg
(31%)
Sodium:
283.1
mg
(12%)
Potassium:
145.7
mg
(4%)
Sugar:
1.3
g
(1%)
Vitamin A:
310.4
IU
(6%)
Vitamin B12:
0.7
µg
(12%)
Vitamin C:
15.4
mg
(19%)
Vitamin D:
0.5
µg
(3%)
Calcium:
184
mg
(18%)
Iron:
1.1
mg
(6%)
Magnesium:
12.4
mg
(3%)
Zinc:
1
mg
(7%)
Posted In: