This cauliflower tots keto recipe is a delicious appetizer, snack or side for any keto meal with only 1.7g of net carbs per tot. Bonus, these are baked cauliflower tots that can also be baked in an airfryer!
What are cauliflower tots?
Keto cauliflower tots are delicious cheesy cauliflower nuggets, a perfect bite-size food to snack on, share as an appetizer or serve as a side to grilled meat.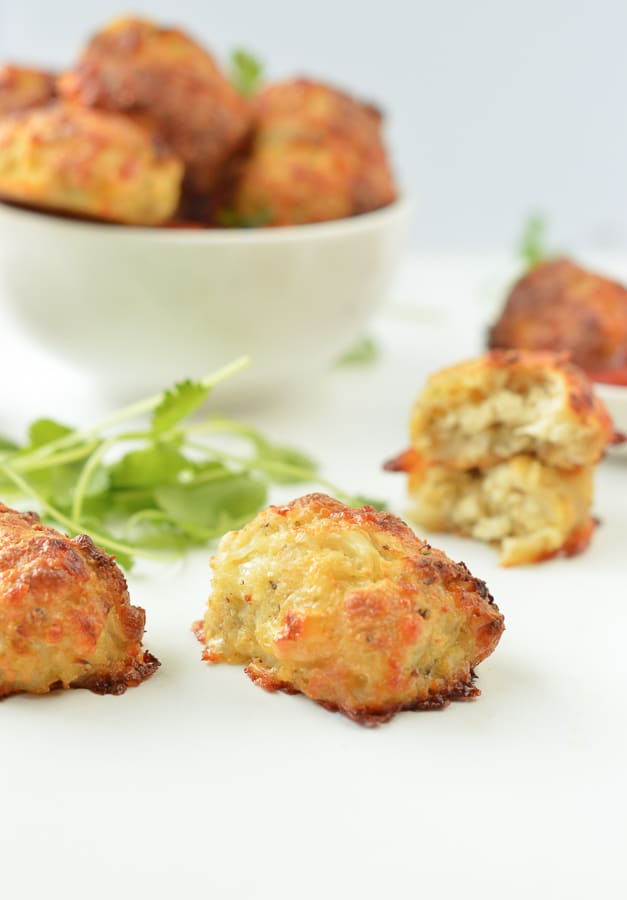 Bonus, to make those baked cauliflower tots keto you only need a few ingredients:
Steamed/drained cauliflower – see recipe card for steaming method and how to drain steamed cauliflower perfectly
Eggs – make sure you are using room temperature eggs
Almond flour – fine, blanched
Whole psyllium husk – this is optional but highly recommended! In fact, steamed cauliflower even well drained can keep some moisture that may makes the tots softer and fall apart. Psyllium husk is the key to puffy cheesy cauliflower tots!
Grated parmesan
Grated mozzarella
Spices – salt, garlic powder, onion powder and oregano are the best
How to shape the tots?
Cauliflower tots are a bit messy to shape as the batter is sticky but if you oil your hands it is easier. Also, you can use a cookie scoop to to help you out! It will shape cauliflower tots of same size every time and therefore they will have roughly same carbs amount per serve!
Baked Cauliflower tots – perfect meal prep
Those are baked cauliflower tots which means they are perfect for meal prep your week keto snacks. In fact, the oven method delivers 20 cheesy cauliflower tots in 20 minutes ! Plus, if you really like this recipe it is easy to double up and freeze the tots in zip bags for later.
More keto bite size food
If you love keto bite size food I recommend you also try :
Enjoy this cauliflower tots keto recipe and don't forget to share a picture of your creation with me on Instagram ! See you there
XOXO Carine
Cauliflower Tots keto + gluten free
Cheesy baked cauliflower nuggets to snack on!
20 cauliflower tots
Print The Recipe
Preheat oven to 400F (200 C)

Prepare a baking tray covered with baking paper. Set aside.

Cut the raw cauliflower head into small florets, removing stems and weigh the amount required by the recipe.
Steam the cauliflower florets
Microwave method. Place the florets into a large microwave-safe bowl. Add 1/3 cup water, cover with a microwave-safe lid (or plate). Microwave for 7 minutes or until the florets are soft and tender. Frying pan method/steam basket method. In a large frying pan, add 1/3 cup water to boil. Add the cauliflower florets in the pan or steam basket, cover, reduce to medium/low heat and steam until soft and tender for about 8 minutes.

Place the steamed cauliflower florets into a drainer for at least 10 minutes or until lukewarm. You can place the drainer next to an open window to cool faster. You know the cauliflower is ready when there is no more steam coming out of and the cauliflower florets are lukewarm but not burning hot.

Place the steamed cauliflower florets on a towel and squeeze the towel as hard as you can to take the water out. See my recipe video to see my technique. You should obtain a sort of cauliflower mash and remove around 2-4 tablespoons of water. Discard liquid.

In a large mixing bowl, add the drained cauliflower, almond flour, psyllium husk, grated cheddar, grated mozzarella, beaten eggs and spices. Psyllium husk is optional but adds a lovely texture while absorbing any extra water that could be left in the cauliflower so I recommend you don't skip this!

Combine with a spatula first, then squeeze the batter with your hands.

Scoop out the cauliflower batter with a cookie scoop to make sure you form 20 cauliflower tots of even sizes. Oil your hands with olive oil, roll the batter in your hands to shape little cylinders/tots.

Place the cauliflower tots onto the prepared baking sheet, leaving a space of half a thumb between each. They won't expand while baking but you don't want them to stick to each other

Bake for 15-20 minutes or until golden on the outisde and cheesy.

Serve hot with dips of your choice. I recommend my sugar free ketchup recipe for those.
Freezing
Store 3 days in the fridge, baked or unbaked, in an airtight container.

You can freeze the unbaked tots in zip bags. I usually prefreeze them for 1 hour, on a plate covered with parchment paper. Then when half frozen it is easier to transfer them in a zip bag to freeze and keep a beautiful shape.

This recipe makes about 20 cauliflower tots.
Recommended serving size of 4-8 cauliflower tots per person. The nutrition panel is for 1 tot. Net carbs per tot is 1.7 g. Multiply this number by the number of tots you are eating to get your total net carb per serve. Psyllium husk: don't use metamucil fiber supplement in my recipes, this is not the same product as whole psyllium husk fiber. Metamucil is a husk powder that is not suitable for baking keto bread. It will turn food dry, purple or blue.
Nutrition Facts
Cauliflower Tots keto + gluten free
Amount Per Serving (1 cauliflower tots)
Calories 54 Calories from Fat 23
% Daily Value*
Fat 2.6g4%
Carbohydrates 2.3g1%
Fiber 0.6g3%
Sugar 0.4g0%
Protein 2.9g6%
Net Carbs 1.7g
* Percent Daily Values are based on a 2000 calorie diet.