This keto cauliflower tots recipe is a delicious appetizer, snack, or side for any keto meal with only 1.7 grams of net carbs per tot.
Bonus, these are baked cauliflower tater tots that can also be baked in an air fryer!
What Are Keto Cauliflower Tots?
Keto cauliflower tots are delicious low-carb cheesy cauliflower nuggets, perfect bite-size food to snack on, share as an appetizer or serve as a side to grilled meat.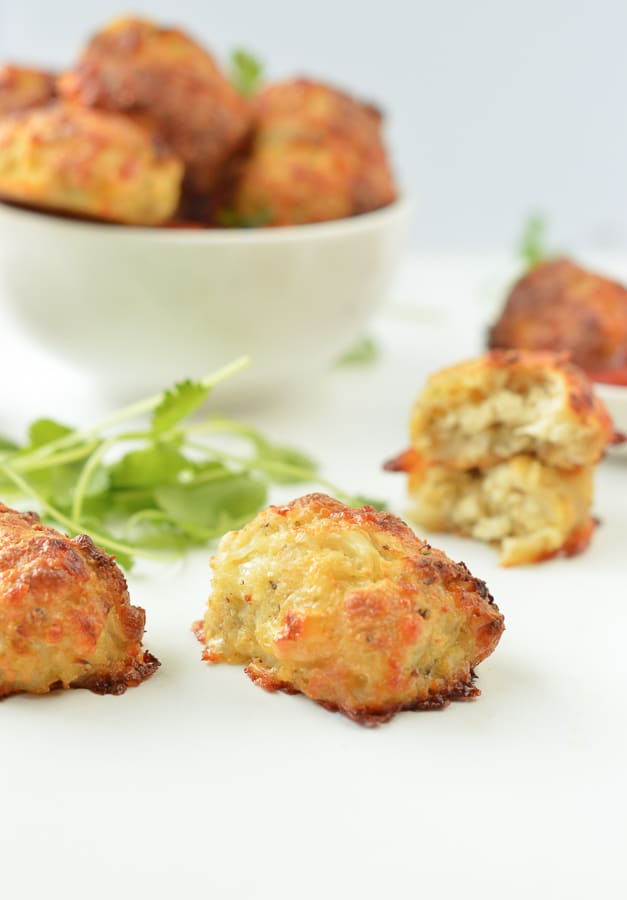 How To Make Keto Cauliflower Tots
Bonus, to make these cauliflower tots keto, you only need a few ingredients.
Ingredients
Steamed/drained cauliflower – see recipe card for steaming method and how to drain steamed cauliflower perfectly. You can also use cauliflower rice bought from the freezer aisle.
Eggs – make sure you are using room-temperature eggs. Eggs are keto-friendly.
Almond flour – fine, blanched. Learn how to pick your keto flour.
Whole psyllium husk – this is optional but highly recommended! In fact, steamed cauliflower, even well-drained, can keep some moisture that may make the tots softer and fall apart. Psyllium husk is the key to puffy cheesy cauliflower tots!
Grated cheddar cheese – or parmesan. Find out which cheese is keto-friendly.
Grated mozzarella
Spices – salt, garlic powder, onion powder, and oregano are the best.
Preparing The Cauliflower
The first step to making these keto cauliflower tots is to cook the cauliflower.
To do so, you can either microwave the florets in a large microwave-safe bowl with 1/3 cup of water for 7 minutes.
Alternatively, you can place them in a steaming basket or in a large saucepan with boiling water.
Once the cauliflower florets are cooked, drain them thoroughly for at least 10 minutes.
Then place them in a clean towel that you then squeeze hard to extract as much water as possible.
Making The Batter
Combine the drained cauliflower, almond flour, psyllium husk, cheddar, mozzarella, beaten eggs, and spices in a large mixing bowl.
Stir the mixture with a silicone or wooden spatula, or you can use a food processor on the low-speed setting.
Shaping The Tots
Cauliflower tater tots are a bit messy to shape as the batter is sticky, but it is easier if you oil your hands. Also, you can use a cookie scoop to help you out!
It will shape cauliflower tots of the same size every time, and therefore they will have roughly the same carbs amount per serving!
Scoop about one tablespoon of the mixture out of the large bowl.
Give them their tater tot shape by rolling the scoop of cauliflower mixture in your hands.
Place the formed tots on a large baking sheet lined with lightly oiled parchment paper.
Baking The Tots
These are baked cauliflower tots, which means they are perfect for meal prep for your week's keto snacks.
Place the baking sheet in the oven preheated to 400°F (200°C) for 15 to 20 minutes.
Serving The Keto Tots
These keto cauliflower tots are a delicious side dish to any meat, fish, or even on salad.
It's perfect with my homemade ketchup or your favorite low-carb sauce to replace potatoes on the side of a keto burger.
It doesn't even taste like cauliflower, these cauliflower tater tots are a perfect side dish for grown-ups and kids alike.
Changing The Flavor
You can change the flavor of these keto cauliflower tots by adding different spices such as paprika, allspice, pepper, or cilantro.
They can also have a stronger cheesy taste with a hint of parmesan cheese.
Storage Instructions
You can store your keto cauliflower tots for up to 3 days in the fridge, baked or unbaked, in an airtight container.
It's also possible to freeze the unbaked tots in zip-lock bags. I usually pre-freeze them for 1 hour on a plate covered with parchment paper.
When half-frozen, it is easier to transfer them into a zip-lock bag to freeze and keep a beautiful shape.
Frequently Asked Questions
Can I Use Frozen Cauliflower In Keto Tots?
Yes, frozen cauliflower can be used as long as it's drained properly.
How Many Carbs Are There In One Keto Caulifower Tot?
Each keto tot contains only 1.7 grams of net carbs. Read the full nutrition information below.
Can You Eat Cauliflower Tots On Keto?
Classic tots are made with breadcrumbs and are therefore not keto-friendly. This is why you need a recipe such as this one to make low-carb tater tots!
Do Cauliflower Tots Have Carbs?
A single classic cauliflower tot typically contains about 13 to 15 grams of net carbs, it's almost the same as 10 of the tots you can make with this recipe!
Enjoy this cauliflower tots keto recipe, and don't forget to share a picture of your creation with me on Instagram! See you there!
Keto Gluten-Free Cauliflower Tots
Cheesy baked cauliflower nuggets to snack on!
Serving Size:
1
cauliflower tot
Ingredients
Spices
½

teaspoon

Onion Powder

½

teaspoon

Garlic Powder

¼

teaspoon

Dried Oregano

½

teaspoon

Salt
This recipe may contain Amazon or other affiliate links. As an Amazon Associate I earn from qualifying purchases.
Instructions
Preheat oven to 400°F (200°C).

Prepare a baking tray covered with baking paper. Set aside.

Cut the raw cauliflower head into small florets, removing stems, and weigh the amount required by the recipe.
Steam the cauliflower florets
Microwave method. Place the florets into a large microwave-safe bowl. Add 1/3 cup water, cover with a microwave-safe lid (or plate). Microwave for 7 minutes or until the florets are soft and tender. Frying pan method/steam basket method. In a large frying pan, add 1/3 cup water to boil. Add the cauliflower florets in the pan or steam basket, cover, reduce to medium/low heat, and steam until soft and tender for about 8 minutes.

Place the steamed cauliflower florets into a drainer for at least 10 minutes or until lukewarm. You can place the drainer next to an open window to cool faster. You know the cauliflower is ready when there is no more steam coming out of it, and the cauliflower florets are lukewarm but not burning hot.

Place the steamed cauliflower florets on a towel and squeeze the towel as hard as you can to take the water out. See my recipe video to see my technique. You should obtain a sort of cauliflower mash and remove around 2-4 tablespoons of water. Discard liquid.

In a large mixing bowl, add the drained cauliflower, almond flour, psyllium husk, grated cheddar, grated mozzarella, beaten eggs, and spices. Psyllium husk is optional but adds a lovely texture while absorbing any extra water that could be left in the cauliflower, so I recommend you don't skip this!

Combine with a spatula first, then squeeze the batter with your hands.

Scoop out the cauliflower batter with a cookie scoop to make sure you form 20 cauliflower tots of even sizes. Oil your hands with olive oil, roll the batter in your hands to shape little cylinders/tots.

Place the cauliflower tots onto the prepared baking sheet, leaving a space of half a thumb between each. They won't expand while baking, but you don't want them to stick to each other.

Bake for 15-20 minutes or until golden on the outside and cheesy.
Freezing
Store 3 days in the fridge, baked or unbaked, in an airtight container.

You can freeze the unbaked tots in ziplock bags. I usually pre-freeze them for 1 hour on a plate covered with parchment paper. When half-frozen, it is easier to transfer them in a ziplock bag to freeze and keep a beautiful shape.

This recipe makes about 20 cauliflower tots.
Notes
Recommended serving size of 4-8 cauliflower tots per person. The nutrition panel is for 1 tot. Net carbs per tot are 1.7 grams. Multiply this number by the number of tots you eat to get your total net carbs. Psyllium husk: don't use Metamucil fiber supplement in this recipe. This is not the same product as whole psyllium husk fiber. Metamucil is a husk powder that is not suitable for baking keto bread. It will turn food dry, purple, or blue.
Want My Kitchen Equipment?
Serving Size:
1
cauliflower tot
Serving:
1
cauliflower tot
Calories:
54
kcal
(3%)
Carbohydrates:
2.3
g
(1%)
Fiber:
0.6
g
(3%)
Net Carbs:
1.7
g
Protein:
2.9
g
(6%)
Fat:
2.6
g
(4%)
Sugar:
0.4
g
Posted In: