This keto zucchini bread is an easy moist almond flour low-carb sweet bread with grated zucchini, walnuts, pecan and delicious fall spices flavor. Plus, it is dairy free meaning it is a paleo zucchini bread too!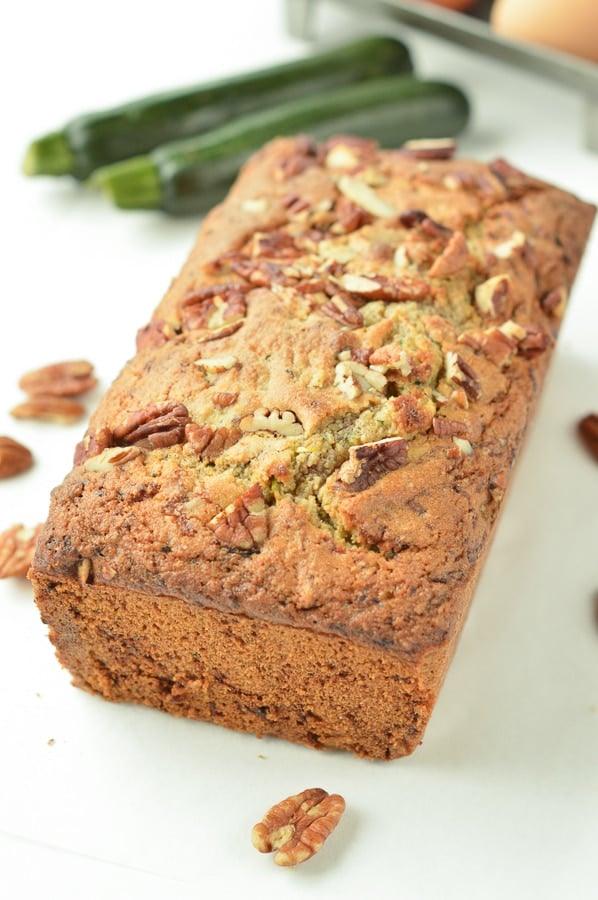 You know how much I love zucchini bread right? Last year I shared with you my chocolate zucchini bread recipe so let me introduce the fall spice version of it!
Keto zucchini bread gluten free zucchini bread recipe
If you are missing a sweet bread on your keto diet, this keto zucchini bread will fix it in no time. Indeed, this keto zucchini bread has the most delicious sweet flavor with only 3.3 gram of net carbs per slice.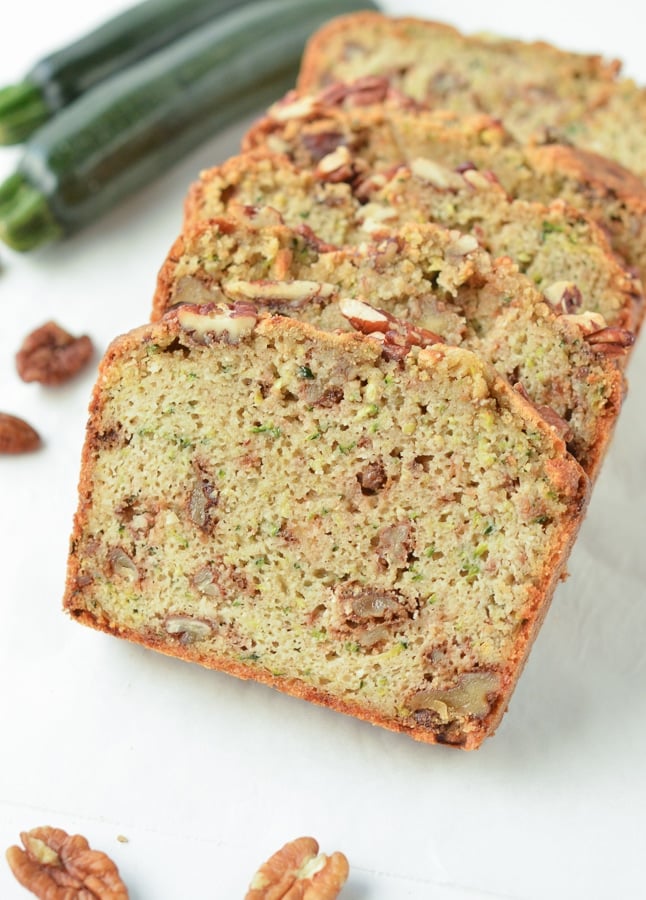 Plus, all you need to make this gluten free zucchini bread recipe are a few simple ingredients:
Almond flour – or almond meal, both work in this recipe.
Coconut flour – don't be tempted to skip the small amount of coconut flour, this makes the texture perfect preventing an overly moist bread.
Eggs
Melted coconut oil or butter.
Grated zucchini – make sure you measure the grated zucchini after you squeeze out all the water. Zucchinis are very good keto-friendly vegetables.
Sugar-free monk fruit sweetener – I am using Lakanto sweetener as always. It has a delicious sweet flavor with no aftertaste. Don't replace this for pure stevia or the recipe will be overly bitter and the bread won't hold together. Other options are erythritol or xylitol, but to learn more about sweeteners or to convert them, head to my keto sweetener converter!
Baking powder or use half the amount of baking soda if preferred.
Spices –  I used a combo of ground cinnamon, ginger and nutmeg. You may also want to add all purpose spices or replace the total amount of spices by pumpkin spices!
Chopped pecan and walnuts – you can use a combo of both nuts or only walnuts or pecan, it is up to you.
Vanilla extract or essence
How to succeed this keto zucchini bread recipe
This is a very easy keto zucchini recipe as all you have to do is to bring all the ingredients together in one bowl. However, I have few tips for you to make sure this recipe works every time.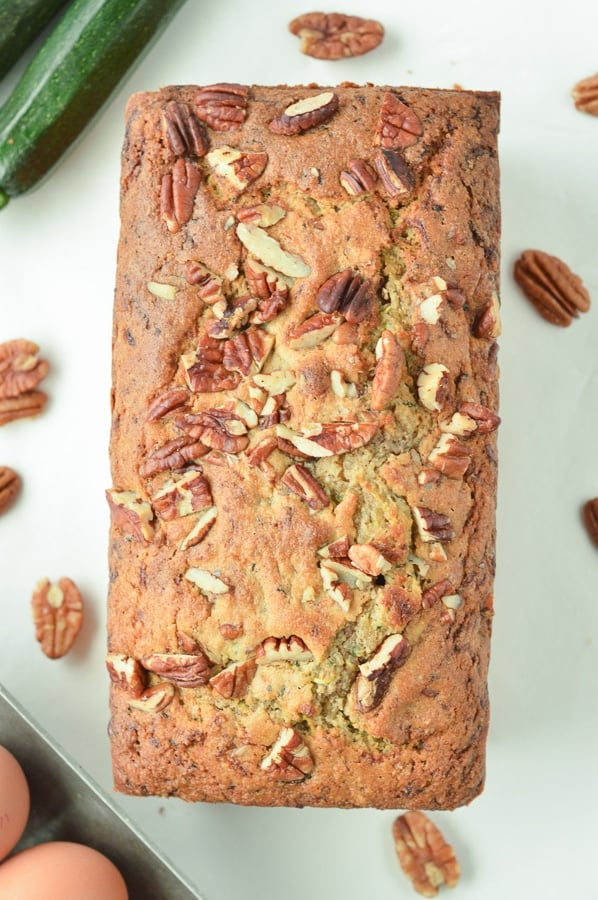 Zucchini – you must squeeze out as much water as you can from the grated zucchinis. Adding water to the bread will dilute the batter and it will never cook inside if it is too moist. Use your hands to squeeze out the water or pat dry the grated zucchini on absorbent kitchen paper to soak all the zucchini juice.
Baking time – it is a huge loaf, be patient and bake for at least 50 minutes up to 70 minutes! Also, I recommend baking on fan-bake mode for a more consistent baking.
Don't skip the coconut flour – this is a small amount but I found this powerful to keep the bread texture perfect, it comes much more moist if you skip it !
A sugar-free zucchini bread using Monk fruit crystal sweetener
There are many options to make a sweet bread with no white sugar. My favorite option is always sugar-free monk fruit crystal as it has no after taste and can be used in a 1:1 ratio replacement to sugar in most recipes.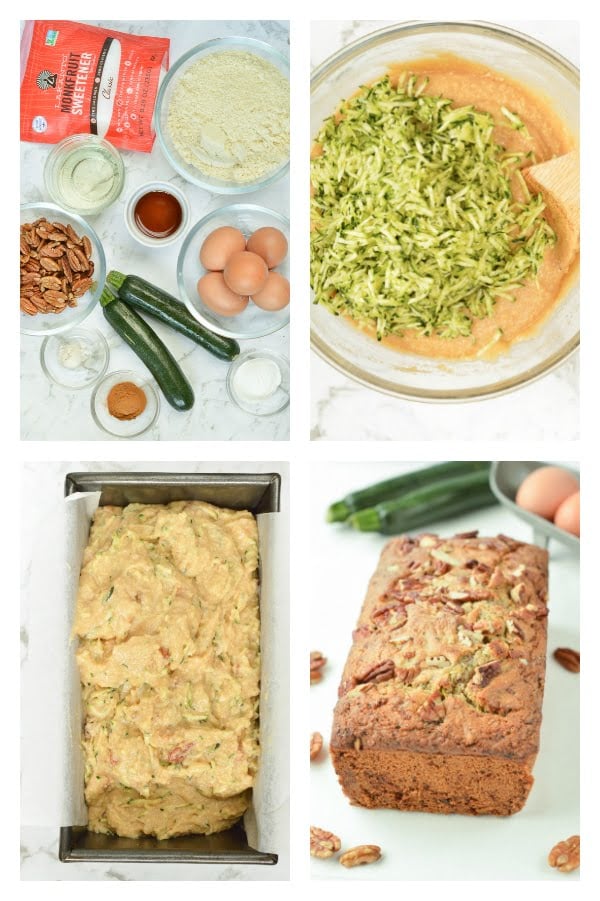 However, if you can't find some where you live there are plenty of keto friendly sugar-free sweeteners on the market like:
Swerve – a combo of erythritol and stevia also known as Natvia in Australia and New Zealand.
Lakanto – a combo of Monk fruit and stevia.
More keto fall spices recipes
If you love pumpkin spices I highly recommend you try my:
Paleo Pumpkin Brownies Vegan + Healthy + Flourless
Paleo Pumpkin Brownies, Healthy + Vegan + Flourless Homemade Brownie. 100% Keto + Sugar free + Low carb 
Net Carbs:
4
g
per serving | Serves
16
10 minutes
Check out this recipe
Pumpkin crepes, Low Carb
Pumpkin crepes, low carb and gluten free. A delicious recipe made with coconut flour, almond meal and a coconut cream pecan maple filling. 
Net Carbs:
3.1
g
per serving | Serves
6
10 minutes
Check out this recipe
Enjoy the lovely paleo zucchini bread and don't forget to share a pic with me on Instagram if you make it!
XOXO Carine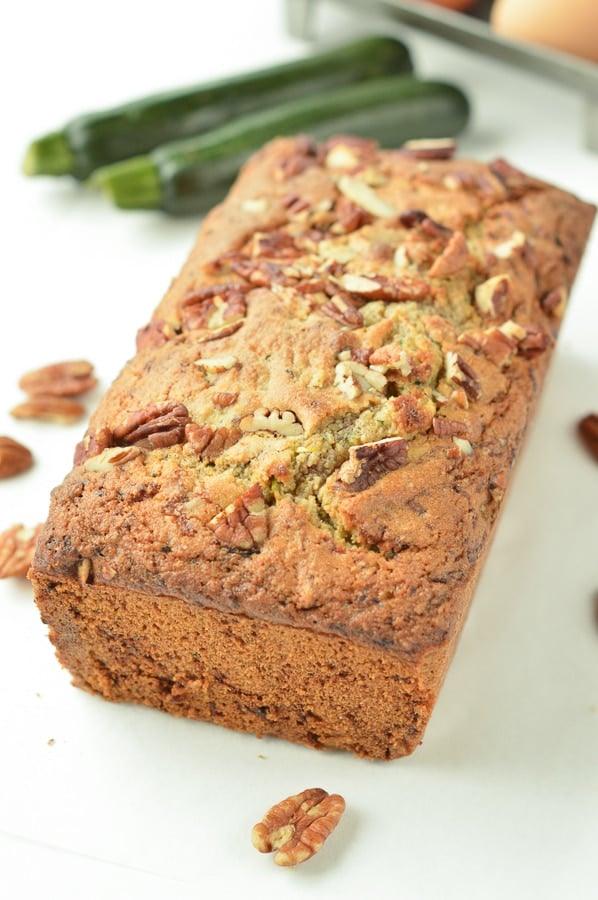 Keto zucchini bread
KETO ZUCCHINI BREAD an easy moist almond flour low carb bread with grated zucchini, walnuts, pecan and cinnamon.
16 slices
Print The Recipe
1 1/2 cup grated Grated zucchini packed, all the excess water removed, (230g)
2 1/4 cup Almond Flour (270g)
2 tablespoon Coconut Flour (17g)
3/4 cup Erythritol , erythritol or xylitol (use 1 cup if you have a very sweet tooth!) (150g)
3 teaspoon Baking powder
1 teaspoon Ground cinnamon
1/4 teaspoon ginger
1/4 teaspoon Nutmeg
5 large Egg , beaten
1/2 cup Coconut oil or melted butter (120 ml)
2 teaspoon Vanilla essence
1/2 cup Pecan nuts chopped, keep 1/4 cup for the top (60g)
1/2 cup Walnuts chopped (60g)
Preheat oven to 180C (350F). Line a loaf pan 9 inches x 5 inches with a piece of parchment paper. Slightly oil the paper to make sure the bread doesn't stick to the pan. Set aside.

Grate the zucchini finely, skin on, using a food processor or a hand grater. Squeeze out the water from the grated zucchini pressing them with your hands first, then pat dry on kitchen absorbent paper (or clean towel). You must remove all the water from the zucchini or the bread batter may be too moist. Measure the amount of grated zucchini required by the recipe after you dry them. Set aside in a bowl.

In a large mixing bowl, whisk the almond flour, coconut flour, sugar-free crystal sweetener, baking powder, and spices : cinnamon, ginger and nutmeg. Set aside.

Stir in beaten eggs, vanilla and melted coconut oil. Combine for about 1 minute until it forms a consistent cake batter.

Stir in grated zucchini (make sure they are dry, no liquid) , chopped walnuts and 1/4 cup chopped pecan nuts as you keep 1/4 cup to decorate the top of the bread.

Transfer the batter into the prepared loaf pan and sprinkle the remaining 1/4 cup chopped pecan on top. Slightly press the nuts on top of bread to make sure they stick to it while baking.

Bake on fan-bake mode, in the center rack of the oven, for 50 -70 minutes in total. After 30 minutes add a piece of foil on top of the bread to avoid the top of the bread to burn and ensure the bread cook perfectly inside.

After 50 minutes baking, insert a skewer in the middle of bread if the batter stick a lot to the skewer it is not ready. Return to the oven with the piece of foil on top and keep baking for another 10 to 20 minutes. It can take up to 70 minutes to be fully baked inside as this is a thick bread, be patient and keep baking until set in the middle. Repeat the skewer trick every 10 minutes to check when ready. It is ready when few to no crumbs stick on the skewer and the center is not jiggly.

Cool in the pan for 15 minutes, then lift out the pieces of parchment paper to transfer the zucchini bread onto a cooling rack. Wait at least 3 hours or overnight before slicing. It must be fully cool down to avoid the bread to crumble when sliced.
Net carb  per slice : 3.3 gram
Nutrition Facts
Keto zucchini bread
Amount Per Serving (1 slice)
Calories 217 Calories from Fat 131
% Daily Value*
Fat 14.6g22%
Carbohydrates 5g2%
Fiber 1.7g7%
Sugar 1.3g1%
Protein 5.1g10%
Vitamin A 2IU0%
Vitamin C 5mg6%
Net Carbs 3.3g
* Percent Daily Values are based on a 2000 calorie diet.