Keto Zucchini Pancakes (Sweet Version)
These Keto Zucchini Pancakes are sweet breakfast pancakes with a fluffy texture and filled with fall spices and moist shredded zucchini.
They are a delicious Fall keto breakfast to sneak some greens into your plate with only 1.7 grams of net carb per serving. Bonus, these are also gluten-free!
I already shared with you my keto zucchini fritters, a savory zucchini pancake recipe also known as keto zucchini fritters, that I love to serve as a light dinner topped with sour green and herbs.
So now time for a sweet zucchini pancake recipe, the fresh and healthy alternative to old-fashioned pancakes.
What Are Zucchini Pancakes?
Zucchini pancakes are not keto zucchini fritters! A keto low-carb zucchini fritter recipe is fried in oil and savory, usually served as a light dinner, keto hash brown swap, or side dish.
However, keto pancakes with zucchini are sweet and fluffy, cooked on a slightly oiled pancake griddle, and served with sugar-free maple syrup and pecans.
They are sweet pancakes with added zucchini to add vitamins and nutrients to your keto breakfast while enjoying a sweet treat.
How To Make Zucchini Pancakes
Ingredients
Almond flour – don't swap for coconut flour, or the pancakes will be extremely dry. Learn how to choose your keto flour.
Unsweetened almond milk
Eggs -Use large eggs.
Zucchinis – read my paragraph below to learn how to prepare zucchini. Is Zucchini Keto-friendly?
Baking soda or baking powder
Vanilla essence
Erythritol – or any other similar keto sweetener.
Cinnamon
Nutmeg
Melted coconut oil or melted butter – measured melted.
Olive oil to slightly oil the pancake griddle. You can also use avocado oil.
Xanthan gum – this ingredient helps the batter hold well together and makes the pancakes easier to flip without breaking apart. Also, you can replace xanthan gum with 1 teaspoon of psyllium husk.
Prepare the zucchini
Zucchinis are great low-carb vegetables. They are made at 95% of water and add many nutrients and vitamins to your keto diet.
But, to prevent zucchinis from releasing their water into a recipe, you must drain the shredded zucchinis first.
Start by trimming the end of the zucchinis, keeping the skin on because we don't want to lose all their nutritional properties.
Next, shred the zucchini in a food processor or using a box grater. I recommend using the smaller attachment to shred zucchini thinly.
Finally, wrap the shredded zucchini in a clean kitchen towel or cheesecloth and twist to extract excess moisture from the zucchini.
You can also pat dry the zucchini between two pieces of paper towel. It's a less messy option, as zucchini tend to color your towel green!
Discard the water, or keep it for juice or soup.
Set aside the shredded, drained zucchini in a bowl.
Making the batter with a blender
In the jug of a high-speed blender, add almond flour, eggs, almond milk, baking soda, vanilla extract, erythritol, cinnamon, nutmeg, xanthan gum, and melted coconut oil.
Blend on high speed until the batter is smooth.
Then, transfer the batter into a mixing bowl and stir in grated zucchini. At this point, you can also stir in some delicious adds-on, about 1/4 cup of:
Shredded coconut
Sugar-free chocolate chips
Chopped pecans
Set the batter aside for 10 minutes then it's ready to cook on a pancake griddle.
Making the batter with no blender
If you don't have a blender, you can combine all the ingredients into a mixing bowl.
Start by beating the liquid ingredients together. Then, stir in the dry ingredients and, finally, the shredded zucchini.
The batter is a bit more grainy without a blender, so make sure you use ultra-fine almond flour to decrease this feeling.
Cooking
Warm a pancake griddle or crepe pan over medium heat. Slightly grease the surface of the skillet with oil spray, and then add 2 tablespoons of batter per pancake.
Cook the pancakes gently on one side for 2-3 minutes or until the sides start to dry out and turn golden brown.
Then, slide a spatula under the pancake and flip it on the other side to cook for 1-2 extra minutes.
Serving
Serve the pancakes as a delicious dessert or breakfast with a drizzle of sugar-free maple syrup and a few toasted pecans and nuts. I like to also add the following:
Unsweetened whipped cream
A pinch of cinnamon
Shredded coconut
Savory Options
This is also a great recipe for making savory keto zucchini pancakes as an appetizer. To do so, skip the vanilla extract and sweetener.
Instead, add 2 tablespoons of chopped chives or green onions and a pinch of salt and garlic powder for a delicious savory taste.
Other savory add-ons that you can add up to 1/4 cup are:
Shredded cheese or sour cream, sliced green onions, and grated parmesan cheese.
Sundried tomatoes or other sundried veggies
Bacon bites
Cottage Cheese Dip to increase the protein

Storage Instructions
Store the cooked pancakes in the fridge in an airtight container for up to 3 days. Then, rewarm in a hot pancake griddle or a bread toaster or toaster oven.
Of course, you can also freeze these keto zucchini sweet pancakes for later. Thaw in the fridge before serving.
More Keto Zucchini Recipes
I love to bake keto recipes with zucchini to use all my summer garden zucchini or to add greens to my day without too many carbs.
Below I listed my top low-carb zucchini recipes for you to try.
Have you made these sweet keto pancakes with zucchini? Let me know what you think about them. I love to read your feedback on my recipes.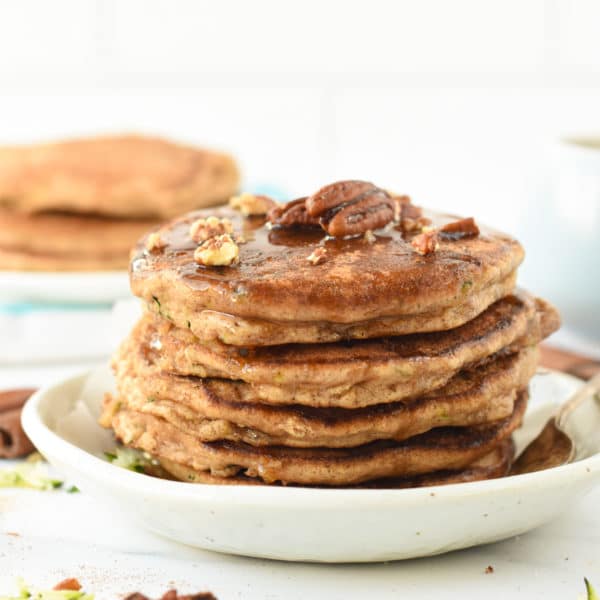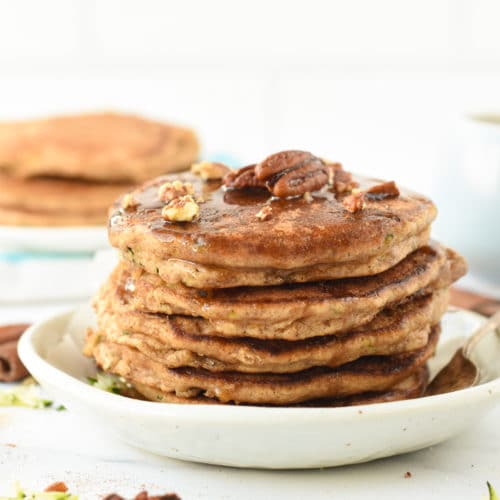 Keto Zucchini Pancakes
Almond flour Keto Zucchini Pancakes are fluffy gluten-free pancakes filled with moist zucchini, flavorsome fall spices for a delicious low-carb breakfast, and sneak greens to your day.
Yield:
pancakes (3 tbsp batter each)
Serving Size:
1
pancake (3 tbsp batter each)
Nutrition Snapshot
Want My Kitchen Equipment?
Ingredients
Serving ideas for 2 pancakes (not included in nutrition panel)
Instructions
First, trim zucchini ends, keep their skin on, and shred with the thinner grating attachment of your food processor or hand box grater.

Place the shredded zucchinis in a kitchen towel, twist, and squeeze to remove excess water. Discard zucchini water. Measure 1/2 cup of shredded drained zucchinis and set aside in a bowl.

In the jug of a high-speed blender, add almond flour, baking soda, cinnamon, nutmeg, erythritol, xanthan gum, eggs, almond milk, melted coconut oil, and vanilla extract

Blend on high speed until all the ingredients are combined. Transfer batter into a mixing bowl and stir in the shredded, drained zucchinis. Set aside for 10 minutes to rest the batter.

Heat a large non-stick pancake pan or griddle over medium-high heat.

Spray olive oil onto the pan and then add 3 tablespoons of batter onto the griddle for each pancake. Don't add more than 3 tablespoons, or the pancakes will be difficult to flip and fragile.

Flip the pancakes over with a flat spatula when the sides are set. It takes about 2 minutes.

Keep cooking on the other side until golden brown.

Serve with sugar-free flavored maple syrup, toasted pecans, a pinch of extra cinnamon.

Store in the fridge in an airtight container for up to 3 days. Rewarm on a pan, sandwich press, or in the toaster. They can be frozen in an airtight ziplock bag and defrosted in the toaster before serving.
My Recipe Notes
Nutrition
Serving Size:
1
pancake (3 tbsp batter each)
Yield:
pancakes (3 tbsp batter each)
Serving:
1
pancake (3 tbsp batter each)
Calories:
143.8
kcal
(7%)
Carbohydrates:
3.3
g
(1%)
Fiber:
1.6
g
(7%)
Net Carbs:
1.7
g
Protein:
4.3
g
(9%)
Fat:
13.5
g
(21%)
Saturated Fat:
5.5
g
(34%)
Polyunsaturated Fat:
0.3
g
Monounsaturated Fat:
0.7
g
Trans Fat:
0.1
g
Cholesterol:
37.2
mg
(12%)
Sodium:
80.3
mg
(3%)
Potassium:
30.6
mg
(1%)
Sugar:
0.7
g
(1%)
Vitamin A:
66.4
IU
(1%)
Vitamin B12:
0.1
µg
(2%)
Vitamin C:
1.1
mg
(1%)
Vitamin D:
0.2
µg
(1%)
Calcium:
46
mg
(5%)
Iron:
0.7
mg
(4%)
Magnesium:
2.4
mg
(1%)
Zinc:
0.1
mg
(1%)
Posted In: