Keto Almond Flour Pancakes
The keto pancakes with almond flour are an easy healthy low-carb breakfast with only five ingredients and 2.6 grams of net carbs.
In addition, these delicious fluffy almond flour pancakes are gluten-free, keto, and low-carb-approved. So, keep reading to learn more about how to make them.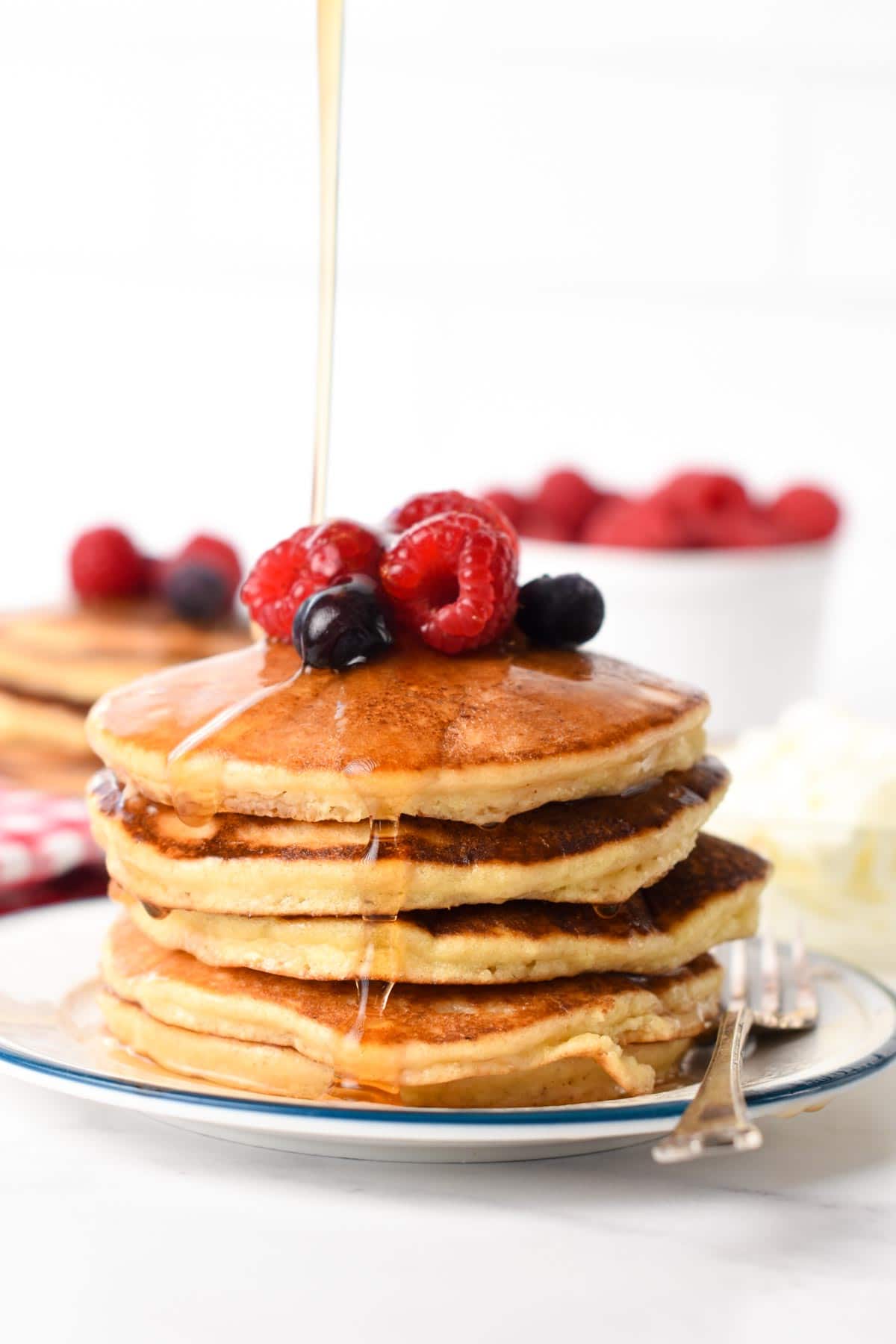 What Are Keto Pancakes With Almond Flour?
These almond flour pancakes are the best fluffy almond flour pancakes to start the day. If you are looking for a healthy alternative to classic pancakes for kids, it's also a great recipe!
They contain lots of protein and fibers to keep their little tummy full until lunchtime. Honestly, everyone loves this simple almond flour pancakes recipe in my house.
In addition to their amazing fluffy texture and nutty-sweet flavor, they are super easy to make.
This recipe is much easier to make than my keto coconut flour pancakes since almond flour is easier to work with than coconut flour.
How To Make Almond Flour Pancakes
Additionally, these healthy pancakes without bananas are keto-friendly. They don't use any high-carb fruits, only low-carb flour, and no added sugar.
Below are all the ingredients you need to make them.
Ingredients
Almond flour – make sure you use blanched almond flour and not almond meal. Almond meal has a coarser texture, and the paleo pancakes will lose their fluffy texture with almond meal. Learn how to pick keto flours.
Unsweetened almond milk – Any low-carb milk will work in this recipe, so if you can't find almond milk, feel free to adapt with any milk you like.
Eggs – you need eggs in this almond flour pancake recipe, especially if you want to keep the recipe low-carb. At this time, the only egg replacement option that works was using 1/4 cup of buckwheat flour instead of eggs, but it's not a low-carb option.
Melted coconut oil – or any vegetable oil you like. If you are using coconut oil, make sure your eggs and milk are not too cold, or it would solidify the coconut oil, creating lumps in the batter.
Baking soda – 1/2 teaspoon is what I like to use. You can upgrade to 3/4 teaspoon for fluffier pancakes if you like.
Vanilla extract
Erythritol or any keto sugar-free sweetener to add sweetness to the batter
Making Perfect Pancakes With Almond Flour
Ingredients' temperature – make sure your eggs and almond milk are at room temperature. If they are cold, straight from the fridge, they will solidify the melted coconut oil, creating lumps. If your ingredients are cold and you can't wait, use a different oil to prevent this from happening. Any vegetable oil would work well, like canola oil, avocado oil, and flaxseed oil.
Cooking temperature – the temperature is key to making the perfect almond flour pancakes. The crepe pan should be hot but not too hot, or the pancakes won't rise and burn. Choose a medium-high heat, reduce it to low heat if needed, and be patient.
Space – Leave them some space. Don't add more than 3 pancakes at a time in the crepe pan for even cooking. Keep your pan still, no shaking, and wait until the sides are set before you flip them to the other side.
Oil – Spray or rub the pan with absorbent paper covered with vegetable oil. Avoid butter. It burns easily at medium-high temperature, leaving a burnt flavor on your pancakes. Don't add oil directly, or it will dry your pancakes.
Flipping – not more than one flip, or your almond flour pancakes will deflate. Also, make sure you flip them after the bubbles are showing in the batter. If flipped too early, they will break and not raise.
Serving Almond Flour Pancakes
Paleo pancakes are very bland on their own. We recommend adding toppings to bring out all the flavors of those almond flour pancakes.
First, a delicious, simple pancake topping is a piece of grass-fed butter and sugar-free flavored maple syrup.
The hot pancakes melt the butter, it's absorbed into the dough adding an amazing buttery flavor. Next, melted chocolate or sugar-free chocolate sauce and berries.
This is a powerful combo of flavors, especially chocolate and raspberry.
Finally, why not add some savory toppings to your pancakes? Try some mashed avocado, chives, and smoked salmon topped with a poached egg.
This will create the most decadent paleo pancakes for breakfast.
Storage Instructions
These Keto Pancakes With Almond Flour can be stored in the fridge in an airtight container for up to 3 days.
Rewarm them on a pan, sandwich press, or in the toaster.
They can also be frozen in an airtight zip-lock bag and defrosted in the toaster before serving.
More Healthy Pancake Recipes
If you like this pancake recipe, you'll love these:
Almond Flour Pancakes
Almond Flour Pancakes are healthy pancakes for kids and the family made with only 5 ingredients. These fluffy gluten-free pancakes contain only 2.6 g of net carbs per serving, a keto-friendly recipe for low-carb pancake lovers.
Nutrition Snapshot
Want My Kitchen Equipment?
Instructions
In a medium mixing bowl, whisk together the dry ingredients: almond flour, baking soda, and erythritol.

Whisk in unsweetened almond milk, melted coconut oil, eggs, and vanilla until combined. Make sure your ingredients are not too cold, or they will solidify the coconut oil. We recommend keeping eggs and milk at room temperature for this to happen or use any other vegetable oil you like.

Heat a large non-stick pancake pan or griddle over medium-high heat.

Apply vegetable oil to the pan with kitchen absorbent paper towels or spray oil on the pan.

Ladle 1/4 cup batter onto the griddle for each pancake.

Flip the pancakes over when the sides are set, about 2 minutes.

Keep cooking on the other side until golden brown.

Serve with butter and sugar-free flavored maple syrup.

Store in the fridge in an airtight container for up to 3 days. Rewarm on a pan, sandwich press, or in the toaster. Can be frozen in an airtight ziplock bag and defrosted in the toaster before serving.
My Recipe Notes
Nutrition
Serving:
1
pancake
Calories:
233
kcal
(12%)
Carbohydrates:
5.6
g
(2%)
Fiber:
3
g
(13%)
Net Carbs:
2.6
g
Protein:
7.2
g
(14%)
Fat:
19.9
g
(31%)
Posted In: