Perfectly Perfect Poached Eggs
Learn How to Make Poached Eggs that are perfect every time with this simple poached egg recipe.
Plus, these step-by-step instructions are easy to follow and require minimal kitchen skills.
If you love eggs, you might have already tried some of my other egg recipes. When I don't make boiled eggs in the air fryer or a spinach omelette, I go for poached eggs.
What Are Poached Eggs?
Poached eggs are very common in French cuisine. They are served on buttered, toasted bread with a coulis of roasted tomato sauce and basil.
It's a way of cooking eggs whole but without their shells in water.
Poached eggs typically have a very runny yolk and soft, cooked egg white around it.
Let me share with you how to make poached eggs perfectly every single time.
How To Make Poached Eggs
A delicious poached egg has a firm, shiny oval-shaped white egg encasing a runny egg yolk.
Ingredients
All you need to make poached eggs are:
Fresh Eggs – The freshness of eggs is crucial to perfect the recipe. Prefer free-range organic eggs for a better taste.
Boiling Water – Reduced to a light boil.
Vinegar
Salt – You can also add black pepper.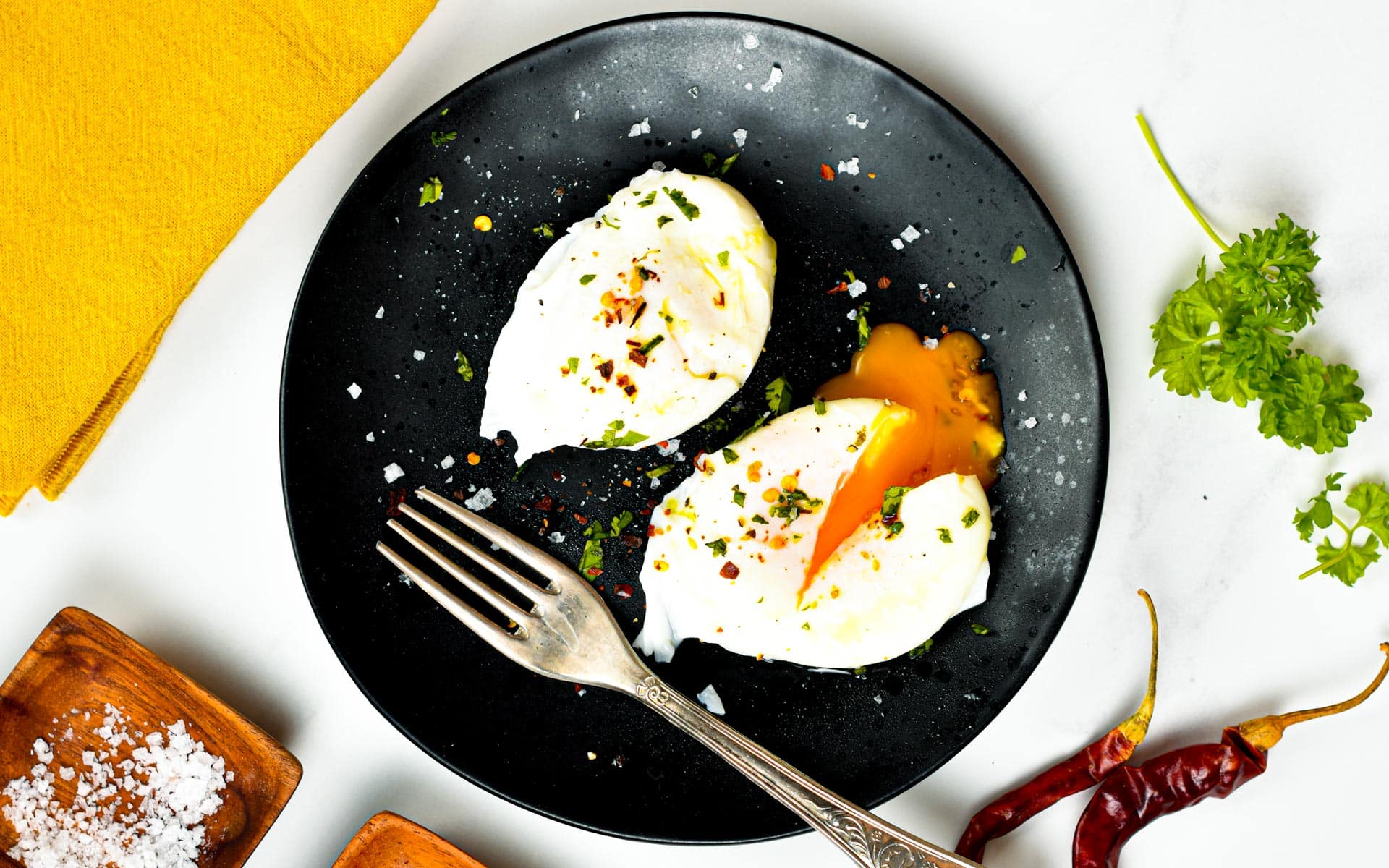 Tip 1: Preparing The Eggs
First, crack the eggs over a small sieve above a bowl.
This will remove the part of the egg white that is not well attached to the egg. It's often a few milliliters, but if you keep it, the poached eggs won't get a nice oval shape.
Discard the egg white that goes through the sieve. Transfer the egg from the sieve to a small bowl or small ramekin.
Tip 2: Don't Crack Eggs In The Water
Keep the cracked eggs in individual ramekins or small bowls. This makes it easier when pouring the egg into the boiled water and prevents the egg yolk from breaking.
Tip 3: Reducing Heat
Place a large saucepan filled with cold water over medium-high heat. Bring it to a boil, add a pinch of salt to the hot water, and reduce it to a medium boil to have simmering water.
Now use a fork to swirl the pot of water and create a whirlpool on the spot you expect to release the egg. Pour the egg from the ramekin into middle of the vortex of boiling water.
Tip 4: Add Eggs Slowly
Now, wait for 45 seconds. Don't touch the swirling water or add any other egg in the saucepan.
In fact, swirling the water too early mixes the egg white with boiled water and results in a white foam all around the top of the saucepan.
However, if this happens, you can remove the foam from the saucepan using a small sieve.
Tip 5: Cooking Until Set
A poached egg cooks within 3 minutes.
The key to knowing if the egg is cooked through is to look at the egg white. The egg white should be set around the egg yolk and firm.
Tip 6: Cooling On A Towel
Line a plate with a clean kitchen towel. Use a slotted spoon to remove the poached egg from the water and transfer it to the towel. The towel will absorb the extra water around the egg.
Leave the egg for a few minutes on the towel.
To keep the poached eggs warm, place another kitchen towel on top.
Serving Poached Eggs
You can eat poached eggs on their own with some of the seasoning options below:
Salt
Pepper
Chili flakes
Freshly chopped Parsley
Drizzle of olive oil
Grated Parmesan
On Top Of A Salad
You can also serve them on top of any salad, to substitute boiled eggs, add protein to your meal, or make Turkish eggs.
These are my favorite salads for poached eggs.
On Top Of Bread
Another common way to serve a perfectly poached egg is on top of bread, like my:
Making Egg Benedict
Poached eggs are most famously used to make egg Benedict for a delicious brunch.
An egg benedict is made by splitting an English Muffin in halves and toasting them. You can alternatively use classic bread slices.
Cook some bacon in a frying pan. You don't need oil, as the bacon will release enough grease. Turn the bacon slices regularly until it's cooked.
Use forks or tongs to take the cooked bacon to a paper towel to let them release their grease.
Butter the bottom slice of your English muffins and add your bacon strips.
Place one or two poached eggs on top of the bacon before pouring Hollandaise sauce (store-bought or homemade).
Top the eggs Benedict with the top slice of English muffins and enjoy warn.
Storage Instructions
Poached eggs are better served lukewarm just after cooking.
You can store them in the fridge in an airtight container for up to 2 days but don't rewarm before serving, or the egg yolk will harden.
Serve the poached eggs cold.
Frequently Asked Questions
Find below my answers to your common questions on how to poach eggs.
Should I Add Vinegar Into Poached Eggs?
Yes, vinegar is essential for a perfect poached egg. Read this study about how vinegar impacts the cooking of eggs.
How Long Should I Poach An Egg?
You need about 3 minutes to poach a large egg in boiling water.
How Many Calories Are In A Poached Egg?
Poached eggs contain 72 calories, one of the lowest-calorie options to cook eggs with boiled eggs.
Why Do I Have Foam In My Poached Egg Water?
This happens if your egg white gets mixed with the boiled water.
When there's too much movement in the water, or the water is too cold, it separates the egg white.
To avoid that, reduce the water to a medium boil.
Should I Use Ice Water?
You can place the cooked poached eggs in an ice water bath to stop the cooking, but it's not absolutely necessary if you followed the cooking times.
More Egg Recipes
I love eggs for breakfast or in my salad recipes. So here are some more ways to cook eggs.
Have you tried poaching eggs with this tutorial? Share with me how you served your eggs in the comment section below.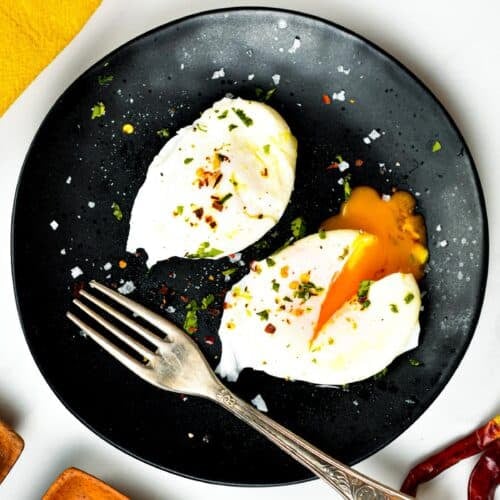 How To Make Poached Eggs
Learn how to make poached eggs that are perfect every time with this simple poached egg recipe. Plus, these step-by-step instructions are easy to follow and require minimal kitchen skills to start.
Serving Size:
1
Poached Egg
Nutrition Snapshot
Want My Kitchen Equipment?
Instructions
Line a plate with a clean kitchen towel. Set aside.

First, select fresh eggs. The fresher, the better the egg white will hold to the egg yolk.

Place a small sieve over a bowl and crack the egg in the sieve. Some egg white will go through the sieve – discard that part.

Transfer the egg left in the sieve to a small ramekin. Repeat this step for the other egg. Keep the eggs at room temperature while the water is boiling.

In a large saucepan, add water up to 3/4 of its level. Bring to a boil, add salt and vinegar, and decrease to a medium boil.

Use a fork to slowly stir the water in one spot and quickly pour the cracked egg into the swirl. Stop swirling, don't move the pan, and wait 45 seconds at least before adding another egg.

When the first egg white is set, you can add the second egg to the other side of the saucepan.

Use a slotted spoon to remove the egg from the saucepan and release it on the towel. Cover with another towel to keep it warm.

Keep the eggs for a few minutes on the towel, just enough to absorb the water left around them.

Serve immediately on top of bread or salad.
My Recipe Notes
Nutrition
Serving Size:
1
Poached Egg
Serving:
1
Poached Egg
Calories:
72
kcal
(4%)
Carbohydrates:
0.4
g
Net Carbs:
0.4
g
Protein:
6.3
g
(13%)
Fat:
4.8
g
(7%)
Saturated Fat:
1.6
g
(10%)
Polyunsaturated Fat:
1
g
Monounsaturated Fat:
1.8
g
Trans Fat:
0.02
g
Cholesterol:
186
mg
(62%)
Sodium:
652.4
mg
(28%)
Potassium:
69.2
mg
(2%)
Sugar:
0.2
g
Vitamin A:
270
IU
(5%)
Vitamin B12:
0.4
µg
(7%)
Vitamin D:
1
µg
(7%)
Calcium:
28.5
mg
(3%)
Iron:
0.9
mg
(5%)
Magnesium:
6
mg
(2%)
Zinc:
0.6
mg
(4%)
Posted In: