This Cucumber Yogurt Salad is a refreshing, healthy summer salad perfect as a side or light meal or to fill pita bread for a tasty sandwich.
Cucumber salad is also gluten-free, low-carb, and vegan-friendly.
If you like cucumber, you'll love this recipe. Cucumber is such a delicious, crunchy, refreshing vegetable to make salads or dips.
You might have tried my Vegan Tzatziki, my Asian Cucumber Salad, or Keto Cucumber Salad. You must try this creamy cucumber salad next.
This Greek yogurt cucumber salad is a lighter alternative to my keto cucumber salad made with sour cream.
Plus, it's easy to make vegan and dairy-free using your favorite dairy-free Greek-style yogurt.
So let's see how to make the perfect cucumber dill yogurt salad in less than 30 minutes.
How To Make Cucumber Yogurt Salad
It's very easy to make cucumber salad. The only things you need are a few ingredients and a bit of patience to prepare the vegetable and avoid a watery sauce.
Ingredients
The main ingredients of a Greek Cucumber Salad are:
English Cucumber – You can peel, half peel, or not peel the cucumber. I like peeling cucumbers because they are easier to digest, and the salad's texture is smoother.
Salt
Full-Fat Greek Yogurt or any thick full-fat plain yogurt you like including dairy-free yogurt if needed. You can use low-fat yogurt, but the sauce won't be as rich and creamy.
Dried Dill
Dijon Mustard
Freshly Squeezed Lemon Juice
Garlic Clove
Ground Pepper
Slicing The Cucumber
First, peel the cucumbers and cut off the extremities. Cut each cucumber in half lengthwise.
Then, use a small spoon to remove the seeds, the center part of each cucumber. It should look like cucumber boats.
Finally, cut each cucumber into thin 1/4-inch slices. It will look like half moons since you have removed the cucumber seeds.
Sweating The Cucumber
Place the cucumber slices in a large bowl, sprinkle some salt, and toss them with a spoon to coat evenly.
Set the cucumber aside in the fridge for 20 minutes.
After that time, drain the cucumber slices over a sieve to remove the juice extracted.
Next, use some absorbent paper to pat dry the cucumber. Finally, return the slices to the salad bowl, while making the Greek yogurt dressing.
Creamy Yogurt Dressing
For the cucumber salad dressing, prepare a small bowl and add Greek Yogurt, lemon juice, Dijon mustard, dried dill, pepper, and crushed garlic. Stir to combine evenly.
Pour the salad dressing on top of the bowl with the cucumber slices.
Toss the cucumbers with the sauce to cover them evenly with the yogurt.
Serving
This creamy cucumber salad is delicious on its own or in Low-Carb Pita Bread. Adjust salt and pepper on your plate just before serving.
Or add some of the toppings below for a boost of flavor:
Chili flakes or cayenne pepper for a spicy cucumber salad.
Fresh dill
Drizzle of extra virgin olive oil
Toasted pine nuts
Best Meal Pairing
This cucumber yogurt salad recipe is the perfect light dinner or side dish to any grilled meat or eggs like:
Storage Instructions
Cucumber salad tastes better fresh within 24 hours of making it. This said, it can last up to two days in a sealed container in the fridge.
After one day, the cucumber may release more water in the sauce, and the vegetable softens.
Variation
Of course, you can stir some other ingredients into this salad to create different flavors.
For example, you can add some:
Boiled Eggs – Use my air fryer-boiled egg method for a fast boiled egg recipe.
Gherkin Slices
Sundried Tomatoes
Avocado
Sliced Red Onion
Allergy Swaps
If you have some food allergies, try the options listed below.
Dairy-Free – Use a dairy-free thick plain yogurt like oat yogurt, soy yogurt, or coconut yogurt.
Low-FODMAP – Skip the garlic.
Lemon Swap – You can use apple cider vinegar instead.
Frequently Asked Questions
Find below my answers to your most common questions about this recipe.
Can I Use Lebanese Cucumber?
Yes, absolutely! But Lebanese cucumbers are smaller, so you will need about 5 or 6 of them for the sauce size in this recipe.
Also, you don't need to deseed Lebanese cucumber. You can cut them into round slices and sweat with the center.
Are Cucumbers Good For You?
Yes, cucumbers are one of the lowest calorie and lower-carb vegetables.
They are also rich in water and fiber, which keeps you full very quickly without adding too many calories to your plate.
Can I Make Cucumber Salad Ahead?
Cucumber salad is better fresh or prepared up to 24 hours before serving.
After that time, the cucumber softens and releases juice in the sauce, even if it has been sweated before use.
As a result, if you prepare the salad too much in advance, the sauce is watery, and the vegetables lose their crunchiness.
Did you try this cucumber yogurt salad? Share a comment or review below to connect with me.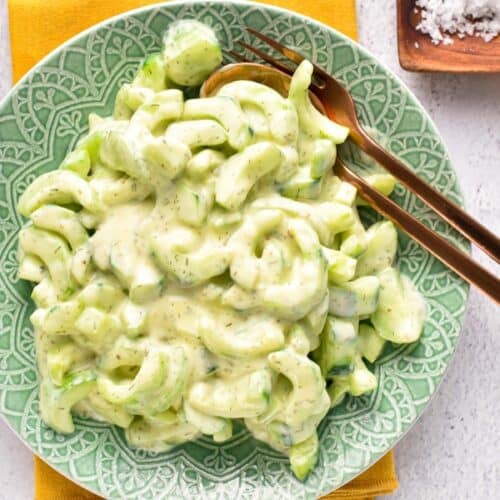 Cucumber Yogurt Salad
This Cucumber Yogurt Salad is a refreshing, healthy summer salad perfect as a side or light meal or to fill pita bread for a tasty sandwich
Yield:
servings (1/3 cup)
Ingredients
2

large

English Cucumbers

half, peeled, deseeded, finely sliced 1/4 inch half-moon shapes (about 3 cups)

½

teaspoon

Salt

1

cup

Greek Yogurt

1

teaspoon

Dijon Mustard

½

teaspoon

Dried Dill

finely chopped

2

tablespoons

Lemon Juice

3

Garlic Cloves

crushed

¼

teaspoon

Ground Pepper
This recipe may contain Amazon or other affiliate links. As an Amazon Associate I earn from qualifying purchases.
Instructions
Peel the cucumbers entirely or partially, depending on your taste. The cucumber skin adds more texture but can also be difficult to digest. Discard the cucumber ends.

Slice cucumber in half, lengthwise, then use a small teaspoon to scrape out the center – cucumber seeds. Cut each cucumber half into slices of 1/4 inches thickness to form half moon shapes. Sprinkle salt and toss to combine. Let the cucumber slices 'sweat' for 15-20 minutes.

Drain liquids and pat dry slices with absorbent paper. Set aside in a salad bowl, in the fridge.

In another bowl, whisk in the Greek yogurt dressing ingredients.

Pour dressing onto the cucumber slices and toss to combine evenly.

Refrigerate the salad 1 hour before serving to blend the flavors.
Storage
Store up to 4 days in the fridge in an airtight container.
Want My Kitchen Equipment?
Yield:
servings (1/3 cup)
Serving:
1
serving
Calories:
102.3
kcal
(5%)
Carbohydrates:
4.8
g
(2%)
Fiber:
0.6
g
(3%)
Net Carbs:
4.2
g
Protein:
1.2
g
(2%)
Fat:
9.2
g
(14%)
Saturated Fat:
3.1
g
(19%)
Polyunsaturated Fat:
3.3
g
Monounsaturated Fat:
2.2
g
Trans Fat:
0.1
g
Cholesterol:
12.9
mg
(4%)
Sodium:
266.3
mg
(12%)
Potassium:
197.3
mg
(6%)
Sugar:
2.5
g
(3%)
Vitamin A:
381.5
IU
(8%)
Vitamin B12:
0.1
µg
(2%)
Vitamin C:
6.6
mg
(8%)
Vitamin D:
0.1
µg
(1%)
Calcium:
43
mg
(4%)
Iron:
0.5
mg
(3%)
Magnesium:
16.9
mg
(4%)
Zinc:
0.3
mg
(2%)
Posted In: