This Shirazi Salad is a crunchy, refreshing Persian salad perfect as a side dish or light meal with bread like Barbari, the Persian flatbread.
Plus, this salad is super easy to make with just a few ingredients and is naturally low-carb, gluten-free, and vegan, so you can share it with all your guests.
There's something special about middle Eastern and Iranian cuisine. It's simple but also healthy and packed with flavors.
This Persian salad is a popular summer recipe that tastes between tabouli and pico de gallo.
It's packed with fresh herbs, cucumber, and tomatoes just like tabouleh without the couscous, but it has a fresh, crunchy texture similar to Pico de Gallo.
While Iran is not geographically part of the Mediterranean, its cuisine is very similar and uses the same healthy ingredients.
Let me share with you how to make this amazing side dish for your next Mediterranean dinner.
What's A Shirazi Salad?
A Shirazi Salad is a Persian salad made with cucumber, tomatoes, and red onion finely diced into small pieces and served with an olive oil sour grape juice dressing.
The salad comes from the city of Shiraz, where the Syrah grapes come from.
It's similar to the popular Mexican side dish Pico de Gallo but with Mediterranean flavors.
How To Make A Shirazi Salad
A Shirazi salad is a simple recipe that doesn't require much preparation or kitchen skills.
Ingredients
All you need to make this salad are:
English Cucumber – These are regular cucumbers found in most supermarkets. You can also use small Persians cucumbers. These cucumbers have fewer seeds in the center.
Roma Tomatoes – Or any of your favorite tomatoes rich in flavors.
Red Onions
Fresh Parsley
Fresh Mint Leaves
Fresh Cilantro
Dried Mint or dried oregano
Extra Virgin Olive Oil – Pick olive oil of the highest quality for better taste.
Lemon Juice or lime juice. But if you can find a classic unripe sour grape juice called Ab Ghooreh in Persian, the salad will taste even better.
Sumac or Za'atar – both are optional but add a delicious middle-Eastern flavor to the dressing.
Salt
Cutting The Vegetables
The secret of a tasty Shirazi salad is to finely dice the vegetable.
Dicing Tomatoes And Draining
Lay the tomatoes upside down with their stem on the chopping board. Hold on one side and cut horizontal slices of identical thickness using a sharp knife.
Lay each piece flat on the board and cut a series of vertical slices with the same spacing.
Repeat in the opposite direction, perpendicular to the slices you just cut to dice the tomato.
Place the diced tomatoes in a colander over the sieve to discard the excess juice.
Dicing Cucumber
Half peel or fully peel the cucumbers. It's up to you. Some people don't digest the skin of cucumbers well.
Cut off both cucumber ends and discard them.
Next, if you are using regular cucumbers, cut them in half vertically, so you end up with two small cucumbers.
Then, cut each cucumber piece horizontally into thin slices.
Finally, place each slice on the cutting board, cut into long stripes and then cut stripes vertically to make dice.
Dicing Red Onion
Cut the red onion into thin horizontal slices.
Then cut slice into small cubes.
Chopping Herbs
Discard stem of each herbs, keep only the leaves and chop has fine as possible.
Assemble the salad
In a large bowl, combine all the diced vegetable cucumber, tomatoes, and onions. Stir to combine evenly. Sprinkle some fresh chopped herbs on top, olive oil, and lime juice.
Stir to coat and add a pinch of Za'Atar or sumac, if you like.
Serving
This is a great salad to serve as a side dish to grilled meat, fried eggs, crusty bread, and more.
Below are some great recipes to serve with this salad.
You can also serve this salad as an appetizer or dip, along with some crackers and chips like:
Storage Instructions
This salad is better fresh but can be stored well in the refrigerator for up to 3 days in a sealed container.
It's a great healthy lunch to meal prep and add to a lunchbox or as a side to a high-protein meal.
Allergy Swaps
If you are allergic to some of these ingredients, you can use some of the substitution options below:
Low-FODMAP – Skip the red onion.
Olive Oil – Any other healthy oil can be used in this salad, such as avocado oil or almond oil.
Lime Lemon Swap – You can use red wine vinegar or apple cider vinegar.
Red Onion – You can replace the red onion with a yellow or brown onion.
Frequently Asked Questions
Below are my answers to your most frequent questions about this recipe.
Do I Need To Deseed The Cucumber Or Tomatoes?
No, you don't have to deseed the vegetables.
You can, if you want, remove some of the juice from the vegetables.
However, a Shirazi salad is usually made with raw chopped vegetables with their seeds, and cucumber is not sweated with salt.
Can I Add Other Vegetables To The Salad?
Yes, some versions of this salad include thinly chopped bell pepper like orange, yellow, or red bell pepper.
Other ideas are kalamata olives or diced avocado, but this won't be authentic to the salad.
Can I Use Cherry Tomatoes?
Sure, you can swap Roma Tomatoes for cherry tomatoes but they are much more difficult to cut into small dice.
You will need 2 cups of cherry tomatoes to replace the Roma tomatoes in the recipe.
More Salad Recipes
If you like easy, healthy salads, you'll love these other salad recipes:
Have you tried this Persian salad recipe? Share a comment or review below to connect with me.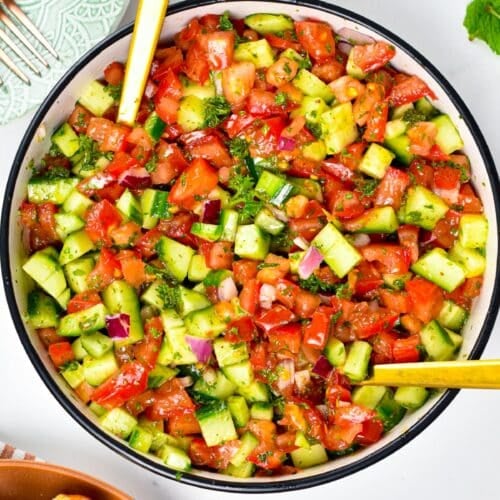 Shirazi Salad
This Shirazi Salad is a crunchy, refreshing Persian salad, perfect as a side dish or light meal with bread like Barbari, the Persian flatbread.
Nutrition Snapshot
Instructions
Peel the cucumber, or keep the skin on if preferred. Finely dice cucumber, red onion, and tomatoes into small cubes of the same size. You can use a sharp knife or mandoline with a cube attachment. Watch my pictures above for visual help.

Place the diced tomatoes in a colander to let their juice run out a bit – it makes the salad less watery.

In a large salad bowl, add all the diced vegetables and finely chopped herbs and pour the dressing ingredients on top.

Stir to evenly coat the vegetable with the herbs and dressing.

Serve immediately with crusty bread or as a side to grilled meat.
Strage
The salad is better fresh and served just after making it. You can store it for up to 24 hours in the fridge in an airtight container. After that time, the vegetables soften.
My Recipe Notes
Nutrition
Serving:
1
serving
Calories:
104
kcal
(5%)
Carbohydrates:
5.8
g
(2%)
Fiber:
1.3
g
(5%)
Net Carbs:
4.5
g
Protein:
1
g
(2%)
Fat:
9.2
g
(14%)
Saturated Fat:
1.3
g
(8%)
Polyunsaturated Fat:
1
g
Monounsaturated Fat:
6.6
g
Sodium:
101.7
mg
(4%)
Potassium:
217.2
mg
(6%)
Sugar:
2.6
g
(3%)
Vitamin A:
525.8
IU
(11%)
Vitamin C:
11.1
mg
(13%)
Calcium:
25.3
mg
(3%)
Iron:
0.5
mg
(3%)
Magnesium:
15.5
mg
(4%)
Zinc:
0.2
mg
(1%)
Posted In: