This Greek Pasta Salad is a healthy, fulfilling salad packed with Greek flavors and crunchy vegetables.
If you love salad as a meal, this easy 20-minute Greek Pasta salad recipe is for you.
What's A Greek Pasta Salad?
A Greek Pasta Salad is a simple Mediterranean Diet salad full of summer flavors and rich in nutrients.
If you are looking for something more filling than my Greek salad recipe, you can add pasta to it.
Pasta makes this simple side dish into a fulfilling meal packed with all the nutrients that keep you full for hours.
Plus, depending on your dietary requirement, you can easily turn this pasta salad into a gluten-free or low-carb lunch.
To do so, pick your favorite low-carb pasta or gluten-free pasta. I've listed several options below.
But first, let's see how you can bring this flavorsome Mediterranean salad to your table in less than 20 minutes.
How To Make Greek Pasta Salad
It's so easy to make this pasta Greek salad that it deserves to be added to your weekly meal plan.
Ingredients
All you need to make the salad are:
Cooked Pasta – Choose medium-size pasta like fusilli, penne, ziti, or farfalle.
English Cucumber – Peeled, deseeded, and cut into half-moon shapes with a 1/4-inch thickness.
Cherry Tomatoes – Halved. Pick red and juicy tomatoes.
Kalamata Olives or black olives
Red Onion – sliced
Green Bell Pepper – cut into 1-inch pieces.
Feta Cheese – You can use full-fat or low-fat feta cheese, as you prefer. I like goat cheese feta for its firm texture that holds better when you toss the salad. However, sheep feta or cow feta also work well and turn the salad creamier.
Cook Pasta
First, cook the pasta al-dente according to the packaging instruction. Next, drain and rinse them under cold tap water.
This prevents the pasta from sticking. Then let them cool down at room temperature.
Refrigerating Pasta
Next, I like to refrigerate my pasta for a few hours or overnight.
A recent study showed that cooking starchy foods like pasta, potatoes, or rice and then letting them cool down changes their structure.
It then increases resistant starches, a carbohydrate that the intestine can't digest. Instead, it ferments in the guts and feeds good bacteria.
Therefore, increasing resistant starches in food decreases their impact on blood sugar levels.
So if you are diabetic or simply want to enjoy pasta that won't impact your carbs cravings too much, just refrigerate them!
Cutting The Vegetables
Now, it's time to cut all your veggies. Make sure they are fresh, crispy, and washed.
Peel and cut the English cucumbers in half lengthwise. Then, use a teaspoon to remove the center part with cucumber seeds.
Cut each cucumber half into 1/4-inch thick half-moons.
Place them in a large bowl with the cooked pasta.
Next, halve the cherry tomatoes and add them to the bowl. Then, deseed the bell pepper, cut it into 1-inch pieces, and add it to the salad.
Finally, add slices of onion, feta cubes, and whole kalamata olives.
Set aside while preparing the salad dressing.
Making Greek Salad Dressing
The best salad dressing for Greek salad is a red wine vinegar dressing.
Vinaigrette Ingredients
Here are the ingredients you need for the salad.
Red Wine Vinegar or lemon juice
Extra Virgin Olive Oil
Dried Oregano or dried parsley
Garlic
Dijon Mustard
Pepper
Salt
Honey – optional add only if you like a sweet note to your salad dressing.
In a small bowl, add all the dressing ingredients and stir them to combine or put them in a small bottle and shake it.
Assembling The Salad
You have two options to serve this salad. If you aim to eat it in one meal, or within 2 days, adding the salad dressing to the salad as you make it is ok.
Toss to combine and serve with some of the toppings listed below. Adjust with salt and pepper individually in your plate.
You can also store the dressing in a small glass mason jar and drizzle 1 or 2 tablespoons on each salad bowl.
You can then add fresh avocado slices on top of your salad if you want.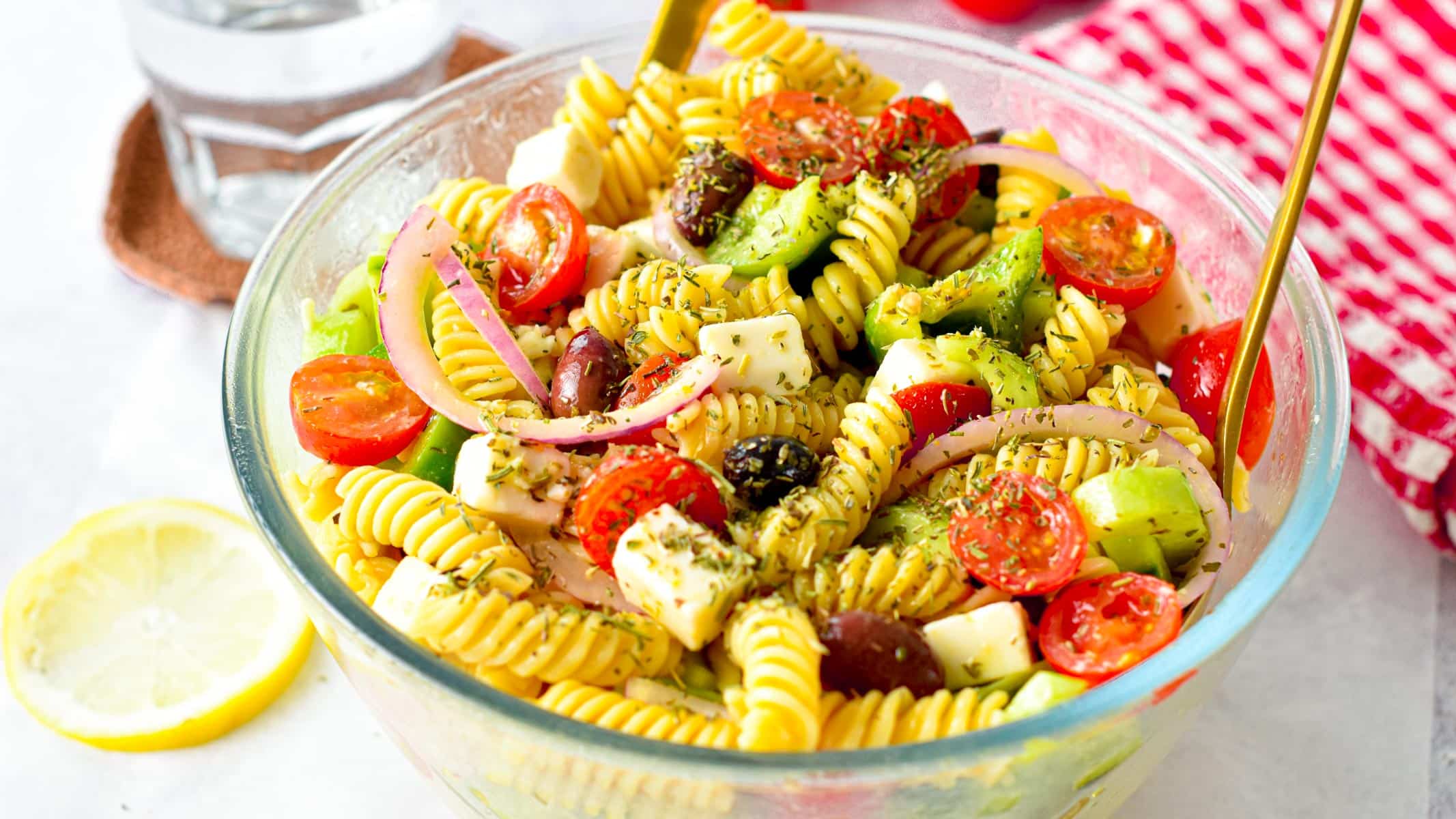 My Tips And Tricks
Making this salad is really easy, I'm sure you won't have any issue.
But these few tips can help you make it perfect every time!
Cook The Pasta Al Dente: nobody wants mushy pasta in the salad. You'll find that keeping them al-dente is the best for a flavorful salad.
Refrigerate The Pasta: Once you have cooked the pasta, refrigerate them for a few hours.
Leave The Salad In The Fridge Before Serving: This salad is delicious cold. Wrap it in plastic and store it for as little as 10 minutes in the fridge for the flavors to mix.
Storage Instructions
This seasoned Greek pasta salad lasts two days in the fridge in an airtight container.
If the dressing is stored aside, you can keep the salad fresh for 3 to 4 days in a salad bowl filmed with plastic wrap.
Salad Toppings
This pasta salad is delicious with some toppings like:
Fresh Basil
Dried Rosemary or thyme
Chili Flakes
An extra drizzle of olive oil – try truffle olive oil or garlic olive oil for a boost of flavor.
Extra crumbled feta
Allergy Swaps
If you have some food allergies I listed some options for you below
Low-Carb – You can find many low-carb pasta at the shop or online.
Gluten-Free – The best gluten-free pasta varieties for this recipe are brown rice pasta, corn pasta, buckwheat pasta, or sorghum pasta.
Dairy-Free – You can use dairy-free feta cheese or simply make the salad with no cheese.
Low-FODMAP – Skip the onion and garlic.
Frequently Asked Questions
Find below my answers to your most frequent questions about this Greek pasta salad recipe.
Can I Make Orzo Greek Salad With This Recipe?
Yes, you can replace the cooked pasta with cooked orzo, but since orzo is small, you will need one extra cup of cooked orzo.
Can I Add Roasted Vegetables?
An excellent addition to Greek salad is roasted Mediterranean vegetables like roasted zucchini, roasted eggplant, or zucchini.
You can roast at home, or use store-bought canned roasted vegetables.
What Can I Use Instead Of Feta?
You can replace feta with small mozzarella balls, freshly shaved Parmesan, or Halloumi.
Have you tried this Greek pasta salad? Share a comment or review below.
Greek Pasta Salad
This Greek Pasta Salad is a healthy, fulfilling salad packed with Greek flavors and crunchy vegetables. If you love salad as a meal, this easy 20 minutes Greek Pasta salad recipe is for you.
Ingredients
Greek Salad Dressing
½

cup

Olive Oil

¼

cup

Red Wine Vinegar

1

teaspoon

Dried Oregano

2

teaspoons

Dijon Mustard

2

Garlic Cloves

crushed

¼

teaspoon

Pepper

½

teaspoon

Salt

1

tablespoon

Honey

optional, for a sweet note
Pasta
4

cups

Cooked Fusilli Pasta

equivalent to 8 ounces uncooked
This recipe may contain Amazon or other affiliate links. As an Amazon Associate I earn from qualifying purchases.
Instructions
First, cook the pasta following the packaging instructions. Drain in a sieve, rinse with cold tap water and drain for a few minutes.

Place cooked, drained pasta in a large bowl, and film the bowl with plastic wrap to prevent the pasta from drying out. Refrigerate for a few hours or overnight to cool the pasta.

Chop all the vegetables: peel, deseed, and cut the cucumber into half-moon 1/4-inch slices. Slice the onion and halve the tomatoes. Deseed and cut the bell pepper into 1-inch pieces. Keep the olives whole.

In a large salad bowl, add cooked cold pasta, all the cut vegetables, and feta cubes.

In a small bowl, whisk all the Greek salad dressing ingredients and pour over the salad bowl.

Toss the salad to combine.

Serve with extra olive oil, extra crumbled feta cheese, dried thyme, or dried rosemary. Adjust salt and pepper to taste.
Storage
Store the seasoned salad in a sealed container in the fridge for up to 2 days.
Want My Kitchen Equipment?
Serving:
1
serving
Calories:
350.7
kcal
(18%)
Carbohydrates:
32
g
(11%)
Fiber:
3.1
g
(13%)
Net Carbs:
28.9
g
Protein:
9.9
g
(20%)
Fat:
20.8
g
(32%)
Saturated Fat:
5.8
g
(36%)
Polyunsaturated Fat:
1.9
g
Monounsaturated Fat:
11.5
g
Cholesterol:
25.2
mg
(8%)
Sodium:
623.4
mg
(27%)
Potassium:
301.7
mg
(9%)
Sugar:
3.5
g
(4%)
Vitamin A:
539.8
IU
(11%)
Vitamin B12:
0.5
µg
(8%)
Vitamin C:
29.7
mg
(36%)
Vitamin D:
0.1
µg
(1%)
Calcium:
177.7
mg
(18%)
Iron:
2.1
mg
(12%)
Magnesium:
37
mg
(9%)
Zinc:
1.5
mg
(10%)
Posted In: