This Greek Salad Recipe is the easiest refreshing Mediterranean salad with crunchy vegetables, creamy feta cheese, and tangy red wine salad dressing.
Plus, you only need 15 minutes to make this salad recipe, so no excuse to try it now.
If you love the flavorsome, simple, and healthy recipes from Greece, you'll love this Mediterranean diet Greek salad.
What's A Greek Salad?
Greek Salad, or Horiatiki salad, is a fresh and tasty meal full of healthy ingredients.
Its Greek name Horiatiki means "from a village" because it's made from locally-sourced Mediterranean ingredients such as tomatoes, feta cheese, cucumber, onions, and olives.
While there's a classic Greek Salad recipes, there are a number of equally traditional local variations that were made throughout Greece.
Some with added lettuce, some with watermelon, and even some with beans.
Here's my favorite way of making this vegetarian salad.
How To Make Greek Salad
It's super easy to make a traditional Greek salad, and it's the best light side dish to any grilled meat or vegetable.
Greek Salad Ingredients
Here's what you need to make this salad:
English Cucumber – Peeled, deseeded, and cut in half moons. You can keep the skin or cut the cucumber in different shapes, but I love the large chunks of cucumber in salads.
Cherry Tomatoes or large grape tomatoes cut into quarters. Make sure they are ripe and juicy tomatoes for a great taste.
Red Onions
Green Bell Pepper deseeded and cut into 1-inch cubes.
Kalamata Olives – The purple and soft kind of olives. They are less bitter than black olives and are typical in Greek recipes.
Feta Cheese cubed
Greek Salad Dressing
I recommend red wine vinegar for the salad dressing for its sweet flavor, but you can also use lemon juice if preferred.
Salad Dressing Ingredients
Extra Virgin Olive Oil
Red Wine Vinegar
Dried Oregano
Garlic Cloves – peeled and crushed
Salt And Pepper
Dijon Mustard
Making The Dressing
Place all the ingredients in a bowl and stir to combine.
You can also make some of my other delicious dressing recipes:
Preparing The Best Greek Salad
It's easy to make a salad. What is hard is creating a fantastic salad, and it always starts with the freshness of the vegetables.
Pick fresh, hard, and crunchy vegetables, clean them under cold water, and cut them into the shapes recommended in the recipe.
In fact, the shapes of vegetables in a salad impact their taste. Too big or too small, and their flavor changes.
Cutting The Vegetable Right
So here are my recommendations for a great Greek salad:
Cut the crisp cucumbers into half moons. Peel and deseed them so they don't get too crunchy and watery.
Cut the bell peppers into 1-inch cubes.
Slice the red onion finely into half moons.
Keep the olives whole. Don't cut them.
Slice the Feta cheese into cubes. Don't crumble, or it will mix with the salad dressing and make it too creamy.
After preparing all the vegetables, place them in a large bowl. Set aside in the fridge while preparing the dressing.
For the Greek salad dressing, whisk all the ingredients together, then pour over the salad bowl just before serving.
Toss to coat the vegetables evenly with the salad dressing.
Serving Suggestions
Serve the salad with extra fresh herbs like:
Fresh Basil or fresh dill
Fresh Mint
Chili Flakes for a spicy touch
Ground Pepper
Best Dishes Pairing For Greek Salad
This Greek salad is delicious on its own as a light meal but way better served with some meat or roasted vegetables like:
Another option is to use the salad in a Gyros recipe along with grilled chicken or to fill a pita bread or Moroccan Bread.
Storage Instructions
This Greek salad is better fresh or eaten within two days because the salad dressing softens the vegetables with time.
Store leftover salad in an airtight container in the fridge.
Another idea, if you want to keep the salad fresh for longer or meal prep meals with it, is to keep the salad dressing on the side.
Store the salad dressing aside in a sealed glass mason jar and drizzle on the salad just before eating.
Variations
You can create a huge range of Greek salad recipes, using this as a base and swapping or adding vegetables of your choice.
The best additions to this salad are:
Grilled Zucchini
Roasted Red Bell Pepper
Avocado
Roasted Eggplant
Greek Yogurt Salad – Add 2-3 tablespoons of Greek yogurt to the dressing for a creamy salad dressing.
Greek Orzo Pasta Salad – Stir in 2-3 cups of cooked orzo in the salad.
Greek Pasta Salad – follow my Greek Pasta Salad recipe.
Allergy Swaps
If you are allergic to some of the ingredients, you can use some of the following substitutions:
Dairy-Free – You can skip the feta, use dairy-free feta alternatives, or fresh, pressed tofu cubes instead.
Red Wine Vinegar can be replaced with lemon juice.
Low-FODMAP – Remove the red onion and garlic.
Frequently Asked Questions
Below are my answers to your most common questions about this recipe.
Can I Use Any Type Of Olives?
You can of course swap the kalamata olives for green or black pitted olives.
However, keep in mind that these other options are a bit more bitter.
Is Greek Salad Healthy?
Yes, Greek salad is one of the healthiest salad as it's low carb and the dressing is made with healthy monounsaturated fats from olive oil.
Have you tried this Greek salad recipe? Share a comment or review below to let me know how you liked it!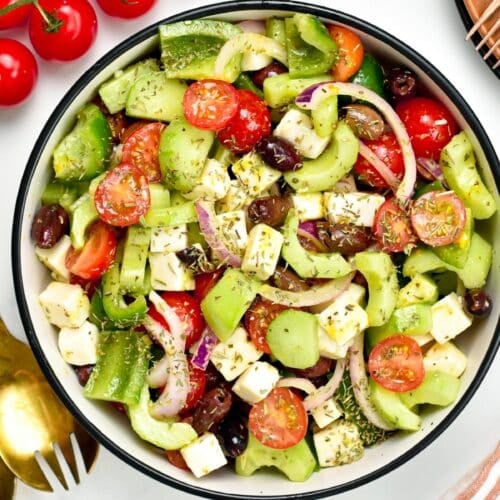 Greek Salad Recipe
This Greek Salad Recipe is the easiest refreshing Mediterranean salad with crunchy vegetables, creamy feta cheese, and tangy red wine salad dressing. You only need 15 minutes to make this salad recipe!
Nutrition Snapshot
Want My Kitchen Equipment?
Instructions
Wash all vegetables under cold tap water. Peel cucumber, cut it in half lengthwise, then use a teaspoon to scrape out the center.

Cut the cucumber into half-moon shapes with a 1/4-inch thickness. Set aside in a salad bowl.

Slice the red onion finely and add it to the bowl along with halved cherry tomatoes.

Deseed the green bell pepper, cut them into 1-inch pieces, and add them to the bowl.

Add feta cubes and whole kalamata olives to the bowl. Set aside.

In a small bowl, whisk all the Greek salad dressing ingredients.

Pour dressing over the vegetable and toss to combine.

Serve immediately with dried oregano or dried thyme, extra olive oil, or chili flakes.
Storage
Store leftovers for up to 2 days in a sealed container in the fridge or up to 3 days if the dressing is stored aside.
My Recipe Notes
Nutrition
Serving:
1
servings
Calories:
172.4
kcal
(9%)
Carbohydrates:
5.9
g
(2%)
Fiber:
1.6
g
(7%)
Net Carbs:
4.3
g
Protein:
3.8
g
(8%)
Fat:
15.3
g
(24%)
Saturated Fat:
4.1
g
(26%)
Polyunsaturated Fat:
1.3
g
Monounsaturated Fat:
9
g
Cholesterol:
16.8
mg
(6%)
Sodium:
504
mg
(22%)
Potassium:
222.4
mg
(6%)
Sugar:
2.6
g
(3%)
Vitamin A:
419.3
IU
(8%)
Vitamin B12:
0.3
µg
(5%)
Vitamin C:
26.9
mg
(33%)
Vitamin D:
0.1
µg
(1%)
Calcium:
119
mg
(12%)
Iron:
0.8
mg
(4%)
Magnesium:
18.4
mg
(5%)
Zinc:
0.7
mg
(5%)
Posted In: