Keto Italian Dressing Recipe
An easy low-carb keto Italian dressing recipe with tasty Italian flavor, creamy texture, and 0.5 grams of net carbs per serving.
Bonus, this 5-minute low-carb salad dressing recipe is also gluten-free with a dairy-free vegan keto option provided!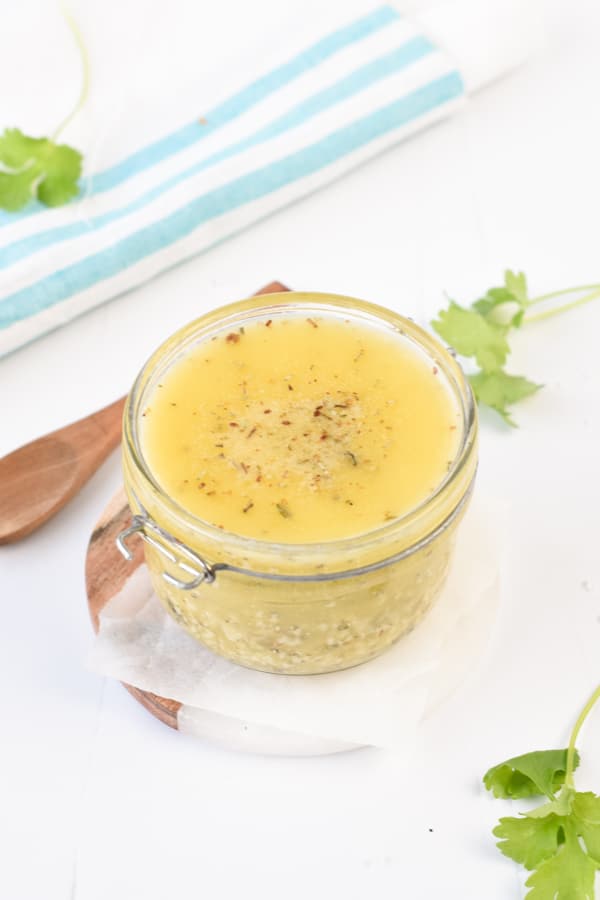 Can I Have Italian Dressing On Keto?
You can eat Italian dressing on a keto diet, but it's not recommended to use store-bought Italian dressing!
Most of the store-bought recipes are not keto-friendly. They contain one or more of the non-keto ingredients below:
added sugars – from honey, sugar or maple syrup, balsamic vinegar.
dextrose (sugar from corn)
maltodextrin (starch from corn)
vegetable oils
What about creamy Italian dressing? Is creamy Italian dressing keto-friendly? Actually, creamy or not, they both contain the same basic additives that are not keto-approved.
So creamy or not, store-bought Italian dressing is most of the time not keto-approved.
How To Make Keto Italian Dressing
Great news, it's very easy to make homemade keto salad dressing with Italian flavors! All you need is just 5 minutes and an airtight jar like a glass mason jar to store the dressing in the fridge.
Ingredients
The ingredients you need to make a keto-friendly Italian salad dressing are:
Extra virgin olive oil – use light flavored olive oil or MCT oil if you don't appreciate the strong flavor of olive oil.
White wine vinegar or apple cider vinegar if preferred.
Mayonnaise – on a keto diet, use avocado oil mayonnaise, not vegetable oil-based mayonnaise.
Parmesan cheese, finely grated. Read which dairy products are keto-friendly.
Erythritol – or Monk fruit drops – both are sugar-free friendly sweeteners and add a lovely sweet flavor to this keto-friendly salad dressing. Learn how to convert from one to another.
Garlic powder
Onion powder
Italian seasonings
Ground pepper
Salt
In a small mixing bowl, whisk oil and vinegar. Next, whisk in mayonnaise, parmesan cheese, garlic powder, onion powder, Italian seasonings, salt, and pepper.
You can also bring all ingredients into a glass mason jar and shake vigorously until your Italian salad dressing is well combined.
Storage Instructions
This Italian dressing recipe contains parmesan cheese, so you can store the recipe until the use-by date of your Parmesan. Usually, this dressing lasts up to 6-8 days in the fridge.
Before using, give a good shake to the jar to bring oil and vinegar together.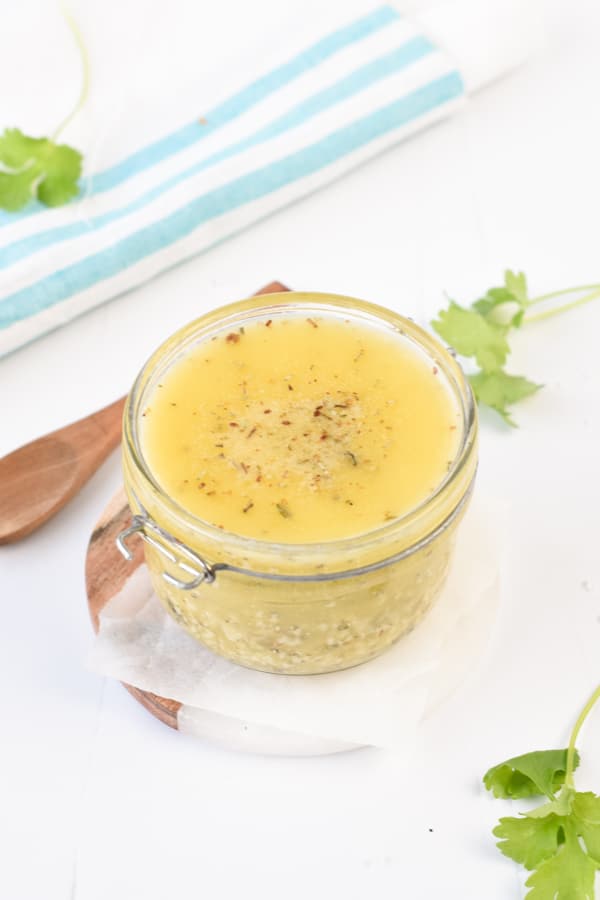 Frequently Asked Questions
Why do I have layers in my salad dressing?
This Italian dressing keto-friendly recipe is creamy, cheesy, and can form a gritty layer at the bottom of the jar after minutes. This happens because the dressing contains grated Parmesan.
If you really want to avoid layers in cheesy salad dressing like keto ranch dressing or creamy Italian dressing, you have to blend all the ingredients in a blender.
Can I make dairy-free keto Italian dressing?
Yes, you can use this recipe to make a dairy-free vegan keto salad dressing. To do so, you have two options,
Option 1 – skip the mayonnaise and Parmesan cheese! It makes a clear Italian vinaigrette not creamy but delicious.
Option 2 – replace mayonnaise with dairy-free coconut yogurt and Parmesan with nutritional yeast! This increases the carbs a little because nutritional yeast is high in carbs, but if you follow a vegan keto diet, that's a great alternative to making a creamy, cheesy salad dressing using wholesome ingredients.
Which Salad Goes With Italian Dressing?
Any lettuce-based salad recipe goes very well with Italian dressing. You can use this dressing on any lettuce blend or one of my keto salad recipes below:
You can also drizzle Italian dressing on half avocado for a quick keto savory snack or dip it in raw keto vegetable sticks like celery or cucumber.
Have you made this keto Italian salad dressing recipe? Share a comment or review below to tell me how you used your dressing!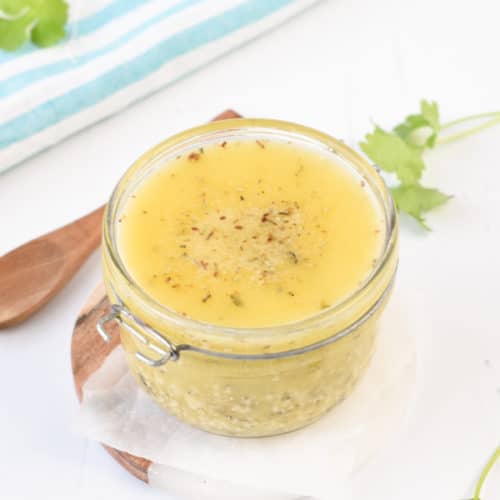 Keto Italian Dressing Recipe
An easy low-carb keto Italian dressing recipe with a creamy texture made with only wholesome ingredients and ready in 5 minutes. Bonus, there is a dairy-free vegan keto option provided!
Yield:
tablespoons (1 cup)
Serving Size:
1
tablespoon
Ingredients
½

cup

Extra Virgin Olive Oil

3

tablespoons

White Wine Vinegar

¼

cup

Parmesan

fresh, finely grated

1

tablespoon

Mayonnaise

1

teaspoon

Erythritol

1

teaspoon

Garlic Powder

½

teaspoon

Onion Powder

¾

teaspoon

Italian Seasonings

¼

teaspoon

Pepper

½

teaspoon

Salt
This recipe may contain Amazon or other affiliate links. As an Amazon Associate I earn from qualifying purchases.
Instructions
Add all the ingredients into a glass mason jar, closed the lid, shake vigorously until evenly combined.

It's normal that your grated Parmesan migrates quickly to the bottom of the jar. Give it a good stir just before serving to bring the ingredients together.

Store in the fridge for 6-8 days, shake the jar very well before serving.
Want My Kitchen Equipment?
Serving Size:
1
tablespoon
Yield:
tablespoons (1 cup)
Serving:
1
tablespoon
Calories:
74.4
kcal
(4%)
Carbohydrates:
0.6
g
Fiber:
0.1
g
Net Carbs:
0.5
g
Protein:
0.6
g
(1%)
Fat:
7.8
g
(12%)
Saturated Fat:
1.3
g
(8%)
Trans Fat:
0.1
g
Cholesterol:
1.4
mg
Sodium:
103.8
mg
(5%)
Potassium:
7.2
mg
Sugar:
0.3
g
Vitamin A:
14.5
IU
Vitamin B12:
0.1
µg
(2%)
Vitamin C:
0.1
mg
Vitamin D:
0.1
µg
(1%)
Calcium:
20.9
mg
(2%)
Iron:
0.1
mg
(1%)
Magnesium:
1.3
mg
Zinc:
0.1
mg
(1%)
Posted In: