This Lemon Herb Tahini is a creamy salad dressing packed with a combination of three fresh herbs for a flavorsome dressing packed with vitamins and nutrients.
Tahini is one of my favorite condiments to make salad dressings or dips. It's packed with plant-based proteins and full of healthy fats from sesame seeds, and it's low-carb and gluten-free.
It gives the most delicious creamy texture to dips and sauces, like my avocado hummus or this easy salad dressing.
You might have tried my recipe for garlic tahini sauce. This sauce is a variation, adding many fresh herbs to boost freshness and nutrients.
What Is Lemon Herb Tahini?
Lemon herb tahini is a flavored tahini dressing, or dip, made from tahini, fresh herbs, and freshly squeezed lemon juice.
It was first made popular by CAVA but you'll see that it's very easy to make it yourself!
It's naturally vegan, low-carb, and a healthy sauce to drizzle on salad, roasted vegetables, or as a protein snack to dip raw veggies.
How To Make Lemon Herb Tahini
This lemon tahini dressing is a ridiculously easy green salad dressing.
Ingredients
All you need to make this tahini dressing are:
Hulled Tahini or unhulled tahini, but keep in mind that unhulled ground sesame seeds are slightly bitter. I do prefer low bitterness in my tahini recipes
Extra Virgin Olive Oil
Fresh Mint
Freshly Squeezed Lemon Juice
Fresh Cilantro or fresh parsley
Garlic
Salt and Pepper
Preparation
First, fill a small bowl with ice cubes and cold tap water. This is your iced water, and you will use this later in the recipe.
Add tahini, lemon juice, olive oil, whole peeled garlic cloves, salt, and pepper in a food processor or the jug of a high-speed blender.
Process on the low-speed setting (speed 3 of a Vitamix) for about 30 seconds or until thick and creamy.
Now add the remaining ingredients: fresh mint, cilantro, and iced water.
Process until creamy while adding more iced water to thin out the dressing.
If you use a blender, use the tamper attachment to push down the herbs to the blade and work at a low speed.
You also may need to stop the blender and use a silicone spatula to scrape down the side of the jug as the dressing splashes.
If using a food processor, pulse or work at low speed.
Transfer the dressing to a small glass mason jar and close it tightly.
Add-Ons
This dressing is very versatile. You can play with flavors by changing herb types or adding some of the below ingredients:
1 to 2 teaspoons of maple syrup or honey for a boost of sweetness
A pinch of chili flakes for a spicy note
Lemon zest for a tangy flavor
Storage Instructions
You can store this herb tahini dressing in the fridge for up to one week.
The dressing thickens in the refrigerator. You can thin it out with water or lemon juice.
Serving
This lemon herb tahini dressing recipe is delicious on top of roasted vegetables, grilled meat, or salad.
Another option is to make this sauce thicker to spread into sandwiches and wraps.
Here are some recipes to try with this tahini dressing.
Allergy Swaps
This Mediterranean diet recipe is naturally:
Vegan
Dairy-Free
Nut-Free
Here are some options to adapt this dressing recipe if you have some food allergies.
Tahini – This is the recipe's main ingredient but if you have an allergy to sesame seed, try sunflower seed butter instead. You can also use nut butter like cashew butter or almond butter to create a creamy, nutty dressing.
Herb Options – You can use any fresh herbs you love in this recipe. You can, for example, replace cilantro with more parsley or some dill.
Olive oil – Replace it with sesame oil or avocado oil.
More Sauce And Dressing Recipes
Below I listed some more easy dressing recipes for you to try:
Have you tried this easy lemon herb tahini sauce? Leave a comment or review below to let me know how you used it.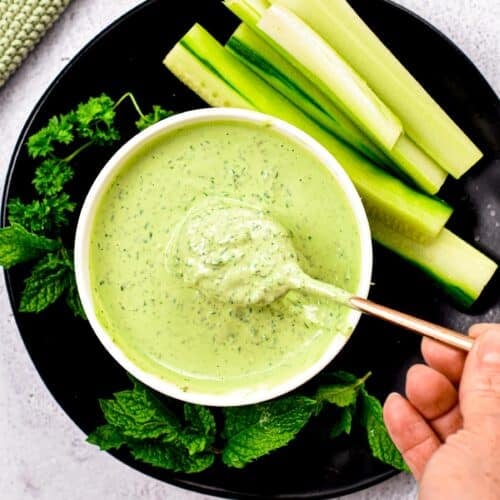 Lemon Herb Tahini
This Lemon Herb Tahini is a creamy salad dressing packed with a combination of three fresh herbs for a flavorsome dressing packed with vitamins and nutrients.
Nutrition Snapshot
Want My Kitchen Equipment?
Instructions
In a small bowl, add 1/2 cup water and ice cubes. This is your iced water for later in the recipe.

In a food processor or high-speed blender, add tahini, lemon juice, olive oil, whole peeled garlic cloves, salt, and pepper.

Process/blend on low speed (speed 3 of my Vitamix blender) for 30 seconds until thick, creamy, and garlic is pulsed into a paste.

Add fresh mint, fresh cilantro, and fresh parsley.

Blend or process on low speed, adding the iced water gradually. The water thins out the tahini lemon herb dressing. Stop adding water as soon as you like the consistency. For a salad dressing, add a bit more water and less for a tahini dip.

Taste and pulse in cumin, lemon zest, and maple syrup for an extra boost of flavors if desired.

Serve as a dip or salad dressing.
Storage
Store the lemon herb tahini sauce in a sealed glass mason jar in the fridge for up to 4 days or freeze for up to 1 month. Thaw in the fridge the day before.
My Recipe Notes
Nutrition
Serving:
1
serving
Calories:
128.8
kcal
(6%)
Carbohydrates:
6.8
g
(2%)
Fiber:
1.3
g
(5%)
Net Carbs:
5.5
g
Protein:
3.8
g
(8%)
Fat:
10.7
g
(16%)
Saturated Fat:
1.5
g
(9%)
Polyunsaturated Fat:
4.7
g
Monounsaturated Fat:
4
g
Sodium:
203.7
mg
(9%)
Potassium:
141
mg
(4%)
Sugar:
1
g
(1%)
Vitamin A:
350.7
IU
(7%)
Vitamin C:
9.4
mg
(11%)
Calcium:
42.3
mg
(4%)
Iron:
1.2
mg
(7%)
Magnesium:
23.5
mg
(6%)
Zinc:
1
mg
(7%)
Posted In: