This Keto Poke Bowl with salmon and cauliflower rice is a light, fulfilling, and refreshing, easy keto lunch, 100% gluten-free.
Plus, this keto-friendly poke bowl is very versatile, and you can play with a combination of toppings or swap tuna for salmon to create different bowls with the same recipe.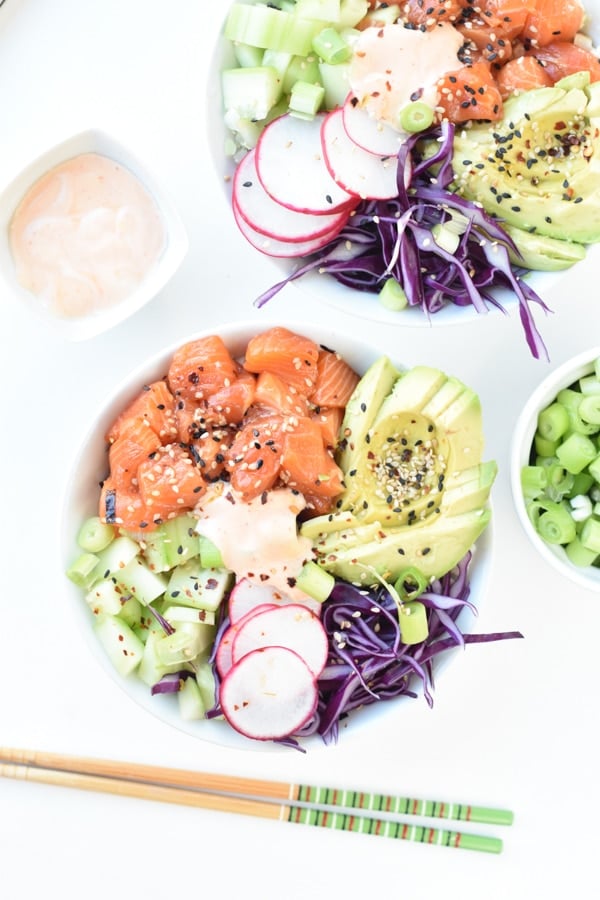 What's A Poke Bowl?
A poke bowl is an easy meal served in a bowl, usually made of a layer of lukewarm sticky rice topped with cubes of raw marinated tuna or salmon and topped with raw crunchy vegetables or pickles.
Are Classic Poke Bowls Keto-Friendly?
No, an authentic poke bowl is not keto-friendly as it contains many carbs from the rice, and often the raw vegetables added on top are pickled in sugar.
How To Make A Keto Poke Bowl
Luckily, it's super easy to make a keto poke bowl at home with a few basic ingredients.
It's a delicious, fulfilling, and nourishing meal that combines all the important nutrients.
It is a high-fat meal with healthy omega-3 fat from raw fish and avocado, full of vitamins from keto vegetables, and full of proteins and fiber.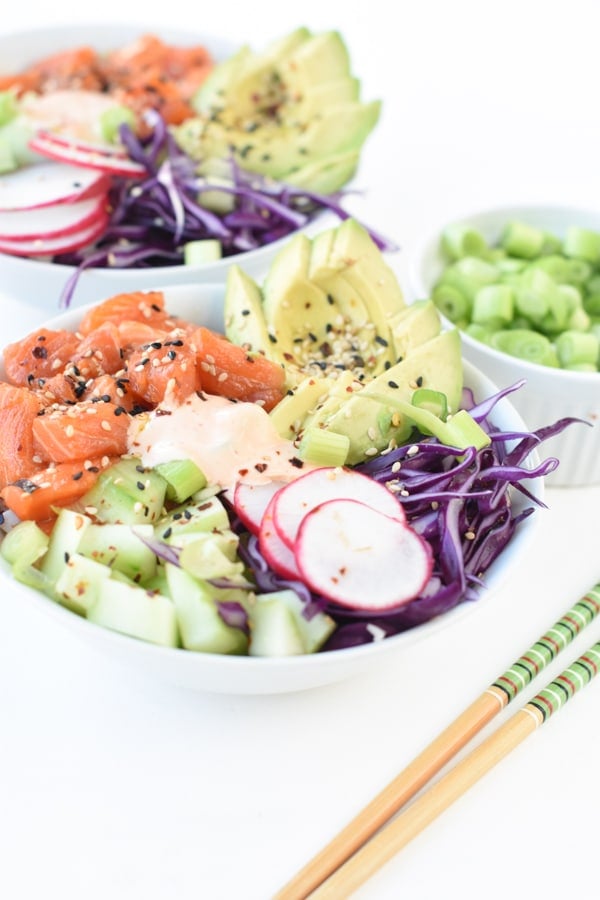 Spicy Mayo Sauce
A poke bowl is not the same without its spicy mayonnaise drizzled on top of it.
Spicy tuna is even more delicious, and to make a keto-friendly spicy mayo sauce, you need to combine the following:
Avocado oil mayonnaise – vegetable oils are not keto-friendly, so avocado oil mayonnaise is the best healthy choice.
Tabasco sriracha – pure sriracha sauce from the Chinese grocery store is full of sugar. To avoid the sugar added, use tabasco sriracha! It delivers the same level of spice without sugar or carbs.
Cauliflower rice
Since you can't have white sticky rice or Japanese sushi rice on a keto diet, cauliflower rice is your best option to serve as a base in this keto-friendly poke bowl recipe.
Follow my detailed recipe: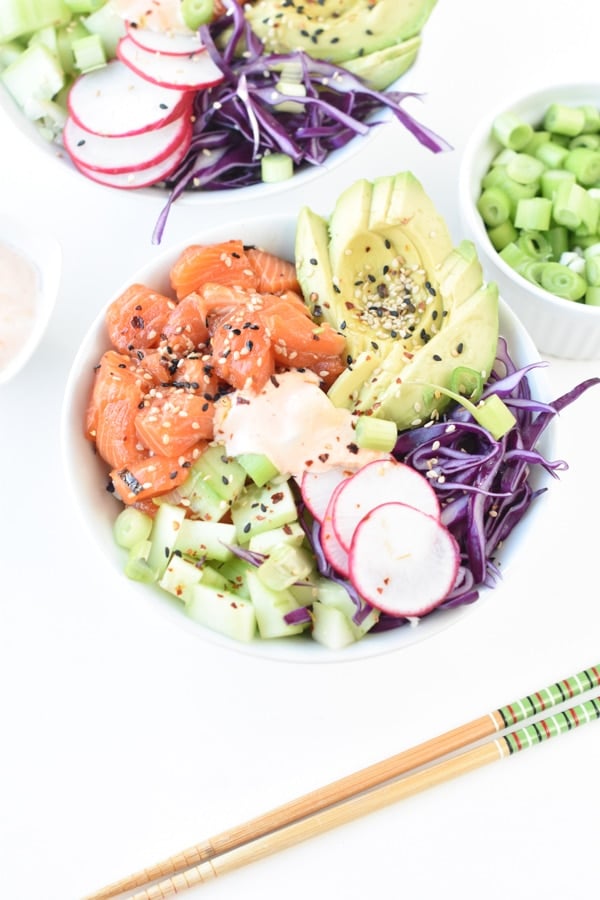 First, heat sesame oil in a large skillet. Then, add the cauliflower rice, fresh or frozen, and stir fry with sliced scallions for 3-5 minutes.
When the cauliflower rice starts to soften, drizzle lime juice, season with salt and pepper, and remove from the heat.
Divide the cauliflower rice into two large shallow serving bowls.
Prepare the fish
First, choose sushi-grade tuna steaks for this recipe, skinless with a lovely red-pink flesh.
Then, cut the fish into cubes of 1-2 inches depending on how you enjoy your fish, but don't make them larger, or they won't soak the marinade well enough.
Finally, the key to making a flavorsome poke bowl is to marinate the raw fish with a combination of spices.
Ingredients
The best ingredients to marinate this keto poke bowl or salmon poke bowl are:
Soy sauce or tamari sauce or coconut amino – watch the ingredient list of the sauce you chose. Some add sugar to it, you don't want this in your low-carb poke bowl, or it will raise the carbs.
Lime juice – did you know you don't need a juicer to get all the juice of a lime? Read my simple instructions to juice a lime with just a fork!
Sesame oil
Tabasco sriracha sauce
Erythritol – optional but delicious to add a light sweet touch to your sauce.
Toppings
There are plenty of keto foods you can add on top of this keto salmon poke bowl. Below I listed the most common keto vegetables you can add:
Cucumber
Capsicum
Seaweed – can be seaweed salad or dried nori seaweed.
Radish
Shredded cabbage – purple or red
Avocado
Seaweeds – dried and chopped or seaweed salad.
Seeds of choice – sesame seeds or the most common seeds used in poke bowl recipes, but other keto-friendly seeds you can use are sunflower seeds or pumpkin seeds work as well.
Storage And Meal Prep
You can make this poke bowl ahead by preparing all the ingredients the day before and storing it in small containers in the fridge.
The key to meal prep keto bowl is to store each of the ingredients below in sealed, separated boxes in the fridge the day before.
Chopped vegetables, except the avocado, that you must keep at room temperature and slice just before eating because it browns quickly.
The fish marinade but don't add it to the fish yet.
Pre-cut the fish in cubes – don't marinate it the day before!
Prepare the spicy mayo.
Keep all pantry ingredients like dried seaweed and sesame seeds at room temperature in airtight containers.
Just before serving
Microwave the cauliflower for 1 minute and add to the bottom of the bowl.
Stir the marinade with cubes of tuna and transfer it to the top of the bowl along with chopped vegetables, slices of avocado, and seeds or seaweed.
Frequently Asked Questions
How to make a keto vegan poke bowl?
You can make a vegan keto poke bowl by replacing the raw fish with raw firm tofu cubes or tempeh cubes. Both are vegan keto-friendly protein options.
How to order a keto poke bowl?
If you want to order a poke bowl in a store, ask for marinated fish, keto vegetables from the list above, and no rice.
More Keto Lunch Recipes
If you've enjoyed this recipe, you'll love these:
Have you made this salmon poke bowl? Share with me the toppings you added and if you enjoyed them! I love to read your feedback on my recipes.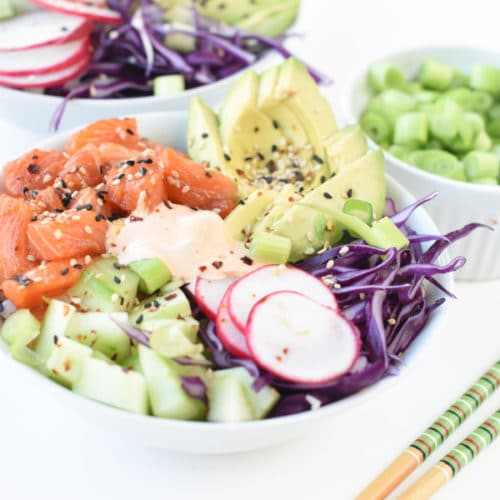 Keto Poke Bowl
An easy, refreshing keto poke bowl recipe with marinated fish and cauliflower rice.
Serving Size:
1
poke bowl
Nutrition Snapshot
Want My Kitchen Equipment?
Ingredients
To serve poke bowls – divided into 2 poke bowls
Instructions
In a small bowl, combine mayonnaise and sriracha sauce. Set aside in the fridge while preparing the remaining ingredients.

In a medium-sized mixing bowl, toss together the cubes of salmon (or tuna), tamari sauce, sesame oil, lime juice, and sriracha. Set aside in the fridge while you prepare the cauliflower rice.

In a medium skillet, heat sesame oil over medium heat.

Add the cauliflower rice and scallions and sauté for 3-5 minutes.

Season with salt and pepper. Set aside.
Assemble keto poke bowl
In each bowl, add 1 cup shredded lettuce and top with 1/2 cup of cooked cauliflower rice.

Then, add half marinated fish cubes in each bowl and half of each topping suggested with is per bowl: 1/4 cup diced cucumber, 0.7 oz red cabbage, half avocado slices, 1 small radish slices, 1 teaspoon sesame seed, 1 tablespoon sliced scallions.

Drizzle half the spicy mayonnaise on each bowl before serving.

Serve on top of Cauliflower Rice with extra tamari sauce on the side to increase the salty flavor.
My Recipe Notes
Nutrition
Serving Size:
1
poke bowl
Serving:
1
poke bowl
Calories:
506.5
kcal
(25%)
Carbohydrates:
14.2
g
(5%)
Fiber:
7.1
g
(30%)
Net Carbs:
7.1
g
Protein:
27
g
(54%)
Fat:
39.2
g
(60%)
Saturated Fat:
5.9
g
(37%)
Trans Fat:
0.1
g
Cholesterol:
71.2
mg
(24%)
Sodium:
266.6
mg
(12%)
Potassium:
1287
mg
(37%)
Sugar:
5.2
g
(6%)
Vitamin A:
861.6
IU
(17%)
Vitamin C:
61.7
mg
(75%)
Calcium:
94.2
mg
(9%)
Iron:
2.6
mg
(14%)
Posted In: