This creamy Greek Yogurt Dressing is a high-protein salad dressing perfect for adding creaminess and rich texture to any lettuce or salad.
It's a healthier salad dressing, with fewer calories and fats and packed with calcium and filling proteins.
Healthy salad dressings like my ranch dressing are becoming staples in my kitchen.
This new refreshing and creamy dressing recipe using Greek yogurt as a healthy swap to mayonnaise will become another one for sure!
It's a perfect salad dressing to turn any salad and greens even tastier.
Plus, this creamy lemon garlic yogurt dressing is also the easiest, healthiest way to add proteins to your plate this summer.
How To Make Greek Yogurt Dressing
It's so easy to make your own salad dressing at home and much healthier. This Greek yogurt dressing recipe is one of the healthiest options for salad if you are after a low-fat, high-protein dressing.
It has a creamy, rich texture, minimal calories but all the filling proteins and calcium your body need.
Ingredients
All you need to make this Greek yogurt dressing are:
Plain Full-Fat Greek Yogurt or any plain yogurt you love, including dairy-free options like coconut yogurt or almond yogurt. You can also use low-fat Greek yogurt to cut down the calories or fat content, but the texture becomes thinner and less creamy.
Extra Virgin Olive Oil
Lemon Juice, lime juice, or apple cider vinegar.
Salt
Black Pepper
Italian Parsley, fresh basil, or any fresh herbs you love.
Garlic Powder
Onion Powder
Almond Milk or any milk you love. This is optional for a less creamy dressing texture.
Preparation
Add all the ingredients to a large mixing bowl. Use a small hand whisk or spoon to bring all the ingredients together.
Taste and adjust the flavor by adding more salt and pepper.
Then, if you love creamy salad dressing, keep it as is. Or, if you like a thinner dressing texture, add a splash of almond milk or skim milk to thin out the texture.
Serving
A Greek yogurt dressing is not only delicious on top of your salad. It's also the perfect dip for raw or roasted veggies.
And also ideal as a healthy sauce for a sandwich or on top of grilled meat or fish to add proteins and a fresh garlic flavor.
Here are some recipes that marry very well with Greek yogurt dressing.
Cobb Salad as a swap to the regular dressing.
Raw vegetables – dip in carrots, cucumbers, or tomatoes.
Storage Instructions
This Greek yogurt salad dressing must be stored in the fridge in an airtight container or glass mason jar.
It lasts up to 4 days in the refrigerator or when your yogurt expires, whichever comes first.
Allergy Swaps
Below are some options to replace some of the ingredients in this recipe if you need.
Dairy-Free – Use a non-dairy yogurt with a thick and creamy texture, like plain coconut yogurt or soy oat yogurt.
Low-FODMap – Skip the garlic and onion powder.
Low-Sodium – Skip the salt.
Low-Fat – Swap the Greek yogurt for low-fat yogurt.
Variations
Of course, you can use this base dressing recipe to create a range of Greek yogurt dressing flavors like:
Parmesan Dressing – Add 1/4 cup of freshly grated Parmesan and swap lemon juice for red wine vinegar.
Herbs and Garlic – Replace the garlic powder with two crushed garlic cloves, and add 1/4 cup of mixed freshly chopped fresh dill, basil, and Parsley.
Spicy Greek Yogurt Dressing – Add 2-3 teaspoons of sriracha sauce or a pinch of cayenne pepper to the recipe.
Feta Yogurt Dressing – Mash in 1/3 cup of feta cheese. You can also blend the dressing in a food processor to turn the feta into a creamy feta dip.
Dijon Honey – Add one teaspoon of Dijon mustard and a drizzle of honey in the recipe.
Greek Yogurt Ranch Dressing – Add 1-2 teaspoons of dried dill, or try my Greek yogurt ranch dip.
Frequently Asked Questions
Below are some answers to your most common questions about this recipe.
Can you mix Greek yogurt with vinegar?
You can combine yogurt and vinegar to make salad dressing and add a sour kick to your recipe. However, if you are using low-fat yogurt, the acidity of the vinegar thins out the texture of the yogurt even more. It's recommended to use full-fat yogurt to keep the mixture thick and creamy.
What can I add to Greek yogurt to make it thinner?
You can easily thin out Greek yogurt by adding a splash of milk – almond milk, skim milk, lemon juice, vinegar, or even cold water.
More Healthy Salad Dressing Recipes
Find below some more dressing recipes for you to try.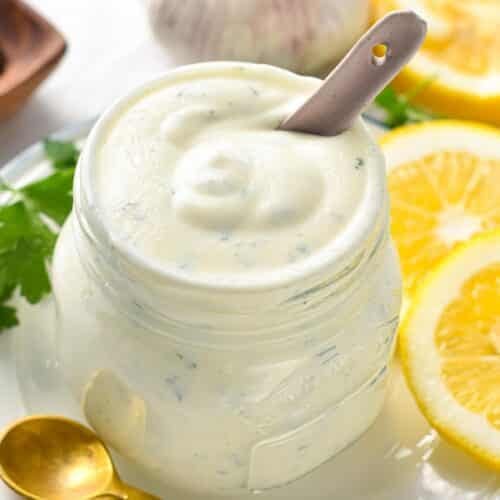 Greek Yogurt Dressing
This Greek Yogurt Dressing is a creamy, high-protein salad dressing perfect for adding creaminess and rich texture to any lettuce or salad.
Yield:
servings (1/4 cup)
Nutrition Snapshot
Want My Kitchen Equipment?
Ingredients
Optioanl – to thin out Greek yogurt dressing
Instructions
In a large mixing bowl, add all the ingredients except the almond milk. Use a small whisk or spoon to stir the ingredients together.

Taste and adjust, adding almond milk to thin out the texture or more lemon juice for a tangier flavor. Adjust salt and pepper regarding taste.

Serve as a salad dressing, dip to raw or roasted vegetables.
Storage
Store in an airtight container or glass mason jars in the fridge for up to 4 days.
My Recipe Notes
Nutrition
Yield:
servings (1/4 cup)
Serving:
1
serving
Calories:
39.7
kcal
(2%)
Carbohydrates:
3.1
g
(1%)
Fiber:
0.2
g
(1%)
Net Carbs:
2.9
g
Protein:
5.3
g
(11%)
Fat:
0.7
g
(1%)
Saturated Fat:
0.1
g
(1%)
Polyunsaturated Fat:
0.1
g
Monounsaturated Fat:
0.4
g
Trans Fat:
0.003
g
Cholesterol:
2.5
mg
(1%)
Sodium:
309.7
mg
(13%)
Potassium:
95.1
mg
(3%)
Sugar:
1.9
g
(2%)
Vitamin A:
87.6
IU
(2%)
Vitamin B12:
0.3
µg
(5%)
Vitamin C:
5.7
mg
(7%)
Calcium:
59.1
mg
(6%)
Iron:
0.1
mg
(1%)
Magnesium:
7.3
mg
(2%)
Zinc:
0.3
mg
(2%)
Save Recipe
Posted In: