Greek Fries (Patates Tiganites With Feta)
Craving something crispy and delicious? Look no further than these Greek Fries!
Made with golden potatoes and seasoned with Mediterranean flavors like olive oil, oregano, and feta cheese, these fries are the perfect snack or side dish.
Plus, they're easy to make and packed with flavor. Keep reading for the full recipe and step-by-step instructions.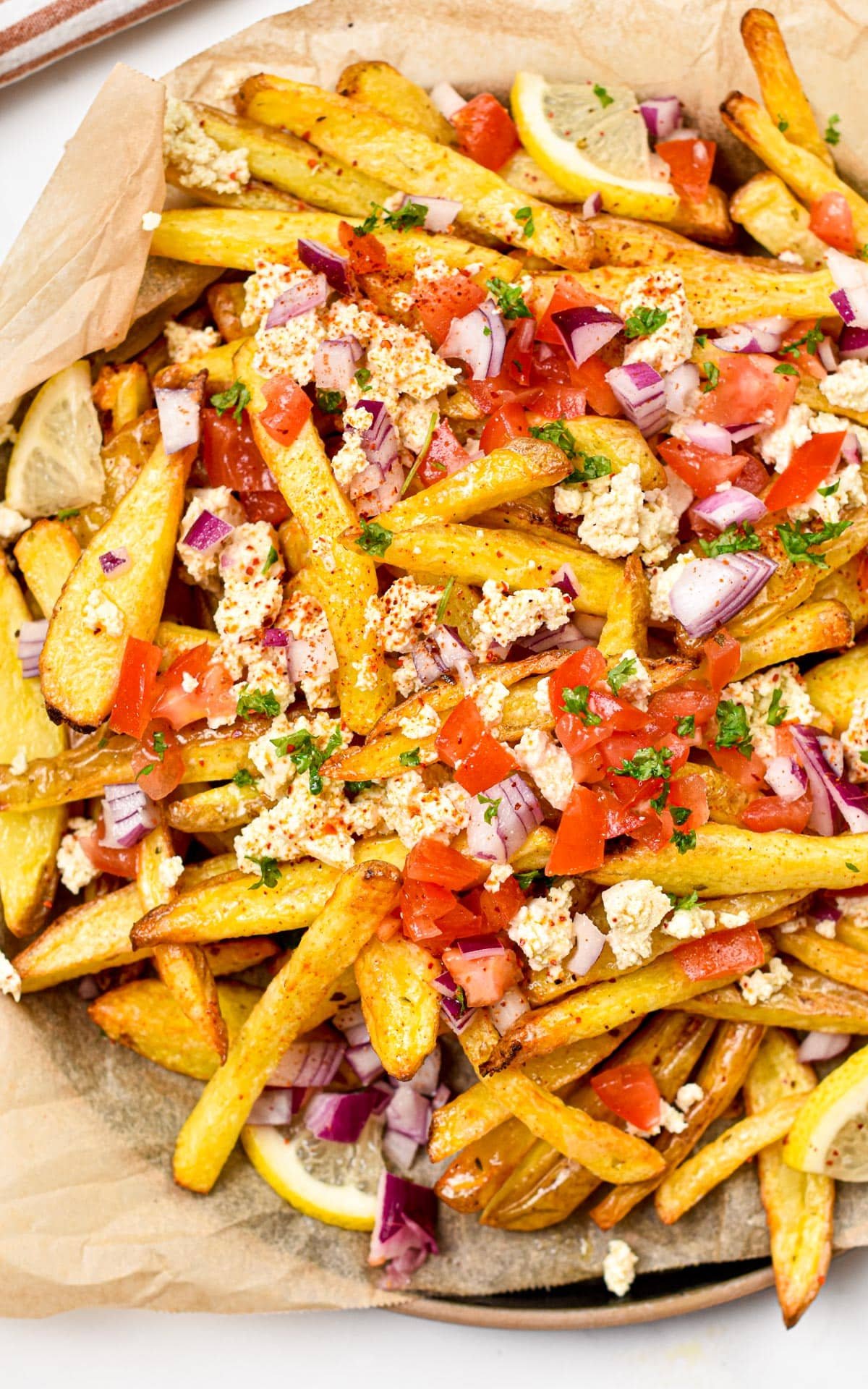 If you love fries, this Greek fries recipe is a healthier twist to classic French fries.
What Are Greek Fries?
While classic fries are fried in oil (or in your air fryer), Greek fries are baked in the oven.
It uses way less oil than fried fries but they still come out very crispy on the outside and tender inside, as fries should be.
Greek fries are called Patates Tiganites (or patates tinganita), which translates to fried potatoes. It's typically served with fresh or dried herbs and tzatziki sauce.
Plus, they are roasted with the healthier, high-smoke point avocado oil to boost your healthy fat intake.
How To Make Baked Greek Fries
Greek fries, also called feta fries, are delicious oven-baked fries topped with feta cheese and a bunch of other Mediterranean flavors.
Ingredients
All you need to make a batch of these tasty appetizer, or sides are:
Yukon Gold Potatoes – You can also use russet potatoes or roasting potatoes. You can peel them off or keep the skin on for extra fiber and texture, as seen in my pictures below.
Avocado Oil – This is the best oil to roast vegetables at high temperatures. Avocado oil has a high smoke point which means it's stable at high temperatures. It won't smoke or turn into unhealthy fats. However, if you prefer, you can also roast potato fries with extra virgin olive oil.
Salt – Go easy on salt especially if your feta cheese is high in sodium.
Garlic Powder
Dried Oregano
Greek Fries Toppings
To top the warm crispy fries you will need:
Feta Cheese – Make sure you use feta cheese that is low sodium to avoid an overpowering salty flavor in any dish calling for feta. A good range is 400mg to 500mg of sodium per 100 grams. Any feta cheese with more is too salty to cook with, or decreases the salt in the recipe in advance to prevent too much salty flavors in the recipe.
Freshly Chopped Red Onion
Freshly Chopped Parsley
Cherry Tomatoes chopped finely
Hand Cutting Potatoes Into Fries
First, wash the potato, and rub off any dirt or dust. Dry them with a clean kitchen towel then place them on a chopping board and slice them into thin slices lengthwise.
Next, cut each slice into fries of the same size. Feel free to make small or larger fries based on your liking.
The most important thing here is to cut the fries into the same size so they all roast at the same rate.
Soaking In Cold Water
Place the fries in a large bowl, cover with cold water, and set aside at room temperature for 30 minutes.
This step extracts the surface starches from potatoes, it's optional, and you can skip it if you don't have time.
Draining And Drying
Now, place the fries in a sieve over the sink to drain the water. Next, place a large clean kitchen towel on the benchtop, place a small batch of fries, and rub to dry them completely.
Watch out. If you don't dry the fries well, they won't get crispy! So take the extra time for this step.
Return the fries to a large bowl, adding avocado oil and spices. Stir to coat all the fries with the oil mixture.
Baking Fries
Line two large baking sheets with parchment paper. Line the fries into a single layer onto each baking sheet pan.
Bake for 20 minutes at 395°F (200°C), switching the tray half way through baking.
Next, increase the temperature to 420°F (220°C) and keep baking the fries for an extra 15 to 20 minutes or until golden and crispy.
The cooking time can vary slightly depending on how well calibrated your oven is.
Air Frying Fries
If you prefer to air fry the fries, preheat the air fryer to 395°F (200°C). Fill the basket up to half of its level not more.
Then, air fry for 35-40 minutes, shaking the basket every 5 minutes after 20 minutes. Stop air frying when they are golden brown and crispy.
If working in batches (for small air fryer baskets), set aside the air-fried crispy fries on a baking sheet and keep them warm in an oven preheated to 210°F (100°C).
Meanwhile, air fry the remaining batch.
Serving Greek Fries
Place the crispy baked fries on a large plate. Now, it's time to load the fries.
What makes Greek fries unique is the little squeeze of fresh lemon juice on top of them. Don't overdo it, or the fries will get soggy. It's all about drizzling a few teaspoons.
Next, in a small bowl, stir crumbled feta cheese with some extra virgin olive oil and dried rosemary.
Finally, sprinkle the crumbled feta cheese, fresh parsley, chopped tomatoes, and chopped red onions all over the fries.
Eat immediately plain or with some creamy dipping sauce like some of the suggestions below.
5 Tips For The Best Greek Fries
You can make this recipe perfectly every time by following these 5 simple tips.
Use waxy potatoes, like Yukon gold, for a smoother texture and sweeter flavor.
Soak the potatoes in hot water for 30 minutes before baking to remove excess starch and help them become crispy on the outside.
Arrange the potatoes in a single layer on an oiled sheet pan to ensure even cooking.
Flavor the Greek fries immediately while they're hot with toppings such as feta cheese, red onion, and fresh parsley.
Serve immediately while they're still hot and crispy.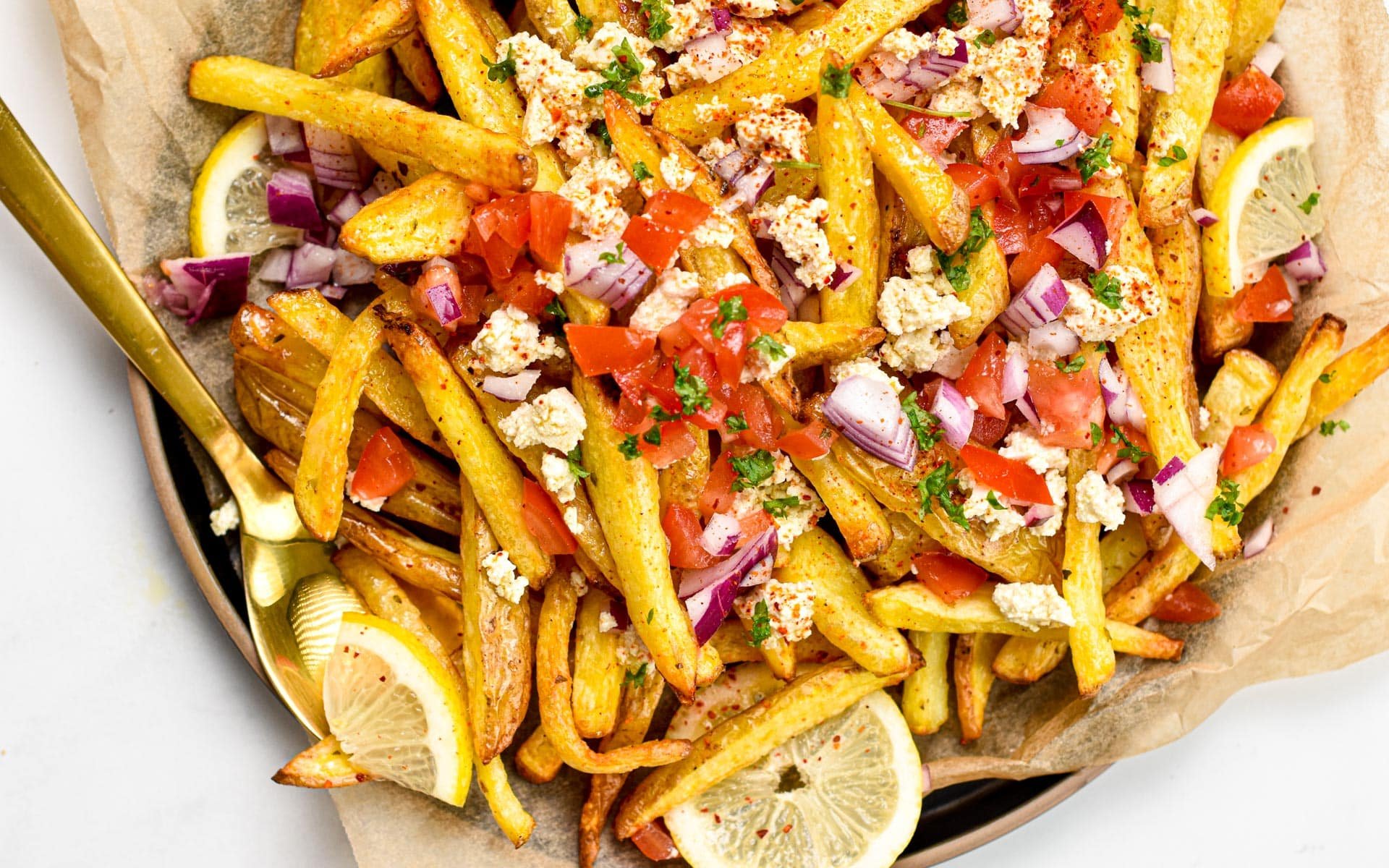 Sauce For Greek Fries
There's an infinity of sauces you can serve with loaded fries. But, the best combinations of Mediterranean flavors are:
Other ideas to drizzle on top, that are not conventional and authentic but so good are:
Hot Sauce
Chili Flakes
Sea Salt – Use only if the feta is not salty enough.
Ground Pepper
Best Dish Pairing
These fries are great appetizers but also a nice side dish to any egg or meat-based meal.
Below are some recipe ideas to serve with feta fries.
Allergy Swaps
Below I listed some options to make these homemade baked fries even if you have food allergies.
Dairy-Free – You can use dairy-free feta cheese but watch out! They are often higher in sodium. As a result, I recommend skipping the salt in the oil mixture to avoid too much salt in your dish.
Low-Carb – Use a low-carb potato variety or rutabagas. The latter won't crisp as much.
Lemon Swap – You can try lime juice or skip if you have a citrus allergy.
Parsley can be replaced with mint, dill, or a combination of the three.
Frequently Asked Questions
Below are my answers to your most common questions about Greek Fries.
Can I Rewarm This Dish?
You can't rewarm the dish easily. It's better to eat it within 20 minutes.
After that time, the fries soften and get soggy from the moist vegetables on top.
Do I Have To Soak Fries?
You can skip the soaking step to make the recipe faster.
However, keep in mind that soaking the potatoes prevents the fries from becoming fluffy and too soft. So if you love crispy fries, you should soak the fries.
Can I Deep-Fry The Fries?
Yes, you can use a deep fryer for this recipe.
What Are The Best Potatoes For Fries?
Baked fries can be soft and soggy if you don't pick the right variety.
You must buy potatoes that have a high-starch, low water content like Yukon potatoes, Russet, Maris Piper (UK), Agria (NZ).
More Greek-Inspired Recipes
Below are some more Greek recipes for you to try next.
Have you tried this Greek fries recipe? Share a comment or review below to connect with me.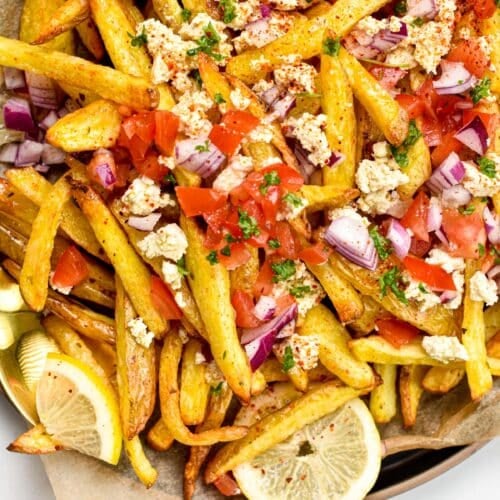 Greek Fries With Feta Cheese
These homemade Greek Fries are crispy baked fries topped with a drizzle of lemon juice and loads of delicious Greek cuisine flavors from feta cheese, red onions, tomatoes, and Parsley.
Ingredients
Oil mixture
3

tablespoons

Avocado Oil

¼

teaspoon

Salt

skip if feta is very salty

½

Garlic Powder

1

teaspoon

Dried Oregano
To Serve
5

ounces

Feta Cheese

crumbled

1

tablespoon

Extra Virgin Olive Oil

½

teaspoon

Dried Rosemary

2

teaspoons

Lemon Juice

freshly Squeezed

1

tablespoon

Fresh Parsley

chopped

4-6

Cherry Tomatoes

finely diced

2

tablespoons

Red Onion

chopped
This recipe may contain Amazon or other affiliate links. As an Amazon Associate I earn from qualifying purchases.
Instructions
Preheat the oven to 395°F (200°C). Line two large baking sheets with parchment paper. Set aside.

Wash the potatoes, dry them with a clean kitchen towel, and keep their skin on. Cut them into fries of the same size – see the photos above for visual help.

Soak the fries for 30 minutes in a bowl filled with cold water. It's optional, but it makes the fries crispier.

Drain the fries in a sieve over the sink. Then, dry them very well, rubbing the fries on a clean kitchen towel. Work in small batches so you can easily rub them all and remove all the moisture.

Return the fries to a dry bowl, and toss with avocado oil, salt, garlic powder, and oregano.

Transfer the fries into a single layer onto the prepared baking sheets.

Bake for 20 minutes, swapping the baking sheets level halfway.

Increase oven temperature to 425°F( 220°C), and keep baking for an extra 15-20 minutes or until the fries are golden and crispy.
Serving Greek Fries
Toss the crumbled feta cheese in a bowl with olive oil and dried rosemary.

Serve the fries with crumbled feta cheese, freshly chopped parsley, a drizzle of lemon juice, chopped tomatoes, and chopped red onion.
Want My Kitchen Equipment?
Serving:
1
serving
Calories:
259.4
kcal
(13%)
Carbohydrates:
26.9
g
(9%)
Fiber:
3.4
g
(14%)
Net Carbs:
23.5
g
Protein:
6.4
g
(13%)
Fat:
14.6
g
(22%)
Saturated Fat:
4.3
g
(27%)
Polyunsaturated Fat:
1.4
g
Monounsaturated Fat:
7.7
g
Cholesterol:
21
mg
(7%)
Sodium:
376.7
mg
(16%)
Potassium:
651.4
mg
(19%)
Sugar:
1.6
g
(2%)
Vitamin A:
220.2
IU
(4%)
Vitamin B12:
0.4
µg
(7%)
Vitamin C:
32.3
mg
(39%)
Vitamin D:
0.1
µg
(1%)
Calcium:
142.1
mg
(14%)
Iron:
1.5
mg
(8%)
Magnesium:
39.8
mg
(10%)
Zinc:
1.1
mg
(7%)
Posted In: