This Greek Chicken Marinade is a simple and delicious marinade for chicken breast or tenderloins, perfect to grill, bake, or air fry.
Plus, this marinade is also dairy-free, gluten-free, and keto-friendly, made without yogurt or sugar added.
Everyone loves chicken recipes, I have made so many of them, and when I don't make my Cast-Iron Chicken Breast or my Lemon Pepper Chicken Tenders, I like to make Greek chicken with this marinade.
It's a variation of my classic Chicken Marinade.
As a French person who lived in Europe for 25 years, I have been used to eating many Greek food, and this is how I love to season my chicken with Greek flavors.
How To Make Greek Chicken Marinade
It's very easy to make any chicken marinade, but it is a bit more time-consuming to make this Greek marinade because you need a bunch of fresh herbs.
But you will love the result, and it is worth all the time chopping these fresh herbs, believe me!
Ingredients
All you need to make this chicken marinade are Greek herbs, Greek spices, and a meat thermometer.
Without a thermometer, your meat can be dry, overcooked, and so disappointing so please get one for any chicken recipe you make.
Lemon Juice – freshly squeezed, not bottled juice, for best flavors.
Extra-Virgin Olive Oil – I use extra virgin olive oil for this recipe. It has a strong olive flavor that marries so well with the chicken breast.
Onion Powder
Fresh Garlic – minced
Black Pepper
Salt
Fresh Oregano
fresh Parsley
Fresh Mint
Fresh Thyme
Fresh Rosemary
Marinating The Chicken
To make the marinade, place all the ingredients together in a bowl and whisk to combine. Nothing is easier than that.
Next, it's time to marinate the chicken breast. This recipe is made for 1 pound of chicken. You can use skinless chicken breast or chicken tenderloins.
Place the chicken in a large zip-lock bag. Next, pound the chicken using a wooden rolling pin or a mallet.
Finally pour the marinade into your zip-lock bag. Close the bag tightly, making sure you remove any air trapped inside.
Rub and refrigerate the marinade for 30 minutes to flavor the meat.
Cooking The Chicken
Now that the chicken has been marinated with the lovely Greek flavors of your marinade, it's time to cook it.
Remember that it's not food safe to eat the marinade unless it's boiled, which would be weird and flavorless.
Eating chicken marinade is as unsafe as eating raw chicken, so you must discard the marinade.
Remove the chicken breast from the bag and cook the meat. Below I listed all the cooking options for your chicken breast.
Baking Greek chicken
This is the easiest method to cook Greek chicken. It won't add the same lovely colors as BBQ or grill, but the meat tastes delicious in the oven.
Preheat the oven to 400°F (200°C). Oil a large baking dish with avocado oil or high-smoke temperature oil.
Place the chicken breast in the baking dish, ensuring they don't touch or overlap.
Bake until the internal meat temperature reaches 165°F (74°C). The baking time can vary between 20 and 25 minutes. A meat thermometer is the best tool to tell you if the meat is cooked through.
Remove the dish from the oven, foil it, and let it cool for 5 minutes. This step makes the chicken ultra moist and juicy.
Air-Frying Greek Chicken
Slightly spray avocado oil in the air fryer basket and air fry the meat at 350°F (180°C) until the internal temperature reach 165°F (74°C).
It takes between 15 and 20 minutes.
Grilling
Grilling chicken is delicious and ensures the best meat color.
After marinating the meat, remove the chicken breast from the zip-lock bag and discard the marinade.
Warm your BBQ to the highest temperature. Clean and oil the grill grates with avocado oil then place the meat on the grill.
Cover or close the BBQ lid, grill for about 5 minutes on high, then reduce and turn the meat over. Cook for another 3 to 4 minutes, checking the internal temperature often.
When the thickest part of the chicken breast reaches 165°F (74°C), it's ready.
Remove from the BBQ place on a plate and cover with foil to let the meat softened and get moist.
Cast-Iron Skillet
You can read my cast-iron chicken recipe for more details on how to cook chicken breast in a cast iron.
What To Eat With Greek Chicken
This Greek chicken is delicious on its own as a meal, and depending on the season and the way you can your chicken, you may want different sides.
If you BBQ the chicken, some cold salad are perfect match like:
On the cooler months, and if you bake the chicken, try some of these warm side dishes:
Allergy Swaps
Below are some ingredient swaps to make this recipe if you can't eat some of the ingredients.
Lemon Juice – You can replace the lemon with apple cider vinegar, lime juice, or wine vinegar. You can also try sweeter vinegar, like balsamic vinegar, which makes the meat a bit sweet.
Olive Oil – You an swap olive oil for any other vegetable oil.
Frequently Asked Questions
Below are the answers to your frequent questions about this Greek Chicken marinade recipe.
Can I Marinade Frozen Chicken?
You can, but it will deliver a poor result. The heart can't absorb the marinade and get flavored if the meat is frozen.
Even if you pop the frozen meat in the marinade overnight, the meat will defrost and release water. As a result, it thins out the marinade and won't flavor the meat properly.
The best is to thaw the chicken, pat dry with absorbent paper, pound the meat with a mallet, and finally place the meat in a zip-lock bag with the marinade.
Can I Freeze The Marinade?
Yes you can fill zip-lock bags with marinade, stack them in the freezer and freeze them for up to 3 months.
Thaw the marinade in the fridge the day before using.
Can I Swap Fresh Herbs For Dried Herbs?
Technically you can but the ratio will be very different.
Usually, it's recommended to use only a third of dried herbs which means that for one tablespoon of fresh herbs, you will only need 1/3 tablespoon, so one teaspoon of dried herbs.
Can I Reuse The Marinade?
No, a marinade can grow bacteria quickly, and as soon as it has been in contact with raw meat, it must be discarded.
More Chicken Recipes
I love to cook chicken and here are my most popular chicken recipes for you to try:
Did you try this Greek chicken marinade? Comment or review below to tell me more about it.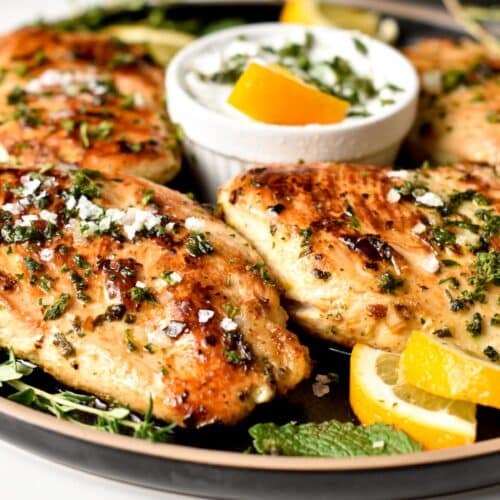 Greek Chicken Marinade
This Greek Chicken Marinade is a simple and delicious marinade for chicken breast or tenderloins, perfect to grill, bake, or air fry.
Yield:
4
medium Chicken Breasts
Nutrition
Want My Kitchen Equipment?
Instructions
In a mixing bowl, whisk all the marinade ingredients together until well combined.

Place the chicken breast fillet on a chopping board and use a mallet to pound the meat. Set it aside.

Place the chicken breast fillet in a large zip-lock bag and pour the marinade into the bag. Seal the bag tightly, and massage the meat to get covered with the marinade.

Refrigerate for at least 30 minutes or a maximum of 12 hours.

Remove the chicken breast from the marinade and remove excess marinade on the breast. I like to pat mine with a piece of absorbent paper. Discard the marinade.

Warm avocado oil in a large frying pan and cook the chicken breast on both sides until the internal meat temperature reaches 160°F-165°F (72°C – 74°C).

Remove the meat from the skillet, place it on a plate, and cover it with foil. Wait for 2 minutes to let the meat soften. This makes the breast ultra-tender and juicy.

Use the chicken on top of a salad or as a side to grilled vegetables.
My Recipe Notes
Nutrition Facts
Greek Chicken Marinade
Amount Per Serving (1 serving)
Calories 101.8
Calories from Fat 95
% Daily Value*
Fat 10.6g16%
Sodium 146.5mg6%
Potassium 34.1mg1%
Carbohydrates 2.4g1%
Protein 0.3g1%
Net Carbs 2.1g
Vitamin A 4.8IU0%
Vitamin C 8.6mg10%
Calcium 9.9mg1%
Iron 0.2mg1%
Magnesium 2.7mg1%
Zinc 0.1mg1%
* Percent Daily Values are based on a 2000 calorie diet.