This keto blueberry bread is a delicious healthy and soft keto blueberry cake with only 3.9g of net carbs per slice. Plus, it's a dairy-free recipe meaning it's a perfect paleo blueberry coffee cake too!
You have been requesting more keto bread recipes especially sweet keto bread so here we go! Say hello to my keto blueberry bread or should I say blueberry lemon bread!
The best keto blueberry bread
I really believe this is the best keto blueberry bread recipe ever. In fact, the combo of lemon juice, fresh blueberry, pinch of ginger and toasted sliced almonds works like magic.  The texture of this keto blueberry bread with almond flour is moist and soft. It brings back kids memories as my grandma used to bake me a delicious french blueberry cake for breakfast. Well, she certainly did not use the same ingredients but here is my ketofied version of an old time favorite.
All you need to make this keto blueberry cake are few simple ingredients and barely 15 minutes. Let's see what you need to prepare this lovely moist keto blueberry lemon bread.
Almond flour – I recommend fine almond flour and not almond meal for the best result
Coconut flour – it is a keto blueberry bread with coconut flour and almond flour. I found the combo of both flour delivering a better texture than using only almond flour so don't replace this !
Sugar-free crystal sweetener – I love Monk fruit crystal stevia blend from Lakanto but you can use pure erythritol crystal or xylitol in same amount
Eggs – make sure you use large eggs at room temperature
Coconut oil – melted, make sure your coconut oil is not burning hot or it will cook the eggs!
Lemon juice – I love a light touch of lemon in my blueberry bread, if you don't feel like it you can use orange juice too but it has more carbs!
Vanilla
Ground ginger – just because lemon ginger are made to be together! Optional, don't use if you are not a ginger fan
Xanthan gum or guar gum – this make the bread hold together really well don't skip for best result
Blueberries – fresh or frozen
Can I use frozen blueberries in my lemon blueberry bread recipe?
Sure, you can use frozen blueberries or fresh blueberries. Both options works perfectly however frozen blueberries may add some more liquid to the batter. The result is a softer keto blueberry cake but as good !
A lemon blueberry bread recipe
This is more than a keto blueberry bread with almond flour! It is actually a lemon and blueberry bread with a touch of ginger. I simply believe that this trio of flavor are evenly delicious. Of course, feel free to play with the spices in here. If you don't like ginger you can also try cardamom or cinnamon!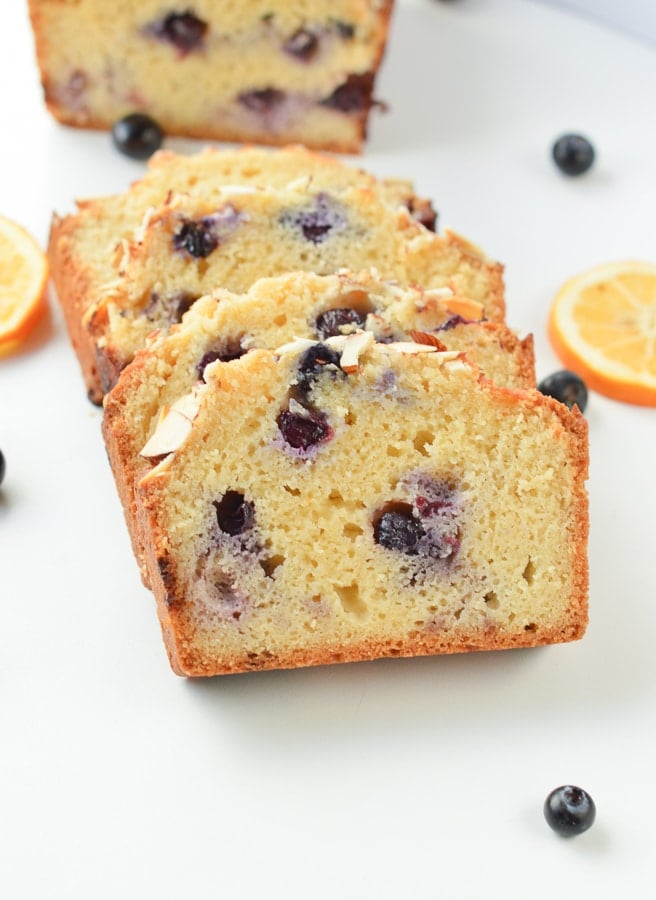 A moist blueberry pound cake for breakfast
This lemon blueberry bread recipe is very much inspired by my keto lemon pound recipe. Obviously all my recipes are inspired by each others, few twist appears to make them different and perfect every time. This recipe has a similar buttery pound cake texture to my previous lemon cake recipe. However the addition of spices, crunchy sliced almonds and blueberry make the whole bread different and much more delicious for breakfast.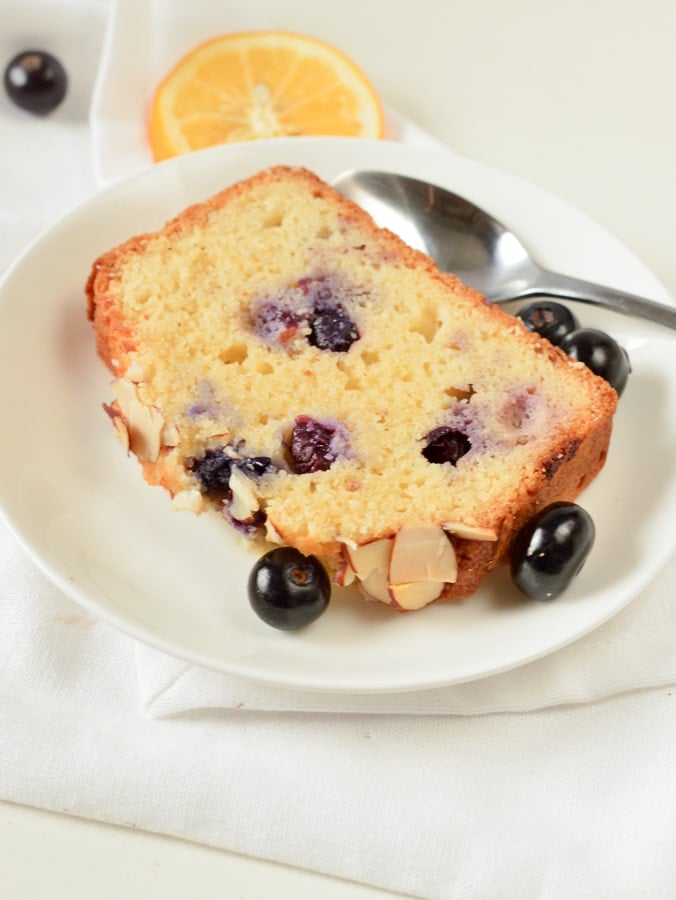 I hope you enjoy this easy blueberry pound cake recipe, if so save it on Pinterest for later and join me on Instagram to share a picture of your creation with me. I love to see what you make in your kitchen.
xoxo Carine 
Keto Blueberry bread
Keto blueberry bread is a delicious healthy soft bread with almond flour, blueberries and a subtle touch of lemon
16 slices
Print The Recipe
5 large Egg at room temperature, out of the fridge for 3 hours
3/4 cup Erythritol erythritol or monk fruit stevia blend or xylitol (150 g)
2 cup Almond Flour (220 g)
1/4 cup Coconut Flour (35 g)
1/2 teaspoon Xanthan gum or guar gum
1 1/2 teaspoon Baking powder
1/4 teaspoon Ground ginger - optional only if you like the flavor!
1/2 cup Coconut oil melted, not hot (or melted butter if preferred) (120 ml)
2 tablespoon Lemon Juice (30 ml)
1 teaspoon Vanilla essence
3/4 cup Blueberries fresh or frozen
Preheat oven to 180C (350F). Line a loaf pan 9 inches x 5 inches with a piece of parchment paper. Slightly oil the paper to make sure the pound cake don't stick to the pan. Set aside.

In a medium size mixing bowl beat eggs and sweetener for 30 seconds, until combined. Set aside.

In a large mixing bowl stir together almond flour, coconut flour, xanthan gum, baking powder and ground ginger (if you like ginger! or don't add)

Pour the beaten egg mixture, melted coconut oil (not hot or it will cook your eggs), lemon juice, vanilla onto the flour blend. Stir with a wooden spoon until all the ingredients are evenly combined together.

Stir in fresh blueberries and transfer the blueberry bread batter onto the prepared loaf pan.

Sprinkle some sliced almonds on top of the bread if desired and slightly press them on the top to stick.

Bake for 60-75 minutes making sure that you add a piece of foil on top of the loaf pan after 20 minutes to avoid the top of the bread to burn.

Check the baking process after 60 minutes. Remove the piece of foil, insert a skewer in the center of the bread. If the skewer comes out clean or with few crumbs on it, it is cooked you can remove the loaf pan from your oven. Otherwise, bring back the piece of foil on top of the loaf and keep baking by 10 minutes burst, checking every 10 minutes up to 75 minutes.

Cool down in the loaf pan for 30 minutes then lift out the blueberry bread from the pan by pulling on the pieces of parchment paper.

Cool on a rack for 3 hours or overnight before slicing. It is a very important step to make the bread don't fall apart when you slice it.
Storage and freezing
Store in the pantry up to 3 days, in an airtight container.

Freeze the bread sliced, in an airtight container. Defrost the day before on a plate at room temperature.
Net carbs : 3.9 g per slice including sliced almonds on top.
Nutrition Facts
Keto Blueberry bread
Amount Per Serving (1 slice)
Calories 185 Calories from Fat 105
% Daily Value*
Fat 11.7g18%
Carbohydrates 5.5g2%
Fiber 1.6g7%
Sugar 1.8g2%
Protein 4.7g9%
Net Carbs 3.9g
* Percent Daily Values are based on a 2000 calorie diet.