Bulletproof Coffee (Zero-Carb Keto Coffee)
This creamy, smooth bulletproof coffee recipe is the best keto breakfast for coffee lovers. A Zero-carb keto coffee made of healthy fatty acids from MCT oil and butter.
Bonus, all you need to make this keto coffee recipe are 4 simple ingredients!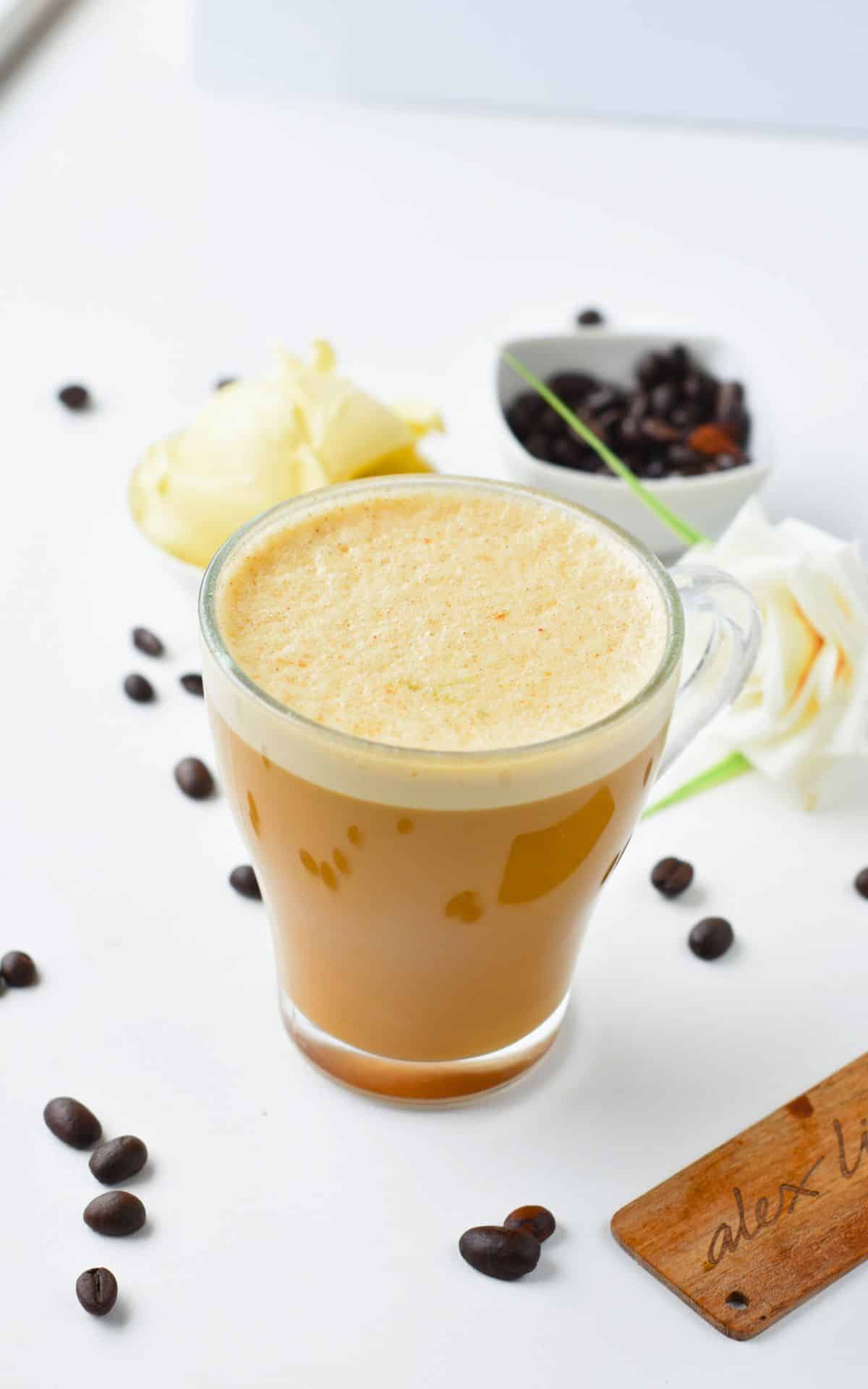 Coffee lovers, I have great news for you: coffee is keto-friendly.
Even better, you can make some delicious and easy keto coffee recipes that taste like your local coffee, at home in 5 minutes.
What's A Keto Bulletproof Coffee?
Bulletproof coffee is a popular keto breakfast drink created by Dave Asprey.
It replaces your traditional cup of coffee or coffee latte. It is smooth and creamy as a latte coffee but does not contain any milk, sugar, or carbs.
Instead, it contains all the fatty acids you need to produce ketones quickly and keep your energy levels steady.
How To Make Bulletproof Coffee
Bulletproof coffee is very easy to make, in particular, if you have a good Espresso machine. It only takes 3 ingredients!
Ingredients
Hot Brewed Coffee – Since you must blend your ingredients together, it is very important to start with hot freshly brewed coffee. Instant coffee would work as well, but the flavor of your keto coffee won't be as good.
MCT Oil – MCT Oil increases the sensation of fullness, improves gut health, and on a keto diet, it also promotes fat burning as it gives a quick supply of ketones to your body. You can swap MCT oil for extra-virgin coconut oil, but MCT oil is far more concentrated. In fact, MCT oil contains is entirely made of Medium-Chain Triglyceride compared to about 50%-60% in coconut oil. The main fatty acids from MCT oil are Caproic acid (C6), Caprylic acid (C8), Lauric acid (C12): a powerful anti-fungal and antibacterial that shows benefits to your gut health and helps people on a candida diet.
Unsalted Butter – Grass-fed butter is added to keto bulletproof coffee for texture and creaminess. Butter (and Ghee) are very much keto-friendly because they contain barely any fat. While it also adds healthy fat to feel fuel and keep your energy level steady, it adds a smooth texture that MCT doesn't have. A rich, creamy texture to your keto coffee recipe while adding fulfilling fat.
Method
A keto bulletproof coffee recipe is very easy to make with only 4 ingredients. However, the key to making a tasty keto coffee with butter is to use a blender!
In fact, you must blend all your bulletproof coffee ingredients on the high-speed setting or the creamy coffee texture won't form.
If you don't blend your brewed coffee with MCT oil and butter, it will result in two layers, coffee at the bottom and fat on top. It won't taste good at all!
Another option is to use an immersion blender or hand milk frother.
Place all the ingredients in a tall mug, wide enough to fit your immersion blender or milk frother. Blend until creamy.
Frequently Asked Questions
Does Bulletproof Coffee Break Your Keto Fast?
It's the most common question on a keto diet. Technically, yes any calorie can break a fast. However, on a keto diet, fat is your fuel.
So if you only consume pure fat, no protein, no carbs during your fast, you won't break it.
It means that drinking bulletproof coffee won't hurt your fast at all. You will simply add more energy to your body and fullness that help you last your fast longer! So yes, you can drink one bulletproof coffee while fasting.
This will boost your fat-burning metabolism and help you fast longer without feeling hungry too quickly.
Should I Drink Bulletproof Coffee If I Am Not On Keto?
Since fat slows down your digestion, adding fat to your coffee creates a feeling of fullness and keeps your blood sugar level steady for longer.
It means that the benefits of adding fat or butter to coffee are great for anyone, not only people on a keto diet.
However, keep in mind that bulletproof coffees are high in saturated fat, and not suitable for people with cholesterol or some other health issues.
Also, if your body is not fat-adapted, meaning it is not used to using ketones as a source of energy, it won't have the weight-loss benefits it brings to someone following a keto diet.
What Are The Potential Health Benefits Of Bulletproof Coffee?
The potential weight-loss effects of keto butter coffee are for people following a strict weight-loss keto meal plan.
Some of the bulletproof coffee benefits you may experience after drinking bulletproof coffee on a keto diet are:
– No energy crash, steady energy level
– Fullness and less hunger
– Increased mind focus
– Weight-loss
– Fighting the keto flu
What Can I Add To My Butter Coffee?
You can make your keto coffee even tastier by adding some of the following:
– Collagen peptides – add 1 tsp of collagen powder, some are vanilla-flavored and will give a tasty vanilla flavor to your keto coffee.
– Heavy cream – if you are not drinking this bulletproof coffee during your fasting period, feel free to add 1 tablespoon of heavy cream or unsweetened almond milk.
– Sugar-free sweetener – make it sweet by adding safe keto sweeteners like 1-2 teaspoons of stevia drops or 1-2 tablespoons of erythritol.
– A pinch of ground cinnamon on top – it doesn't add carbs to your drink but a lovely cinnamon flavor

You can also try adding my keto pumpkin creamer or keto condensed milk to your bulletproof for extra flavors!
Why Should I Drink Bulletproof Coffee?
On a keto diet, your body is in a shortage of carbohydrates and cannot produce use glucose as a source of energy.
Instead, your body uses ketones, which can be consumed by your muscles or brain as an alternative source. So feeding your body with fatty acids that can quickly generate ketones is the key to:
– Keeping your energy levels steady,
– Feeling fulfilled and not hungry.
– Increasing your focus and mind clarity.
– Boosting your weight loss.
Bulletproof coffee is a coffee full of quality fat, like MCT oil and butter. MCT oil or Medium Chain Triglyceride is made of 3 fatty acids that have medium-length chains.
It means they are broken down fast, and they are quickly absorbed by your body to produce ketones, your source of energy in ketosis.
MCT oil in keto coffee goes straight into your liver to produce ketones.
Bulletproof coffee helps you lose weight faster on a keto diet because it provides a quick and steady source of fat to give your body energy and fullness.
More Keto Coffee Recipes
If you are a cold or hot coffee lover, I have plenty more keto recipes using coffee like: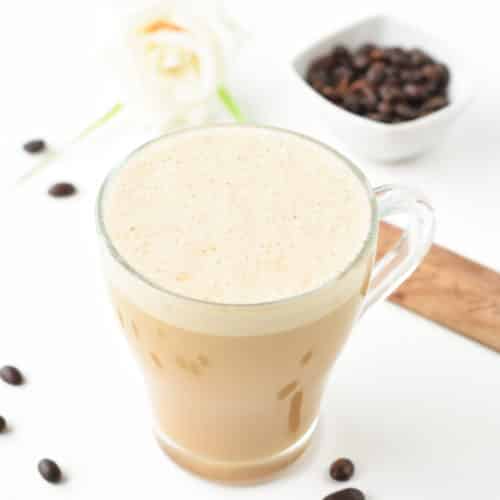 Keto Bulletproof Coffee
An easy keto breakfast drink to boost fat burning, improve focus and replace your regular latte.
Ingredients
1

cup

Hot Brewed Coffee

1

tablespoon

MCT Oil

or extra-virgin coconut oil

1

tablespoon

Unsalted Butter

or ghee
Optional
1-2

drops

Vanilla Stevia Drops

or 1-2 tablespoons erythritol

¼

teaspoon

Ground Cinnamon
This recipe may contain Amazon or other affiliate links. As an Amazon Associate I earn from qualifying purchases.
Instructions
Add all the ingredients into a blender and blend on high speed until frothy and creamy, about 20 seconds.
Want My Kitchen Equipment?
Serving:
1
coffee
Calories:
255.7
kcal
(13%)
Carbohydrates:
0.4
g
Fiber:
0.3
g
(1%)
Net Carbs:
0.1
g
Protein:
0.3
g
(1%)
Fat:
29
g
(45%)
Saturated Fat:
21.4
g
(134%)
Cholesterol:
38.4
mg
(13%)
Sodium:
5.1
mg
Potassium:
116.1
mg
(3%)
Sugar:
0.1
g
Posted In: