How To Make Iced Coffee At Home
Learn how to make Iced Coffee at home with few simple ingredients, no fancy coffee machine for a delicious and refreshing cold drink on hot summer days.
What's Iced Coffee?
In summer, my favorite drink is always iced coffee from my favorite local coffee shop.
But did you know you can make your own iced coffee at home, using a simple pot of coffee – no need for a coffee maker or coffee machine!
To make your ice coffee recipe, you just need any coffee maker that can deliver a strong coffee.
You can use your favorite coffee capsule if you use a coffee machine or your favorite coffee ground strength.
Is Iced Coffee The Same As Cold Brew?
Cold brew coffee is brewed cold, which means there's no heat involved.
On the other side, iced coffee is brewed as usual, then cooled on ice cubes, sweetened with syrup, and served with cold milk.
Iced coffee tastes like regular coffee but lighter because it's diluted by the ice cubes melted in the brew. As a result, it has a less strong flavor than cold brew.
Is iced coffee keto?
No, an authentic iced coffee from the coffee shop contains added sugar from the simple syrup added in the drink.
However, you can order a keto-friendly iced coffee by asking for:
Sugar-free syrup
No syrup at all and a pinch of stevia or sugar-free sweetener instead
Keep in mind that sugar-free products at the coffee store are made with artificial sweeteners.
They are in a grey area of the keto diet because even if they are zero carbs, they tend to raise blood sugar levels and trigger sugar cravings later.
How To Make Iced Coffee
It's easy as pie to make iced coffee as it only takes a handful of ingredients and a few minutes to get one ready to drink.
Ingredients
Brewed Coffee – Use your favorite way of making black coffee, they all work for this recipe.
Milk – We used oat milk or almond milk.
Simple Syrup – any flavored syrup works like caramel syrup, vanilla syrup, maple syrup, or you can make your simple homemade syrup at home with two ingredients.
Brewing Your Coffee
First, make your favorite coffee using either a coffee press, coffee machine, or instant coffee.
Make sure you use a strong coffee to guarantee a tasty iced coffee. Iced coffees are diluted because of the ice cubes added to the brew.
So always pick a strong coffee strength. For example, on my Nespresso scale, I would pick a strength 1o to 13.
Brewing with a coffee press
To make one cup of coffee, add a generous tablespoon of ground coffee to the coffee press. Top with almost boiling water, and give a quick stir.
Then, insert the plunger into the pot, and let stand for 3-4 minutes, keeping the plunger just above the water.
Finally, press to brew the coffee
Brewing With A Capsule Coffee Machine
Fill the coffee machine water tank with cold water.
Place one coffee capsule in the machine – I recommend using a strength rating of at least 10 or a lungo capsule because you need 1 cup of strong coffee.
Press the espresso button once, change the capsule, and repeat to have two espresso shots.
Making The Iced Coffee
Release ice cubes from the ice cubes trays and place them in a tall glass.
Pour the hot coffee onto the ice cubes.
Then, add the syrup. I like adding two teaspoons of vanilla syrup before adding the plant-based milk of your choice.
I like a creamier milk variety so if you can, pick a barista oat milk or barista almond milk. Or use half-half or heavy cream for creamier options.
Making Iced Latte
An iced latte is prepared the same way, but instead of adding two tablespoons of milk, you add 1 cup of frothed milk on top of the brewed coffee.
Syrup Flavors
The best is to make your own syrup at home. It's cheaper and guarantees a nice flavor every time without additives from store-bought syrups.
To make flavored simple syrup, add 1 cup of water and 1/2 cup of sugar in a saucepan. Stir and bring to a boil. Cook and stir until the sugar melts and dissolves.
Remove from the heat, transfer to a glass container, and, when it reaches room temperature, stir in any natural extract like vanilla extract, caramel extract, or coconut extract.
Pop the syrup in the fridge and store it for up to 1 week.
Use the syrup in this iced coffee recipe.
Sugar-Free Coffee Syrup
You can use the recipe above to make a sugar-free syrup, but instead of sugar, use a sugar-free granulated sweetener like erythritol or allulose.
Remember that sugar-free sweeteners melt at higher temperatures than regular sugar. Erythritol needs to reach 250°F (120°C), so it takes longer and more work to dissolve.
It can also crystalize when cooling down.
Keto Iced Coffee
There are a few swaps you need to make to make a keto version of this iced coffee,
Sugar-Free Syrup – You can make your own using my keto maple syrup recipe, or you can also use a store-bought sugar-free syrup.
Creamer – You can use heavy cream instead of plant-based milk to make the iced coffee creamer or half-half.
Frequently Asked Questions
Below are the most frequent questions about iced coffee making:
Can I Brew Coffee Ahead?
You can brew the coffee the day before and cool it to room temperature overnight in a sealed container.
Or you can use leftover coffee if you are using a coffee maker like a coffee press or coffee machine with filter, that delivers a large volume of coffee per batch.
The next day, add ice cubes to chill the coffee drink and add the remaining ingredients.
Can I Add Sweetened Condensed Milk?
Yes, you can replace the plant-based milk and the syrup with two tablespoons of sweetened condensed milk.
Condensed Oat Milk and Condensed Coconut Milk are the best choices for a vegan iced coffee.
For a keto version, use my keto condensed milk recipe.
More Cold Drinks Recipes
Below I listed some more cold drinks recipes for you to try:
More Coffee Recipes
Below are some more coffee-flavored recipes to try:
Did you try this super easy iced coffee recipe? Share a comment or review below to tell me your favorite flavor.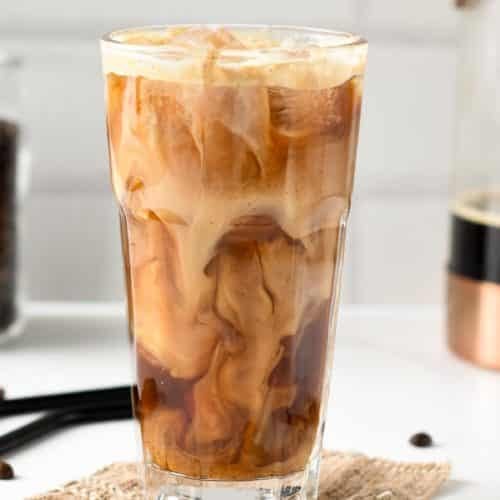 How To Make Iced Coffee At Home
Learn how to make Iced Coffee at home with a few simple ingredients, and no fancy coffee machine for a delicious and refreshing cold drink on hot summer days.
This recipe may contain Amazon or other affiliate links. As an Amazon Associate I earn from qualifying purchases.
Instructions
Brew one cup of strong coffee in a coffee mug. Add syrup of choice – try my sugar-free syrup recipe if desired, or use store-bought syrup, picking any flavor like vanilla syrup or caramel syrup to make flavored iced coffee. Adjust the amount to your liking.

Fill a tall glass with ice cubes and pour the warm sweetened coffee on top.

Add half-half and enjoy immediately.
Notes
Note 1: You can use half almond milk and coconut milk for a dairy-free vegan iced coffee option.
Note 2: For a keto version, make my keto maple syrup or use 1/4 teaspoon stevia drops, or keto pancake syrup worked as well.
Want My Kitchen Equipment?
Serving:
1
coffee
Calories:
41.7
kcal
(2%)
Carbohydrates:
1.3
g
Net Carbs:
1.3
g
Protein:
1.2
g
(2%)
Fat:
3.5
g
(5%)
Saturated Fat:
2.1
g
(13%)
Polyunsaturated Fat:
0.2
g
Monounsaturated Fat:
1
g
Cholesterol:
10.5
mg
(4%)
Sodium:
34.9
mg
(2%)
Potassium:
155.7
mg
(4%)
Sugar:
1.2
g
(1%)
Vitamin A:
106.2
IU
(2%)
Vitamin B12:
0.1
µg
(2%)
Vitamin C:
0.3
mg
Calcium:
43.9
mg
(4%)
Iron:
0.03
mg
Magnesium:
12.5
mg
(3%)
Zinc:
0.2
mg
(1%)
Posted In: