Kefir Smoothie (Dairy-Free)
This Strawberry Kefir Smoothie is a creamy healthy breakfast smoothie packed with probiotics to boost your metabolism and gut health.
Plus, this kefir smoothie recipe has no added sugar, and it's dairy-free!
If you love smoothie recipes then you must try this kefir smoothie once in your life.
Kefir has so many proven health benefits starting by improving your gut health, and digestion and it also has anti-inflammatory effects.
What's Kefir?
Kefir is a fermented milk drink with a thinner consistency than yogurt – more similar to drinkable yogurt.
It has a sour, light fizzy taste that is very enjoyable when mixed with fruits in a smoothie.
Kefir is not also made from dairy, it can also be made dairy-free using coconut milk and resulting in a low-carb drink suitable for vegans.
What's A Kefir Smoothie?
A Kefir smoothie is a high-probiotic breakfast smoothie recipe perfect to boost your natural gut health.
It's naturally:
Gluten-free
Low-carb
Paleo and vegan-friendly when made from coconut kefir.
How To Make Kefir Smoothie
A kefir smoothie is a creamy slightly fizzy smoothie perfect as a breakfast or snack.
Ingredients
All you need to make it are:
Kefir – I recommend choosing unsweetened kefir to avoid added sugar and pick coconut kefir if you want a dairy-free option with fewer carbs.
Unsweetened Almond Milk or any dairy-free milk you love like coconut milk.
Frozen Strawberries or berries you love – raspberries are a great low-sugar option or blueberries.
Almond Butter or any nut butter you love. Almond butter is low in saturated fat and lower in carbs.
Sweetener of Choice – you can use any sweetener you love stevia drops and erythritol are a great natural sugar-free option. Otherwise, try maple syrup for a refined sugar-free option.
Ice Cubes
Vanilla Extract
Instruction
Simply place all the ingredients in a blender and blend until smooth and creamy.
Adjust the smoothie texture and flavor by adding
Some more milk to thin it out.
More ice cubes or fresh and frozen fruits to thicken – up to 1/2 cup not more or it can be very icy.
More sweetener to increase the sweetness.
More kefir to increase the sour tart flavor of the drink.
Add-Ons
Like any smoothie recipe, feel free to boost the nutrition profile of this recipe by adding some healthy add-ons like:
Protein Powder – perfect for enhancing the creaminess of this strawberry kefir smoothie.
Chia Seeds
Hemp Seeds
Collagen
Spinach – use baby spinach or kale for a touch of green and vitamin C and turn this into an immunity smoothie that can contribute to boosting your immune system!
Blueberries – a tablespoon of blueberry or blackberry will make a blue kefir blueberry smoothie.
Storage Instructions
Most smoothie recipes are better fresh, made just before drinking.
If you really want to store leftover smoothies keep them for no more than 24 hours in a sealed glass mason jar.
The next day, layers may form so blend again or give a good stir to combine.
Keep in mind that the texture will change as the frozen ingredients have already melted.
Allergy Swaps
Below are some food swaps to help you adapt this easy kefir smoothie based on your health focus.
Dairy-free – Use coconut Kefir and dairy-free milk you love.
Nut-free – Swap almond milk for coconut milk and replace almond butter with sunflower seed butter or tahini.
Low-sugar – Focus on using low-sugar fruits like raspberries, strawberries, or boysenberries.
Frequently Asked Questions
Is Kefir Keto-Friendly?
Not all kefirs are good on a keto diet. Regular unsweetened kefir yogurt made from cow milk contains about 12 grams of net carbs per cup which is quite high on a keto diet.
However, coconut kefir is a keto-friendly option with only 3.5 grams of net carbs per cup, and it's dairy-free, avoiding carbs from lactose.
Is Kefir vegan?
No, traditional kefir is made from cow milk, but coconut kefir is vegan and made from coconut milk.
Is Kefir supposed to be sour?
Yes, Kefir has a sour tart taste due to the carbon dioxide left after the fermented process.
Can you freeze Kefir?
Yes, you can absolutely freeze leftover Kefir into an airtight container or in popsicle mold to make Kefir ice cream.
Why Eating Fermented Foods?
Fermented food is high in probiotics formed by bacteria during the fermentation process.
Probiotics are microorganisms made of good bacteria and yeast that help bring a healthy balance to your gut microbiome.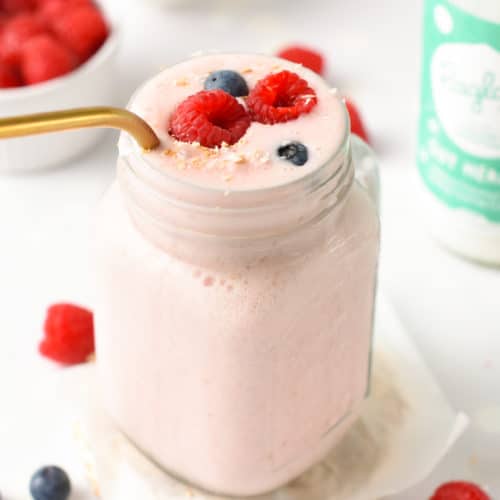 Kefir Smoothie
This Strawberry Kefir Smoothie is a creamy healthy breakfast smoothie packed with probiotics to boost your metabolism and gut health.
Ingredients
½

cup

Frozen Strawberries

1

teaspoon

Almond Butter

1

cup

Unsweetened Kefir

¼

cup

Unsweetened Almond Milk

2

tablespoons

Granulated Sweetener of Choice

1

teaspoon

Vanilla Extract

½

cup

Ice Cubes
This recipe may contain Amazon or other affiliate links. As an Amazon Associate I earn from qualifying purchases.
Instructions
Place all the ingredients into a blender and blend at high speed until frothy and creamy.

Add more ice cubes or erythritol to taste and blend between each addition.
Want My Kitchen Equipment?
Serving:
1
smoothie
Calories:
206
kcal
(10%)
Carbohydrates:
11.7
g
(4%)
Fiber:
2.1
g
(9%)
Net Carbs:
9.6
g
Protein:
4
g
(8%)
Fat:
30.9
g
(48%)
Saturated Fat:
25
g
(156%)
Polyunsaturated Fat:
1.2
g
Monounsaturated Fat:
2
g
Sodium:
213.4
mg
(9%)
Potassium:
153.5
mg
(4%)
Sugar:
7
g
(8%)
Vitamin A:
500.7
IU
(10%)
Vitamin C:
42.3
mg
(51%)
Vitamin D:
96
µg
(640%)
Calcium:
407.9
mg
(41%)
Iron:
0.5
mg
(3%)
Magnesium:
25
mg
(6%)
Zinc:
0.3
mg
(2%)
Posted In: