This Cottage Cheese Smoothie is a deliciously thick and creamy high-protein strawberry smoothie made from cottage cheese.
With 14 grams of protein, this is the perfect post-workout snack.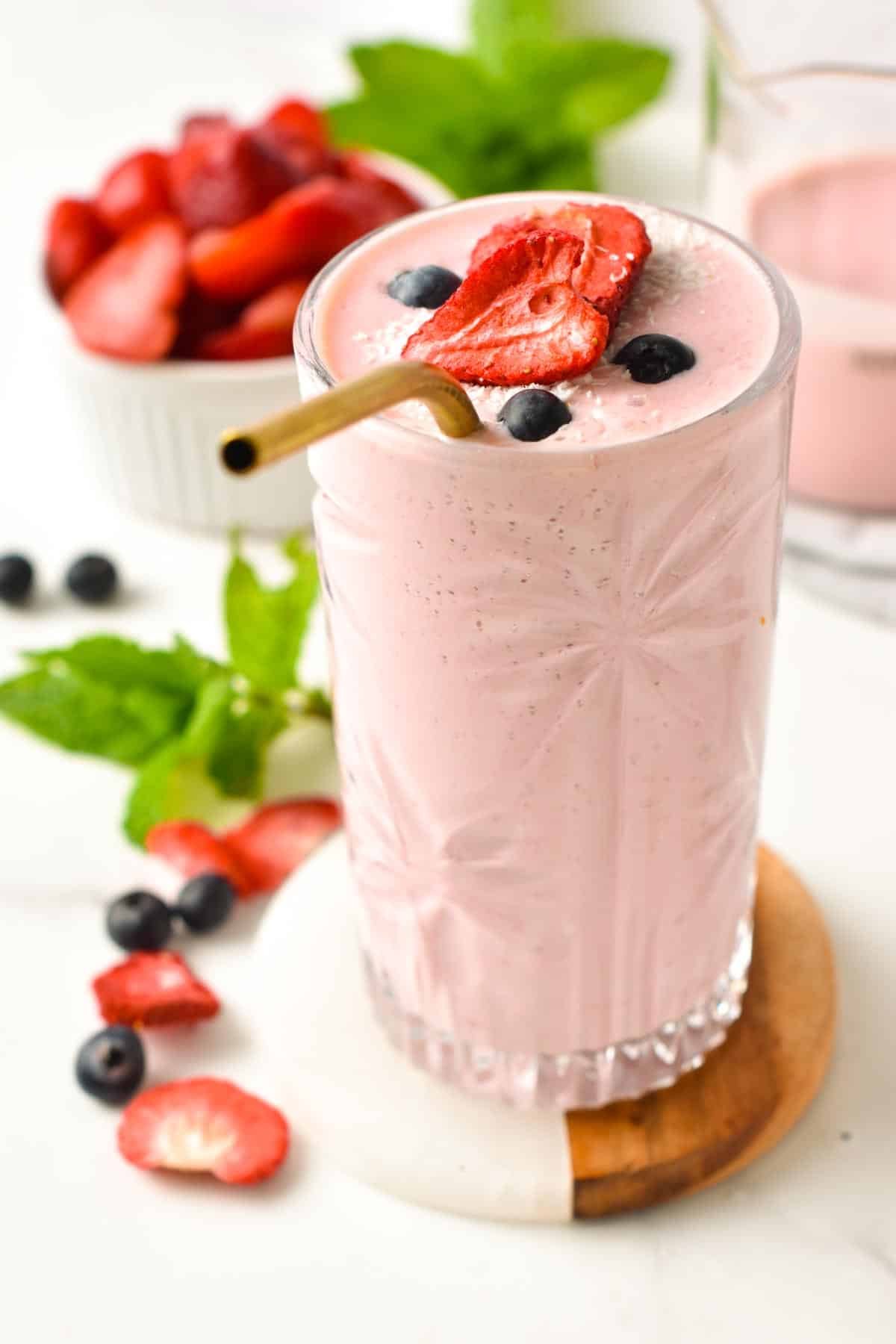 What's A Cottage Cheese Smoothie?
A cottage cheese smoothie is a creamy, nourishing smoothie made from frozen berries thickened with cottage cheese.
As a result, it's a high-protein smoothie with a similar texture to a Greek yogurt smoothie but with a light sour flavor from cottage cheese.
How To Make A Cottage Cheese Smoothie
It's very easy to make this high-protein smoothie recipe. All your need are a few simple ingredients.
Plus, kids love the cream flavor of cottage cheese in smoothies. It's a great way to bring them nutrients, calcium, and filling proteins as a quick snack.
Ingredients
All you need to make this delicious kid-friendly smoothie are:
Plain Cottage Cheese – The higher fat content your cottage cheese has, the milkier the smoothie will be.
Milk of Choice, like almond milk, oat milk, or soy milk.
Frozen Strawberries
Honey – For sweetness and the combo of honey and cottage cheese taste so good together.
Ice Cubes
Vanilla Extract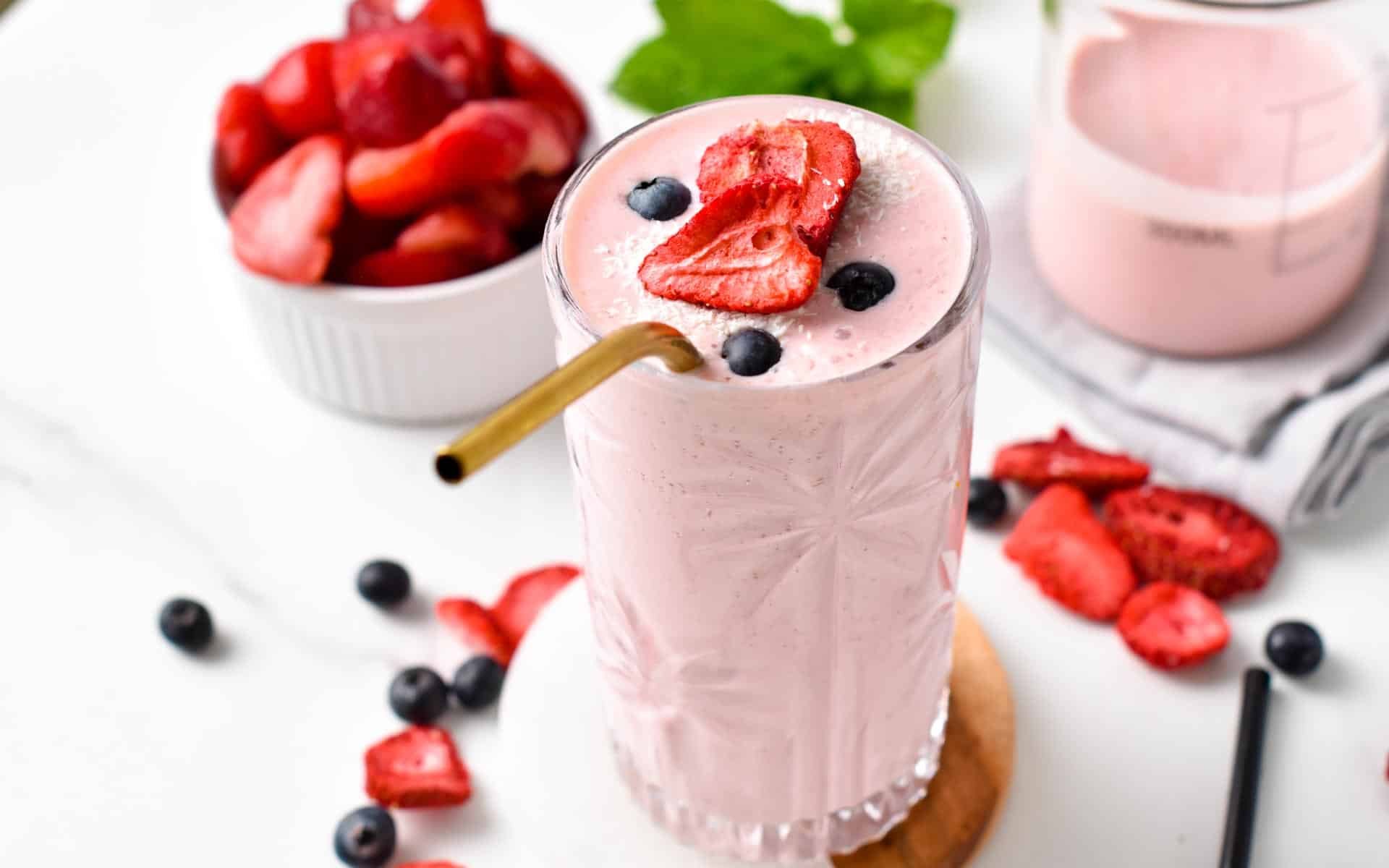 Preparation
Bring all the ingredients in the jug of a high-speed blender. Blend on high speed until creamy, thick, and smooth.
Adjusting The Texture
If your smoothie is not thick enough, add more ice cubes or more frozen berries.
You can increase the amount of honey for a sweeter flavor or use half-frozen strawberries and half-frozen bananas, which are sweeter.
Feel free to add a bit more cottage cheese to increase the creamy texture of your drink.
Frozen Fruit Options
I love frozen strawberries with the milky flavor of cottage cheese. The smoothie taste like a strawberry milkshake.
However, you don't have to use this kind of berries, feel free to pick some other frozen fruits, like:
Frozen Mango
Frozen Blueberries or acai to boost the antioxidant properties of your smoothie.
Frozen Mixed Berries – blackberries, blueberries, or raspberries.
Frozen Banana – It makes the drink ultra-thick, similar to a smoothie bowl texture.
Frozen Pineapple
Add-Ons
You can also increase the benefits of this healthy smoothie recipe by adding some extra ingredients, like:
A handful of spinach
Chia seeds – 1 or 2 teaspoons
Cocoa Powder – 2 teaspoons
Protein Powder – 1-3 tablespoons to make a protein shake with cottage cheese. You may want to add more milk to thin out the texture.
Avocado- 1/4 ripe avocado for healthy fats.
Serving
Smoothies are better with toppings, it had some punch to the drink.
Try adding:
Desiccated coconut
Freeze-dried strawberries
Granola
Allergy Swaps
This recipe contains dairy, and can't be made dairy-free, since dairy-free cottage cheese doesn't exist.
However, if you have some other food allergies, try the options below.
Honey-Free – Swap for maple syrup, date syrup, or coconut nectar.
Strawberry-Free – Pick some of the other frozen fruit options listed above.
Nut-Free – Use milk made from oat, soy, or regular milk.
Frequently Asked Questions
Here are the answers to your most common questions about this smoothie recipe.
What's Cottage Cheese?
Cottage cheese is cheese curd with a creamy texture and light salty and sour flavor.
It tastes a bit like ricotta cheese with way more curd in the mixture. As it's made from milk, it's high in protein, Vitamin B12, and nutrients like calcium.
Is Cottage Cheese Healthier Than Yogurt?
The recent popularity of cottage cheese comes from its nutritional properties.
In the same amount, cottage cheese contains a bit less fat and more proteins, 11g per 100g compared to 8.5g per 100g for Greek Yogurt.
Can I Add Protein Powder?
You can add 2-3 tablespoons of protein powder to this cottage cheese smoothie recipe.
However, protein powder thickens the smoothie. As a result, you will need more milk to keep the texture smooth.
Can You Substitute Cottage Cheese For Yogurt In A Smoothie?
Yes, you can swap the cottage cheese for the same amount of Plain Greek Yogurt.
Add a teaspoon of lemon juice to enjoy the same light sour flavor you usually have from cottage cheese.
Is Cottage Cheese Good For Protein Shakes?
Absolutely, with 11g of proteins per 100 grams, it's an excellent addition to boost the protein content of your shake and add creaminess.
Is Blended Cottage Cheese Good?
It's delicious and tastes like a creamy thick Greek yogurt with a light salty sour note.
More Smoothie Recipes
Below are some more smoothie recipe ideas for you to try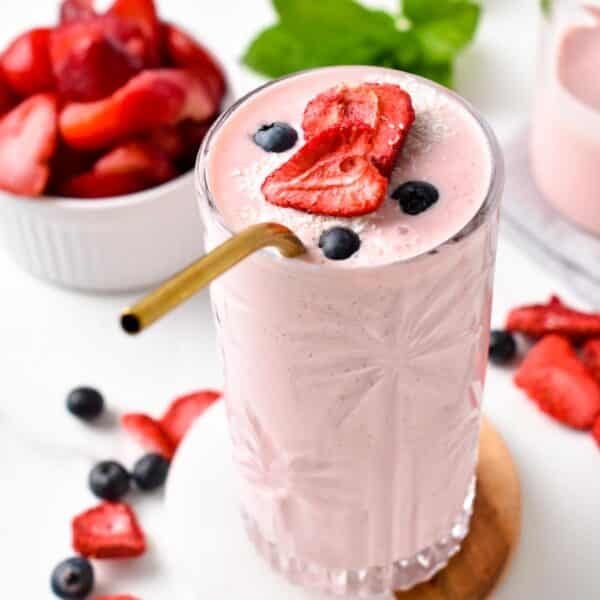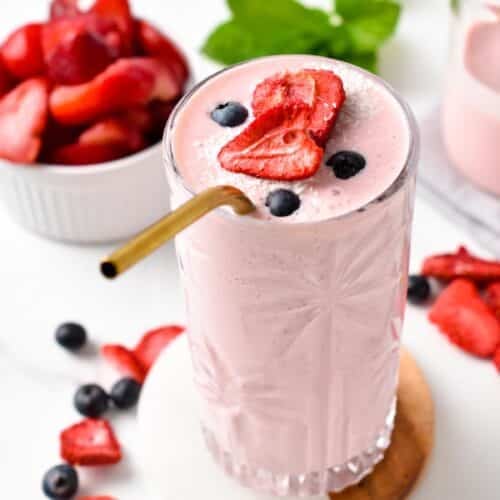 Cottage Cheese Smoothie
This Cottage Cheese Smoothie is a deliciously thick, creamy, high-protein strawberry smoothie made from cottage cheese. With 14 grams of protein, this is the perfect post-workout snack.
Ingredients
½

cup

Cottage Cheese

1

cup

Frozen Strawberries

⅓

cup

Ice Cubes

¾

cup

Almond Milk

1

teaspoon

Vanilla Extract

1

tablespoon

Honey
This recipe may contain Amazon or other affiliate links. As an Amazon Associate I earn from qualifying purchases.
Instructions
Add all the ingredients to the jug of a high-speed blender and blend until smooth.

Serve immediately with extra berries on top if desired.
Want My Kitchen Equipment?
Serving:
1
smoothie
Calories:
250.6
kcal
(13%)
Carbohydrates:
33.2
g
(11%)
Fiber:
3.5
g
(15%)
Net Carbs:
29.7
g
Protein:
13.6
g
(27%)
Fat:
7.2
g
(11%)
Saturated Fat:
1.8
g
(11%)
Polyunsaturated Fat:
1.5
g
Monounsaturated Fat:
2
g
Cholesterol:
17.9
mg
(6%)
Sodium:
581.1
mg
(25%)
Potassium:
346.4
mg
(10%)
Sugar:
27.8
g
(31%)
Vitamin A:
164.3
IU
(3%)
Vitamin B12:
0.5
µg
(8%)
Vitamin C:
84.8
mg
(103%)
Vitamin D:
0.1
µg
(1%)
Calcium:
339.3
mg
(34%)
Iron:
0.7
mg
(4%)
Magnesium:
28.8
mg
(7%)
Zinc:
0.7
mg
(5%)
Posted In: