Greek Yogurt Smoothie (12g Protein)
This Greek Yogurt Smoothie is a high-protein smoothie packed with 12 grams of protein.
It's perfect as a breakfast or snack for fixing your sweet tooth and refreshing. This smoothie also comes with a low-carb option if you like it low-sugar.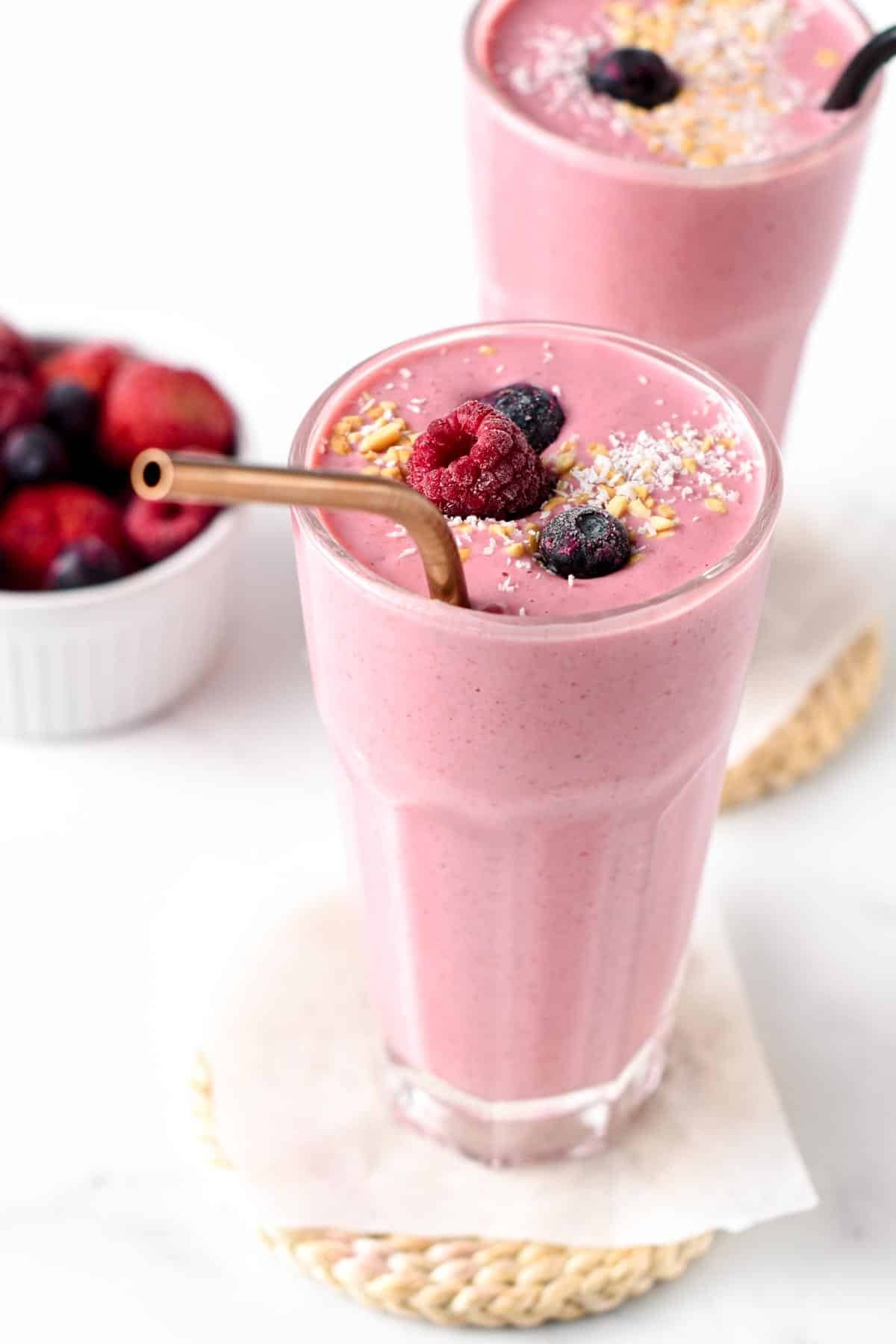 I love smoothie recipes for a quick healthy snack like my Green Smoothie, Kefir Smoothie, Purple Smoothie, or Strawberry Smoothie.
What's A Greek Smoothie?
This Greek Smoothie is perfect for refueling on protein after a workout or for fixing your hunger in the afternoon.
This refreshing drink is called Greek Smoothie because its main ingredient is Greek yogurt.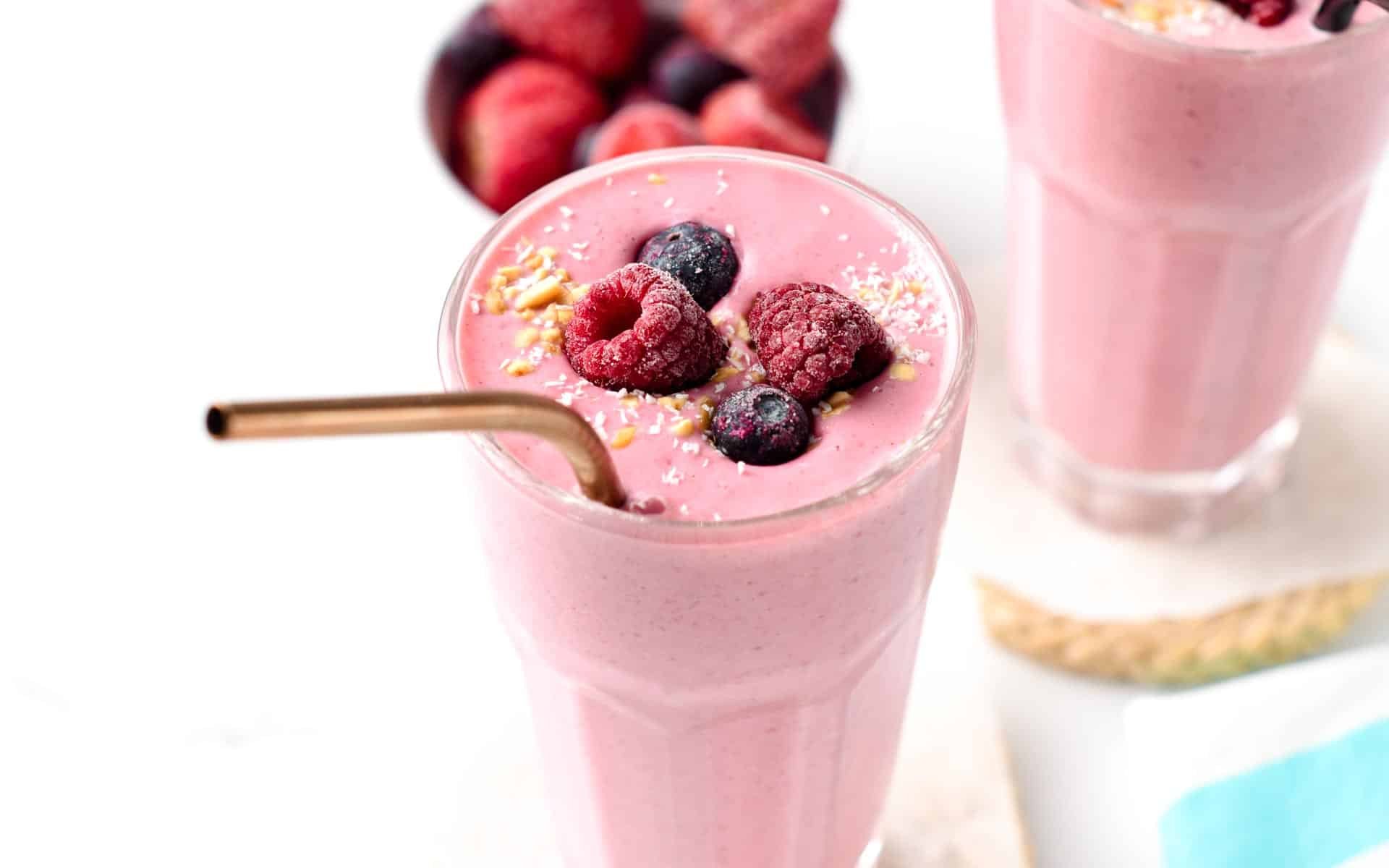 How To Make Greek Yogurt Smoothie
The reasons I love Greek yogurt in smoothies are plentiful.
It adds proteins to the drink, makes smoothies creamy and thick, and it adds lovely tangy flavors.
Ingredients
All you need to make this high-protein smoothie without using any protein powder are:
Instructions
Add all the ingredients into a blender and blend until smooth and creamy.
If too thick, add a splash of more almond milk or simply water.
If too runny, add frozen fruits or ice cubes to thicken.
Add-Ons
You can play with flavor and texture changing the berries or nut butter you use in the recipe.
For example, you can use the combination below:
Strawberry, banana, and peanut butter.
Strawberry, almond butter, and sugar-free syrup for a no-added-sugar low-carb version.
Mixed berries, frozen cauliflower instead of banana, sugar-free sweetener for a keto option.
Or you can add some unsweetened cocoa powder to turn the smoothie into a chocolate flavor.
Allergy Swaps
Below are some options to make this east smoothie recipe even if you have some food allergies:
Dairy-Free – There are so many great dairy-free Greek-style yogurt variants you can use in this recipe. Some are made from coconut milk, others from oat milk or cashew milk.
Sugar-Free – Swap the banana for a low-carb frozen vegetable low in sugar. It will add texture and creaminess with no sugar added. This includes frozen cauliflower rice or frozen zucchini slices.
Nut-Free – Substitute the peanut butter for sunflower seed butter or tahini.
Keto-Friendly – Apart from frozen banana, all the other ingredients in this recipe are keto-friendly. Some Greek yogurt brands contain more carbs, so check their nutrition panel and pick the lowest-carb option. Skip the banana or replace it with frozen keto vegetables like cauliflower or zucchinis.
Serving Ideas
This Greek Smoothie is great on its own but even better if topped with some delicious crunchy addition like a pinch of:
Hemp Seeds
Shredded Coconut
Sliced Almonds
Crushed Peanuts
Frequently Asked Questions
Can I Use This Recipe As A Smoothie Bowl Recipe?
You can turn this recipe into a Greek Smoothie Bowl. To do so, decrease the almond milk to 1/4 cup and add some extra if the blender has difficulties blending the ingredients together.
Don't add too much to keep a thick and creamy smoothie bowl texture. Serve with your favorite low-sugar granola recipe or sliced almonds and unsweetened coconut.
Can I Use Any Greek Yogurt?
I recommend plain Greek yogurt, but if you love vanilla Greek yogurt or other flavors, the recipe will come out delicious.
Keep in mind that the flavored Greek yogurt version always adds sugar to the smoothie.
So you may want to decrease the banana in the recipe to avoid an overly sweet flavor.
Have you made this smoothie recipe? Leave a comment or review below to connect with me.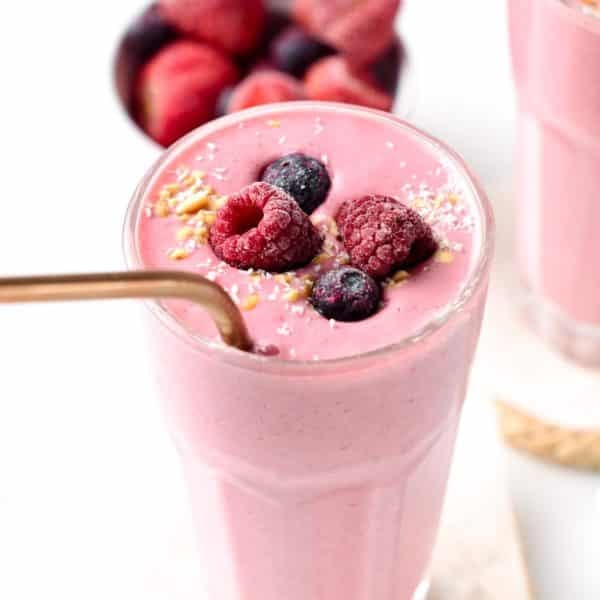 Greek Yogurt Smoothie
This Greek Yogurt Smoothie is a high-protein smoothie packed with 12 grams of protein. It's perfect as a breakfast or snack for fixing your sweet tooth and refreshing. Plus, this smoothie has a low-carb option if you like it low-sugar.
Nutrition Snapshot
Want My Kitchen Equipment?
Instructions
Bring all ingredients into the jug of a high-speed blender.

Blend on high speed until smooth and creamy. If too thick, add a splash of water or extra almond milk.

Serve with a pinch of desiccated coconut or crushed peanuts.
Notes
Note 1: For a low-carb version, replace with 1/3 cup of frozen zucchinis or frozen cauliflower rice, and to sweeten add 1-2 tablespoons of erythritol to the smoothie. Note 2: Peanut butter or sunflower seed butter also work as a replacement for almond butter. Note 3: Any non-dairy milk work like coconut milk, soy milk, or hemp milk.
My Recipe Notes
Nutrition
Serving:
1
smoothie
Calories:
208.4
kcal
(10%)
Carbohydrates:
24
g
(8%)
Fiber:
5.8
g
(24%)
Net Carbs:
18.2
g
Protein:
12.1
g
(24%)
Fat:
8.3
g
(13%)
Saturated Fat:
1.5
g
(9%)
Polyunsaturated Fat:
2.3
g
Monounsaturated Fat:
3.3
g
Trans Fat:
0.01
g
Cholesterol:
4.9
mg
(2%)
Sodium:
158.7
mg
(7%)
Potassium:
349.1
mg
(10%)
Sugar:
13.1
g
(15%)
Vitamin A:
96.9
IU
(2%)
Vitamin C:
33.5
mg
(41%)
Calcium:
267.8
mg
(27%)
Iron:
0.9
mg
(5%)
Magnesium:
53.9
mg
(13%)
Zinc:
0.6
mg
(4%)
Posted In: