Greek Yogurt Smoothie (12g Protein)
This Greek Yogurt Smoothie is a high-protein smoothie packed with 12 grams of protein.
It's perfect as a breakfast or snack for fixing your sweet tooth and refreshing. This smoothie also comes with a low-carb option if you like it low-sugar.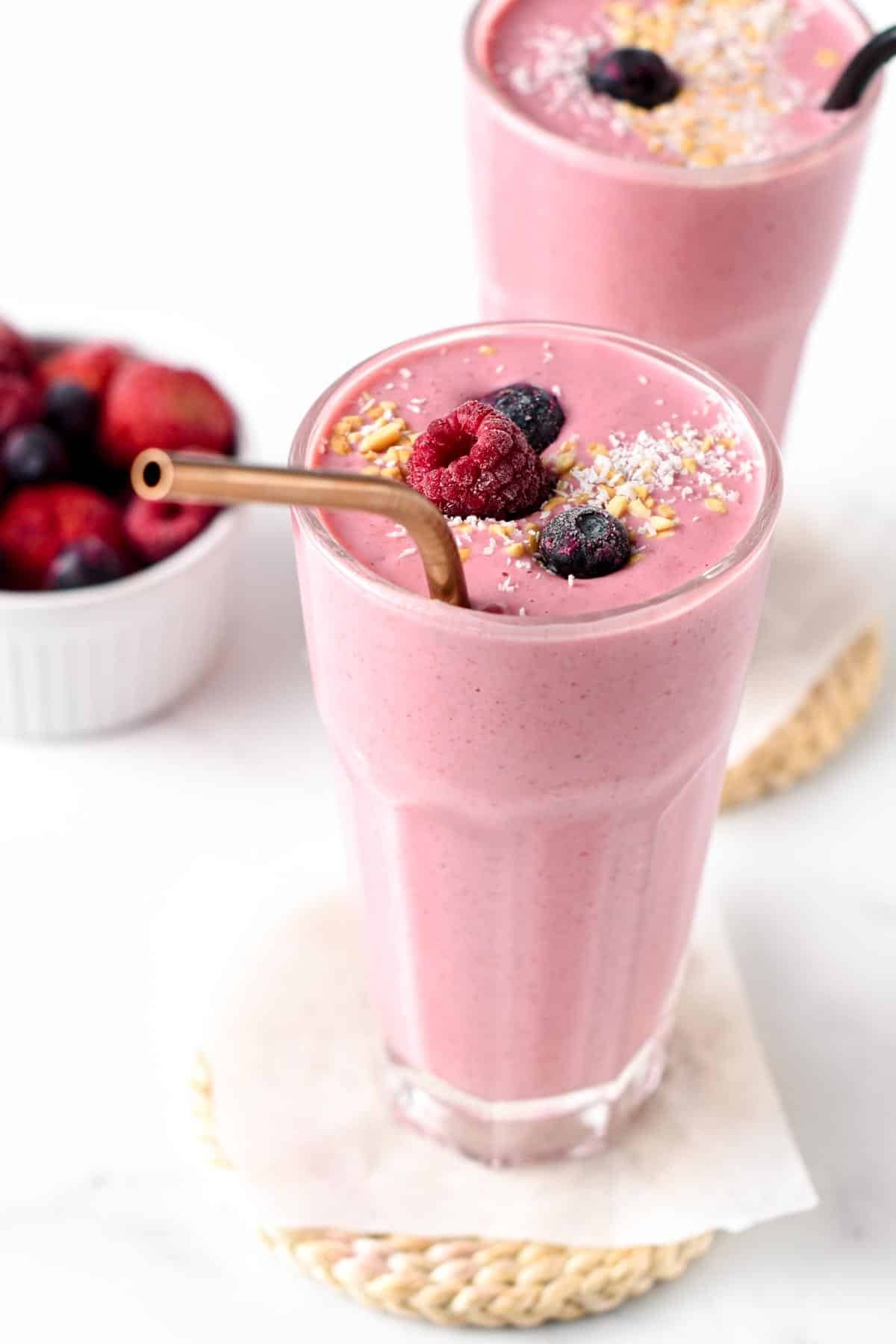 I love smoothie recipes for a quick healthy snack like my Green Smoothie, Kefir Smoothie, Purple Smoothie, or Strawberry Smoothie.
What's A Greek Smoothie?
This Greek Smoothie is perfect for refueling on protein after a workout or for fixing your hunger in the afternoon.
This refreshing drink is called Greek Smoothie because its main ingredient is Greek yogurt.
How To Make Greek Yogurt Smoothie
The reasons I love Greek yogurt in smoothies are plentiful.
It adds proteins to the drink, makes smoothies creamy and thick, and it adds lovely tangy flavors.
Ingredients
All you need to make this high-protein smoothie without using any protein powder are:
Instructions
Add all the ingredients into a blender and blend until smooth and creamy.
If too thick, add a splash of more almond milk or simply water.
If too runny, add frozen fruits or ice cubes to thicken.
Add-Ons
You can play with flavor and texture changing the berries or nut butter you use in the recipe.
For example, you can use the combination below:
Strawberry, banana, and peanut butter.
Strawberry, almond butter, and sugar-free syrup for a no-added-sugar low-carb version.
Mixed berries, frozen cauliflower instead of banana, sugar-free sweetener for a keto option.
Or you can add some unsweetened cocoa powder to turn the smoothie into a chocolate flavor.
Serving Ideas
This Greek Smoothie is great on its own but even better if topped with some delicious crunchy addition like a pinch of:
Hemp Seeds
Shredded Coconut
Sliced Almonds
Crushed Peanuts
Frequently Asked Questions
Posted In: