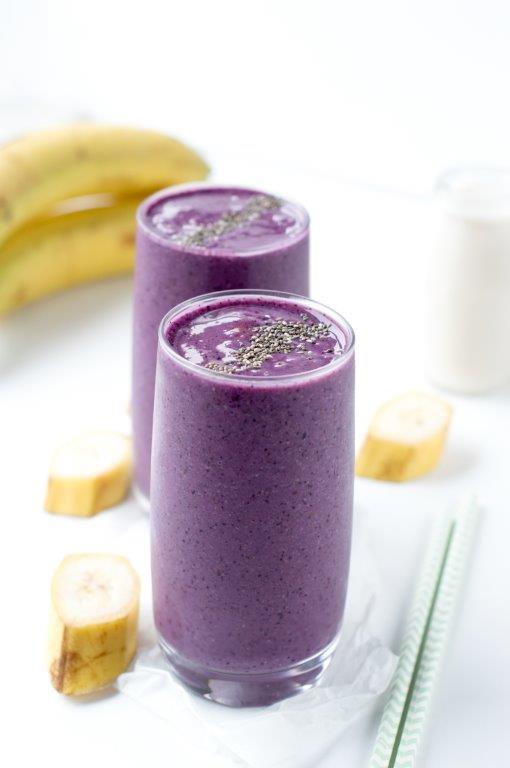 This purple smoothie is so cute. I have never been a big fan of red cabbage specially because I do not like the smell of cooked red cabbage and the pale color is not really attractive. But since I tried to use red cabbage raw in a smoothie I just love drinking it. I know it looks weird to add cabbage in a smoothie right? But when you blend i with frozen blueberries, banana and vanilla almond milk. OMG, it taste amazing. Even Emma, my 18 months girl drink it – and she is a picky eater!   If it is the cabbage that make you doubt really do not ! Give it a try and you will be amazed by how this purple smoothie is fresh, sweet, fresh and make you feel  good. I tested this smoothie with different dairy free milk options like unsweetened coconut milk, almond milk or soy milk and all were delicious. But my favorite is really unsweetened vanilla almond milk.
Purple Smoothie : cabbage and antioxydant Blueberries
You know I am a prediabetic and I am always on the look for ingredients that help regulate my blood sugar level. While banana is high in fructose, blueberries contains only 10g of natural sugar per 100g. It makes a great low sugar fruit to add sweetness in this smoothie. Plus, blueberries are the food with the highest level of antioxidants which helps protect our cells from damage. A bristish study even shown that eating blueberries – as apples and grapes – reduce the risk of type 2 diabetes! Yeah, all good for me. So here is my smoothie – sorry the banana are hiding under the blueberries and cabbage 🙂  Not easy to shoot picture with a little one around.
Red cabbage a vitamin C booster
So you probably wonder why I added red cabbage in my smoothie ? Well, red cabbage is a great breakfast vegetable to boost your morning vitamins C! Yes, it contains 95% of vitamins C – about 57 mg per 100 g which is more than orange – contains only 89% of vitamins C. Amazing right? And I simply love the idea of finally eating a high fiber vegetable that I absolutely hate cooked. Enjoy the simple purple smoothie recipe. And if you love dairy free smoothie, I have got a range of delicious almond milk smoothie to try on the blog : pear smoothie,  watermelon strawberry smoothie or tropical smoothie with mango and pineapple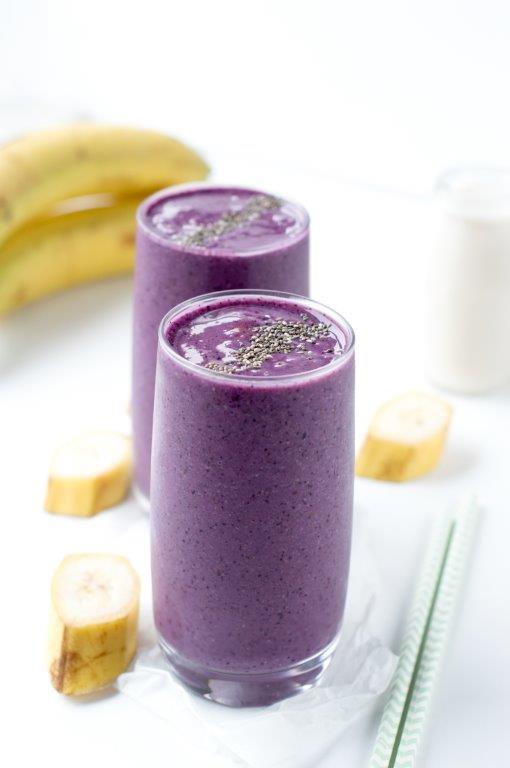 Purple Smoothie with red cabbage
Purple smoothie with blueberries, red cabbage and banana. An easy 4 ingredients dairy free blender smoothie with almond milk.
Prep Time: 5 mins
Total Time: 5 mins
2
Print The Recipe
1 banana - frozen if you can, it makes the smoothie thicker
1/3 cup red cabbage grated
1/2 cup frozen blueberries
1 1/2 cup almond milk
1 teasponn chia seeds
Pour all the ingredients in a blender.

Blend for 1 minutes or until smooth and thick.

Drink straight away.

If too thick add a bit more of water until you get the desired consistency.
Texture: adjust the milk quantity regarding the texture you like. The more almond milk you add the more liquid it will be. I recommend to use a frozen banana for a naturally thicker smoothie.
Nutrition Facts
Purple Smoothie with red cabbage
Amount Per Serving (1 smoothie)
Calories 97 Calories from Fat 21
% Daily Value*
Fat 2.3g4%
Carbohydrates 19g6%
Fiber 4.6g19%
Sugar 10.4g12%
Protein 2.1g4%
* Percent Daily Values are based on a 2000 calorie diet.
This recipe makes 2 smoothies of about 1 cup. Nutrition panel is for one smoothie.