This Purple Smoothie is a healthy smoothie made with blueberries, chia seeds, bananas, and my secret purple ingredient and it's full of antioxidants.
It's an easy 5-ingredients dairy-free, vegan blender smoothie with almond milk.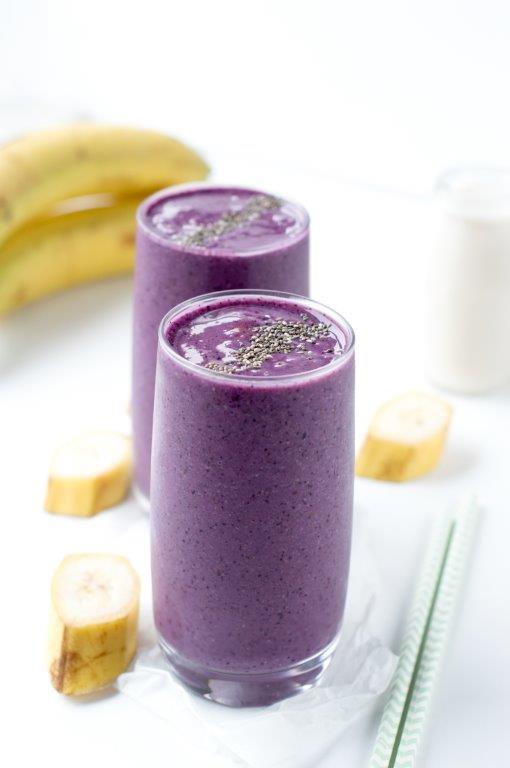 What's A Purple Smoothie?
A Purple Smoothie is, as its name implies a smoothie with a vivid purple color.
While you might find smoothies that get this color with food dyes, my Purple Smoothie recipe is 100% natural, rich in nutrients, and good for your health.
Read on to find my secret purple ingredient!
Why You'll Love This Recipe
This purple smoothie is a perfect refreshing drink for summer. But it's also:
Dairy-Free
Egg-Free
Vegan
Antioxidant-Rich
5 Ingredients
Ready in 5 minutes
How To Make A Purple Smoothie
Like many other smoothies, this purple smoothie is straightforward to put together.
Ingredients
Banana – the bananas in this smoothie bring a lot of texture and sweetness. Pick ripe bananas, the ones with some dark spots that you might be tempted to throw away. Put them in the freezer, and they can be a perfect base for any smoothie. With frozen bananas, no need for ice cubes.
Blueberries – Blueberries bring a distinctively sweet taste. I recommend using frozen blueberries to keep the smoothie frothy.
Almond Milk – prefer unsweetened almond milk. I like to use vanilla almond milk to add a little flavor.
Chia Seeds – chia seeds bring some binding to the recipe and since they are super-seeds, they also bring a raft of vitamins and minerals.
Red Cabbage – Red Cabbage is my secret ingredient. It's a delicious vegetable that doesn't alter the taste of the smoothie but turns it a bright purple. Plus it's extremely rich in Vitamin C, 100g of cabbage brings 95 of your daily value but only 4.9 grams of net carbs!
Instructions
To make this smoothie, cut the cabbage roughly with a knife. This will make it easier to put it in the blender.
Combine all the purple smoothie ingredients in the jug of a blender.
Blend the smoothie on the high-speed setting for about a minute.
Adjust the texture of the smoothie with more almond milk to make it runnier or with more frozen blueberries to make it forthier.
If you're out of blueberries, you can also add ice cubes to increase the frothiness.
Storage Instructions
Smoothies are not recipes you can make ahead of time. If you let them sit for too long, the phases split and the heavier solid bits fall to the bottom.
So I recommend drinking your smoothies in the 10 to 20 minutes after you made them.
Frequently Asked Questions
Can I Make Other Flavors?
Yes, you can change the flavor by adding:
Coconut Nectar: to make it sweeter.
Vanilla Extract: to make it taste more like vanilla.
Replace the Blueberries with Strawberries: to make it dark pink.
Are Blueberries Good For You?
Blueberries are the food with the highest level of antioxidants which helps protect our cells from damage.
A British study even showed that eating blueberries reduces the risk of type 2 diabetes!
Is Red Cabbage Healthy?
Red cabbage is a great breakfast vegetable to boost your morning vitamins C!
It contains 95% of your daily value of vitamins C – about 57 mg per 100 grams which is more than oranges that contain only 89% of your DV of vitamin C.
More Smoothie Recipes
If you like easy, healthy smoothies, you'll love these: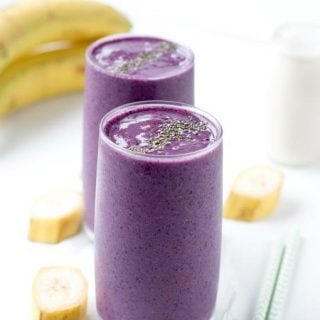 Purple Smoothie
This Purple Smoothie is a healthy smoothie made with blueberries, chia seeds, red cabbage, and banana and full of antioxidants. It's an easy 5-ingredients dairy-free, vegan blender smoothie with almond milk.
This recipe may contain Amazon or other affiliate links. As an Amazon Associate I earn from qualifying purchases.
Instructions
Pour all the ingredients into a blender.

Blend for 1 minute or until smooth and thick.

If too thick, add some more water until you get the desired consistency.
Want My Kitchen Equipment?
Serving:
1
smoothie
Calories:
114.2
kcal
(6%)
Carbohydrates:
21.5
g
(7%)
Fiber:
4
g
(17%)
Net Carbs:
17.5
g
Protein:
2.4
g
(5%)
Fat:
3.2
g
(5%)
Saturated Fat:
0.1
g
(1%)
Polyunsaturated Fat:
1.7
g
Monounsaturated Fat:
1.2
g
Trans Fat:
0.1
g
Sodium:
249
mg
(11%)
Potassium:
283.9
mg
(8%)
Sugar:
11.6
g
(13%)
Vitamin A:
224.4
IU
(4%)
Vitamin C:
17.2
mg
(21%)
Calcium:
249.5
mg
(25%)
Iron:
0.5
mg
(3%)
Magnesium:
27.2
mg
(7%)
Zinc:
0.3
mg
(2%)
Posted In: